Have you ever needed a last-minute dessert that is both easy to make and super delicious? Well, here are the best snickerdoodle cake mix cookies for the win! Though you can make these individually in cookie form, spreading the cookie dough in a pan saves so much time. These cookie bars have a soft and chewy center, that classic snickerdoodle tangy flavor, and are topped with cinnamon sugar sweetness.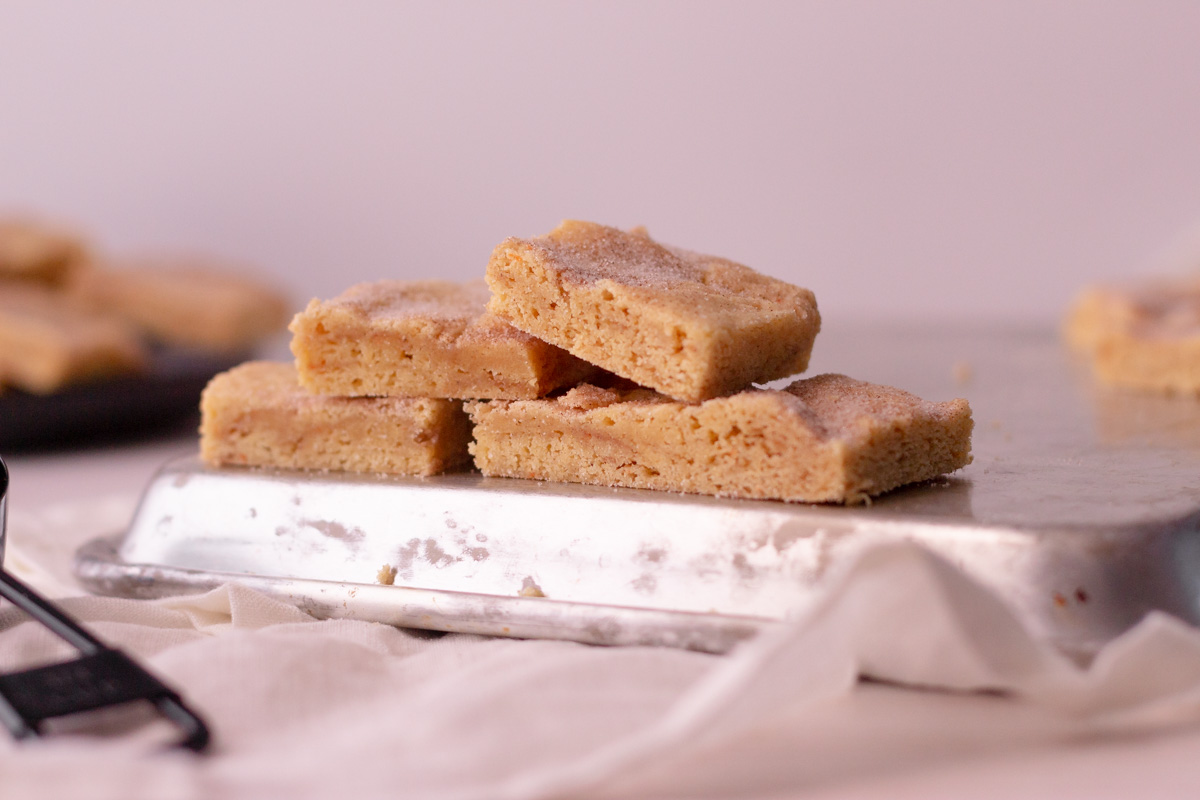 This was inspired by my Snickerdoodle Cookie Dough Truffles on this site. Snickerdoodles are one of my favorite cookies for fall, and this cake mix cookie recipe will certainly be a go-to! If you love these cookie bars, you may also like these Pumpkin Chocolate Chip Cookie Bars or for the summer I love this S'mores Cookie Bar Recipe!
For another quick and easy cake mix cookie bar recipe, check out these Easy Funfetti Cake Mix Cookie Bars!
Why You Will Love these Snickerdoodle Cookie Bars:
Easy Dessert: These are SO easy to make. In 30 minutes' time (including baking) you will have a fresh, warm batch of cookie bars.
Simple ingredients: With the exception of the cream of tartar, you will most likely have all of the other added ingredients on hand already.
Substitutes: I'll go into the details later in the post, but you can use a few different cake mix flavors for this recipe and you can even transform it into cookie form if you prefer!
Jump to:
Ingredients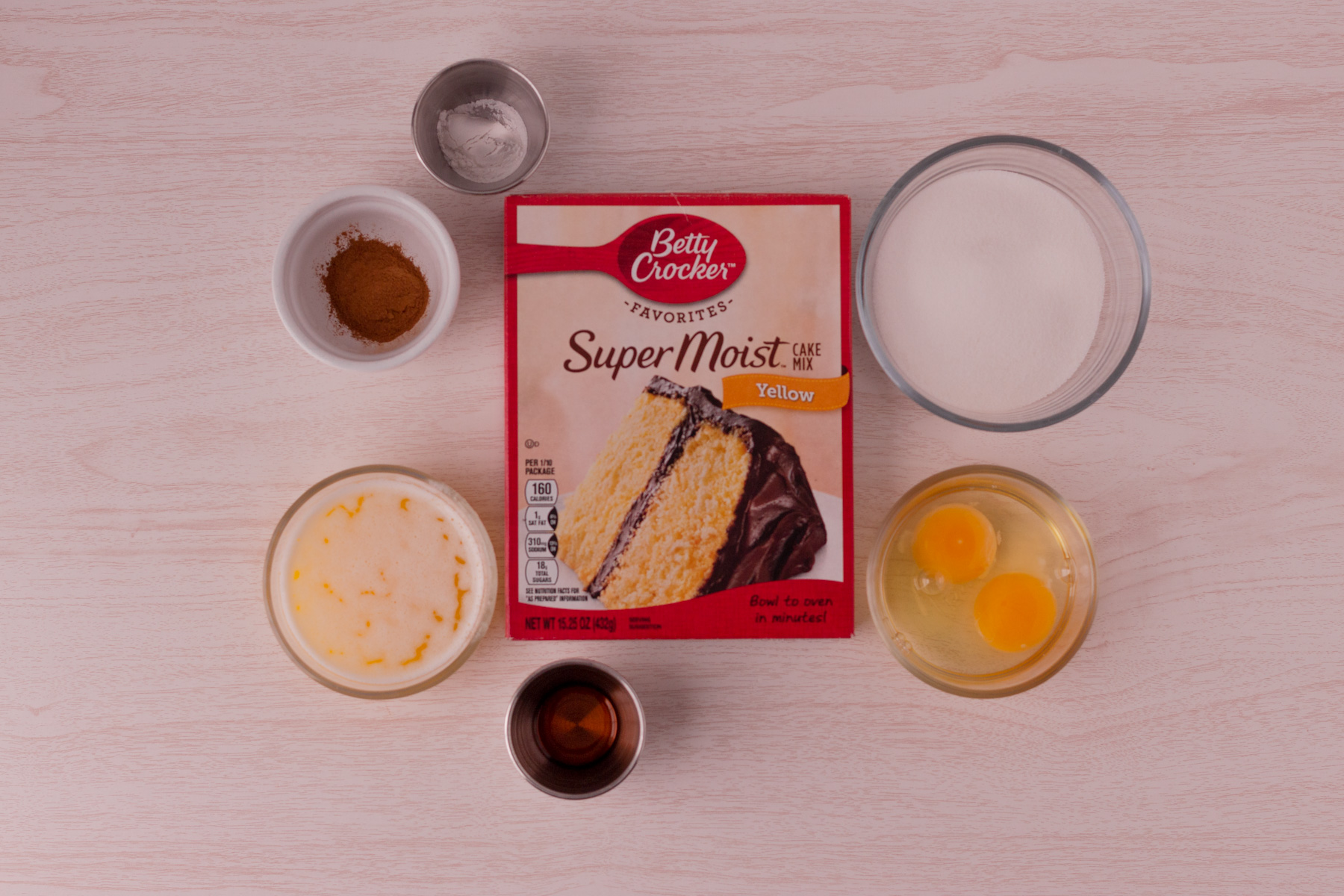 Box of Yellow Cake Mix: I used Betty Crocker but any brand will work
Cream of Tartar: This adds that classic snickerdoodle tangy flavor to these cookie bars.
Eggs
Melted Butter: Using melted butter in cookies instead of softened, aids in creating a very soft and chewy cookie.
Vanilla Extract: This flavor helps to slightly cut the tangy-ness from the cream of tartar with a fresh and sweet vanilla flavor.
Granulated Sugar
Ground Cinnamon
See recipe card for quantities.
Instructions
Start by preparing your ingredients. Heat oven to 350 degrees and prepare a 9x13 baking sheet or pan. I LOVE my 9x13 inch Caphalon Brownie Pan. They can also be referred to as jelly roll pans. The Caphalon pan is nonstick, so cooking spray isn't necessary. However, if your pan requires it, spray to prevent sticking. Whichever pan you use, make sure it has a lip to contain the cookie dough as it bakes.
Melt the stick of butter in a microwave-safe bowl and set aside to slightly cool. It doesn't need to come to room temperature, but I don't like to add it to the dough piping hot.
In a separate small bowl, combine half a cup of sugar with 1 teaspoon of cinnamon. Stir together until the cinnamon-sugar mixture is well combined.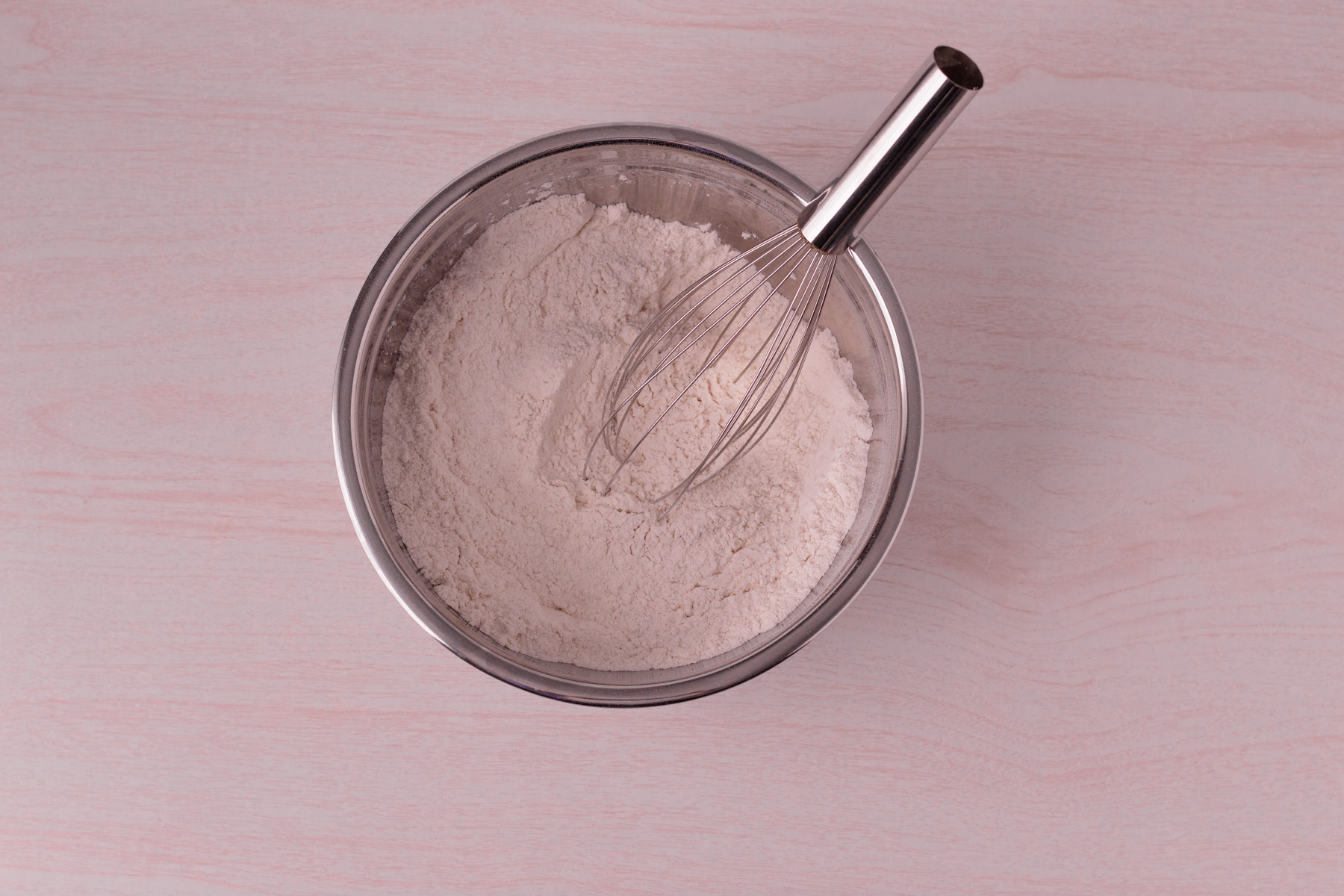 Combine cake mix, cream of tartar, and part of the cinnamon in a large bowl and whisk together.
Add melted butter, eggs, and vanilla extract. Stir together until dough forms.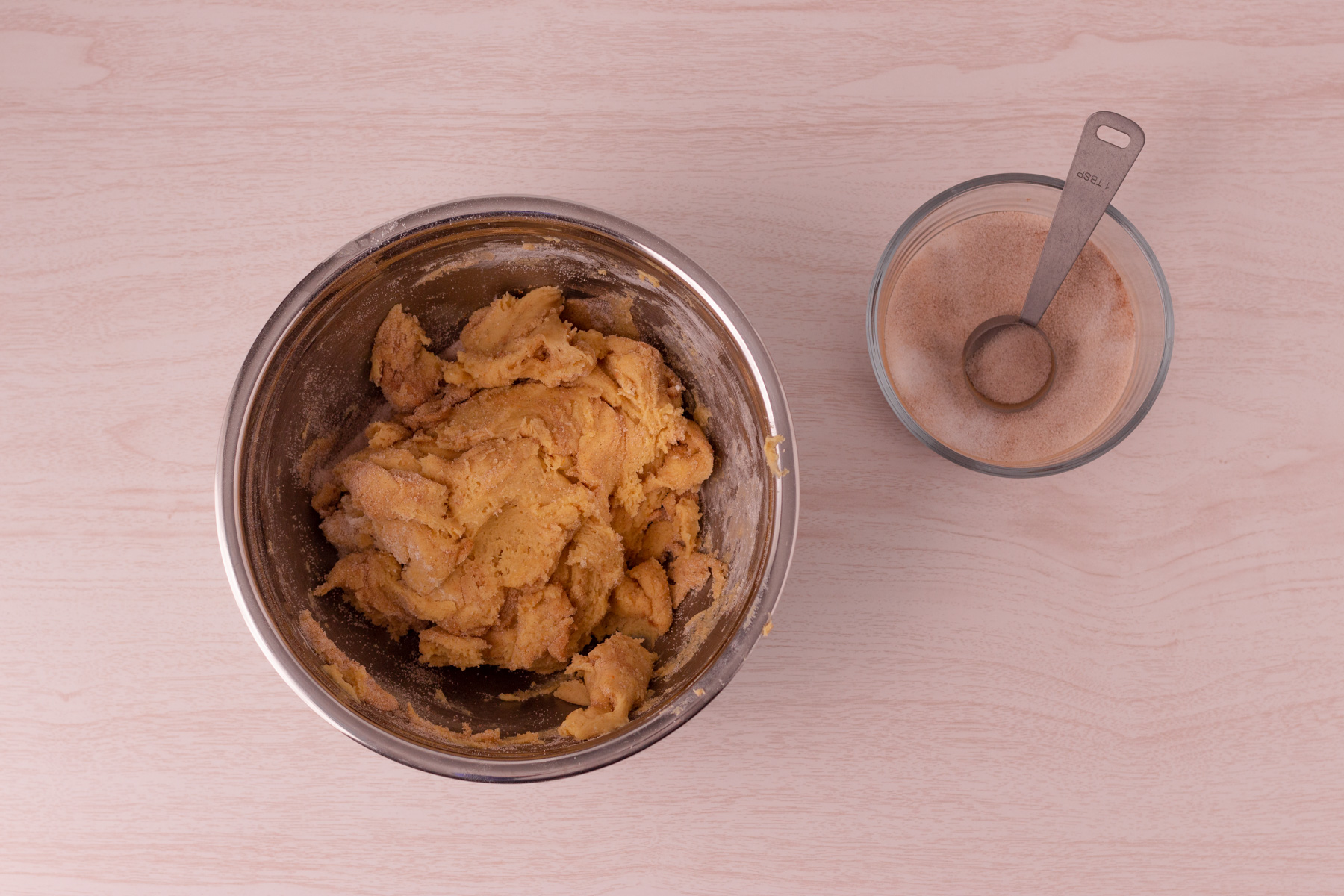 Gently fold in part of the cinnamon sugar mixture. You should still see streaks of cinnamon sugar throughout the dough.
Spread in a 9x13 baking pan, sprinkle remaining cinnamon sugar on top, and bake at 350 degrees for 14-16 minutes.
Folding: A technique in baking where you gently combine two ingredients without agitating the mixture by stirring or beating.
Bake until the edges of the cookie bars are very slightly brown and the top is golden in color.
Remove from the oven and allow to cool for at least 15 minutes in the pan to set. Once they are cooled (or at least slightly warm) cut them into squares and serve!
Hint: Have the pan greased and the cinnamon sugar mixture ready to go. As soon as you mix all of the ingredients and fold in cinnamon sugar, spread in the pan immediately. The more the dough sits, it will start to thicken and become harder to spread.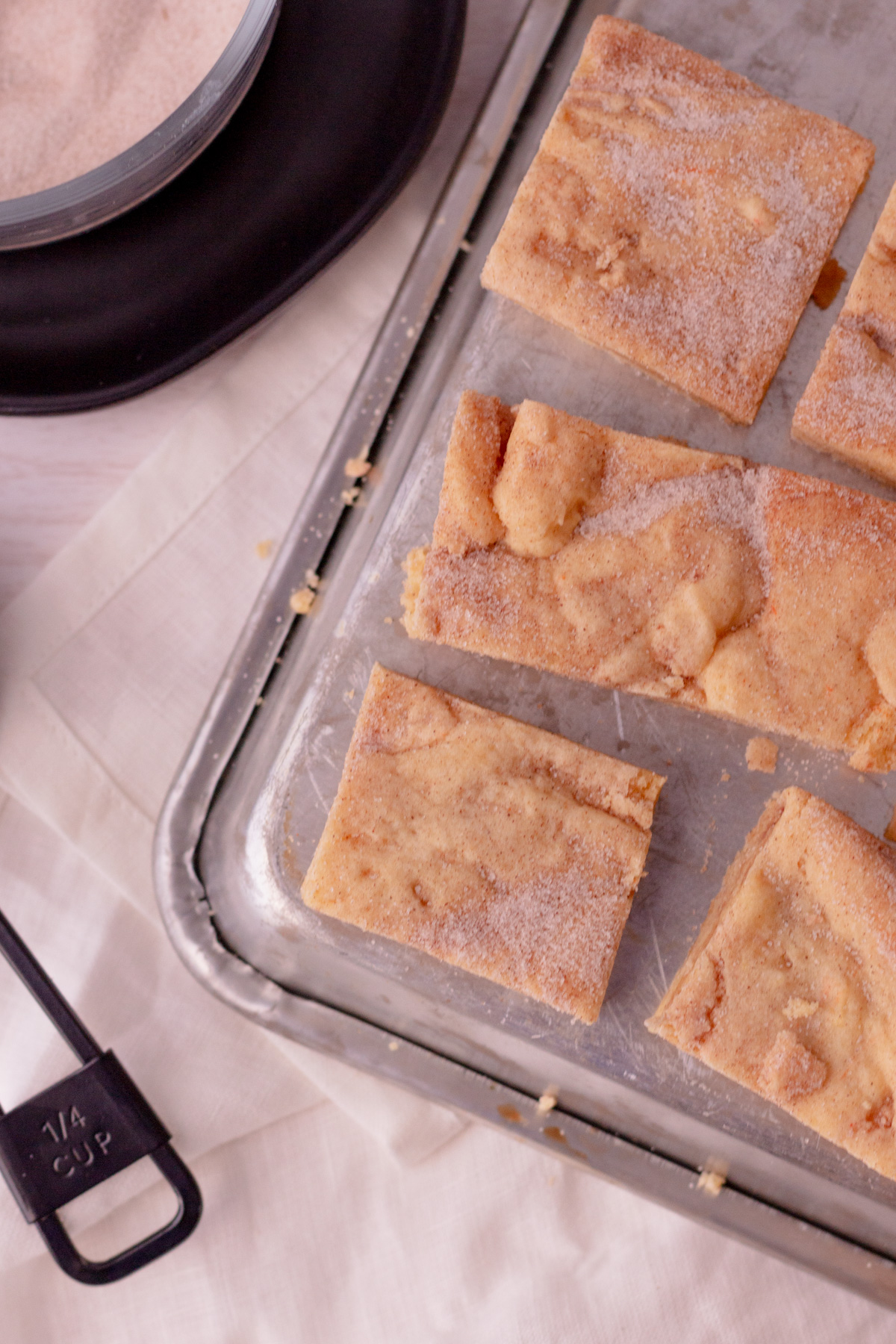 Substitutions
If you don't have yellow cake mix, vanilla or white cake mix will work too. If you choose yellow, the cookie bars will have a slightly more buttery, sweet flavor. The white or vanilla box mix will look a bit more like a traditional snickerdoodle cookie. You can't go wrong, any of these will work!
Variations
If you prefer you can make cookies instead of a cookie bar. Line sheet pans with parchment paper or silicone mats. Let the dough sit for about 5 minutes to start to thicken and make the dough easier to work with. With a cookie scoop, shape dough into 1-inch cookie dough balls. Roll in the cinnamon sugar mixture and bake at 350 for 7-8 minutes.
Equipment
I prefer using the Caphalon brownie pan for cookie bars. It's nonstick and made out of alloy steel. As it's designed for baking, the heat transfers evenly.
However, if you only have a ceramic 9"x13" casserole dish, this will still work. Baking time will be increased by a few minutes, most likely in the range of 16-18 minutes. Bake until the edges turn slightly brown as times may vary dependent on the specific material.
Storage
Store the see cake mix snickerdoodle cookies in an airtight container for up to 1 week. These are my favorite storage containers for baked goods.
Top Tip
Serve these snickerdoodle cookie bars warm with a scoop of vanilla ice cream for an extra touch!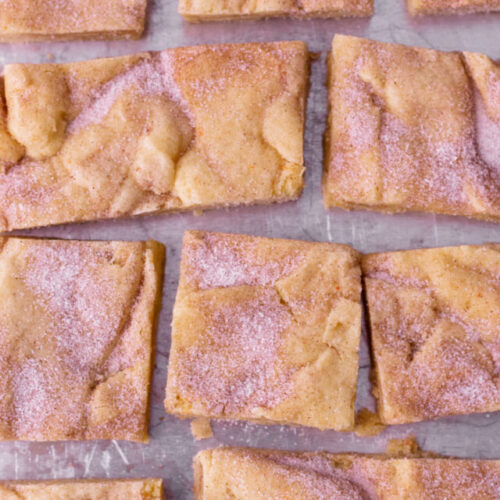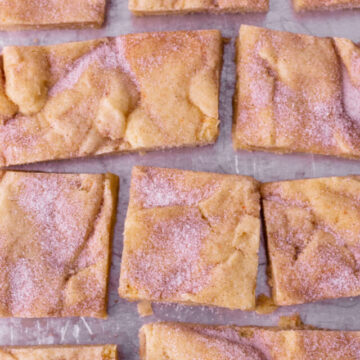 Snickerdoodle Cake Mix Cookie Bars
These Snickerdoodle Cookie Bars are so easy to make using a simple cake mix. Add a few other basic ingredients and you'll have a delicious batch of cookies in less than 30 minutes.
Print
Pin
Ingredients
1

Box

Yellow Cake Mix

2

teaspoon

Cream of Tartar

1¼

teaspoon

Ground Cinnamon

(divided)

½

cup

Unsalted Butter

(melted)

2

Eggs

1

teaspoon

Vanilla Extrac

½

cup

Granulated Sugar
Instructions
Preheat the oven to 350 degrees. Spray a 9x13 brownie pan with nonstick baking spray. Melt Butter and allow to slightly cool.

Pour the cake mix into a large mixing bowl. Add cream of tartar ¼ teaspoon of cinnamon and whisk well to combine. 

Add melted butter, eggs, and vanilla to the dry ingredients. Stir with a rubber spatula or large spoon until the mixture comes together to form a dough.

In a separate, small bowl, combine sugar and cinnamon until fully combined. 

Add 3 tablespoons of cinnamon sugar mixture into the cookie dough. With a rubber spatula, fold into the dough just barely. You should still be able to see the sugar mixture in the dough. 

Spread the cookie dough evenly across the prepared pan. It will be relatively thin throughout.

Sprinkle the remainder of the cinnamon sugar on the top of the cookie dough.

Bake for 14-16 minutes until the edges are slightly brown and top of cookie bar is golden. 

Allow cookies to cool in the pan for at least 15 minutes or until fully cooled. Cut, serve, and enjoy! 
Food safety