This easy peanut butter cookie recipe is delicious and is made without brown sugar. Since it does not have brown sugar, the cookies are not as rich as traditional peanut butter cookies but have the sweetness of a sugar cookie, with a delicious peanut butter flavor.
When you have a craving for peanut butter cookies, but you don't have brown sugar (or you go to get out your brown sugar and it's hard as a rock), now you have an alternative chewy peanut butter cookie recipe made with simple ingredients!
Disclaimer: This post may contain affiliate links, meaning I may get a small commission if you decide to make a purchase through my links at no cost to you.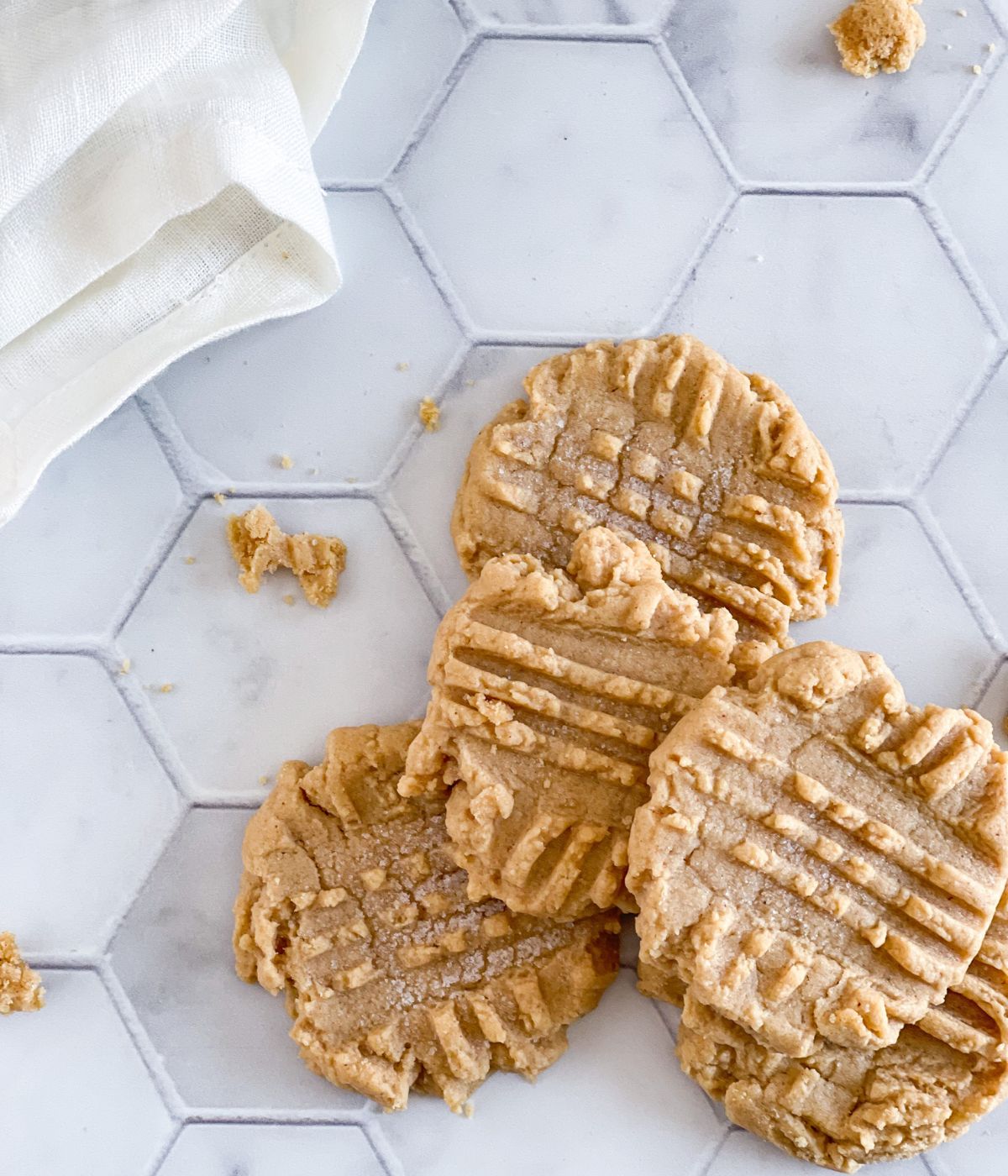 What Does Brown Sugar do in Cookies?
Brown sugar is the mixture of sugar and molasses. It is denser and will not create as many air pockets as granulated sugar when mixed. Therefore, when baked, the cookies will rise less and spread more.
When working on this recipe, I must have tried at least 10 different batches to get the correct chewy texture for these cookies without the use of brown sugar. I wanted the peanut butter flavor to be strong, but without the super crumbly texture where the cookie turns into crumbs before it even reaches your mouth. I finally achieved (what I believe) is the perfect combination of ingredients for peanut butter lovers.
Ingredients
All-Purpose Flour
Baking Soda
Salt
Granulated Sugar
Unsalted Butter (softened)
Creamy Peanut Butter
Large Egg (room temperature)
Vanilla Extract
Milk (preferably whole, but you could use 1% or 2% if needed)
Instructions
First, preheat your oven temperature to 350 degrees. Line your cookie sheet with a silicone mat or parchment paper. I highly suggest using one of these options as it will help your cookies to bake evenly.
In a small bowl, combine the all-purpose flour, baking soda, and salt. Whisk well to combine all ingredients and set aside.
Using a large bowl, add the unsalted butter and cup of sugar. With an electric mixer, beat on medium-high speed for about 2 minutes. It may take some time for the sugar to properly incorporate into the butter.
When they are combined, the mixture will be light yellow in color and a bit lumpy. However, you should not see any white sugar left in the bowl.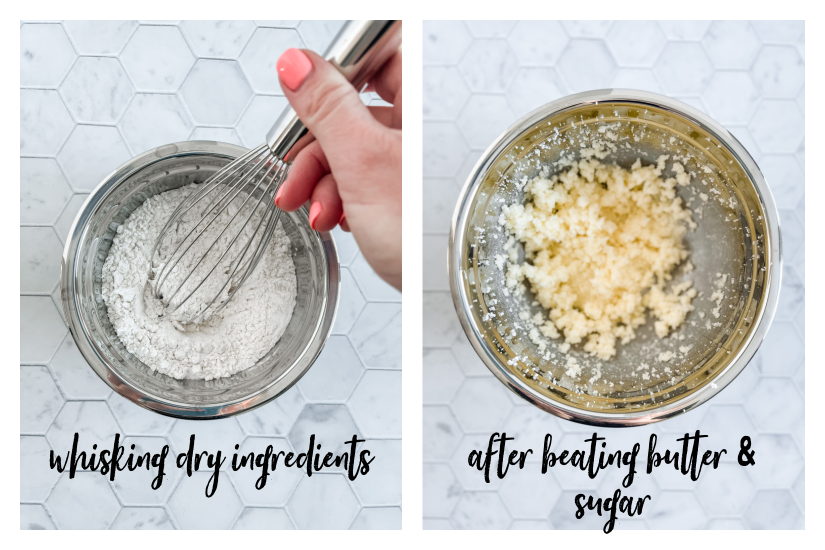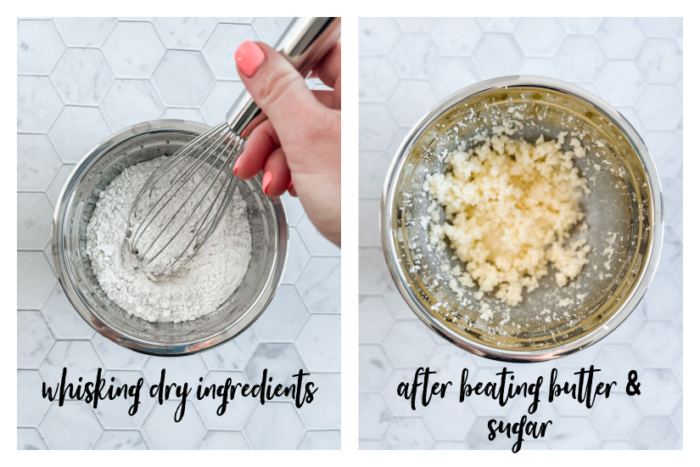 If you have a stand mixer with a paddle attachment, you can absolutely use it! I just tend to use my hand mixer for average-sized cookie batches because I'm too lazy to haul my KitchenAid out from the basement.
Add the peanut butter, egg, vanilla extract, and milk to the butter and sugar. Beat on medium for about 30 seconds to 1 minute. You will know that they are fully mixed when all of the lumps of butter are mixed in and the dough looks smooth. At this point it will resemble a very thick peanut butter texture, though a bit lighter in color.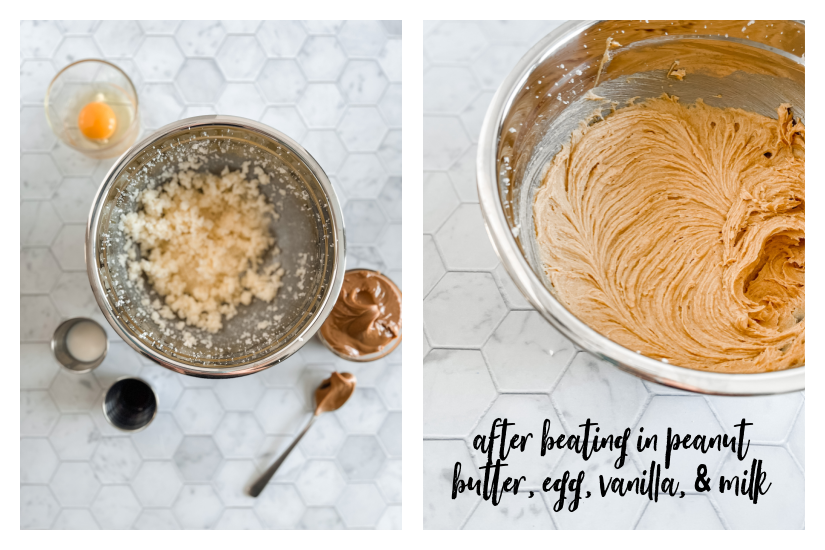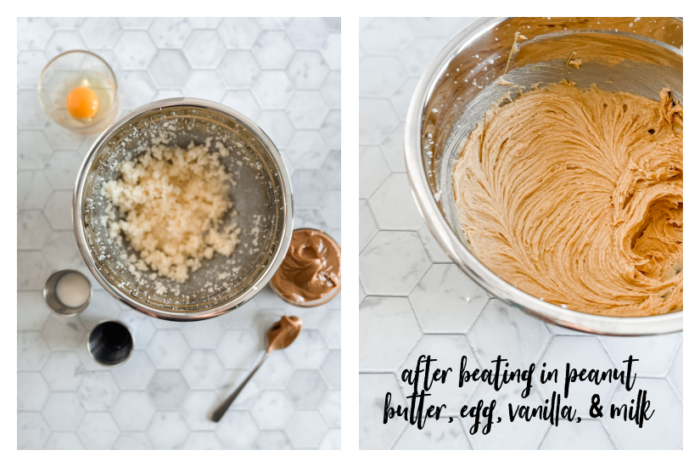 Begin slowly adding the dry ingredients to the wet ingredients and beat on low. I added about ¼ to ⅓ cup at a time, mixing until fully incorporated before adding the next scoop of flour. Once you have all of the dry ingredients added, the dough should be smooth and somewhat sticky.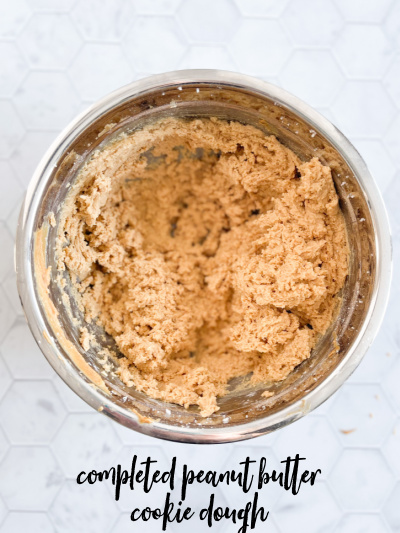 Baking your Peanut Butter Cookies
Using a medium cookie scoop, line the cookie sheet with balls of cookie dough. If you are weighing, the dough balls will be about 20-25g each or 1 heaping tablespoon. Make sure there are at least 3" Inches between each cookie to allow for spreading.
With the tines of a fork, create a criss-cross pattern on each cookie, slightly flattening the ball of dough. Sprinkle some granulated sugar on top of each cookie and bake in the center rack of the oven for 9-11 minutes.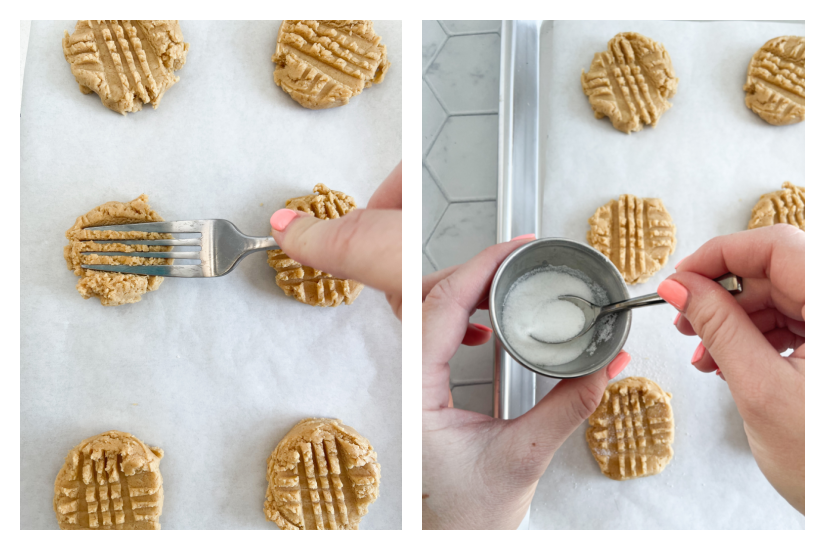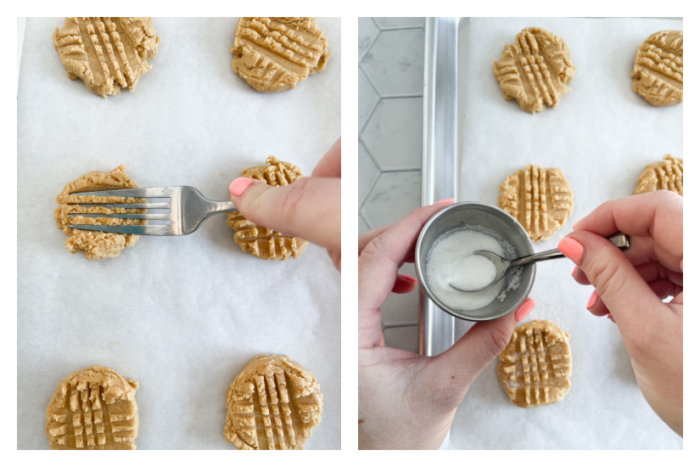 When the cookies are done, they will still be light in color and will have slightly risen. They will also start to have a matte coloring and no longer be super shiny.
At this point, remove from the oven and let the cookies sit on the sheet pan for at least 5 minutes to let them set. If you move them too soon, they will break into pieces. The cookies will flatten out while cooling and should not break apart when moved. Transfer to a wire rack and let them cool completely.
Also, you can eat them when warm and they are DELISH!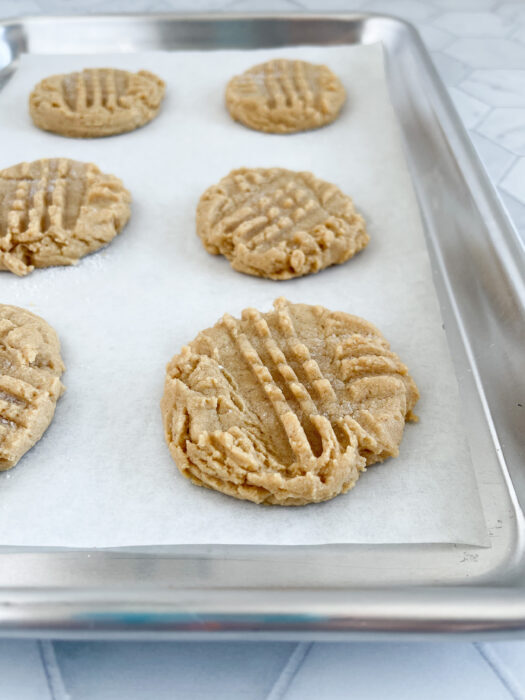 Substitutions
Peanut Butter
I tested this recipe with traditional smooth peanut butter, natural peanut butter, and almond butter with positive results on each.
If you are using natural peanut butter, make sure all of the oil is fully mixed in before measuring and adding to your dough.
For almond butter the cookies will still taste sweet, but have a more nutty flavor.
Though I didn't test it, I have no doubt crunchy peanut butter would work amazingly and add a delicious peanut crunch to your cookies.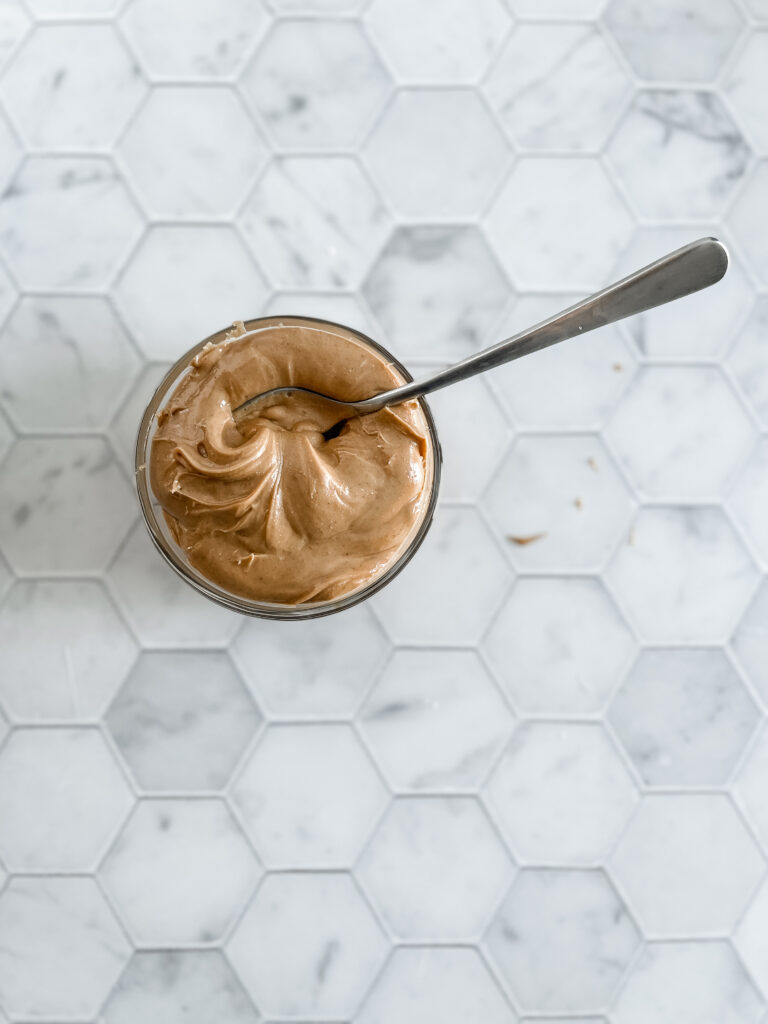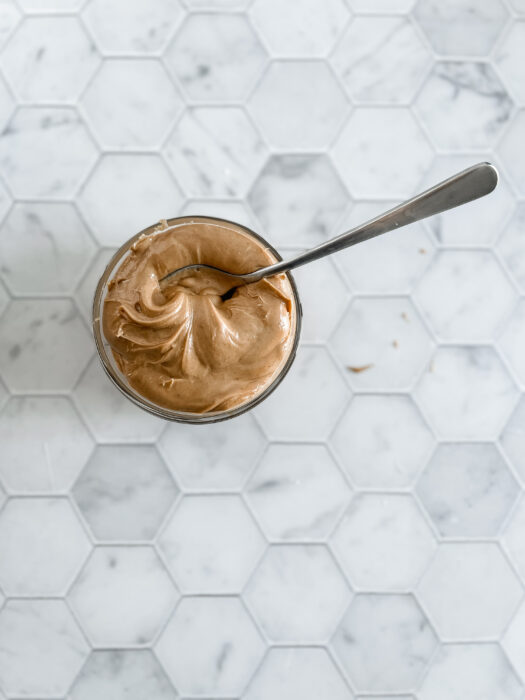 Milk
I mainly used whole milk, but you can use 1% or 2% if needed. I would be cautious with skim milk as there is less fat content and the liquid is thinner.
Make these Gluten Free
You can make these gluten-free! To make flourless peanut butter cookies, simply substitute all-purpose flour for finely ground almond flour. However, instead of 1 ½ cups of flour, you will need to add 2 cups of almond flour. The dough will be more tacky or sticky than it is with the all-purpose flour, but that is okay.
Follow the recipe exactly the same as with the original ingredients, even pressing with a fork. Just note, that the cross-hatch pattern will not be prevalent after baking. These gluten-free peanut butter cookies will not be as sweet as the original recipe but have a nice nutty flavor to them. I particularly like this version with chocolate chips!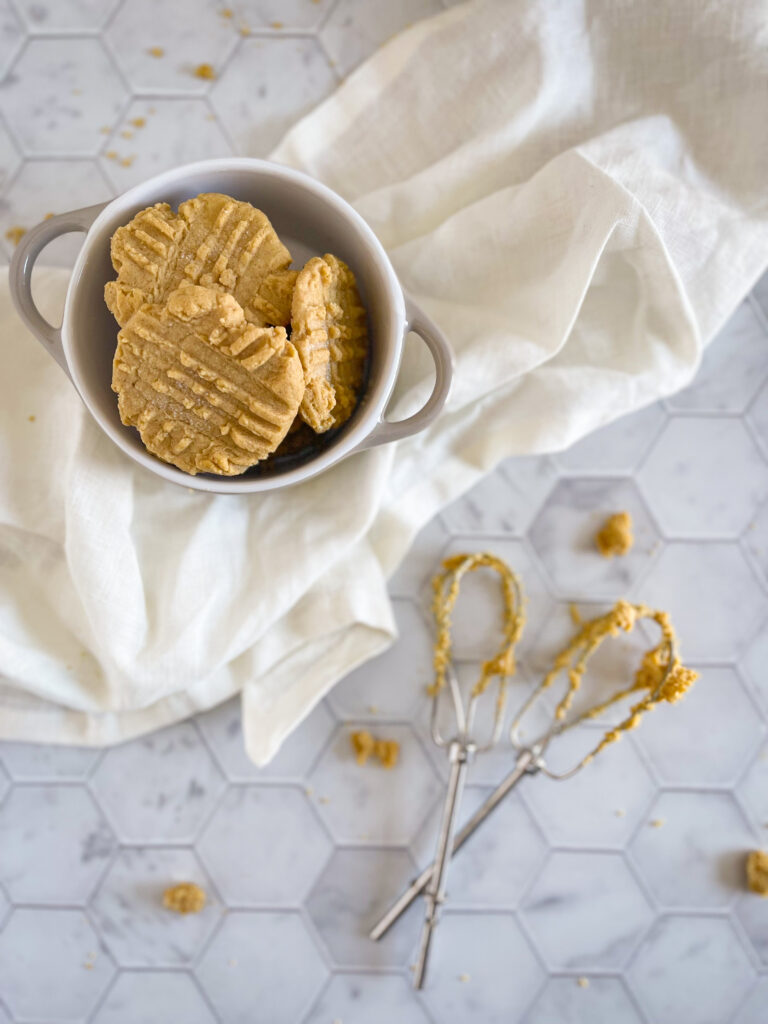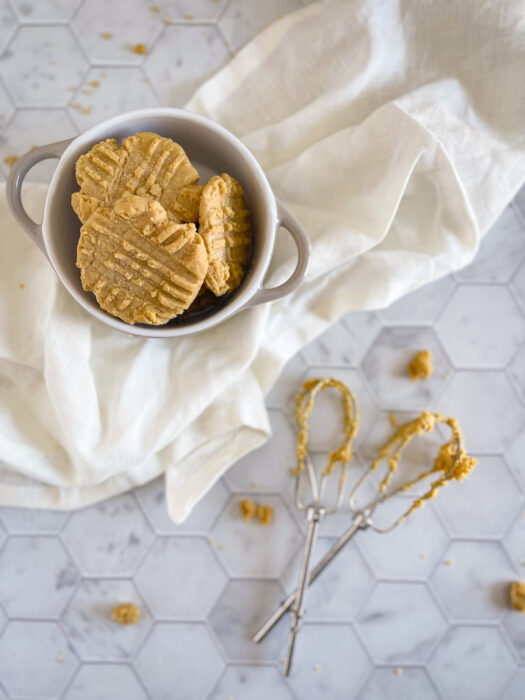 Fun Additions for Peanut Butter Cookies
What is the best combination of all time? In my opinion, I would have to go with peanut butter and chocolate. Therefore adding chocolate chips to the dough will create an amazing flavor. I would recommend using mini chocolate chips. Once your dough is completed, add 1 cup of mini chocolate chips and beat on low (or stir into the mixture) until evenly dispersed.
You could also try to add white chocolate chips, cinnamon chips, or even sprinkles. Go crazy and have fun!
Storage
My personal preference is to devour these cookies when warm. However, if you happen to have some leftovers you can store them in an airtight container (I LOVE these Rubbermaid ones) for up to 5 days. Make sure they are completely cool before sealing them in a container.
Freeze cookies wrapped in plastic and in an airtight container for up to 3 months.
Should peanut butter cookies be soft?
Peanut butter cookies can be either soft or crunchy, it is really up to personal preference and which recipe you choose to make. However, for a general rule, lower baking times will lead to softer cookies and a few extra minutes of baking will yield a more crunchy cookie.
Why is my peanut butter cookie dough crumbly?
While peanut butter cookie dough tends to be on the dryer side, as they cookie dough balls typically need to be pressed down with a fork creating the classic peanut butter cookie look. However, if the dough is too dry and you are unable to form a ball with it, most likely you did not add enough fat or liquid.

For this recipe, try adding an extra teaspoon of milk and mix again. Continue adding 1 teaspoon at a time until you reach your desired consistency.
Can you freeze peanut butter?
Yes, peanut butter can be frozen for up to 6 months without losing its flavor or texture. It can be frozen in its original container or portioned into smaller containers (great when buying in bulk) or even ice cub trays. When you want to use, simply place in the refrigerator and to let it unthaw. It is not recommended to microwave it as you may risk cooking it.
Please share your creations with me on Instagram @the_frosted_kitchen and if you tried this recipe and loved it, I would really appreciate it 5-Star rating!
Related
Looking for other recipes like this? Try these: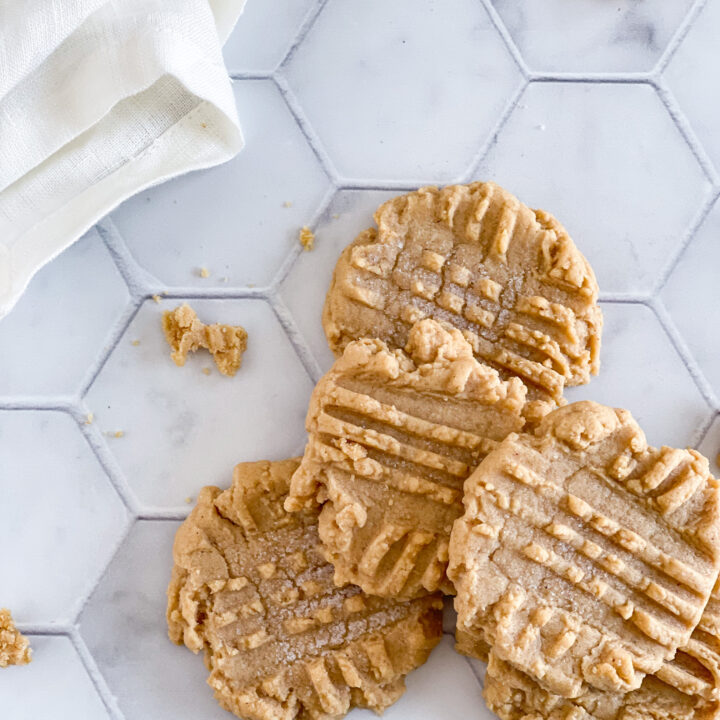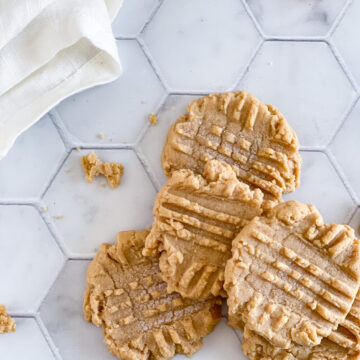 Peanut Butter Cookies without Brown Sugar
These classic peanut butter cookies are made without brown sugar. Though they are not as rich as traditional peanut butter cookies, they have a chewy texture that melts in your mouth.
Print
Pin
Ingredients
1 ½

cup

All-purpose Flour

½

teaspoon

Baking Soda

½

teaspoon

Salt

½

cup

Unsalted Butter

(softened)

1

cup

Granulated Sugar

1

cup

Creamy Peanut Butter

1

large

Egg

3

tablespoon

Whole Milk
Instructions
Preheat oven to 350° and prepare baking sheets with silicone mats or parchment paper.

In a small bowl, mix the flour*, baking soda, and salt. Whisk together until well combined. Set aside.

In a large mixing bowl, add butter and granulated sugar. Beat on medium-high for about 2 minutes (mixture will be light in color and lumpy but sugar should be completely incorporated).

Add peanut butter**, egg, vanilla extract, and milk. Beat on medium for 30 seconds to 1 minute until the butter lumps dissolve and the mixture is smooth and thick.

Slowly add dry ingredients (about ¼-⅓ cup at a time) beating on low until combined after each addition.

Using a cookie scoop, drop cookie dough balls onto the prepared baking sheet. Make sure they are at least 3" apart to account for spreading.

Using a fork, create a cross-hatch pattern on each cookie, flattening slightly. Sprinkle the top of each cookie with granulated sugar. Bake for 9-11 minutes.

Remove from oven and let cool on the cookie sheet for a least 5 minutes before moving to prevent cookies from baking. Serve warm or let cool completly on wire rack.
Notes
* You can substitute almond flour for all-purpose flour. Instead of 1.5 cups, use 2 cups of almond flour. 
**You can substitute creamy peanut butter for natural, crunchy, or almost butter.