"A chocolate chip cookie is like duct tape, it fixes everything". I'm not sure who said this first, but this Crisco Ultimate Chocolate Chip Cookie recipe will do the trick. The shortening in these cookies helps to make the cookies crispy on the outside, but chewy cookies in the center. Chocolate chip cookies are my favorite and I promise this Crisco chocolate chip cookie recipe will not disappoint. 
If you cannot eat flour, you can check out these Flourless Chocolate Chip Cookies made with oats!
Disclaimer: This post may contain affiliate links, meaning I may get a small commission if you decide to make a purchase through my links at no cost to you.
What is Shortening?
Technically, shortening is any fat that is solid at room temperature which includes butter, lard, margarine, etc. However, when shortening is referenced in a recipe, it typically is referring to hydrogenated oils, with the most common being vegetable shortening. For more information on the science of shortening, The Spruce Eats has a great article you can find here.
Is it better to use Crisco or butter for chocolate chip cookies?
This is dependent on what kind of chocolate chip cookie you like. Crisco (or shortening) is 100% fat versus butter which is about 80% fat with the remainder being made of water. When baking, the water content in the butter makes it melt faster. Thus crisco based cookies will remain thicker. For these chocolate chip cookies I decided to use crisco to get a thicker cookie with crispy edges.
I love this recipe because it really gives you the best of both worlds when it comes to homemade chocolate chip cookies. No matter whether you like crisp cookies or chewy chocolate chip cookies, you will be happy. This recipe is very easy and not too finicky. When I was testing out baking time to find the optimum time, I got distracted and accidentally left a batch in the oven for several minutes over what I should have. Instead of burning, they just came out a bit extra crispy. So, if you like extra crispy cookies, make sure to tack on an extra minute or two!
Can I use regular shortening instead of butter-flavored?
You can use either regular shorting or butter flavored shortening. If you have the option, use butter flavor as it will add a slightly richer flavor to the cookies. However, the difference is quite minor, so if you only have regular Crisco, that will work just fine.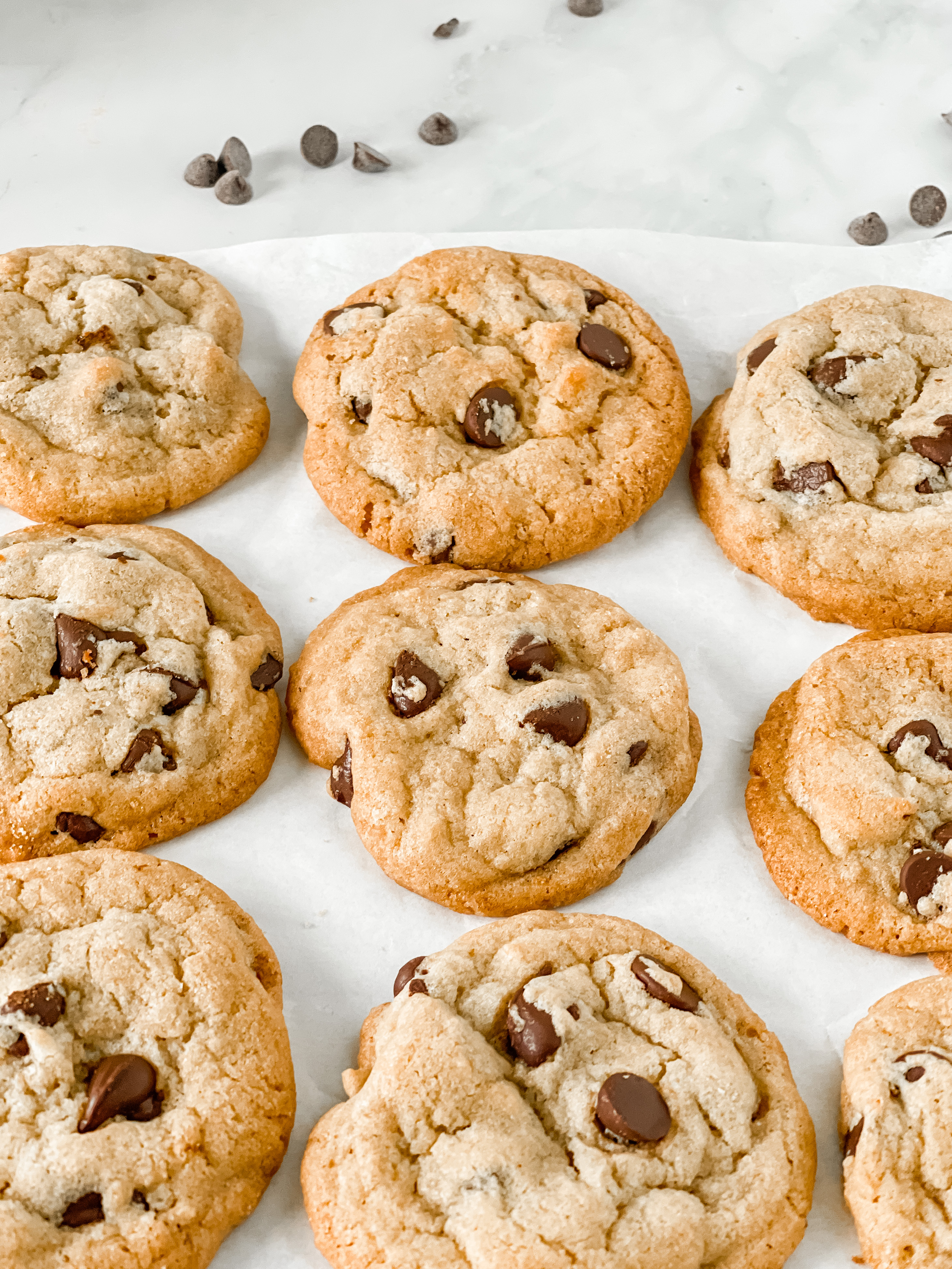 Ingredients you will need for Crisco Chocolate Chip Cookie Recipe
All-purpose flour
Baking Soda
Sea Salt
Crisco Shortening
Brown Sugar
Granulated Sugar
Large Eggs
Vanilla
Semi-Sweet Chocolate Chips
How to Make Shortening Chocolate Chip Cookies
Now that you have gathered all your ingredients, it's time to make your cookies! Pre-heat oven to 350. Line baking sheet with parchment paper and set aside. These silicone baking mats also work really well too!
Mixing Dry Ingredients
In a medium bowl (these are my favorite bowls), combine flour, 1 teaspoon of baking soda, and 1 teaspoon salt. You can use iodized salt, but I prefer sea salt as it is a bit courser and in my opinion, gives a richer taste to the cookies. Whisk very well and set aside.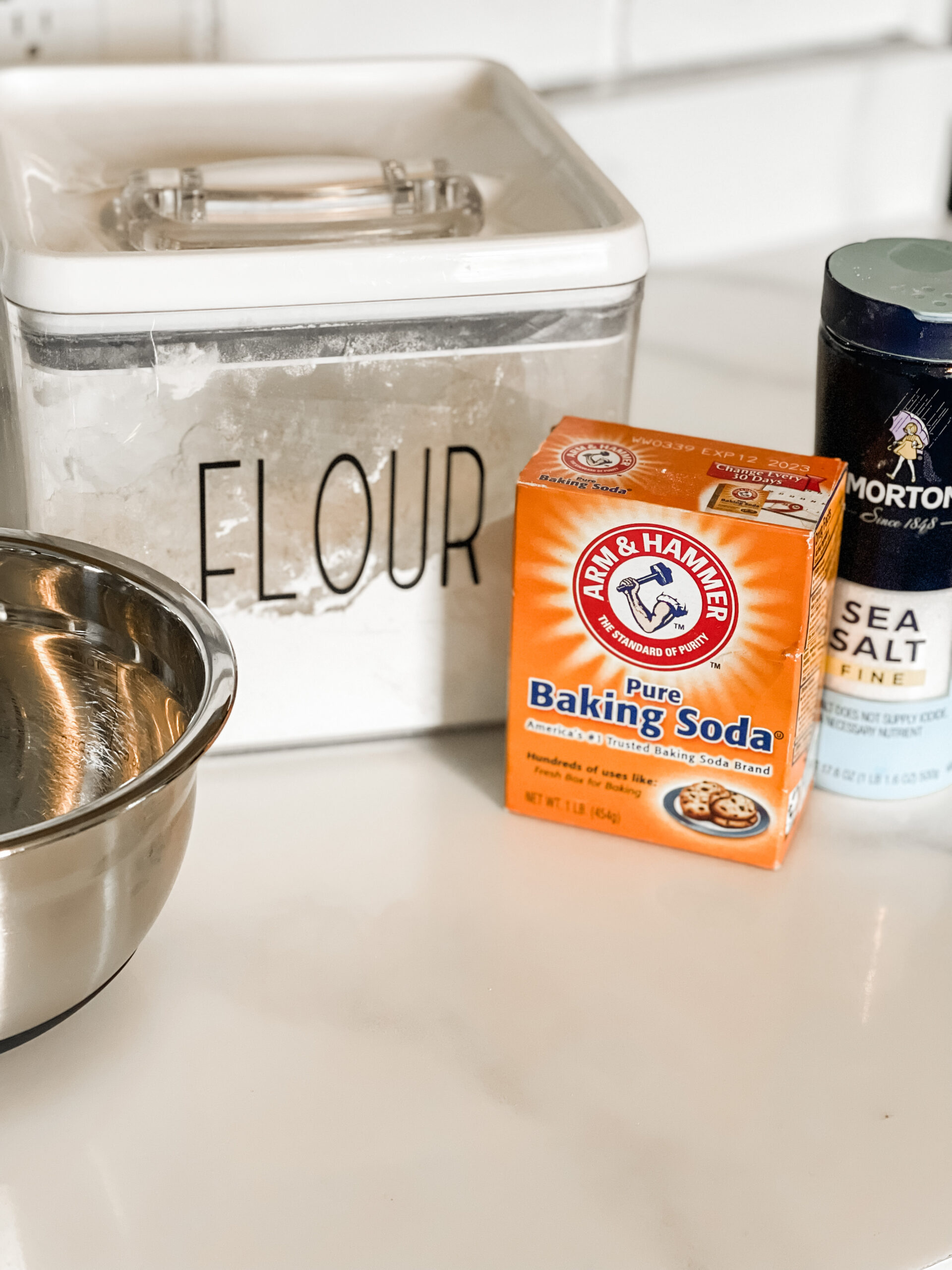 Cream Shortening and Sugars
One of the advantages of shortening is it is stored at room temperature, so no need to wait for it to come to room temperature like butter. Using hand mixer, combine one cup shortening, brown sugar, and granulated sugar in a large bowl. Make sure the brown sugar is packed. Mix the ingredients on high speed until well combined, approximately 2 minutes on high speed. My go-to hand mixer is this KitchenAid hand mixer. I have used it at least once a week for the past 5+ years and it is still going strong! Though I did accidentally throw away the attachable beaters when cleaning the kitchen once! Luckily, I was able to order replacements.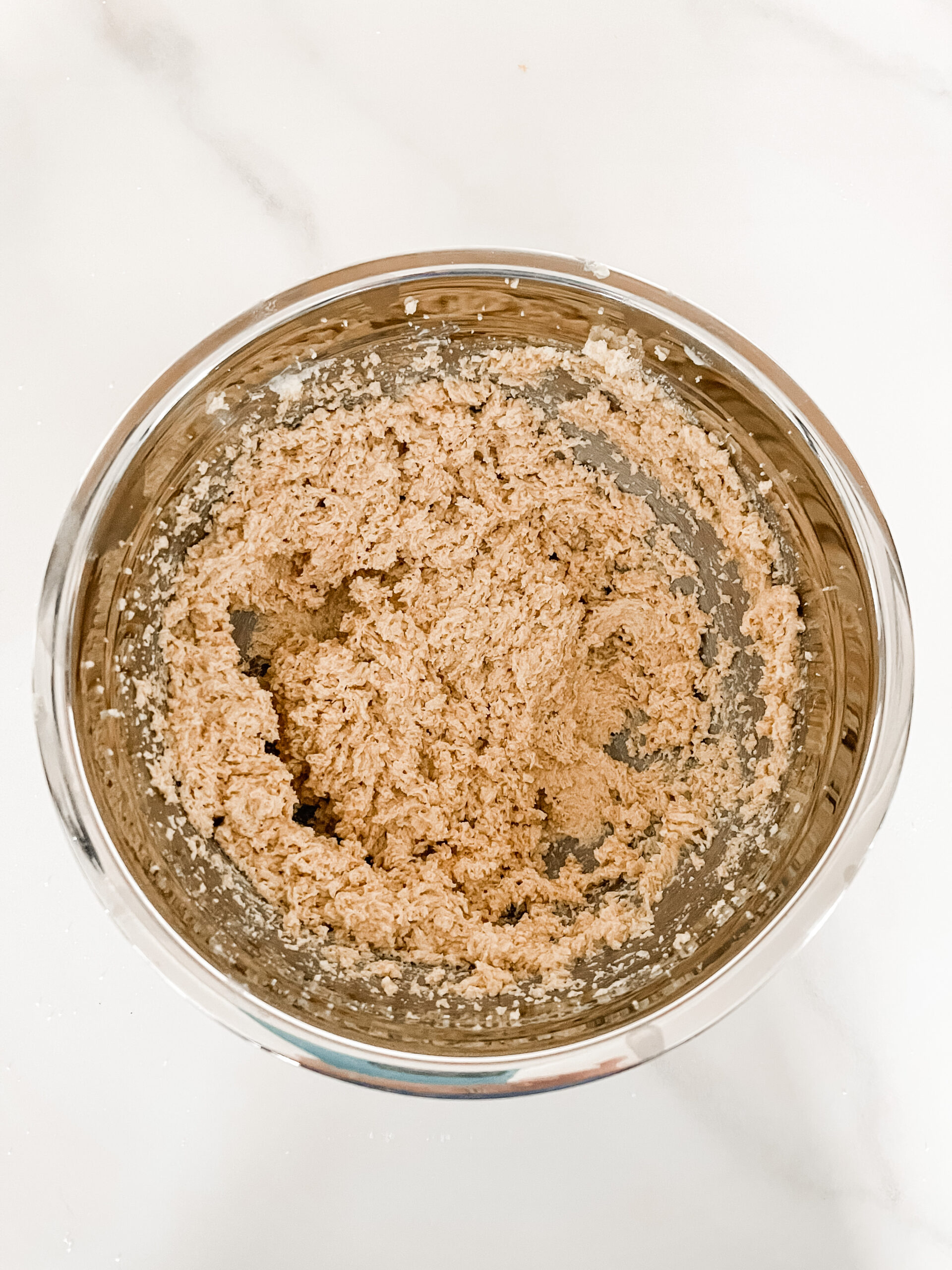 Adding Eggs and Vanilla
Once the crisco mixture is well combined, add 2 eggs and 2 teaspoons vanilla extract. No need for the eggs to be at room temperature! Beat with a hand mixer on low until it is fully incorporated. Scrape down the sides with a rubber spatula to make sure everything is mixed.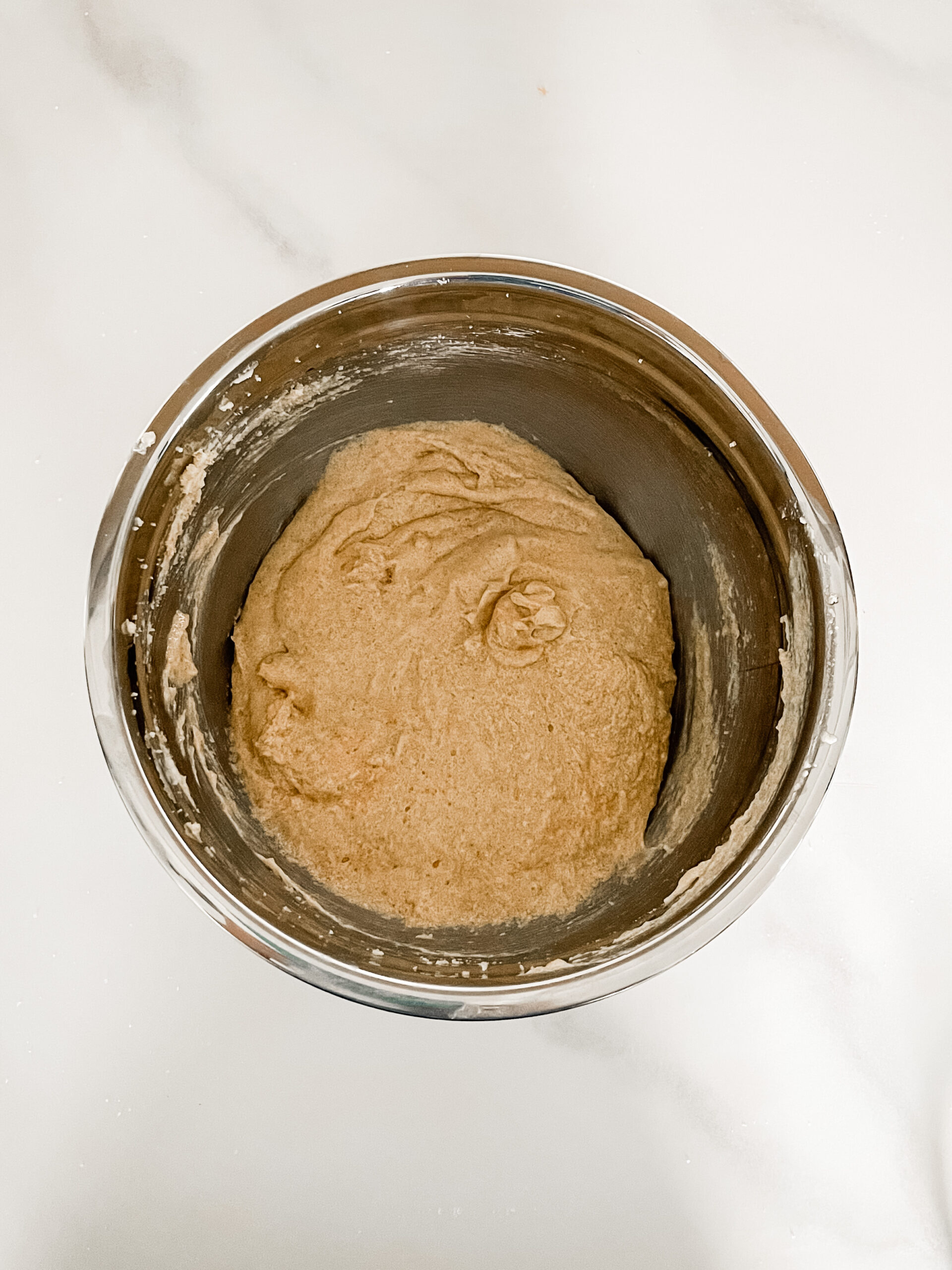 Combine Shortening Mixture and Dry Ingredients
Add the flour into the crisco and sugar mixture all at once. Beat with the hand mixer on low speed. Mix until the flour is just combined into the shortening and sugars. As soon as the flour is dispersed stop mixing.
Add in your semisweet chocolate chips and beat on low until the chips are evenly mixed into the chocolate chip cookie dough.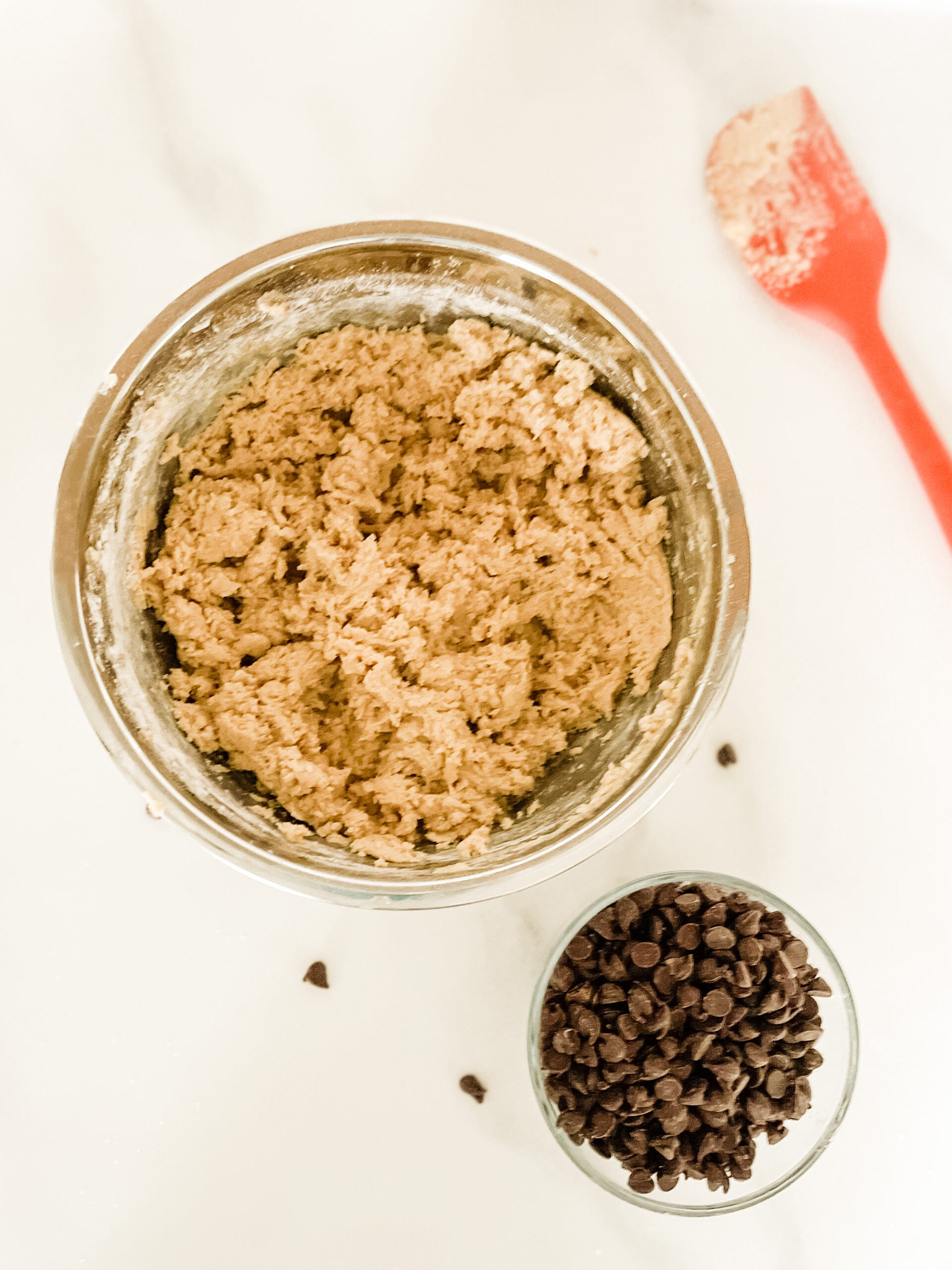 Baking the Best Chocolate Chip Cookies
One great part about this recipe, you do not need to chill dough to get chocolate chip cookies that are puffy and not flat. Using the room temperature dough and a medium cookie scoop, drop dough onto the parchment-lined cookie sheet. I love the OXO medium cookie scoop, which will measure about 2 teaspoons of dough. Make sure the dough balls are at least 2 inches apart as the cookies will spread when baking. You can use either parchment paper or a silicone mat for these cookies.
Bake at 350 degrees for 12-14 minutes. They are done baking when the crisco chocolate chip cookies are golden brown on the edges and the centers are lighter in color. Let the cookie sit on the baking sheet for 5-10 minutes and then let them come to room temperature on a cookie rack.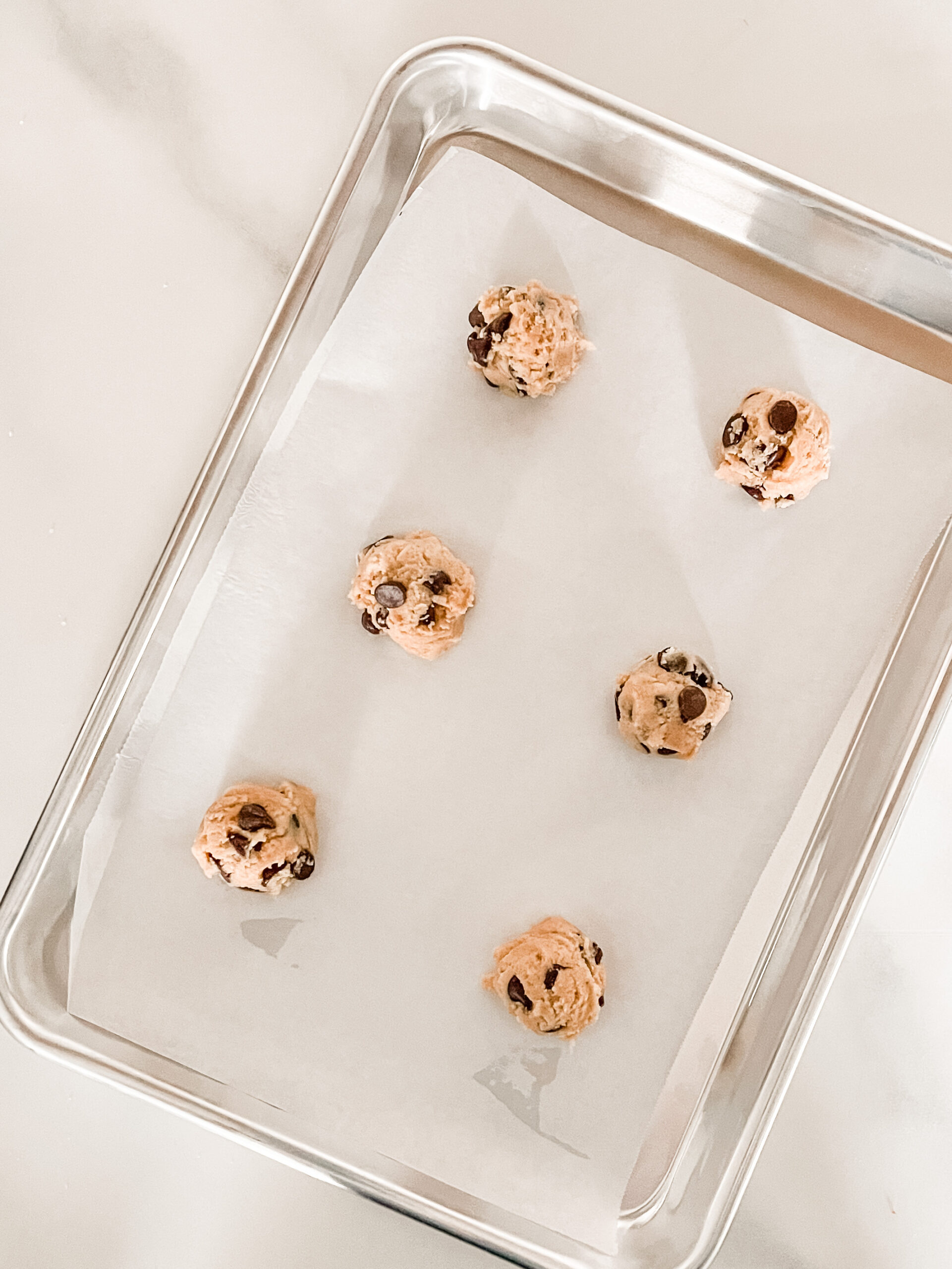 Storing Chocolate Chip Cookies
You can store these shortening-based chocolate chip cookies in an air-tight container (these are my favorite storage containers) at room temperature for up to 5 days. Store in an airtight container in the freezer for a couple of months.
In my opinion, there is nothing better than old fashioned chocolate chip cookies with shortening. I really hope you enjoy these crispy yet chewy chocolate chip cookies. If you make these, please share with me on Instagram!
If you like this recipe, here are a few more you may enjoy!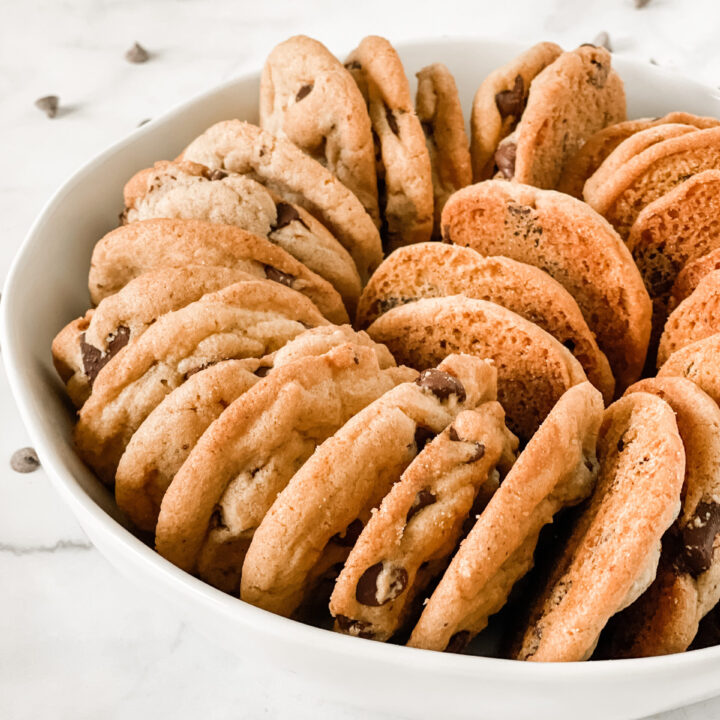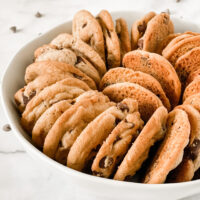 Crisco Chocolate Chip Cookie
These crisco chocolate chip cookies are crispy on the edges and chewy in the center. They are easy to make and a foolproof recipe.
Print
Pin
Ingredients
2 ½

Cups

All-Purpose Flour

1

teaspoon

Baking Soda

1

teaspoon

Sea Salt

1

Cup

Crisco

¾

Cup

Brown Sugar

¾

Cup

Granulated Sugar

2

Eggs

2

teaspoon

Vanilla Extract

2

Cups

Semi-sweet Chocolate Chips
Instructions
Preheat oven to 350 degrees. Line cookie sheet with parchment paper and set aside.

In a medium bowl, mix the flour, baking soda, and salt. Whisk well until fully combined, set aside.

In a large bowl, combine regular Crisco, packed brown sugar, and granulated sugar. Using a hand mixer (or stand mixer) beat on high speed for about 2 minutes. Ingredients should be fully incorporated.

Add eggs and vanilla extract, beat on low until just combined.

Add the dry ingredients all at once to the Crisco and sugar mixture. Beat on low until the flour is just combined.

Pour the semi-sweet chocolate chips into the dough, beat on low or hand mix until the chips are evenly dispersed throughout the cookie dough.

Drop dough (about 2 tablespoons of dough each) onto the prepared baking sheet. For best results, make sure the cookies are at least 2 inches apart.

Bake cookies for 12-14 minutes. Remove from the oven when the edges of the cookie are golden brown and the center is a light brown color. Let cool on baking sheet for at least 5 minutes and then allow to come to room temperature on the cooling rack.
Notes
Notes:
For extra crispy cookies, add 1-2 minutes to the baking time and bake until the edges turn darker brown. 
Storage: Airtight container for 5 days or freeze for up to 2-3 months.