This s'mores cookie bar recipe is made up of a graham cracker cookie dough base, topped with marshmallow cream, chocolate chips, and graham cracker crumb topping. They have that classic gooey s'mores flavor and make a great summer treat!
Disclaimer: This post may contain affiliate links, meaning I may get a small commission if you decide to make a purchase through my links at no cost to you.
Why You'll Love these S'mores Bars
These cookie bars are so good because they combine the best s'more flavors and each layer has a different texture. The base layer is similar to that of chocolate chip cookie bars, but they have graham cracker crumbs folded in to give them that lovely flavor and a dense chewy texture. Next, they are topped with gooey marshmallow fluff and chocolate chips. The top layer (which is my favorite) is a crumb topping with graham cracker crumbs, giving them a nice crunchy texture!
Looking for more cookie bar recipes? Try these Snickerdoodle Cookie Bars or these Funfetti Cookie Bars. Both are made with cake mixes and are super quick and easy!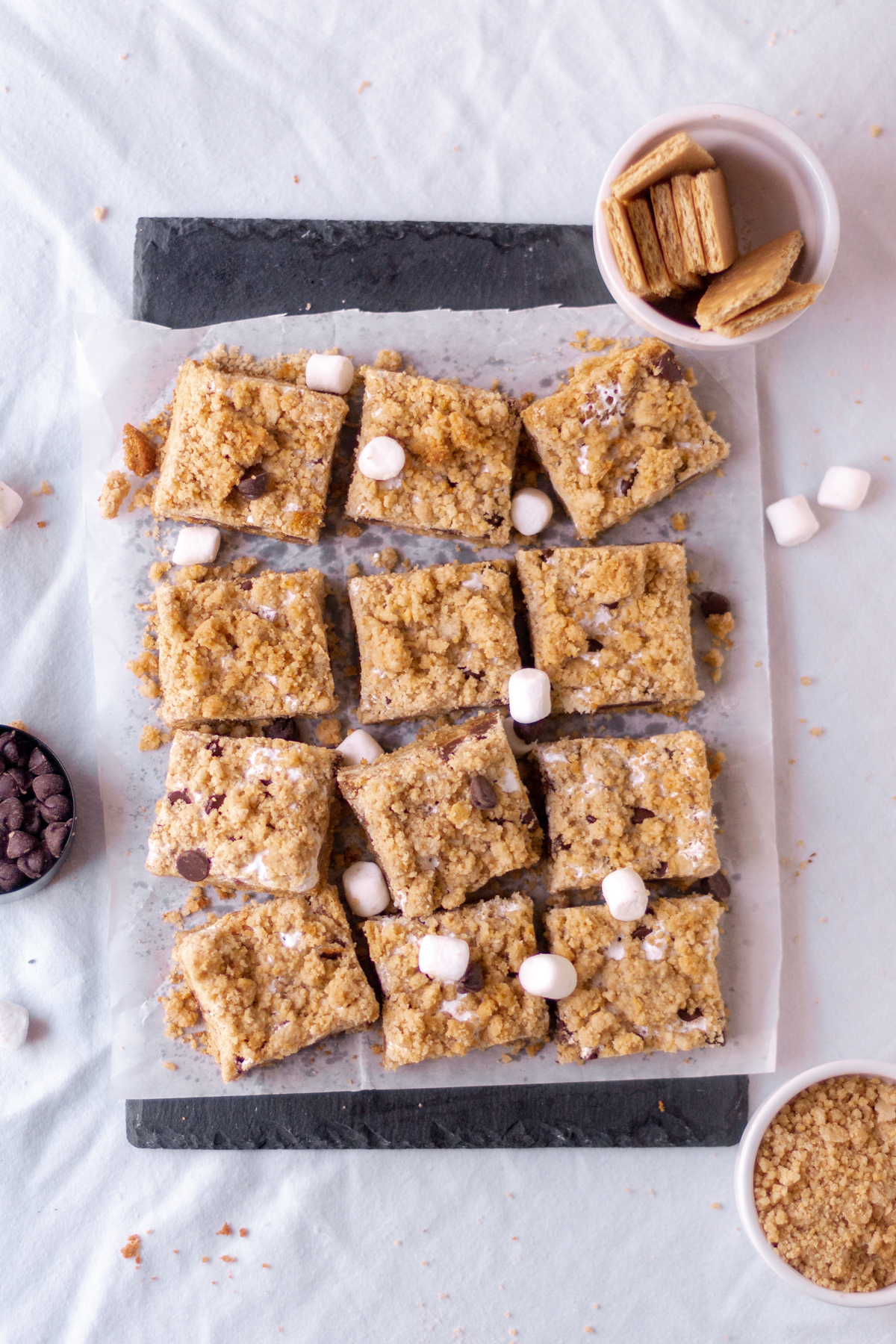 Ingredients
Unsalted Butter
Granulated Sugar
Brown Sugar
Egg
Vanilla Extract
All-Purpose Flour
Baking Soda
Salt
Graham Cracker Crumbs
Marshmallow Fluff
Chocolate Chips
Supplies Needed
How to Make Smores Bars:
Prepare Pan and Ingredients
Pre-heat oven to 375 degrees. Line the bottom of the pan with parchment paper.
You can buy premade graham cracker crumbs or you can make them yourself. There are two ways to make your crumbs. First, rip up whole graham crackers into smaller pieces and add to your food processor and process them until they are mostly fine pieces. Alternatively, you can add the pieces of graham crackers to a zip lock bag and smash them with a rolling pin until fine.
Make Cookie Dough Base
In a medium-sized bowl combine flour, baking soda, and salt. Whisk well and set dry ingredients aside.
In a large bowl, combine butter (make sure it's room temperature), brown sugar, and white sugar into a large mixing bowl. Beat on high with an electric mixer for about 30 seconds to 1 minute until well combined. The mixture will be light brown in color and have a whipped-looking texture.
Pro Tip: If you forget to set your butter out to get it to room temperature ahead of time, you can use the microwave. Add the full stick to the microwave and set for 10 seconds at 50% power. Feel the butter and if it's still cold, add another 5 seconds at 50% power. Continue until the butter is at room temperature, but should not be too soft.
Add the egg and vanilla extract to the butter mixture and mix on medium speed with your mixer until smooth.
Slowly add the flour mixture about ¼ to a ½ cup at a time and mix on low speed. Make sure each addition of flour is fully combined before adding the next. Add in the graham cracker crumbs, using a spatula, and fold in the crumbs. The dough will be quite thick, golden brown, and most of the crumbs should be dispersed, though you will still see some graham cracker crumbs visible.
Mix the Graham Cracker Topping
Melt the butter and add it to a small bowl. Add the second half of graham cracker crumbs, flour, and brown sugar. Use a fork to mix the topping. It will look kind of like thick, chunky sand. Set aside.
Layering the Cookie Bars
Grab your 8x8 square baking pan and add the graham cracker dough. Using your spatula, spread out the dough to cover the bottom of the prepared baking dish. If it's sticking to your spatula too much and/or hard to spread, slightly wet your hands and press the dough to fill the pan in an even layer.
Now time for the marshmallow layer! Add the marshmallow cream and spread it across the bottom cookie dough layer. Sprinkle chocolate chips across the top of the marshmallows.
Lastly, sprinkle the graham cracker crumb topping across the top of the pan until mostly covered.
Place the pan in the center of your oven and bake for 23-25 minutes.
The tricky part of this recipe is that you cannot see the top of the cookie portion, so it's visually it is tough to see when they are done. If they are slightly underbaked, you'll get a nice gooey, doughy base, which I personally like! However, make sure to err on the higher baking side if you want a firmer cookie.
Once they are somewhat cool, lift out the parchment paper and place on a cutting board. Cut them into 16 squares. You can serve warm or cool!
Storing Cookie Bars
S'mores cookie bars can be stored in an airtight container (these are my favorite) for up to 5-7 days. They can be served at room temperature or pop them into the microwave for 10 seconds to warm them back up!
Types of Chocolate
I used semi-sweet chocolate chips (mostly because that is what I always have on hand). However, you can really substitute whatever kind of chocolate you like such as milk chocolate chips, dark chocolate, chocolate chunks, or broken Hershey's chocolate bars.
If you liked this recipe, you may like these too!
I hope you enjoy this recipe! Please leave a comment if you love it and tag me in any of your creations on social media.
Flourless Oatmeal Chocolate Chip Cookie Recipe
This chocolate chip cookie recipe is flourless, and made with ground oats giving it a delicious and nutty flavor. Make sure to use gluten-free oats to make a gluten-free cookie recipe!
Print
Pin
Ingredients
3

Cups

Old Fashioned Oats

1

tablespoon

Corn Starch

1

teaspoon

Baking Soda

¼

teaspoon

Sea Salt

½

Cup

Unsalted Butter

(softened)

¼

Cup

Granulated Sugar

¼

Cup

Brown Sugar

1

Egg

1

Tsp

Vanilla Extract

2

Cups

Chocolate Chips
Instructions
Preheat the oven to 350 degrees. Line cookie sheets with parchment paper or silicone mats. 

Using a food processor, grind up the oats until they are a fine powder. Add the corn starch, baking soda, and sea salt to a food processor and combine. Set aside.

In a large bowl, using an electric mixer, beat the unsalted butter, white sugar, and brown sugar on high for about 1 minute. 

Add egg and vanilla extract. Beat on medium for approximately 30 seconds until mixed well. 

Add half of the oat mixture and fold in using a spatula. Once the first half is mixed in, add the second half and continue to fold in the oats until fully combined.

Stir in the chocolate chips until evenly dispersed throughout the dough. 

Drop 2 tablespoon-sized dough balls (about 35g) onto the lined cookie sheet. 

Baking time will be 9-11 minutes.

Remove from oven and let sit on cookie tray for at least 10 minutes to let the cookie set and become more stable.

Cool cookies completely on a wire rack. 
Notes
Storage:
Store in an airtight container for up to 1 week.

Wrap and freeze in an airtight container for up to 3 months.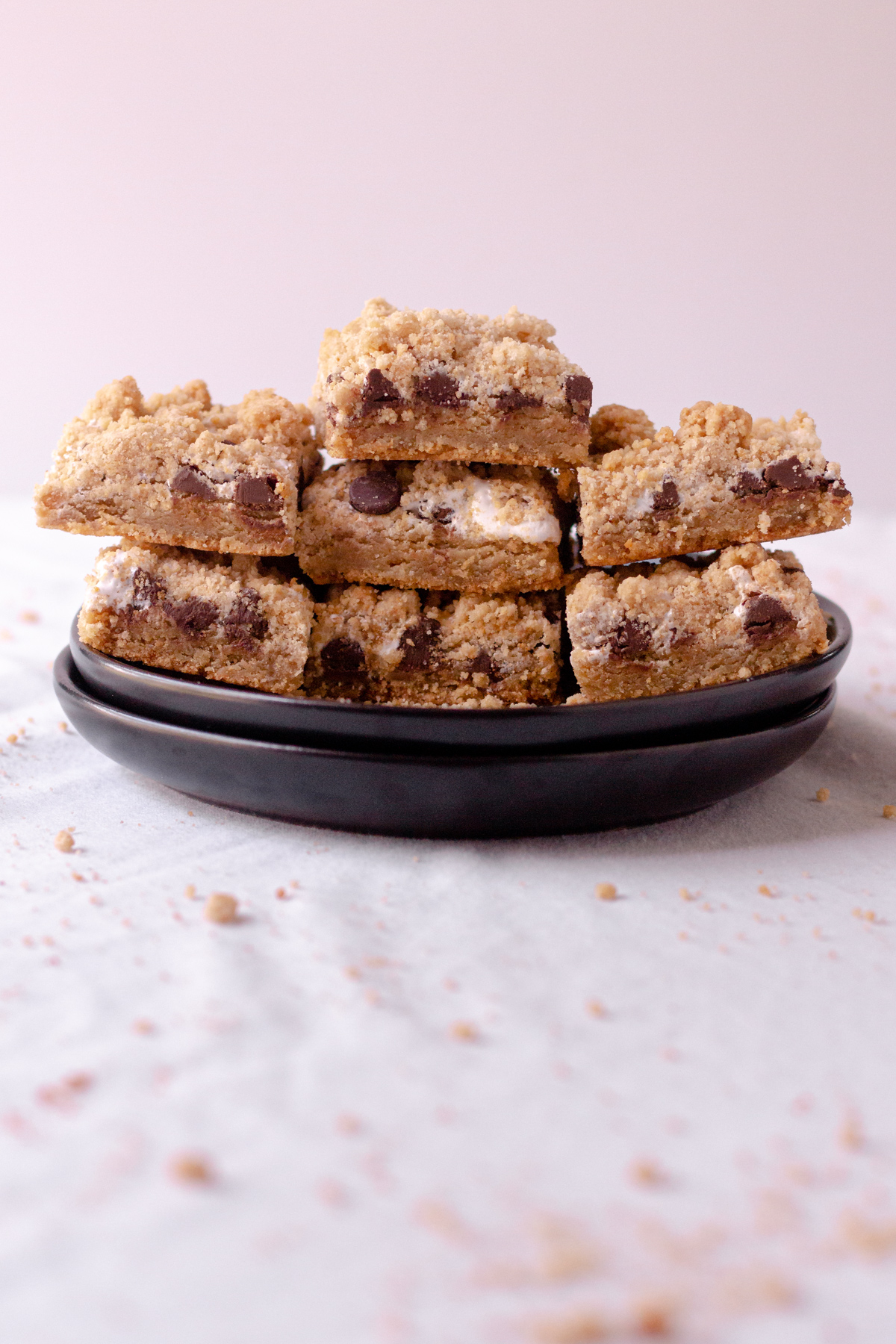 S'mores Cookie Bars
These cookie bars are graham cracker flavored and topped with gooey marshmallows, chocolate chips, and a crunch graham cracker crumb topping.
Ingredients
Cookie Layer (base)
1 ¾ Cup Flour
1 teaspoon Baking Soda
½ teaspoon Salt
½ Cup Butter (room temperature)
½ Cup Brown Sugar (packed)
¼ Cup Granulated Sugar
1 Egg
1 teaspoon Vanilla Extract
½ Cup Graham Cracker Crumbs
Middle Layer
¾ Cup Marshmallow Fluff
½ Cup Chocolate Chips*
Graham Cracker Crumb Topping
5 tablespoon Unsalted Butter (melted)
½ Cup Graham Cracker Crumbs
⅔ Cup Flour
⅓ Cup Brown Sugar
Instructions
Preheat the oven to 375°. Line 8x8 square baking pan with parchment paper and set aside.
In a medium bowl add all-purpose flour, baking soda, and salt. Whisk to combine. Set aside.
If you do not have pre-crushed graham cracker crumbs, crush full graham crackers using a food processor or by adding them to a zip lock bag and crushing with a rolling pin.
In a large bowl, add room temperature butter, brown sugar, and white sugar. With an electric mixer, beat on high for 1-2 minutes until fully combined.
Add egg and vanilla extract and beat with an electric mixer on medium for about 30 seconds until it has been incorporated.
Slowly add your dry ingredients about ½ cup at a time, beating on low between each addition.
Add ½ cup of graham cracker crumbs and fold them into the cookie dough using a spatula.
Spread dough out on the bottom of the prepared baking pan.
Top the graham cracker cookie dough base with marshmallow fluff and spread evenly across with a spatula.
Sprinkle chocolate chips across the top of the marshmallow fluff.
Make your crumb topping by melting butter in a microwave-safe bowl. Once melted, add the remaining graham cracker crumbs, flour, and brown sugar and stir with a fork. You will get a thick crumb texture. Sprinkle these crumbs across the top of the marshmallow/chocolate chip layer.
Bake at 375° for 22-25 minutes.
Notes
* You can use semi-sweet chips, dark chips, milk chocolate chips, or even broken up Hershey's bars for this layer.