If you are new to royal icing cookie decorating, this guide will give you everything you need to know to get started. It includes everything from royal icing consistencies to cookie supplies and more!
What is Royal Icing?
Ingredients for Royal Icing
Royal Icing Consistencies
Flooding Royal Icing Consistency
Medium Consistency Royal Icing
Stiff Consistency Royal Icing
Royal Icing Consistency Chart
How Long Does Royal Icing Take to Dry?
Where to Buy Cookie Decorating Supplies
Must-Have Cookie Decorating Supplies
Cookie Decorating Splurges
How to Store Royal Icing and Decorated Cookies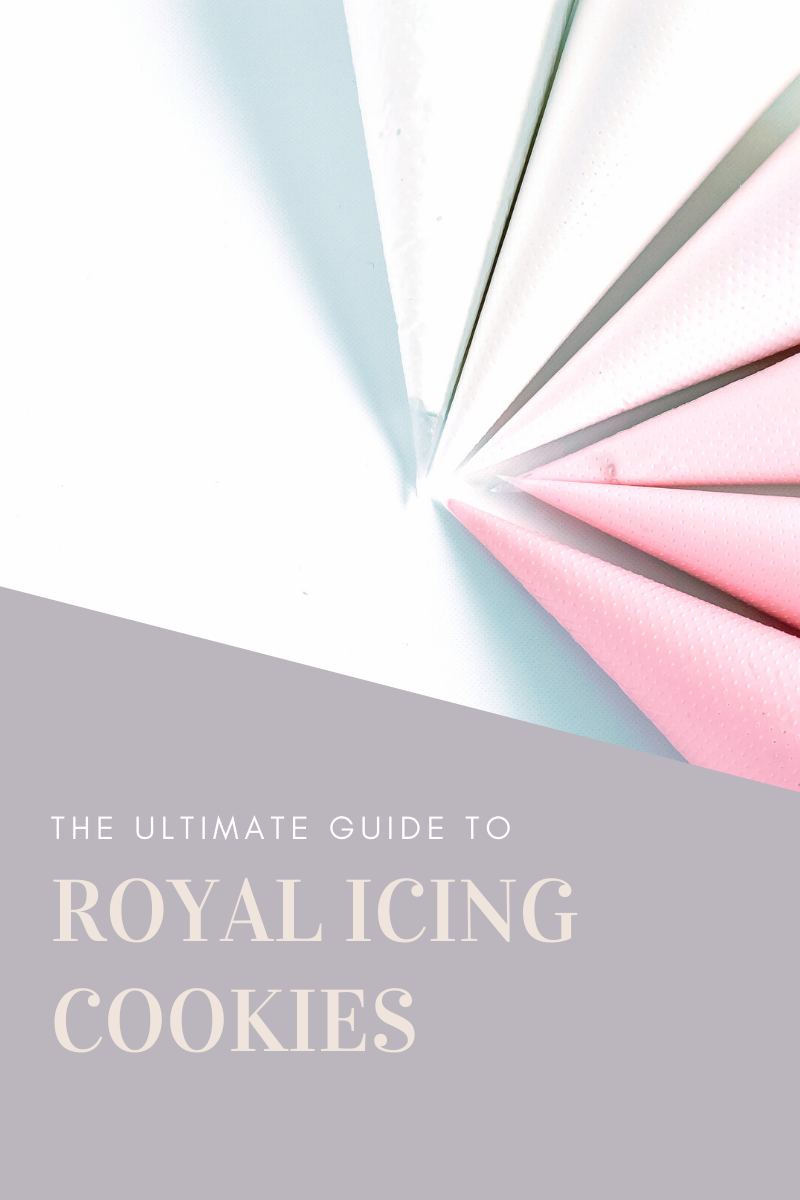 What is Royal Icing?
Royal Icing is typically used for decorating various kinds of desserts, though it is most common for cookie decorating. This type of icing dries hard which allows for layering different colors and achieving more intricate designs. With only three simple ingredients, it is very easy to make. The difficulty with Royal Icing comes with finding the right consistency. The best way to learn is to practice and experiment with what works best for you! I've been decorating cookies with Royal Icing for almost ten years now, and my goal with this post is to share everything I have learned to help you with your Royal Icing cookie creations!
Ingredients for Royal Icing
There are a few different recipes you can follow to make Royal Icing. Some contain egg whites, some powdered egg whites, and some meringue powder. My experience is with making royal icing using meringue powder, so I am going to focus on this method.
My royal icing recipe consists of confectioners sugar, meringue powder, and water. For every one cup of confectioner's sugar, I use approximately ½+ tablespoon of meringue powder, and water to consistency.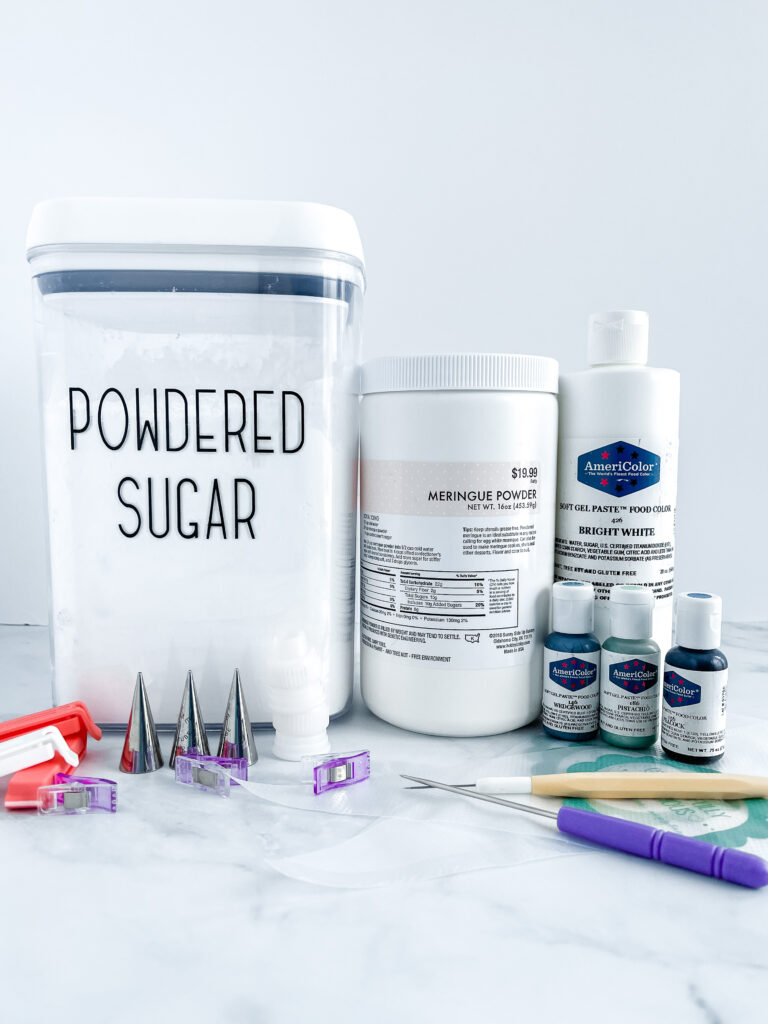 Royal Icing Consistencies
There are three main types of royal icing piping consistencies that will help you achieve most designs: Flood, Medium, and Stiff.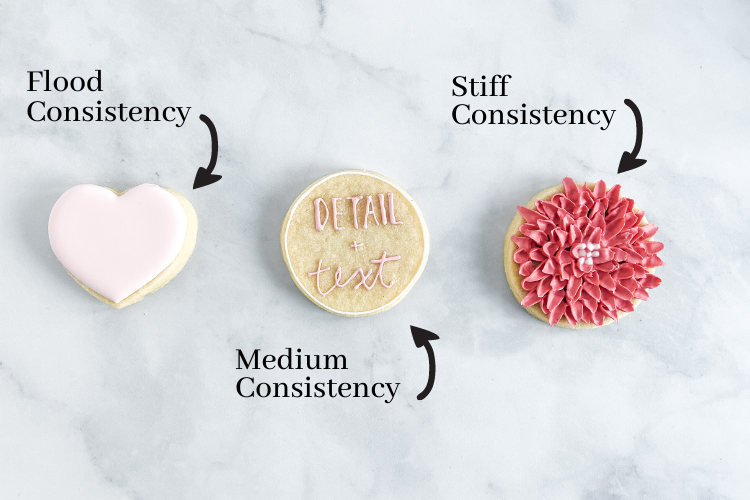 Flooding Royal Icing Consistency
Flood is the thinnest consistency you will use to fill in the base layer of your cookies. It spreads easily to give your cookie a nice flat canvas to work off of. I use the counting method to know when I have the correct flood consistency. For the counting method, if you spoon out some icing and let it drip back into the bowl, it will disappear in a certain amount of seconds. This can vary anywhere from around 5 seconds up to 15 seconds for flood icing. I prefer my icing on the thinner side, anywhere from around 8-10 seconds.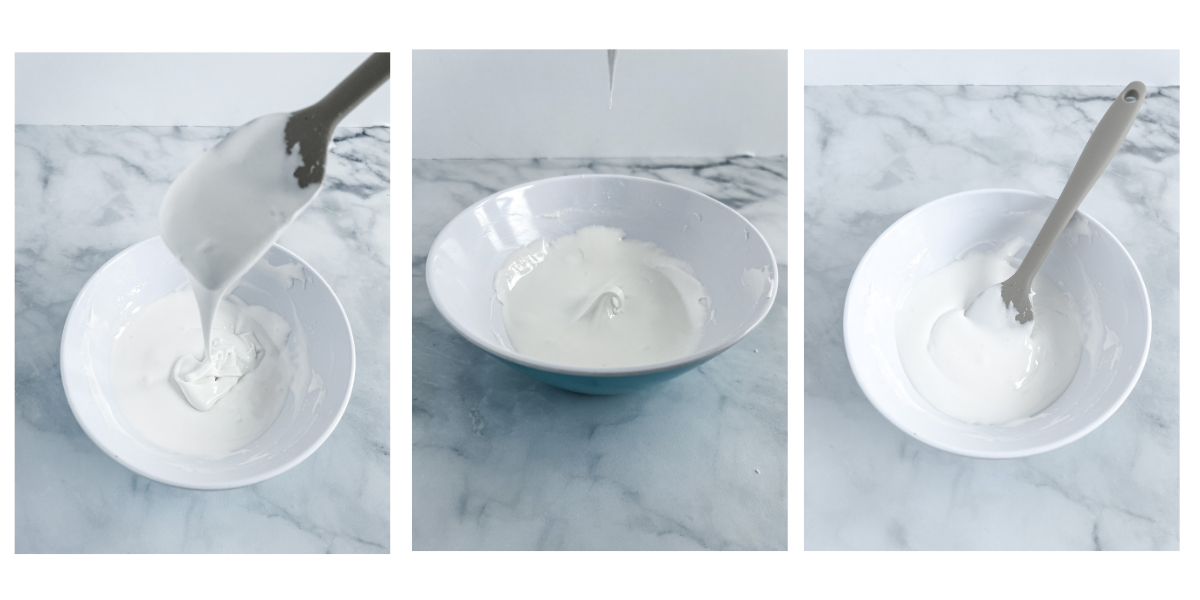 Medium Consistency Royal Icing
Medium consistency royal icing can be used for outlining, text, and some detail. The best way to ensure your flood icing does not run off of the edge of the cookie, is to use the outline method. This simply means, outline around the edge of the cookie (or wherever you want the flood to be contained). I also use this consistency for text and details such as leaves and small areas that need to be filled with icing.
For the counting method, you will be somewhere in the neighborhood of 15-25+ seconds: closer to 15-20 seconds for small areas that need filling such as leaves; closer to 20-25+ seconds for writing text. The best way to determine what works best for you is, of course, practice!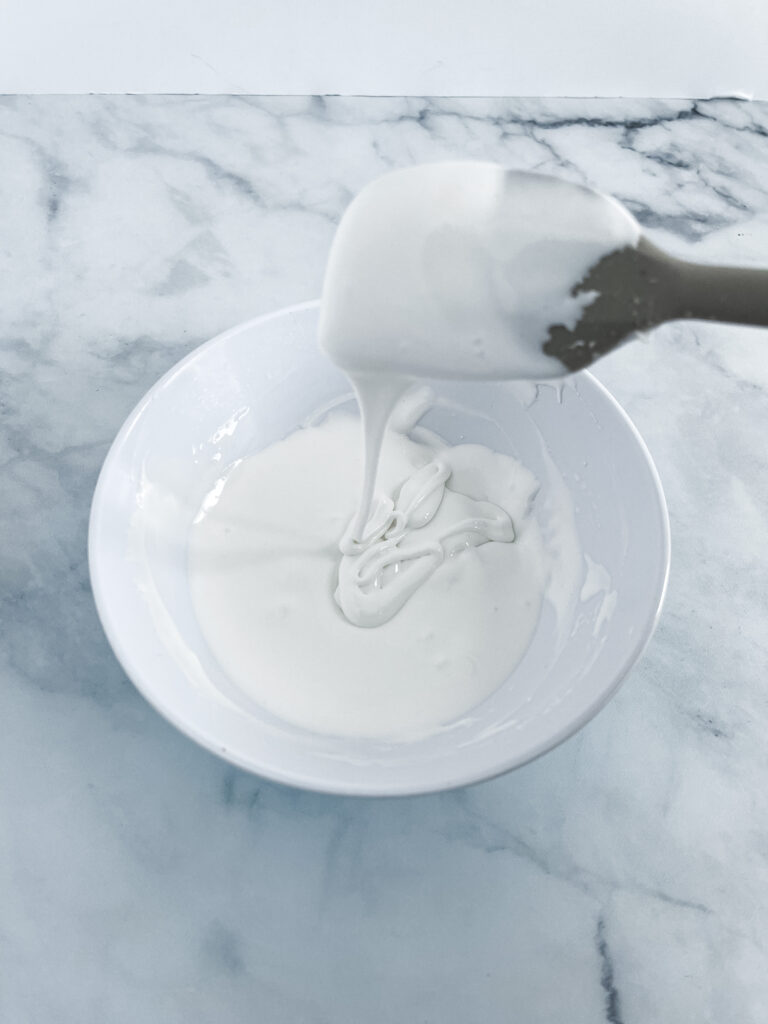 Stiff Consistency Royal Icing
The last major type of Royal Icing consistency is Stiff. This is used for florals, ruffles, or any design where the icing needs to hold its shape. There is no counting method for this one, when mixing your Royal Icing, you will use minimal water and if you take a spoon and scoop up some icing, it will stay straight up, and stiff.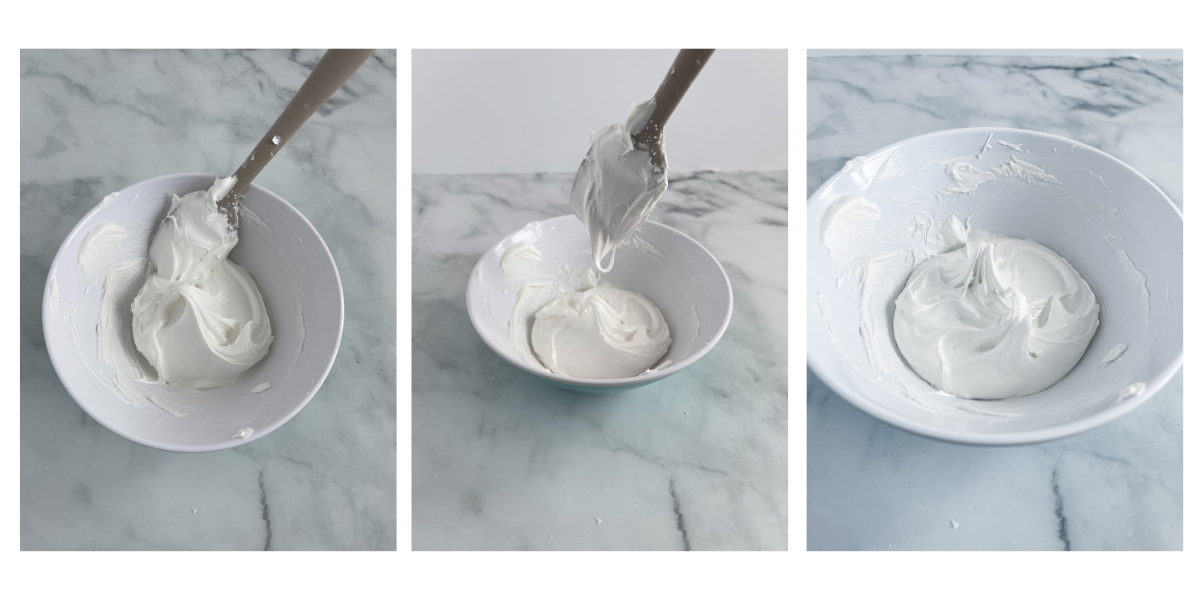 Royal Icing Consistency Chart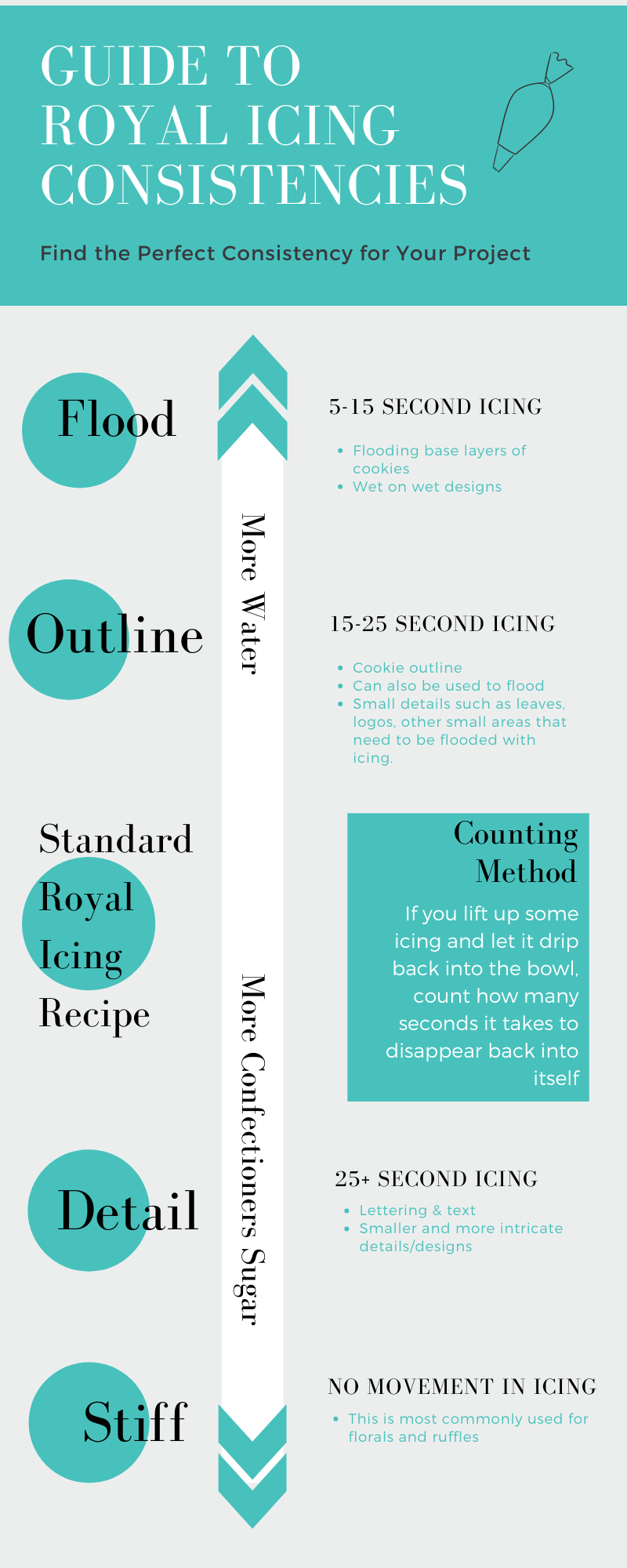 How Long Does Royal Icing Take to Dry?
Drying time for royal icing varies based upon how thin your flood icing is and the level of humidity in the air. On average it takes about 8 hours for the base to fully dry. Once my cookie is fully decorated, I like to let it dry overnight to make sure all of the details are set. 
If it is very humid in your area, your royal icing may not dry at all. I live in a humid climate without central air conditioning. During those hot and humid summer months, I put my cookies out to dry in a room with a window air conditioner. You can also try using a dehydrator, dehumidifier, or a fan as a few strategies to speed up the drying process.
Where to Buy Royal Icing Cookie Decorating Supplies
There are so many great shops, both small and large, where you can get your supplies from. Here are a few of my favorites
I could go on and on with the amazing cookie cutter and supply shops out there - but I hope this list gives you a good start.
Must-Have Cookie Decorating Supplies
I'll go through some of the standard cookie decorating supplies in this post, but for even more ideas and information, check out my post on my favorite cookie decorating supplies!
Hand Mixer or Stand Mixer
To fully get the meringue powder incorporated into the icing, some sort of electric mixing is a must! You can use a hand mixer or a stand mixer, either will work. When I only need a little bit of icing, I typically use my KitchenAid Hand Mixer because it's easier. But when making large amounts of Royal Icing, a KitchenAid Stand Mixer will really help your efficiency.
No matter which you use, you will need to keep the speed low (up to medium with a hand mixer since it's not as powerful). If you beat on too high of a speed, you will get air bubbles in the icing which will show up on the cookie. Trust me, these are a pain in the butt to pop, so it's easiest to try and avoid them all together.
Food Coloring
You can use almost any food coloring for royal icing. The one requirement is it must be water-based. Any oil-based food coloring will ruin the royal icing. Americolor, Wilton, and Sunny Side Up Baker (Hobby Lobby) are all great options.
Piping Bags and Piping Tips
Tipless Royal Icing Piping Bags
For most royal icing decorating, tipless bags are my preference. You can change how much royal icing comes out by varying the pressure you put on the piping bag. You can also adjust how large you want the hole in the piping bag by cutting the tip - typically larger for flooding royal icing and smaller for detail work. I also like this method because cleanup is a breeze!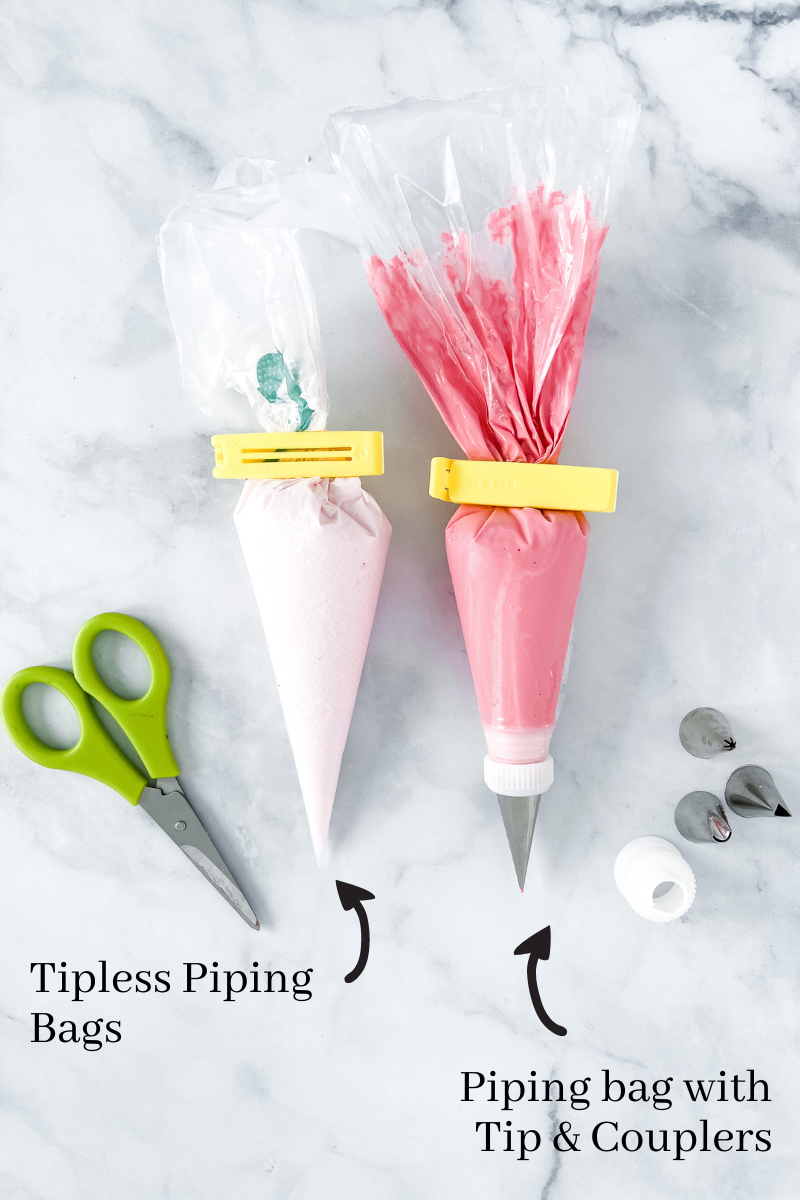 Piping Bags with Tips
If you choose to use piping tips, I would use a coupler as well (a plastic piece you put inside the bag and attach the piping tip on the outside). This way you can change the tips as you are decorating. The tips are simply little cone-shaped metal pieces in different sizes and shapes. You can use a larger tip for flooding and a smaller one for detail. I use these primarily for flowers or really fine detail lettering.
Toothpicks
Toothpicks can be used to spread out the flood icing around the cookie. I used toothpicks for years until I decided to upgrade to a cookie scribe - see the splurges section!
No Spread Cookie Recipe
You can decorate any cookies with Royal Icing, but you do want to select a recipe with minimal spread, and most importantly one that does not rise. If you have a dome-shaped cookie, the flood royal icing will run off and not spread evenly.
Check out my no-spread Sugar Cookie Cut Out Recipe!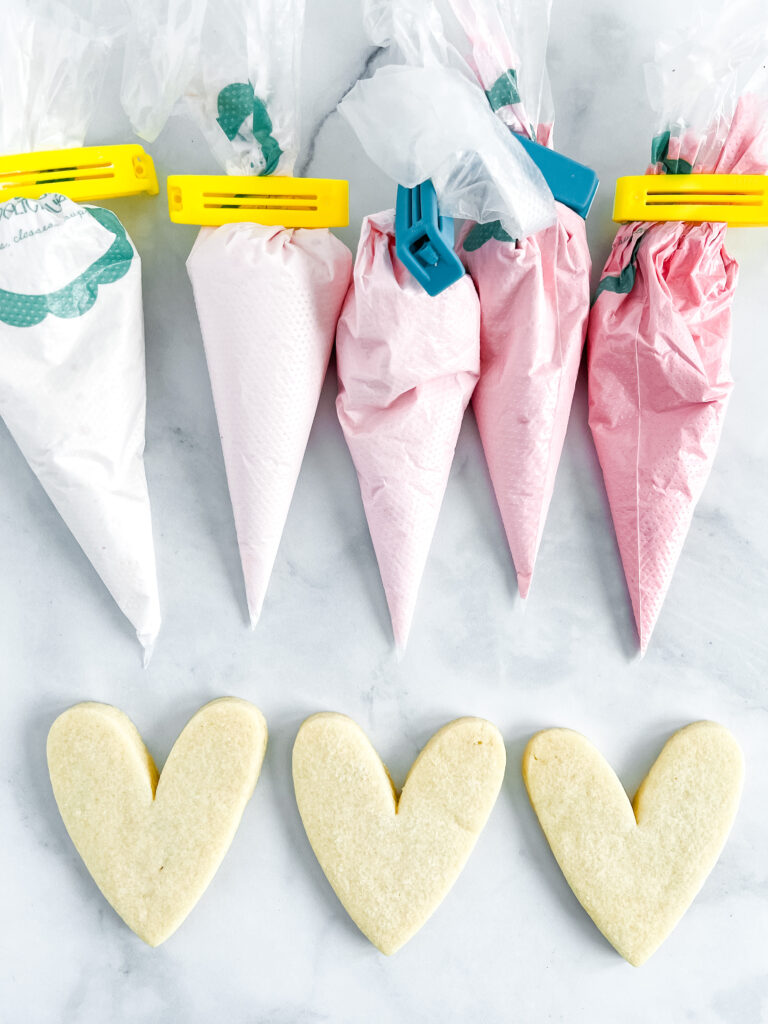 Cookie Decorating Splurges
Here are a few items that are not needed, but fun upgrades as you dive more into cookie decorating.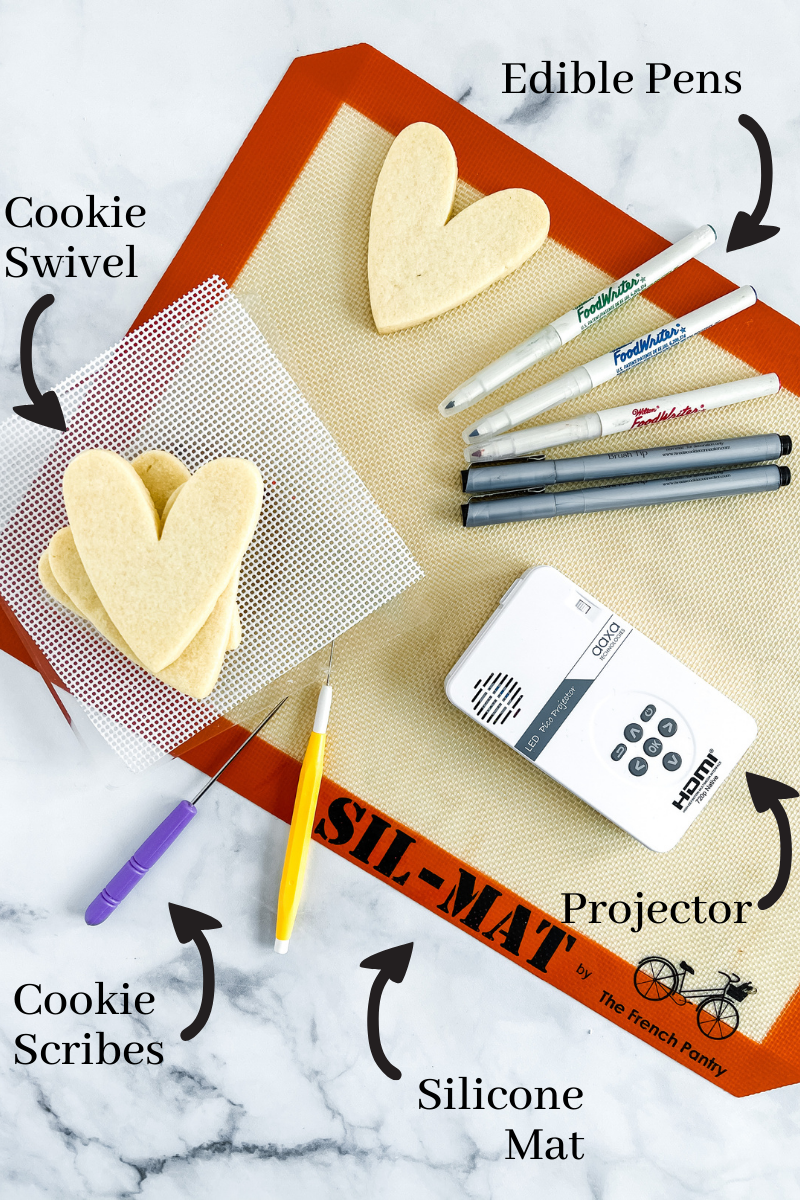 Cookie Scribes
Cookie scribes serve the same purpose as a toothpick - to spread out the flood royal icing over the cookie as well as touch up detail work when needed. However, they are a bit longer, usually have a grip, and are easier to hold. Not a necessity, but really useful and fun to get different colors!
Cookie Swivel
It is very helpful to use a cookie swivel/cookie turntable when doing intricate designs. This allows you to turn the cookie to be able to do detail work without constantly turning by hand and risking touching your royal icing.
Projector or Stencils
I FINALLY got my projector and I don't know how I went so long without one. You can use your projector to display an image onto the cookie and trace the design with your Royal Icing. This allows you to get a consistent design on all of your cookies - and is especially useful for text! I use the AAXA Pico Projector, which I love. If you make enough cookies, it is worth the investment!
You can also use stencils. I used to hand-cut them from my Cricut and then use an edible pen to outline my design before filling in with Royal Icing. Many of the shops I listed above as well as Etsy shops sell really fun stencils!
Edible Pens
Speaking of edible pens, these can be a fun way to add touches and details to your cookie design. They can also be a great way to get kids involved in cookie decorating without the mess!
For detail work, I highly recommend this Rainbow Dust Food Pen. These pens are double-sided and give you a thin tip detail pen on one, and a thicker pen on the other. However, for letting your kids color on a cookie, Wilton Edible Markers have some fun colors.
Silicone Mats
I use these Silicone Mats for baking and decorating. When I bake my cookies, the silicone mat allows for a more evenly baked cookie. I also like to lay a large silicone mat out when decorating because they are easy to clean and royal icing easily washes off. Not a necessity, but helpful!
Here is a post dedicated to cookie decorating supplies for even more details!
How to Store Royal Icing and Decorated Cookies
Extra Royal Icing
The best news about Royal Icing is it saves very well! My method is to leave the royal icing in the piping bags and refrigerate until my next use. I would freeze your Royal icing if you are not planning on using it in the next few weeks. Storing at a colder temperature will help reduce the water pooling in the bag. When this does happen, simply massage the bag until the water is reincorporated.
Royal Icing Cookies
Once your royal icing cookies are fully dried, you can store them in an airtight container (my recipe stays fresh for about 5 days). You can also freeze and store them in an airtight container for several months. I prefer to heat seal my cookies and then freeze them to help keep them fresher for even longer. If you do not have a heat sealer, you can put them in Ziploc bags and then an airtight container before freezing. This will also help to keep your designs intact!
Check out my post on transporting decorated sugar cookies!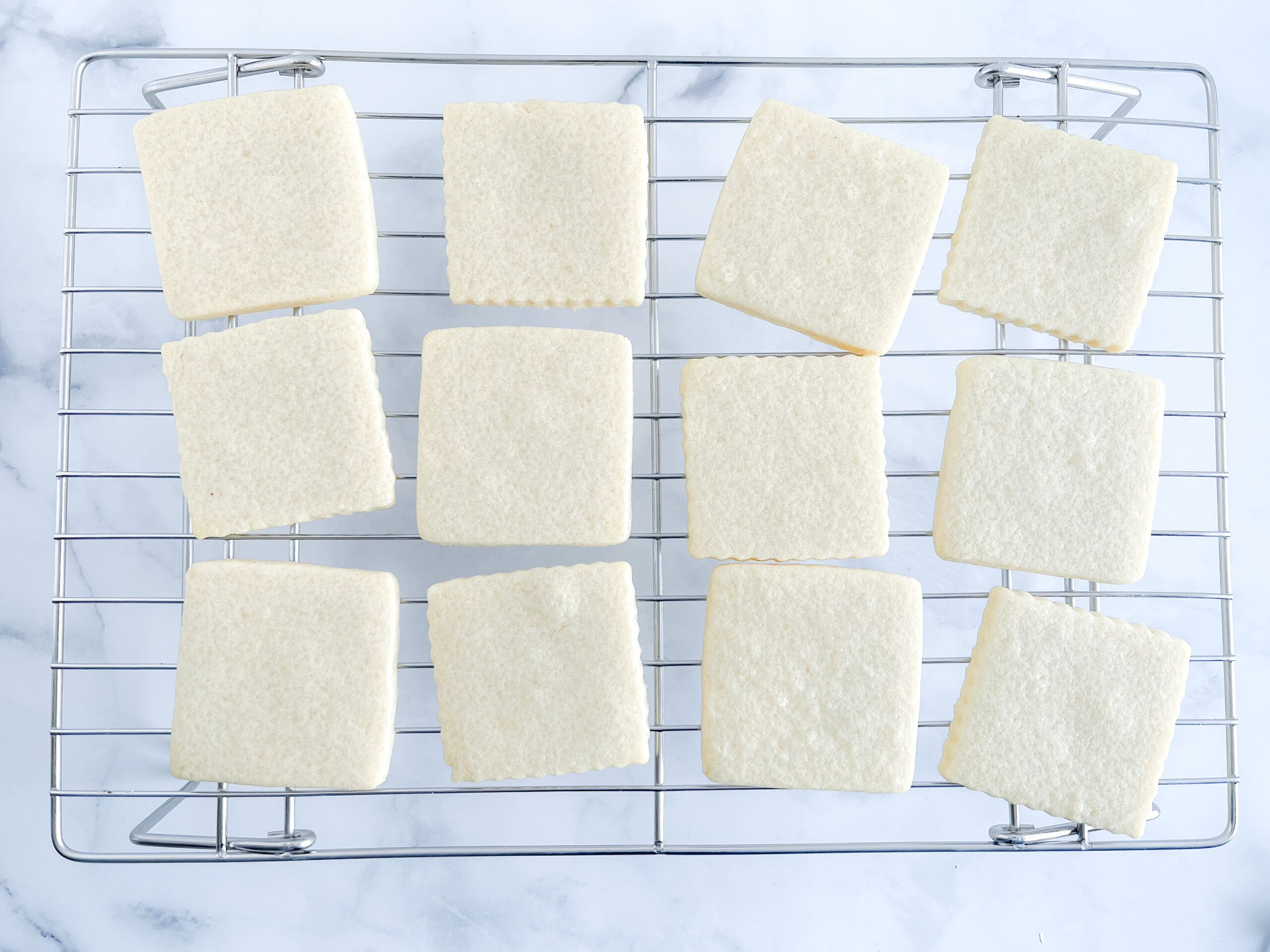 I hope this article helped you to get an idea of what will be needed and how to use Royal Icing. You could ask ten different cookie decorators and get ten different methods of Royal Icing decorating. There is not one right way to do things, the best way to figure out what is best for you is to practice!
Now it's time to decorate! Get more tips and tricks for decorating cookies with sanding sugar and sprinkles, how to make your cookies shiny, and how to dry your royal icing cookies quickly!
Related
Here are a few recipes that are great for royal icing decorating: