This chocolate chip cookie recipe is made without vanilla extract and makes the best cookies. They have crisp edges, yet they have a perfect chewy middle with a soft texture. They are sure to cure any of the worst cookie cravings.
Chocolate chip cookies are hands down my favorite kind of cookie. There is something about them that reminds me of being a kid and eating the best chocolate chip cookies right off of a warm tray. They are sweet, but not so overly sweet either. And don't even get me started on how delicious chocolate chip cookie dough is!
I have always wanted to create my own 'go-to' cookie recipe that incorporates all of my favorite qualities of a chocolate chip cookie. When I sat down to do this, I opened my cabinet to get out all of the ingredients, and low and behold, there was no vanilla extract. As I'm sure this can't be an uncommon problem, I decided to try to create a classic chocolate chip cookie recipe, without vanilla extract.
Vanilla Flavor
Though you may think baking nearly anything without vanilla sounds like a fool's errand, I assure you it can be done. Vanilla extract is generally used to enhance the flavor of a recipe, typically a dessert such as a cookie, cake, custard, etc. However, since it is used to add flavor complexities to a dessert, it is not essential to the chemistry of baking.
The science of baking is SO important. If you've ever forgotten to add a leavening agent (such as baking powder or baking soda) to your baked goods - you will have found out firsthand the importance of those chemical reactions in baking (you can learn more about the science behind baking powder here).
While I have created this recipe without vanilla, you can absolutely still add it. Simply add 1 teaspoon of vanilla extract when you add in your eggs and you'll be good to go!
Disclaimer: This post may contain affiliate links, meaning I may get a small commission if you decide to make a purchase through my links at no cost to you.
Vanilla Extract Substutuions
If you don't have vanilla extract on hand (or simply want to try some other flavors) there are some great vanilla substitutes that will also work to enhance the flavor of your cookies. Pure vanilla extract does contain at least 35% alcohol, so some people may want an alcohol-free substitute. Depending on your taste preference, dietary restrictions, or simply what you have available in your pantry, here are some substitutes for you to try.
Maple Syrup
Maple syrup is made by tapping maple trees and then boiling the sap until becomes a thick and delicious syrup. Pure maple syrup is a common natural sweetener in many baked goods and can also be added to cookies for a subtle maple flavor note.
Honey
Honey is created by honeybees using nectar from flowering plants Though it is primarily made from sugar, it also contains many vitamins, minerals, amino acids, zinc, and antioxidants. It is often used as a natural sweetener and can add hints of floral sweetness to your cookies.
Almond Extract
Almond extract will add a nutty flavor to your cookies but is quite strong, so add it very sparingly. It's a wonderful taste, but it's not for everyone.
Vanilla Powder
Vanilla powder is made by grinding vanilla beans into a flour-like texture. It has a strong vanilla smell, very concentrated, and can be used in place of pure vanilla extract at a 1 to 1 ratio.
Vanilla Paste
Vanilla bean paste is made when vanilla extract and vanilla powder is combined to form a paste. You can make it yourself or buy it in the store pre-made. Though it is called a paste, it is more of a syrup-like texture and can be used as a substitute for vanilla extract.
Ingredients for Chocolate Chip Cookies (without Vanilla Extract)
All-Purpose Flour
Baking Powder
Corn Starch
Salt
Unsalted Butter (melted and slightly cooled)
Brown Sugar
Granulated Sugar
Eggs
Egg yolk
Chocolate Chips
Brown Sugar vs. White Sugar
Most chocolate chip cookie recipes have some combination of granulated and brown sugar. Brown sugar adds a soft and chewier texture, while white sugar gives cookies a crispier texture. This recipe has more brown sugar to create those soft chocolate chip cookies!
Melted Butter
Using melted butter in a cookie recipe will change the structure and density. In this classic chocolate chip cookie recipe, I decided to use melted butter to get that super chewy texture. If you use softened butter you will end up with a more cake-like cookie.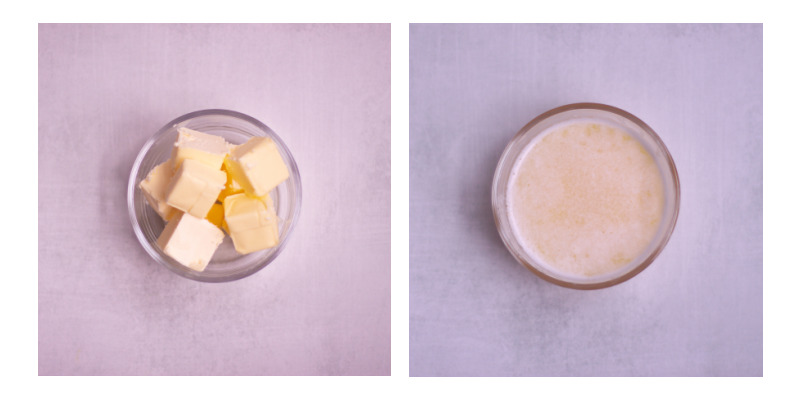 Egg Yolks
Eggs are a very important component of most baking recipes, with both the yolk and white having different functions. You can read an awesome description of what eggs do scientifically in baking here! In the end, egg yolks contribute to a tender and chewy cookie - which is why I have added an extra yolk!
Corn Starch
Corn Starch is often used as a thickener in many recipes. However, when baked in a cookie or cake it creates a tender and crumbly texture. If you bake cakes, you can use corn starch and flour to make your own cake flour!
Instructions for Making Chocolate Chip Cookie Dough
Set your oven temperature to 375 degrees. Line your cookie sheets with a silicone mat or parchment paper. I LOVE my silicone mats, they help cookies to bake evenly and are easy to clean by popping them in the dishwasher. Another plus, I no longer have to worry about running out of parchment paper!
First, melt the butter and allow it to slightly cool.
Creating the Flour Mixture
In a medium bowl, combine flour, baking powder, corn starch, and salt. Whisk well to combine the ingredients and set-aside.
Combining Wet ingredients
In a large bowl, cream butter, brown sugar, and white sugar with an electric mixer. You can use either a hand mixer or a stand mixer (with the paddle attachment). Beat all ingredients at high speed for about 1 minute to make sure everything is well incorporated. At this point, it will be dark brown in color, with the texture of a thin apple sauce. There should be no sugar lumps, but you can see the grainy texture of the sugar in the mixture.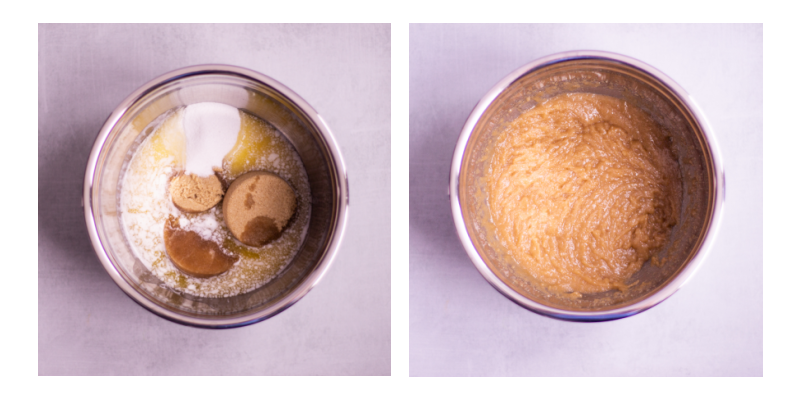 Add the eggs and egg yolk. Cream (beat) on medium speed for about 30 seconds. The dough will begin to smooth out in texture. It will also develop a lighter brown color and increase in volume.
Adding Dry Ingredients
Slowly add the flour mixture to the wet ingredients, about ½ cup at a time. Using the electric mixer, beat on low speed. Once the first scoop of dry ingredients has been absorbed, add the next, and continue this process until the last bit of flour has been incorporated. Stop mixing at this point - you do not want to over mix.
With a wooden spoon or spatula, gently fold in the chocolate chips. Once they are evenly dispersed, stop mixing.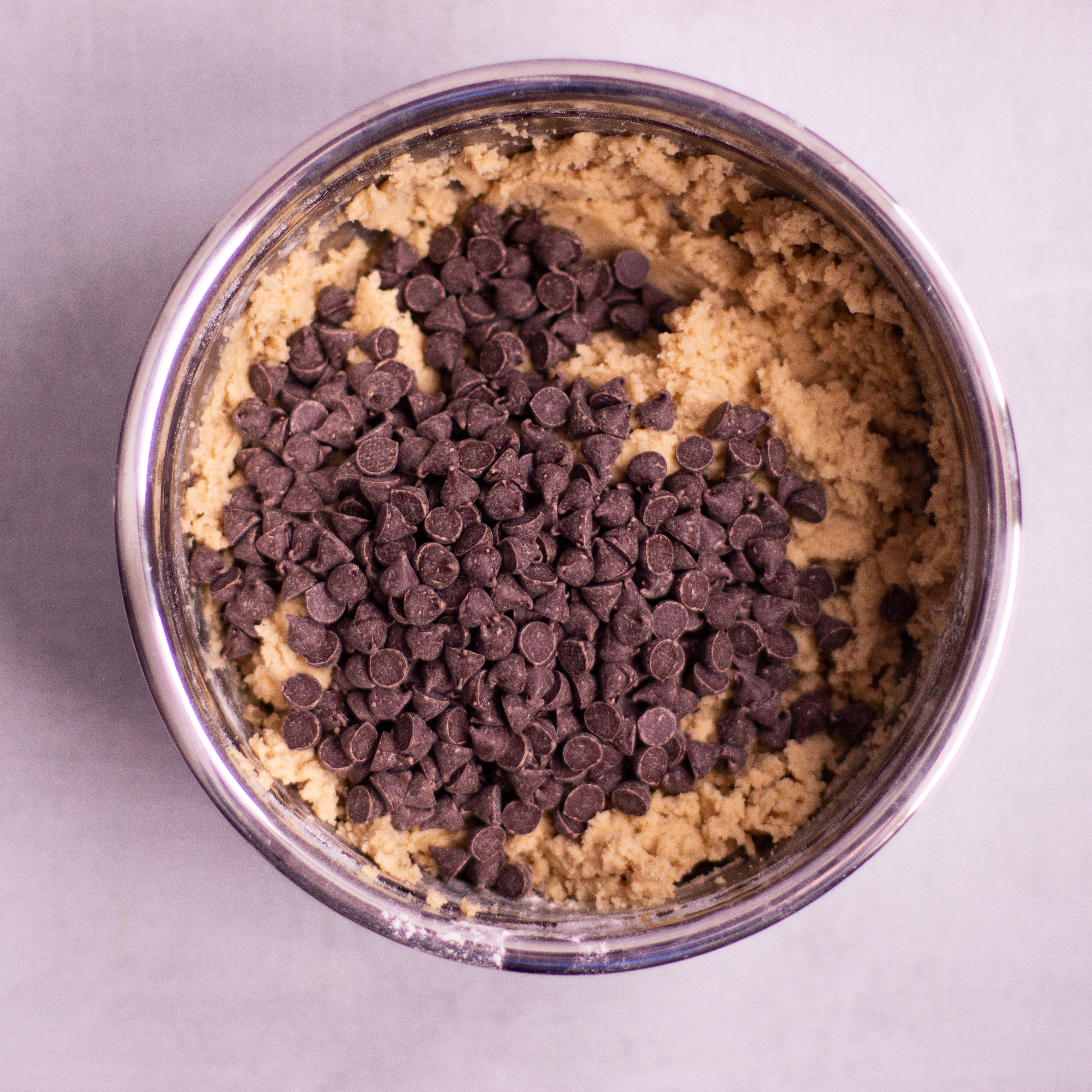 Baking the Chocolate Chip Cookies
Get out your prepared baking sheet. Make cookie dough balls about ¼ cup or 60 grams. If you are using a ¼ cup measuring cup, it will be almost the full 1/4 cup, but not quite. Place cookie dough on the pan. Make sure cookies are at least 3-4 inches apart for spreading.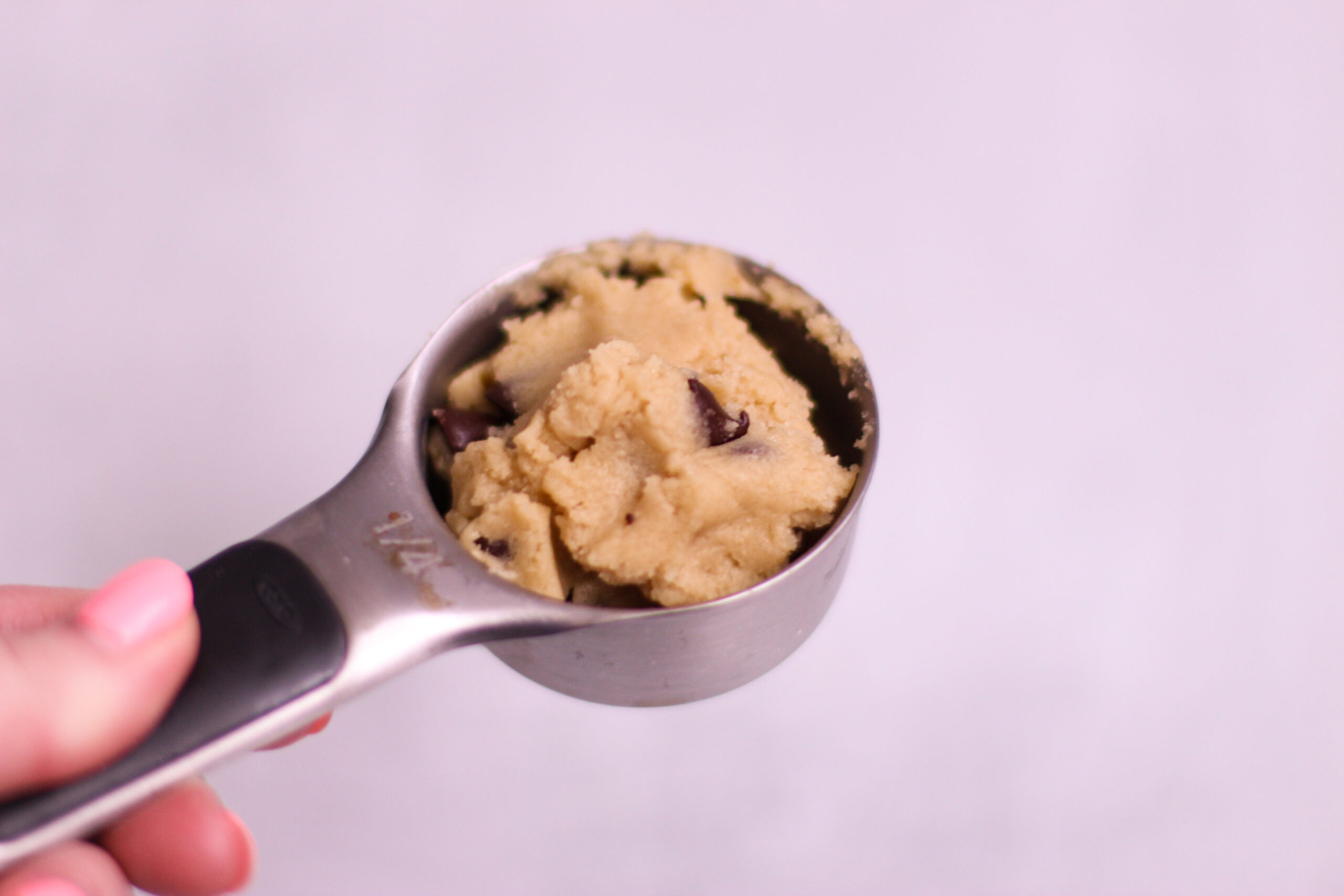 These cookies require about 10-12 minutes of bake time. Remove from oven when the top of the cookie is just starting to lightly brown and the bottom edges are golden brown. Let the cookies settle on the sheet for at least 5 minutes and then transfer to a wire rack cool completely.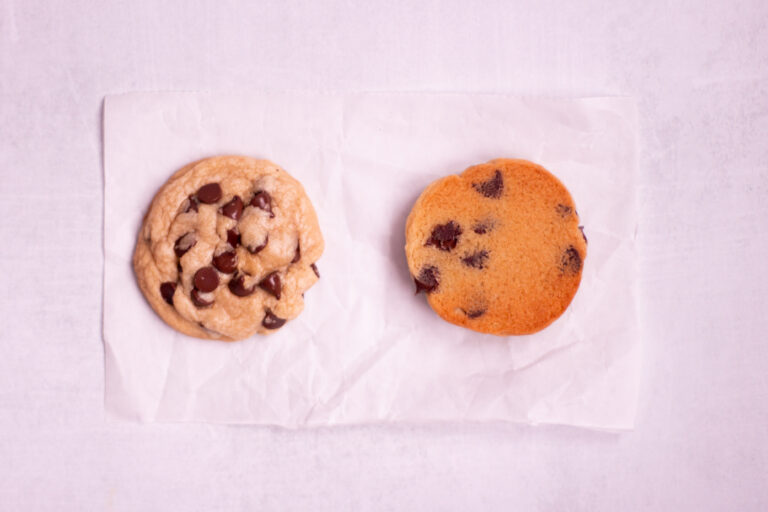 Storage
You can store the cookies in an airtight container for up to 3 days. I love these Rubbermaid ones! Cookies can be frozen for up to 3 months.
If you liked this recipe, you may enjoy these also:
If you tried this recipe, I'd love to see it. Share with me on social!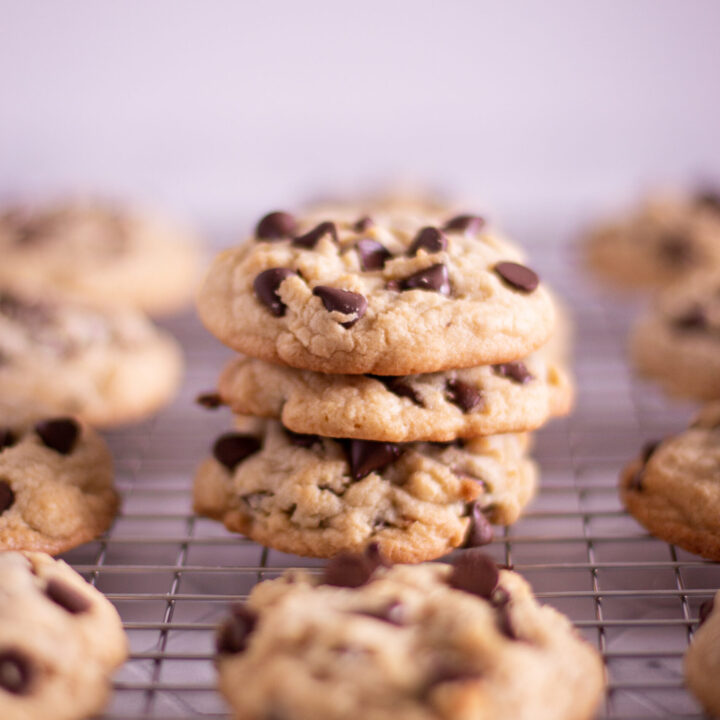 Chocolate Chip Cookie Recipe without Vanilla Extract
This chocolate chip cookie recipe is made without vanilla extract. They are thick cookies with a chewy and soft center texture.
Ingredients
3 cups All-Purpose Flour
1 tsp Baking Powder
2 tsp Corn Starch
1 tsp Salt
1 cup Unsalted Butter (melted and slightly cooled)
½ cup White Sugar
1 ½ cup Brown Sugar
2 Eggs
1 Egg Yolk
2 Cups Chocolate Chips
Instructions
Preheat oven to 375° and line sheets with parchment paper or silicone mats.
Melt butter in a microwave-safe bowl and set aside to let it slightly cool.
In a medium bowl, combine flour, baking powder, corn starch, and salt. Whisk well to mix and set aside.
Add the melted butter, white sugar, and brown sugar to a large bowl. With an electric mixer, beat the mixture on high for about 1 minute until fully mixed.
Add the eggs and yolk and beat on medium speed until combined. The mixture will start to lighten in color and grow in volume. See post for specific descriptions (and pictures) of how this will look.
Slowly add in the dry ingredients about ½ cup at a time beating with a mixer on low. Continue adding dry mixture slowly until everything has been added.
With a spatula, gently fold in the chocolate chips.
Spoon out cookie dough balls onto the prepared baking sheet, about ¼ cup in size (or 60g).
Bake for 10-12 minutes. The top of cookies should be barely browned with bottom edges golden browns.
Let cookies cool on sheet for 5 minutes and transfer to cooling rack to completely cool.
Notes
See post for substitutes and storage.