I've been on a bit of a cookies and cream kick this year, so there seems like no better way to end the year than by sharing my new favorite giant cookies and cream Oreo cookie recipe. These cookies are thick, soft, and filled with white chocolate chips, chocolate chips, and chunks of oreo cookies. This is a classic cookie recipe that deliciously chewy cookies. These cookies are easy to make and will be the perfect cookie to dip in a cold glass of milk.
Disclaimer: This post may contain affiliate links, meaning I may get a small commission if you decide to make a purchase through my links at no cost to you.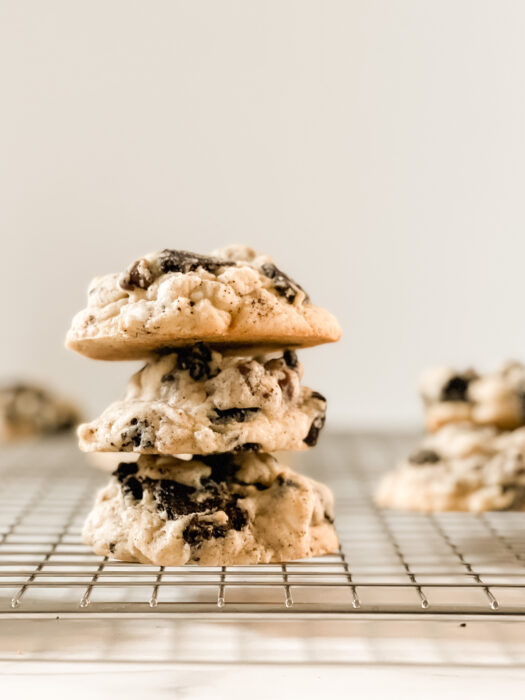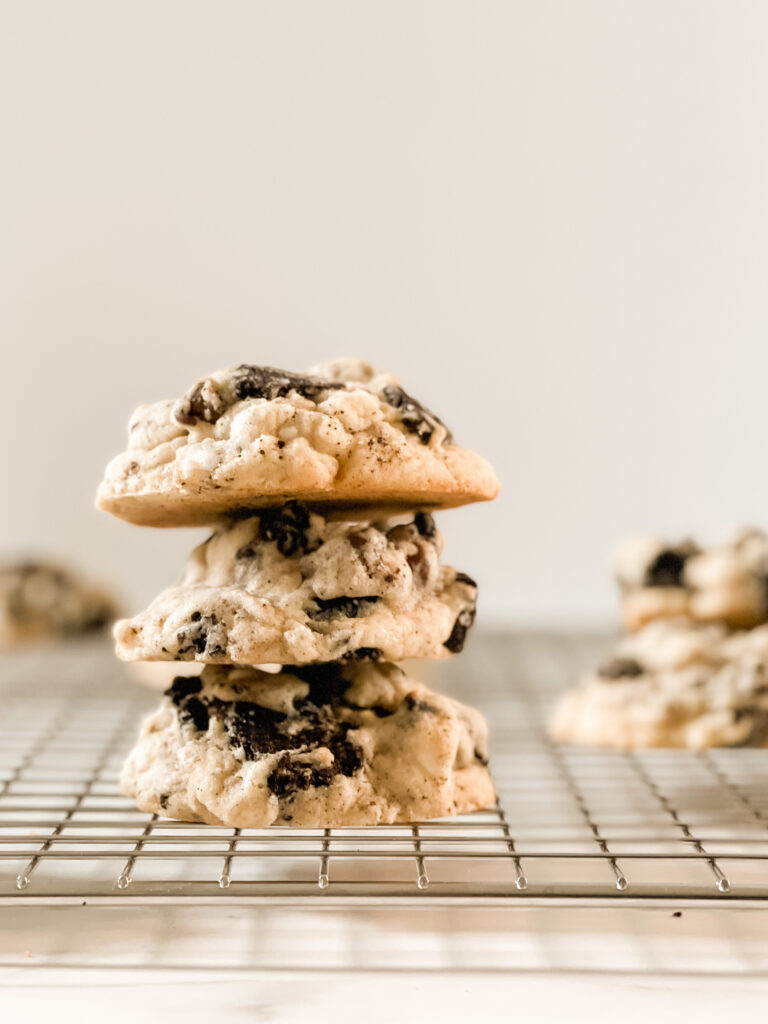 Why I love these Cookies & Cream Cookies
They are thick and giant cookies. One (or maybe two) is all you need!
The soft cookie texture pairs perfectly with crunchy Oreo pieces.
Sweet with the chocolate chips and white chocolate chips.
This is an easy recipe for a delicious cookie that is sure to be a hit with your family.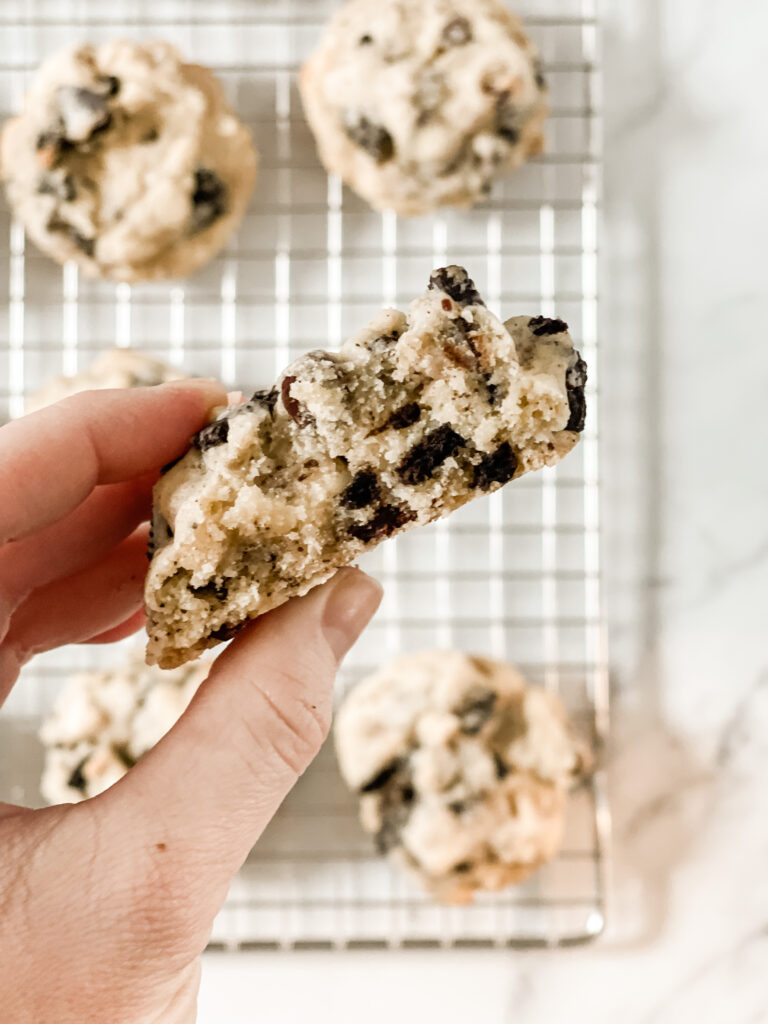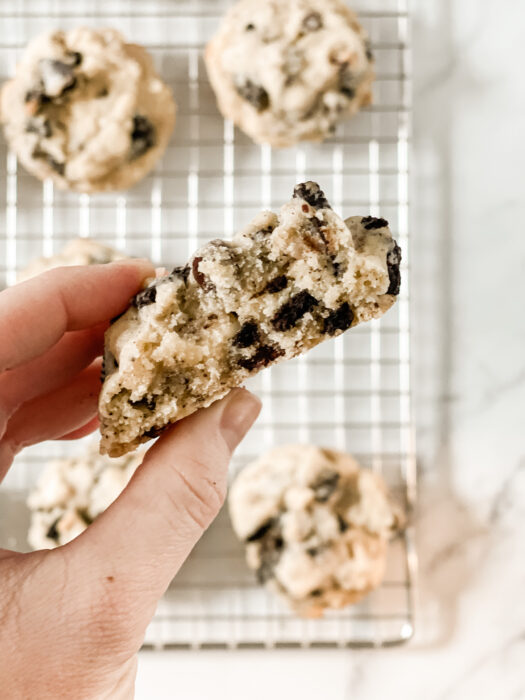 Ingredients for Cookies:
Unsalted Butter (make sure your butter is cold)
Granulated Sugar
Brown Sugar
Eggs
Vanilla Extract
All Purpose Flour
Cornstarch
Baking Powder
Salt
White Chocolate Chips
Chocolate Chips
Oreo Cookies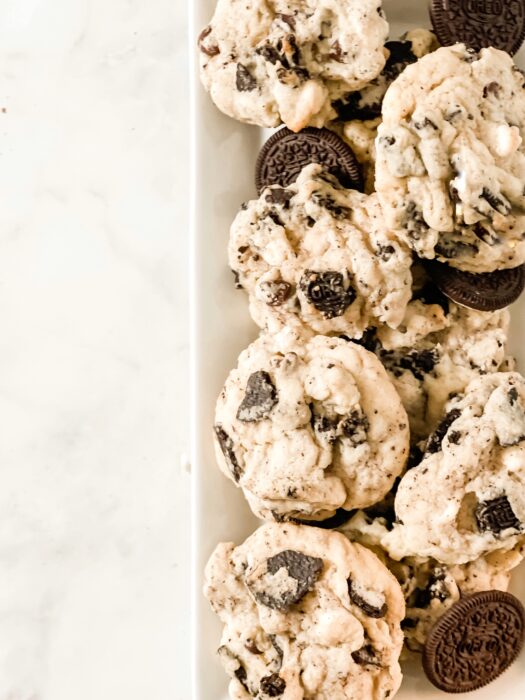 How to Make Cookies & Cream Cookie Dough
Prep Oven and Baking Sheets
Start by preheating your oven to 325. Line cookie sheets with silicone mats or parchment paper. I prefer silicone mats because they transfer heat better for a more evenly baked cookie. However, I tested this recipe with both, and parchment paper will work just fine.
Mix Dry Ingredients
In a medium bowl, mix the dry ingredients including the all-purpose flour, corn starch, baking powder, and salt. Set aside. Adding corn starch to these cookies helps to create the chewy and tender texture of these cookies.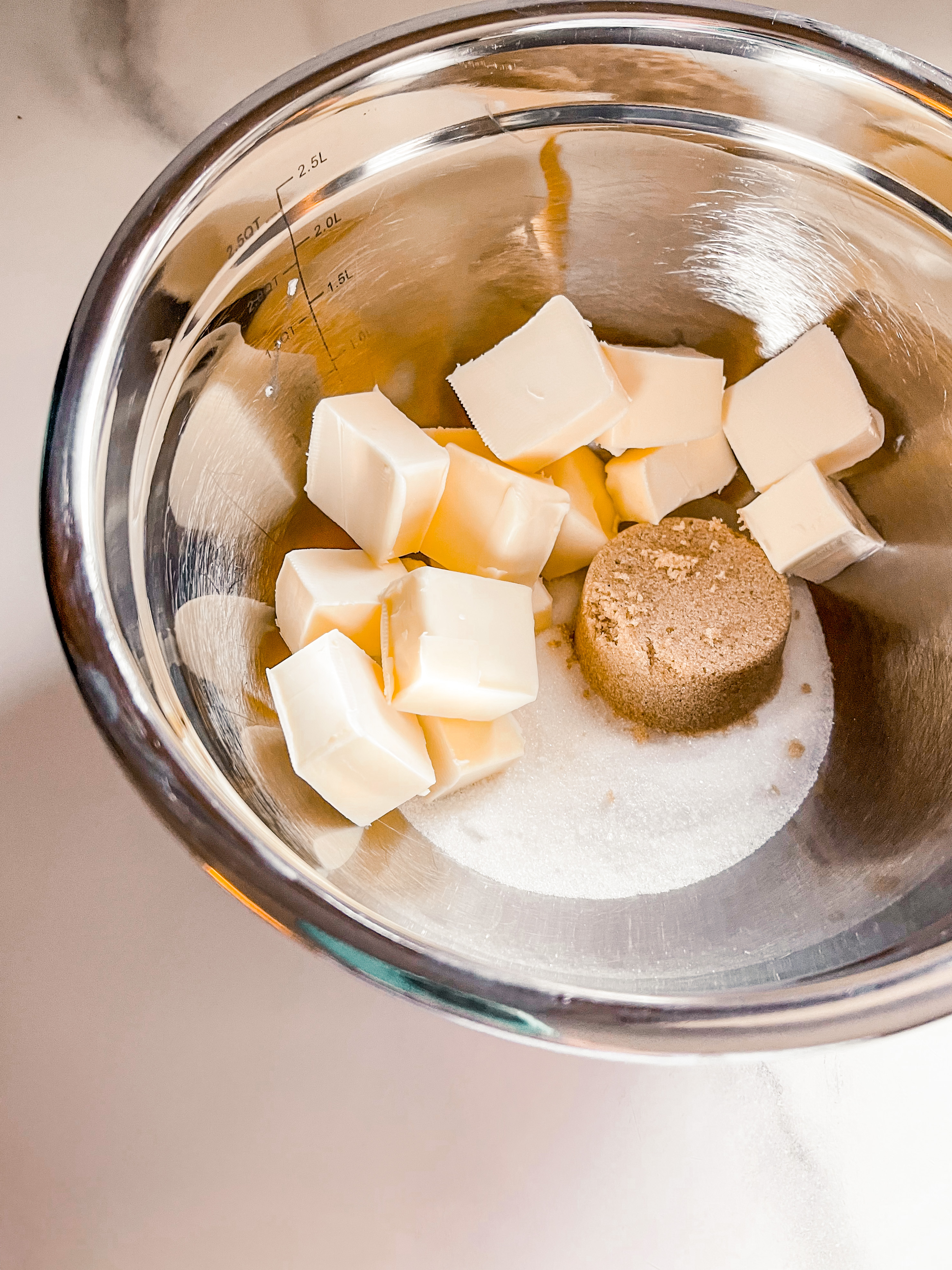 Cream Butter and Sugars
For this recipe, you will want to use cold butter instead of the usual room temperature. Cube the cold butter into small pieces, about ½ to 1 inch in size. Add cold butter pieces, granulated sugar, and firmly packed brown sugar to a large bowl. You can use a hand mixer (here is my favorite) or a stand mixer for this recipe. If using a stand mixer, use the paddle attachment. Cream the butter and sugars on high for approximately 3 minutes. This will take some time and will be clumpy at first, keep beating until it is cohesive. It will not be smooth and will still be lumpy.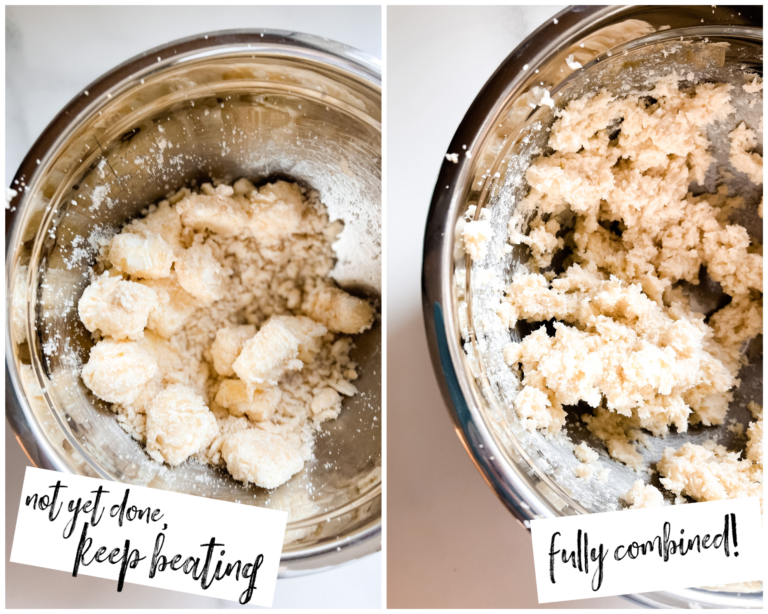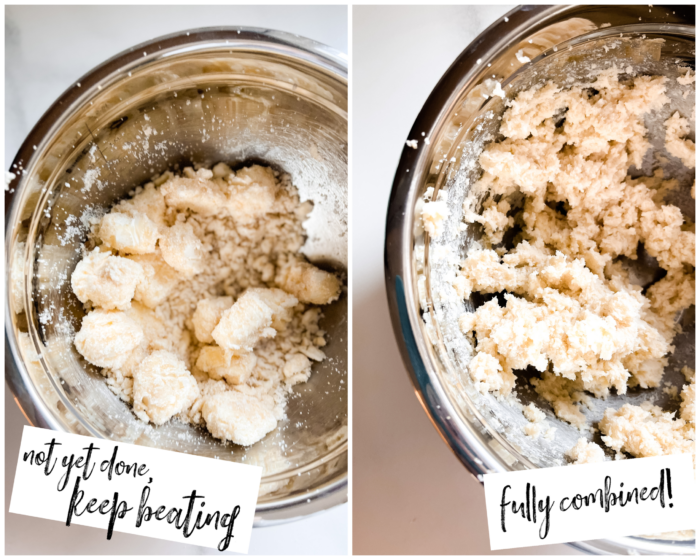 Adding Eggs and Dry Ingredients
Into the butter and sugar mixture, add eggs and vanilla. Beat on medium speed for about 1 minute. When it is fully combined it will look more liquidy and the mixture will look like small clumps.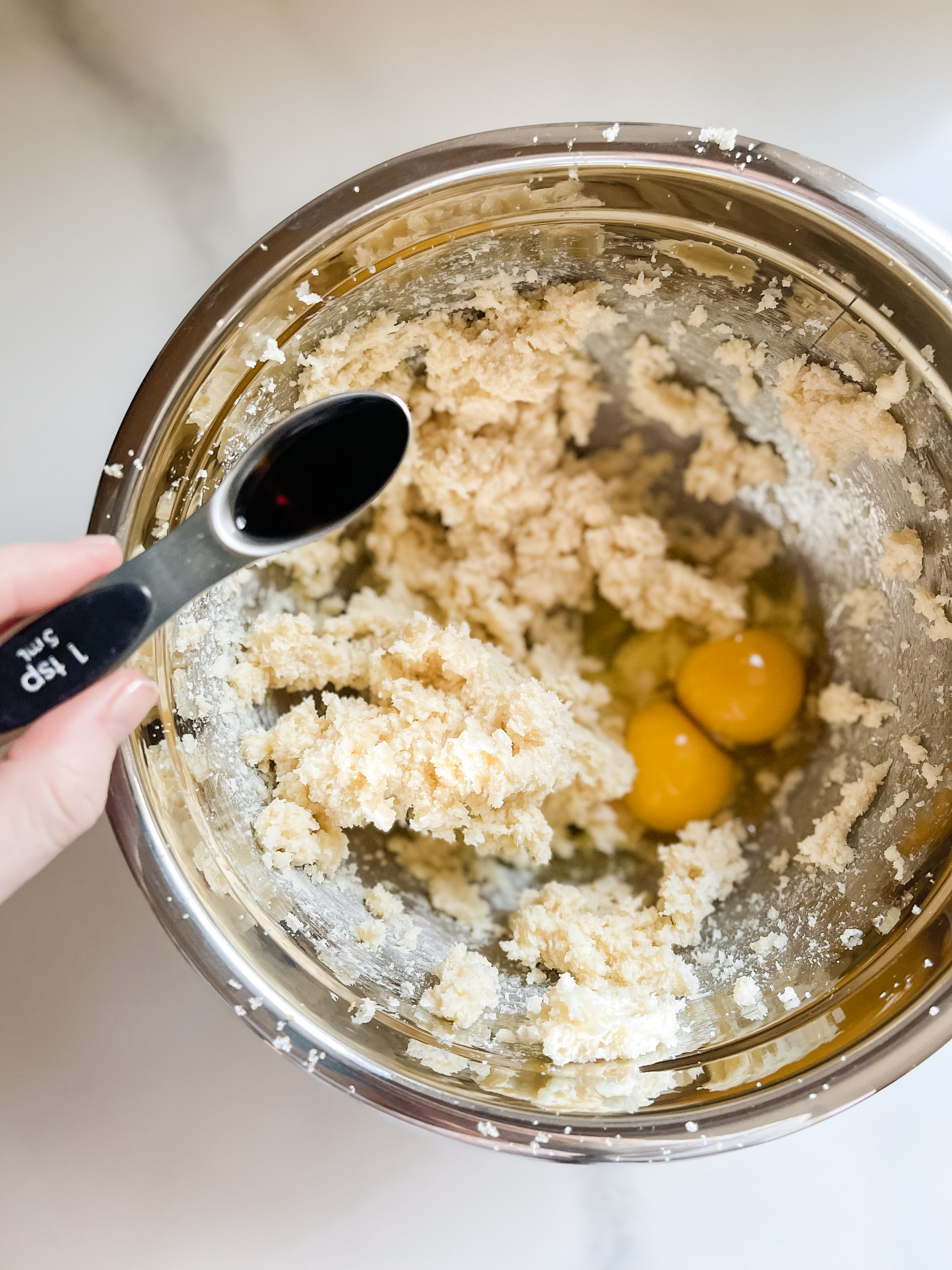 Start to slowly add the dry mixture about ¼ to ½ cups at a time. Beat on low between each addition. As soon as the dough forms, stop beating.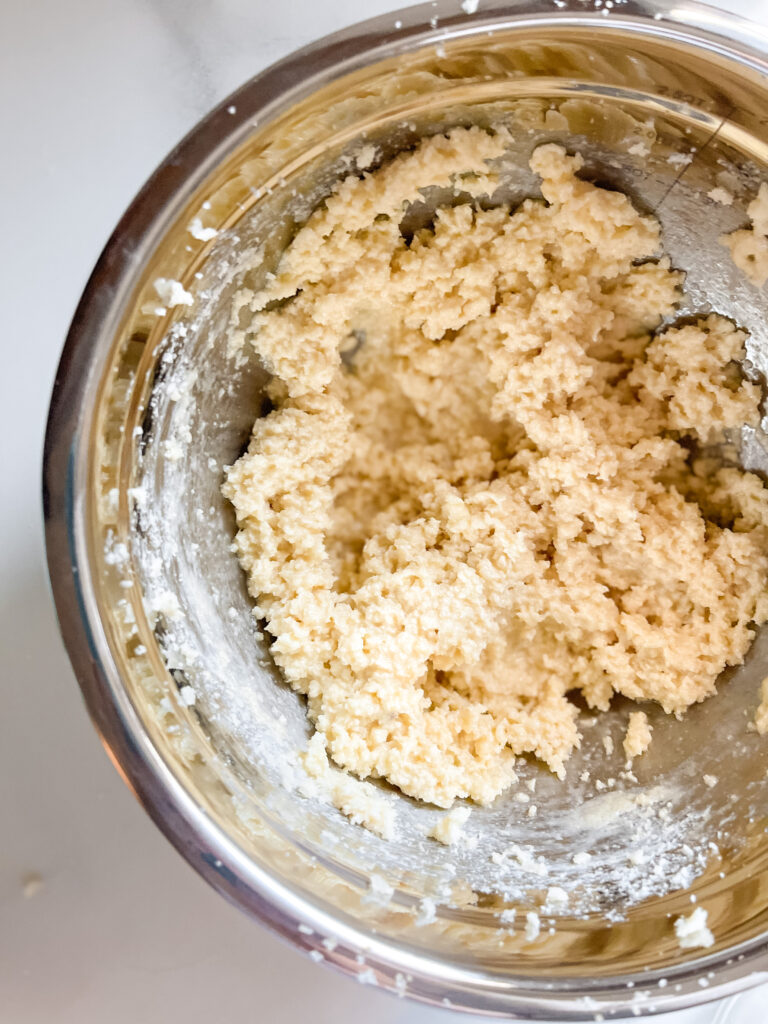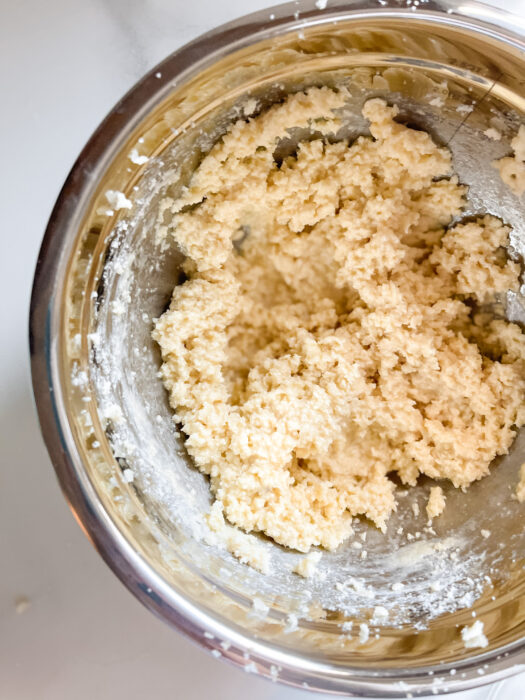 Oreo and Chocolate Chip Mix-Ins
It is now time for the best part! First, you will need to crush your Oreos. I suggest crushing them by hand. This way you will get larger Oreo chunks (which in my opinion makes these cookies extra delicious) and you will not have as many Oreo crumbs. If you prefer, you can put the Oreos in a gallon-sized Ziploc bag and crush them with a rolling pin or something similar. Again, if you can, hand crushing is the way to go!
Add the Oreo cookie chunks, white chips, and chocolate chips to the cookie dough. Hand stir the mix-ins with a spoon gently. Stop stirring when the pieces are evenly dispersed. Do not use your mixer for this or else you will crush more of the Oreos and the crumbs will darken your cookie dough and give it a gray color.
Oreo makes so many crazy fun flavors, you can really get creative with this recipe. Try making it with peanut butter, birthday cake, golden, or even mint chocolate Oreos would be delicious.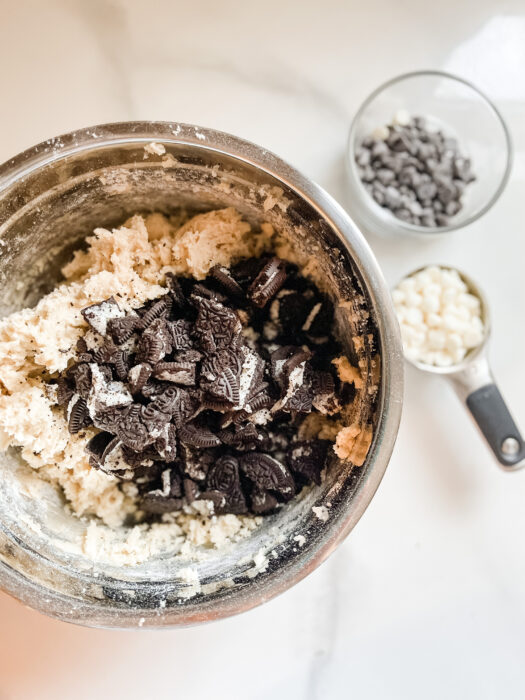 Baking your Oreo Sugar Cookies
Using a small ice cream scoop (or a large cookie scoop), place cookies in balls on a prepared baking sheet. If you have a food scale, measure out 75g cookie dough balls, this is equal to a heaping ¼ cup. Make sure to space out your cookie dough at least 3 inches as the cookies will spread.
In between batches, make sure to keep your dough chilled. To do this, cover the dough and place in the refrigerator in the meantime.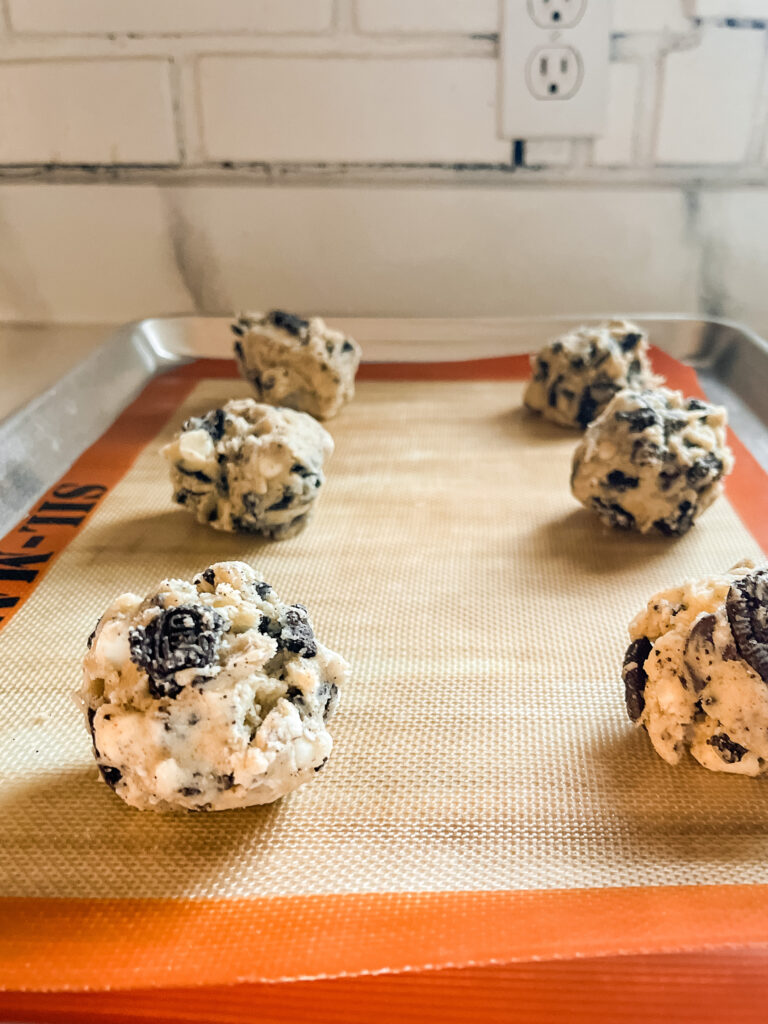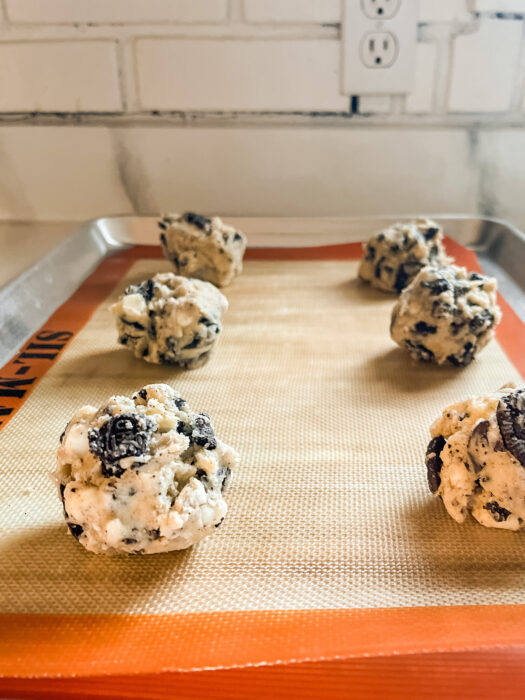 Bake time will be 15-17 minutes at 325 degrees. Cookies will be done when the edges are very slightly golden brown. This will make about 14-16 cookies.
Let the cookies sit on the tray for about 5 minutes or until they are cooled enough to hold their shape. Transfer to a wire rack to completely cool.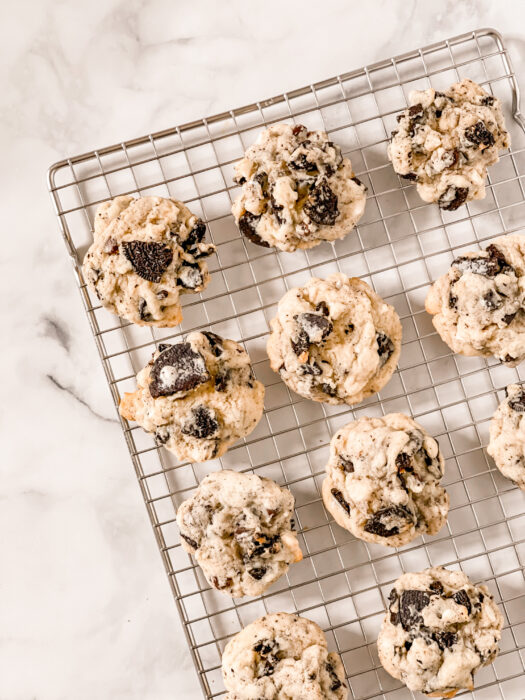 Cookie Storage
You can store these in an airtight container (these Rubbermaid ones are my favorite) for up to 5 days. They can be frozen in an airtight container for about 3 months.
If you enjoy this recipe, you might like to try some of these: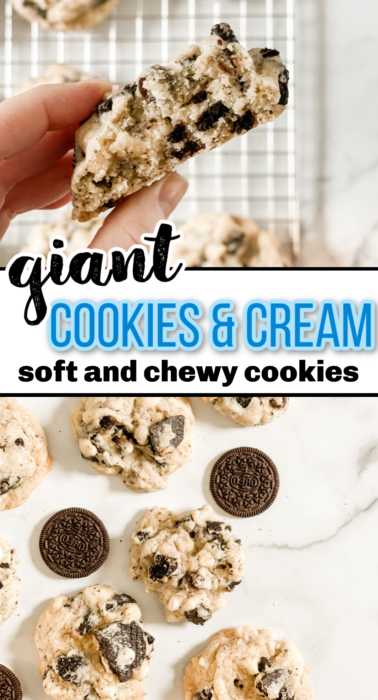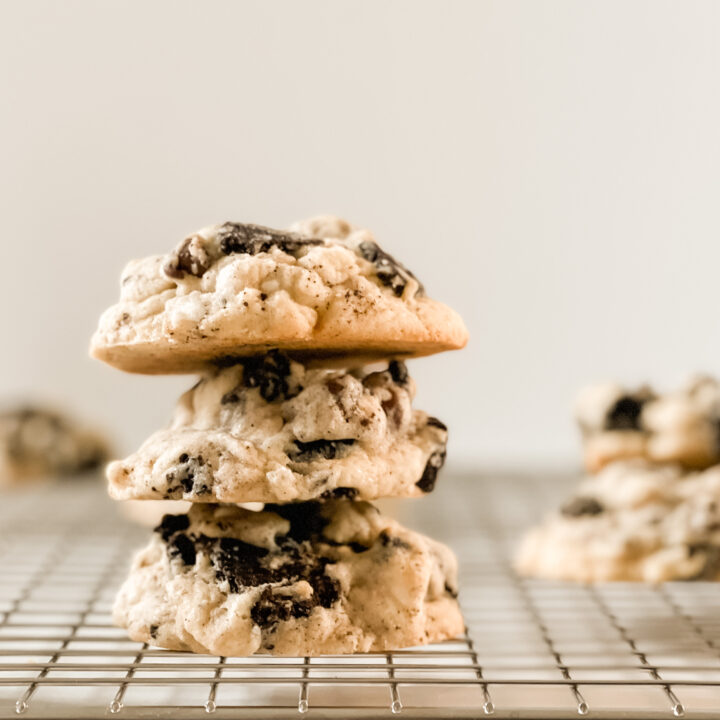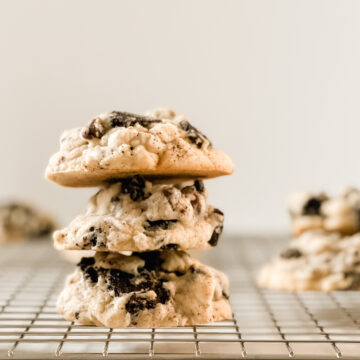 Giant Cookies and Cream Cookie Recipe
These giant cookies and cream cookies are thick, soft and delicious. They are filled with chunks of Oreo cookies alogn with chocolate and white chips to finish off these chewy and classic cookies.
Print
Pin
Ingredients
2½

cups

All Purpose Flour

2

teaspoon

Cornstarch

1

teaspoon

Baking Powder

½

teaspoon

Salt

1

cup

Unsalted Butter

(cold)

½

cup

Granulated Sugar

¼

cup

Brown Sugar

(packed firmly)

2

Eggs

1

teaspoon

Vanilla Extract

¼

cup

Chocolate Chips

¼

cup

White Chocolate Chips

15

Oreos

(crushed)
Instructions
Preheat oven to 325°. Line baking sheets with silicone mats or parchment paper.

In a medium bowl, add flour, cornstarch, baking powder, and salt. Whisk well to combine. Set aside.

Make sure your butter is cold, cut into cubes. Add to a large mixing bowl with granulated sugar and packed brown sugar. Cream with hand or stand mixer on high for about 3 minutes. The mixture will look very clumpy at first, continue to mix until fully combined, but you will still have some lumps.

Add the eggs and vanilla extract to the butter mixture. Mix on medium speed for 1-2 minutes until well combined. It will still have small clumps, but be more cohesive.

Add the flour mixture ¼-½ cup at a time. Mix well in between each addition. Once the dough is fully formed, you can stop beating.

Add Oreos to a separate bowl and crush with your hands into large chunks. Add Oreo pieces and white and chocolate chips to the dough. Stir in by hand until evenly incorporated.

Using a large cookie scoop or a small ice cream scoop, drop cookie dough on prepared baking sheets. Cookies should be 75g or about a heaping ¼ cup. Make sure to space them out at least 3".

Bake for 15-17 minutes. Remove from oven when bottom edges start to turn slightly golden brown. Let cookies sit on the sheet for 5-10 minutes before removing and let them cool on wire rack.
Notes
Storage Tips:
Store in an airtight container for up to 5 days at room temperature. 
Freeze for up to 3 months in an airtight container