If you are looking for a perfect sugar cookie recipe that is both soft but has a chewy center - this is the recipe for you! This is one of my favorite cookie recipes, which is why I decided to make them the very first recipe I share on this blog. They are easy sugar cookies to make and no need for a rolling pin or cookie cutters (if you need a good cut-out cookie recipe, here are my no spread cutout sugar cookies).
Why You'll Love these Delicious Sugar Cookies:
This is an easy recipe! This recipe doesn't require any unusual ingredients and can be whipped up in about an hour.
It makes A LOT of cookies. Depending on how large you make your cookies, you can get anywhere from about 48-60 cookies.
They are made with a combination of butter and sugar which allows for a nice chewy texture, with great butter flavor, that holds a nice pretty circle shape.
These cookies can be customized for any holiday. Simply use sprinkles or sanding sugar in whatever color or theme you are baking for!
Disclaimer: This post may contain affiliate links, meaning I may get a small commission if you decide to make a purchase through my links at no cost to you.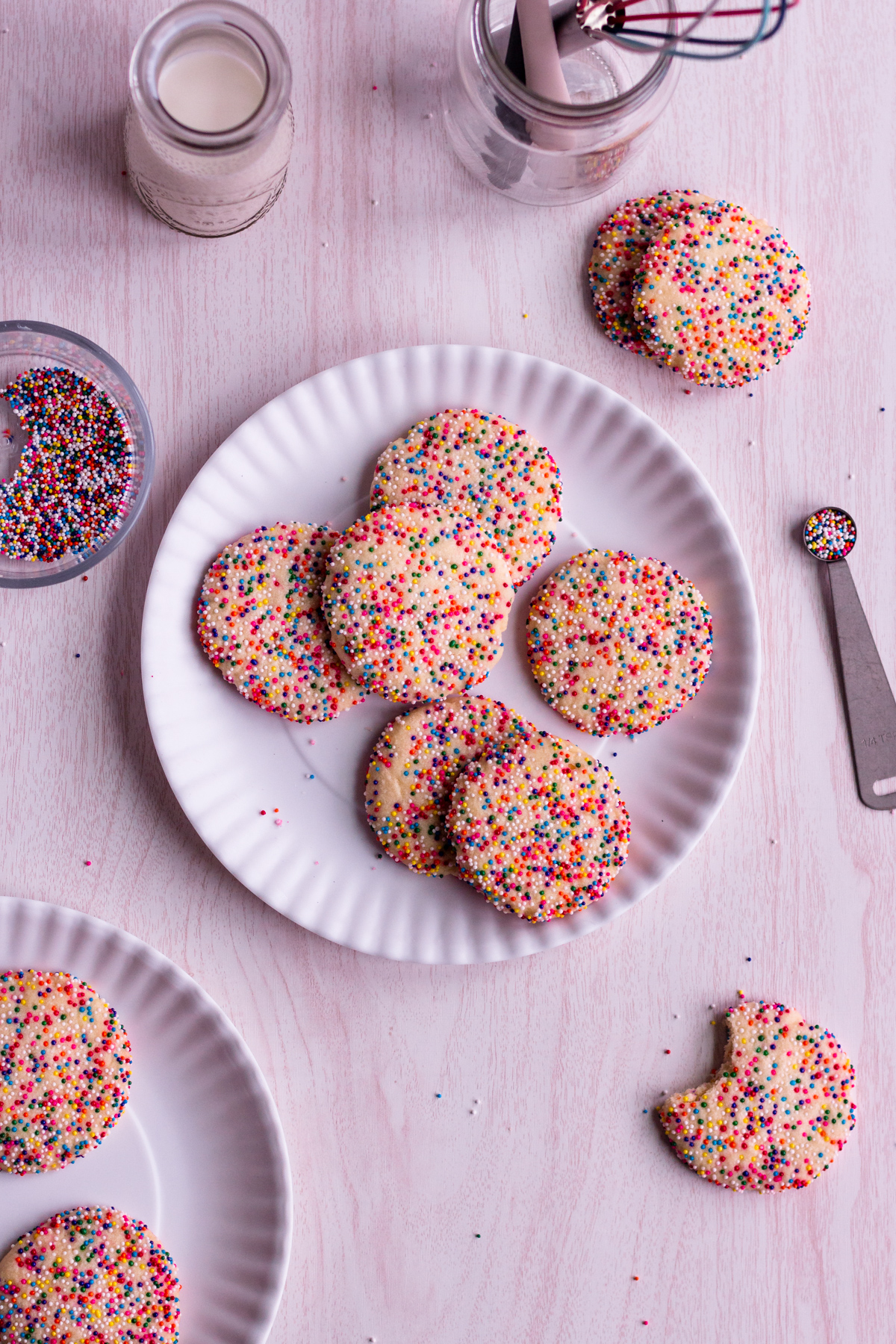 Ingredients You'll Need:
Unsalted Butter
Shortening (preferably butter flavored, but plain can be used as well)
Confectioners Sugar
Granulated Sugar
Eggs
Flour
Cream of Tartar
Baking Soda
Vanilla Extract
Extra Sugar or Sprinkles for Decoration
Supplies You Will Need: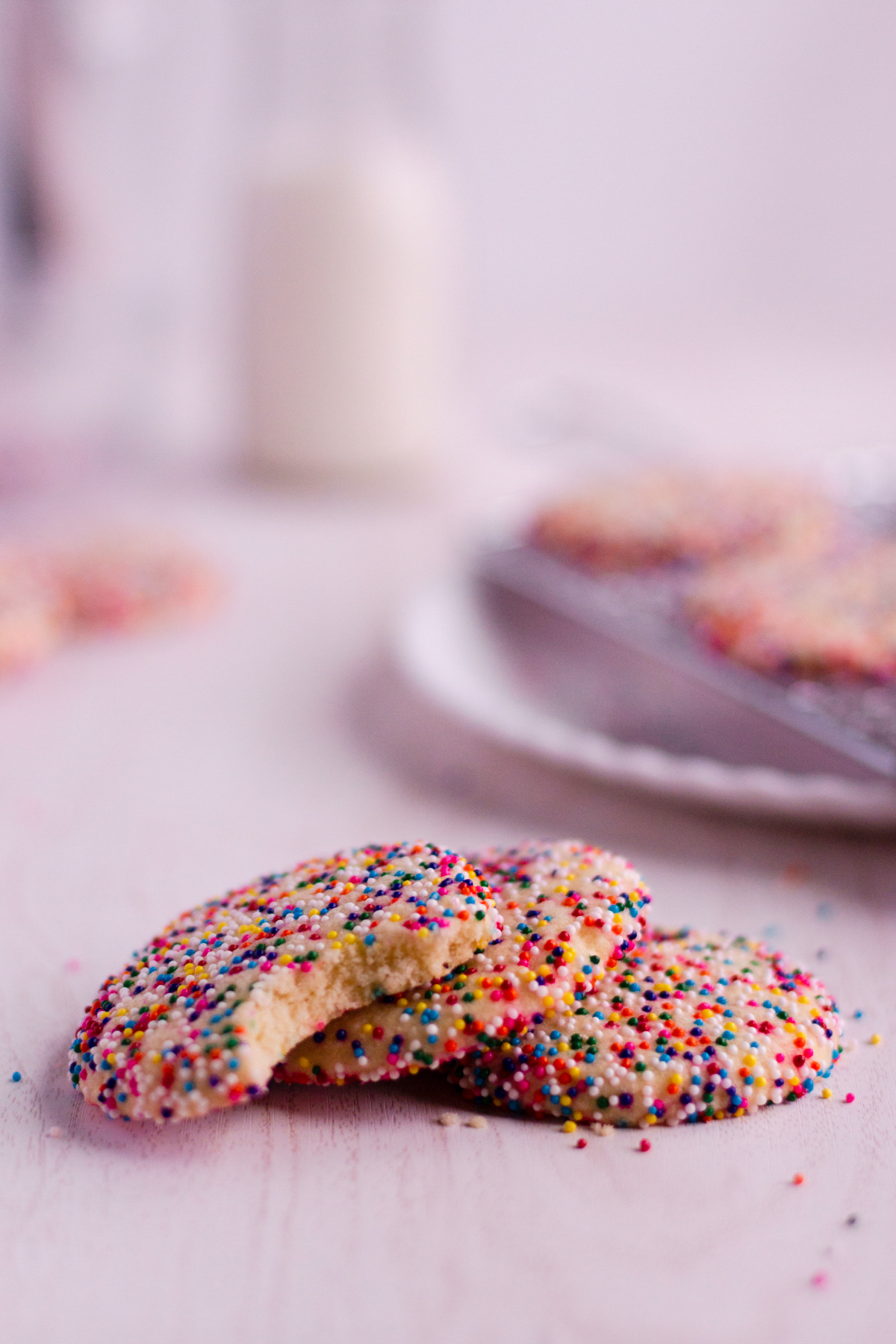 How to make Chewy Sugar Cookies:
Prepping Oven and Ingredients:
Preheat the oven to 350 degrees. Line baking sheets with parchment paper or silicone baking mats (these are my favorite).
Create your flour mixture by combining all purpose flour, cream of tartar, and baking soda. Either whisk or sift together these ingredients in a medium bowl. Make sure they are fully mixed! Do NOT substitute the cream of tartar – this is important for the slight tartness of the cookie. Set aside dry ingredients.
Combining Butter and Sugars:
In a large bowl, add butter, shortening, granulated sugar, and powdered sugar. Using an electric mixer (either a stand mixer with a paddle attachment or handheld beaters), mix ingredients on medium-high speed for at least 60-90 seconds. When fully incorporated there will be minimal lumps and it will be light yellow in color. Make sure to scrape down the bowl to make sure all the sugary goodness is fully mixed!
Add the eggs and vanilla extract. Beat with the electric mixer on low speed until just barely combined. The mixture will be quite gooey looking at this point.
Adding the Dry Ingredients:
You can now add about half of the dry ingredients into the butter mixture and beat with medium speed until almost all is incorporated. Then add the other half and continue to mix until it is just incorporated – once you do not see any more flour residue, stop mixing. Scrape down the sides of the bowl to make sure everything is evenly mixed.
Once the dough is made, it will a bit sticky but not overly sticky. You should be able to pick up some dough and it will leave an oily residue on your hands, but the dough itself should not stick! If your dough ends up to dry, you can try these tricks.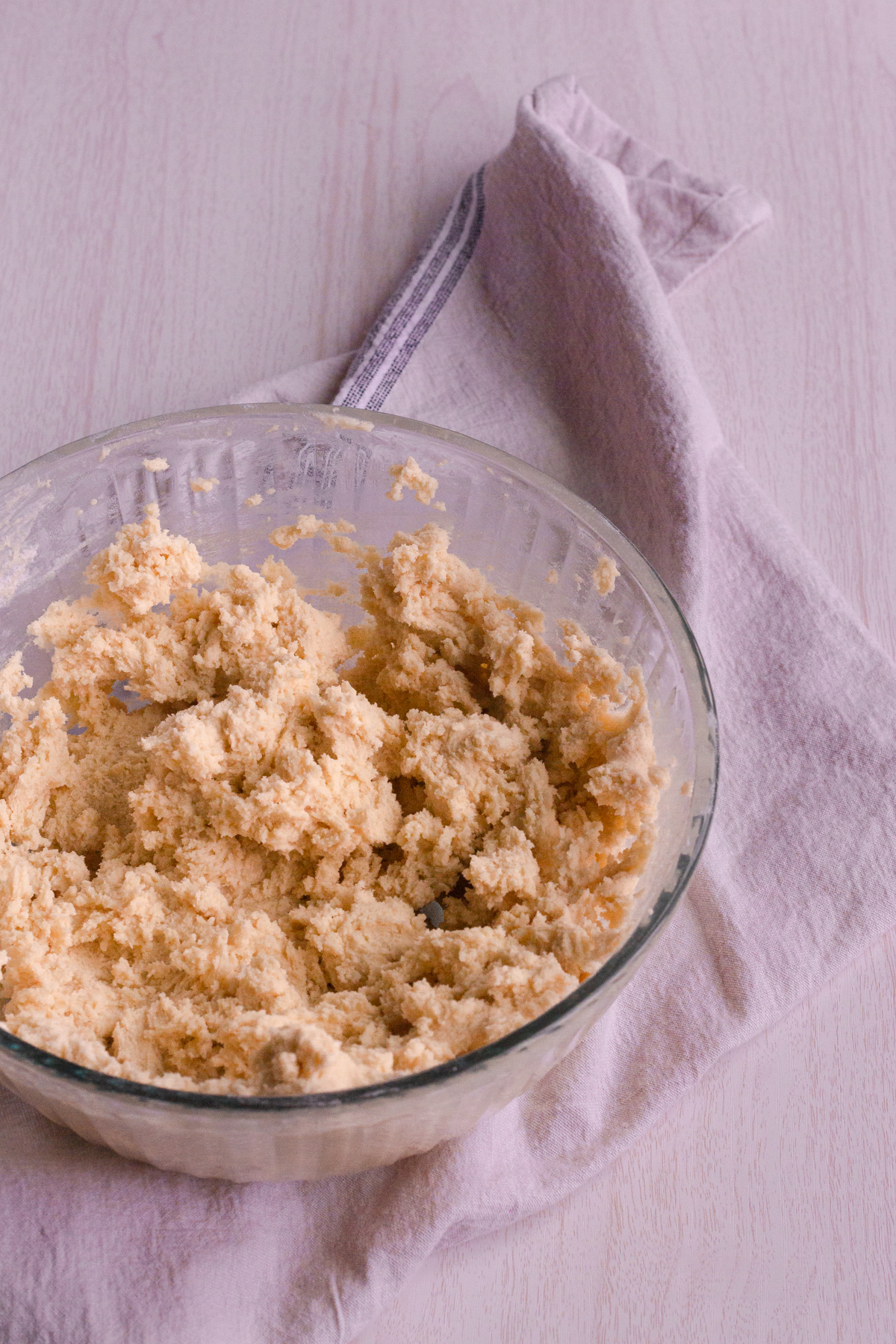 Now it's Sprinkle Time
Here we get to the most fun part of the process! You can customize this for any holiday season, color scheme, or sprinkle preference. I personally really like classic rainbow jimmies, nonpareils, or colored sugar. But here you can really get creative with festive colors for whatever occasion. You can always just use plain old granulated sugar as well! You can find a lot of fun colors at your local craft store.
Here are a few holiday color ideas:
Christmas: Red and Green sanding sugar, sprinkles, nonpareils, or other fun sprinkle mixes
Valentine's Day: Pink and Red sanding sugar, sprinkles, or nonpareils
St. Patrick's Day: Green and Gold sanding sugar
Fourth of July: Red and Blue sanding sugar
Halloween: Orange and Black sanding sugar
Fall/Thanksgiving: Red, Orange, Gold sanding sugar
Easter: Pastels such as pink, blue, yellow, and green sanding sugars
Roll Cookie Dough in Sprinkles
Add about ½ Cup of sprinkles (or sanding sugar) to a shallow bowl. Roll sugar cookie dough into balls of about 20g or a heaping 2 teaspoons. I use a cookie scoop that measures 2 tsp, so I fill that – plus a little more! Roll the cookie dough balls into the sprinkle mixture and then place them on a baking sheet covered in parchment paper.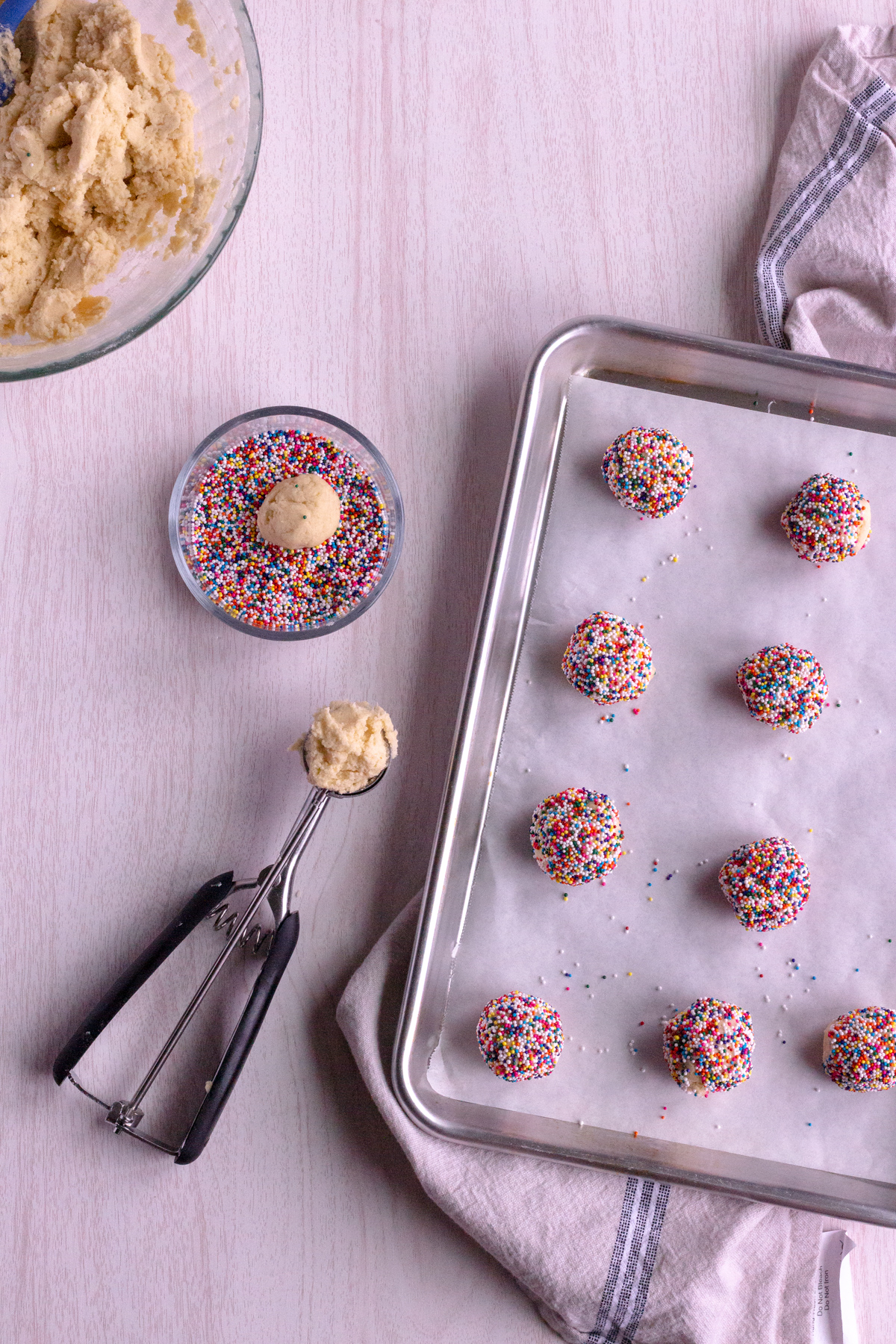 If you don't have parchment paper, foil is a decent substitute as well. In a pinch, lightly spray a cookie sheet you'll be good to go! However, if you own silicone baking mats you can use those too (these are my favorite and I use them for EVERYTHING).
Press Cookies
Place cookies on your prepared baking sheets. Now they need to be pressed down. I use either a glass or measuring cup (however, you can use anything, but make sure whatever you use is flat on the bottom). If the dough sticks, dip your glass or measuring cup into some flour to help the dough to release after you press down.
The dough should be approximately ¼″ in thickness once pressed down.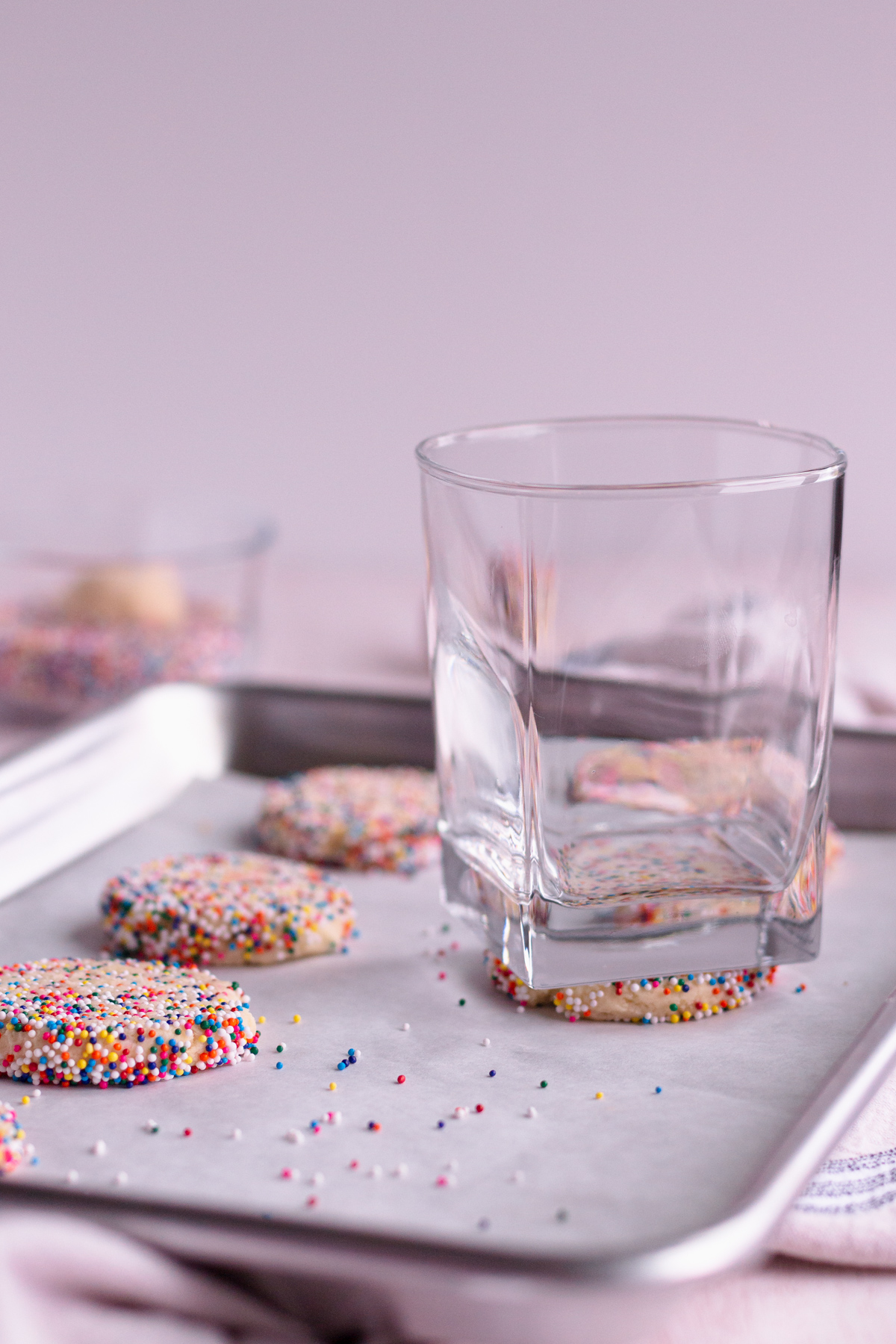 Bake your Cookies:
Add baking sheets to your preheated oven and bake cookies for 10-12 minutes or until the edges start to lightly brown. Do not UNDER bake! If you take them out of the oven too early, you'll lose that perfect chewy/crumbly-ness and they will just be a soft sugar cookie (not that there is anything wrong with that – but that isn't what we're going for here!).
After the cookies have been out of the oven for about 5 minutes, remove them from the cookie sheet and place them on a cooling rack.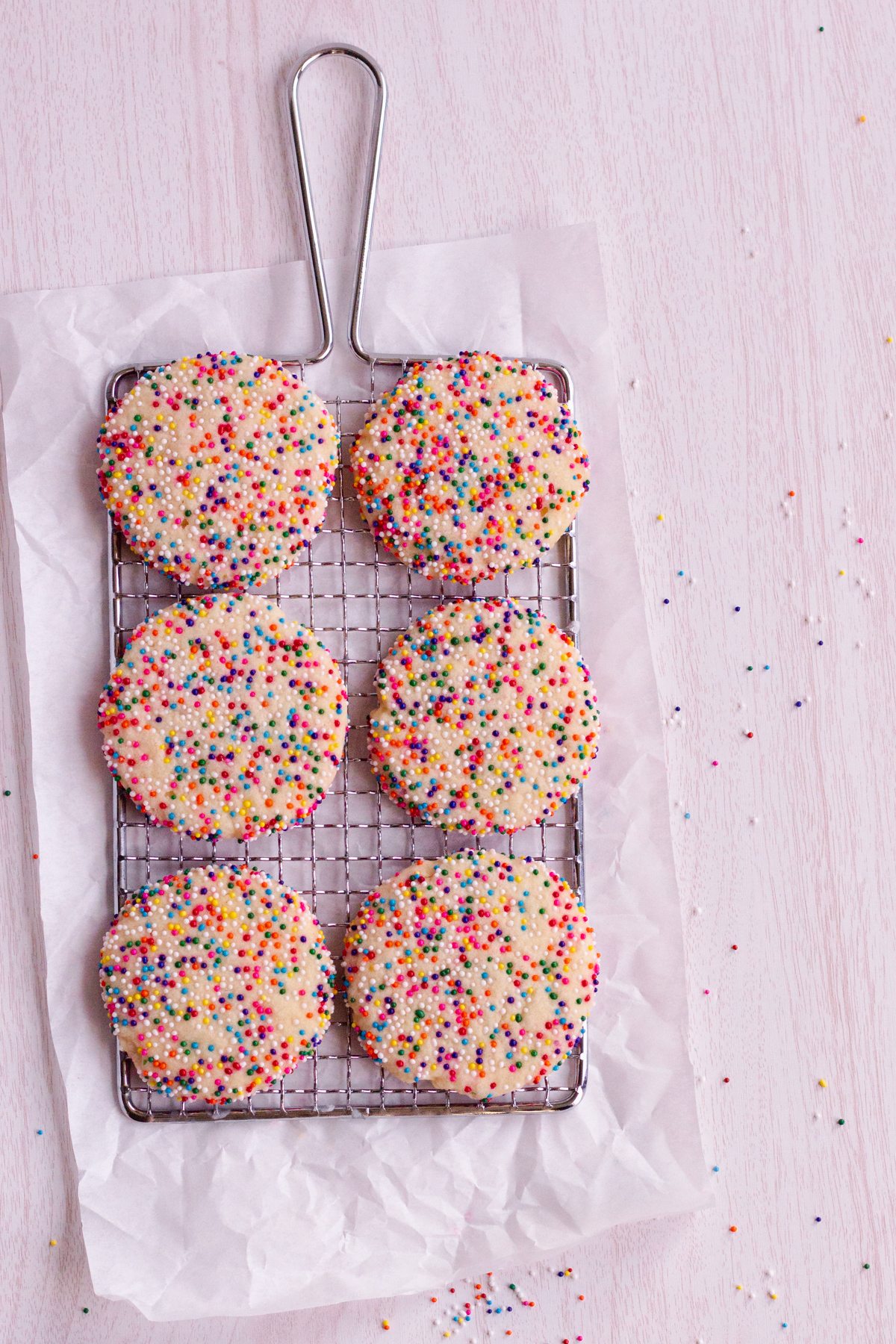 How to Store Cookies
Once your baked cookies have cooled, you can store them in an airtight container (these are my favorite) at room temperature for about 5 days (maybe less if you are in a very humid climate).
You can freeze them in an air-tight container for up to 3 months.
If you make these deliciously chewy and soft sugar cookies, please share with me on Instagram - I'd love to see your creations!
If you enjoyed this recipe, you may also like these: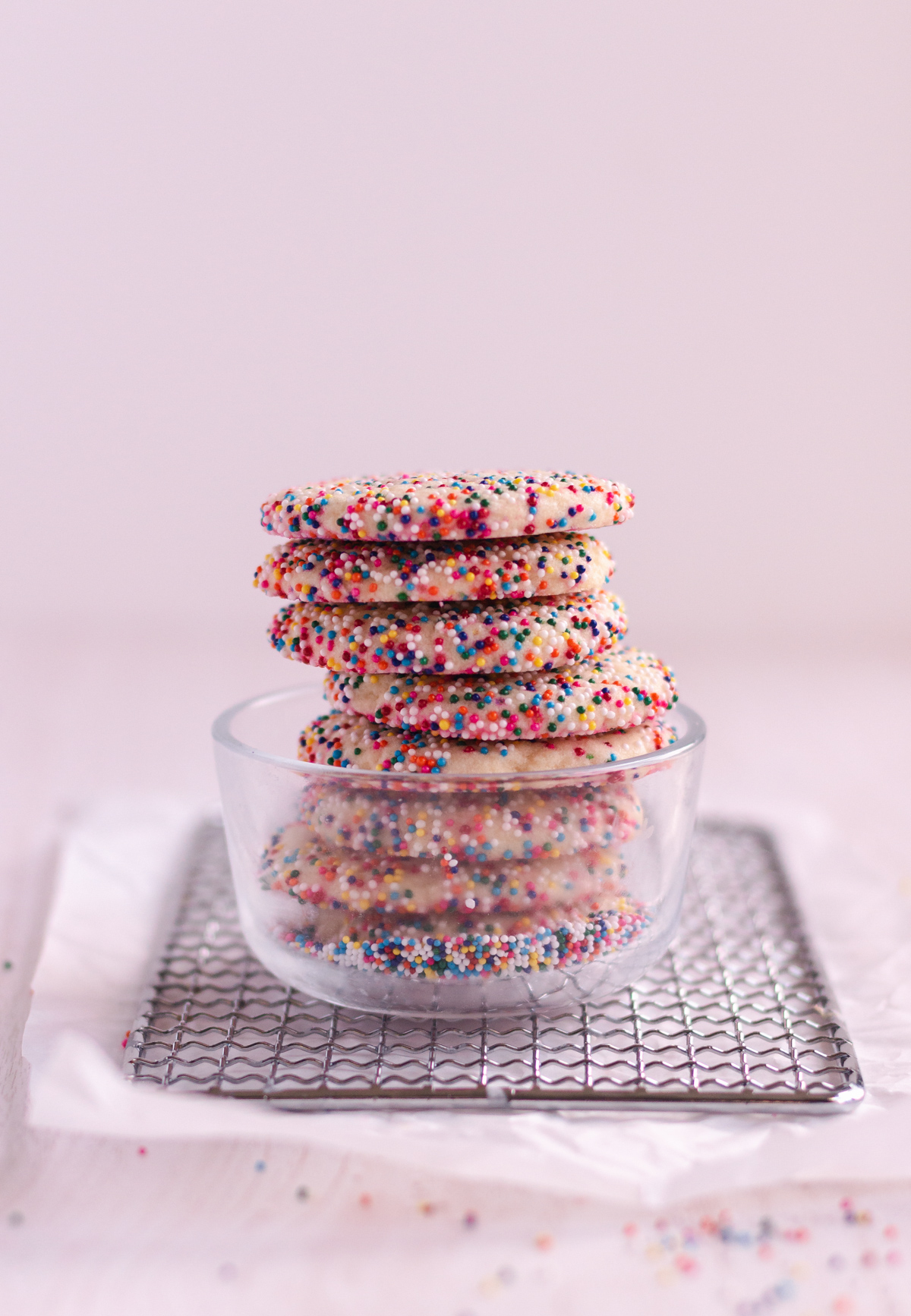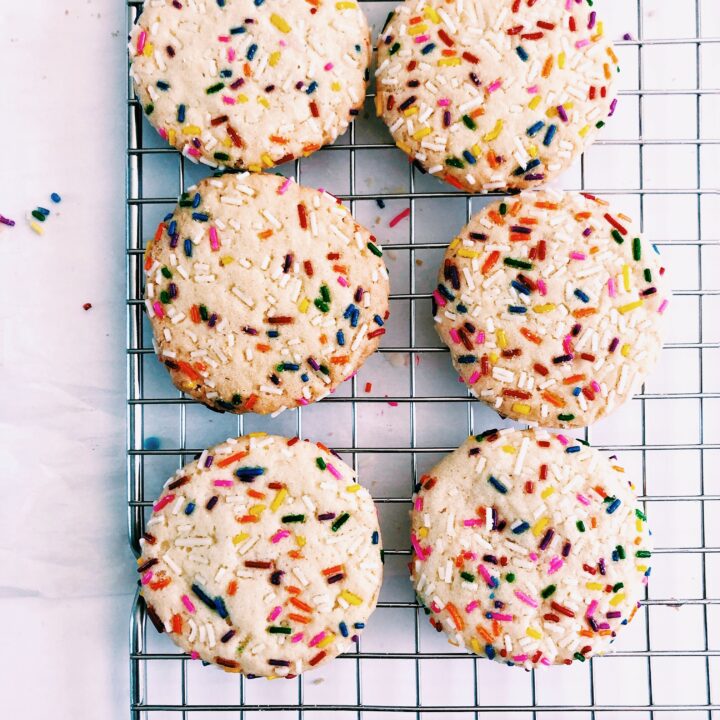 Chewy Sugar Cookies
These cookies are chewy, crumbly, airy, and will melt in your mouth - I hope you enjoy!
Print
Pin
Ingredients
1

Cup

Butter

1

Cup

Shortening

1

Cup

Powdered Sugar

1

Cup

Granulated Sugar

2

Large Eggs

2

teaspoon

Vanilla Extract

4

Cups

Flour

1

teaspoon

Cream of Tartar

1

teaspoon

Baking Soda

½

Cup

Sprinkles for Decoration
Instructions
Preheat oven to 350 degrees and line cookie sheets with parchment paper.

Combine Butter, Shortening, Powdered Sugar, and Granulated Sugar into a large mixing bowl. Cream together using beaters or stand mixer with the paddle attachment until completely incorporated. Beat on Med-High for 60-90 seconds or until mixture has minimal lumps and is a light yellow color.

Add eggs and vanilla extract to the butter/sugar mixture. Beat on low until just incorporated.

In a separate, smaller bowl, combine Flour, Cream of Tartar, and Baking Soda. Whisk together (or sift together) until well mixed.

Add half of the flour mixture to the butter/sugar mixture - beat on medium until almost combined. Add the second half of the flour mixture and continue beating until everything is fully mixed. The batter will be tacky, but shouldn't stick to your hand.

Scoop or roll the cookie dough into balls of a heaping 2 teaspoon of dough (approximately 20g) and roll in extra sprinkles or sugar mixture. Place on lined baking sheet about 2-3 inches apart. Use a glass (or any object with a flat surface) to press down the balls to about ½" thickness.

Bake in the oven for 10-12 minutes - until edges start to slightly brown.

Let cool on the tray for at least 5 minutes before transferring to a wire cooling rack.
Notes
Store cookies in an airtight container for 5 days. Freeze in sealed airtight container for up to 3 months.