Fruity Pebbles were one of my favorite cereals growing up. The only thing better than a large bowl of sugary cereal may just be a plate of these fruity pebble cookies! These babies are classic sugar cookies but filled with fruity pebbles giving them a slightly fruity flavor and sweet flavor. Topping the cookie off with crunchy cereal gives a nice contrast to the soft center of the cookie. This recipe is perfect for cereal lovers!
Disclaimer: This post may contain affiliate links, meaning I may get a small commission if you decide to make a purchase through my links at no cost to you.
Why You Will Love this Fruity Pebbles Cookie Recipe
This is a nice easy cookie recipe - most of the ingredients (other than the Fruity Pebbles) you'll most likely have on hand or easily found at a grocery store.
These cookies taste like Fruity Pebbles - need I say more?
Using melted butter makes it a nice chewy cookie.
With the cereal flavor, these colorful cookies are a fun addition to a party and fun cookies for kids. Who doesn't like cereal cookies?!
Ingredients You Will Need:
All-purpose Flour
Baking Soda
Salt
Unsalted Butter (melted and cooled)
Granulated Sugar (white sugar)
Powdered Sugar
Vanilla Extract
Large Egg and Egg Yolk
Fruity Pebbles
Optional: Can of Vanilla Frosting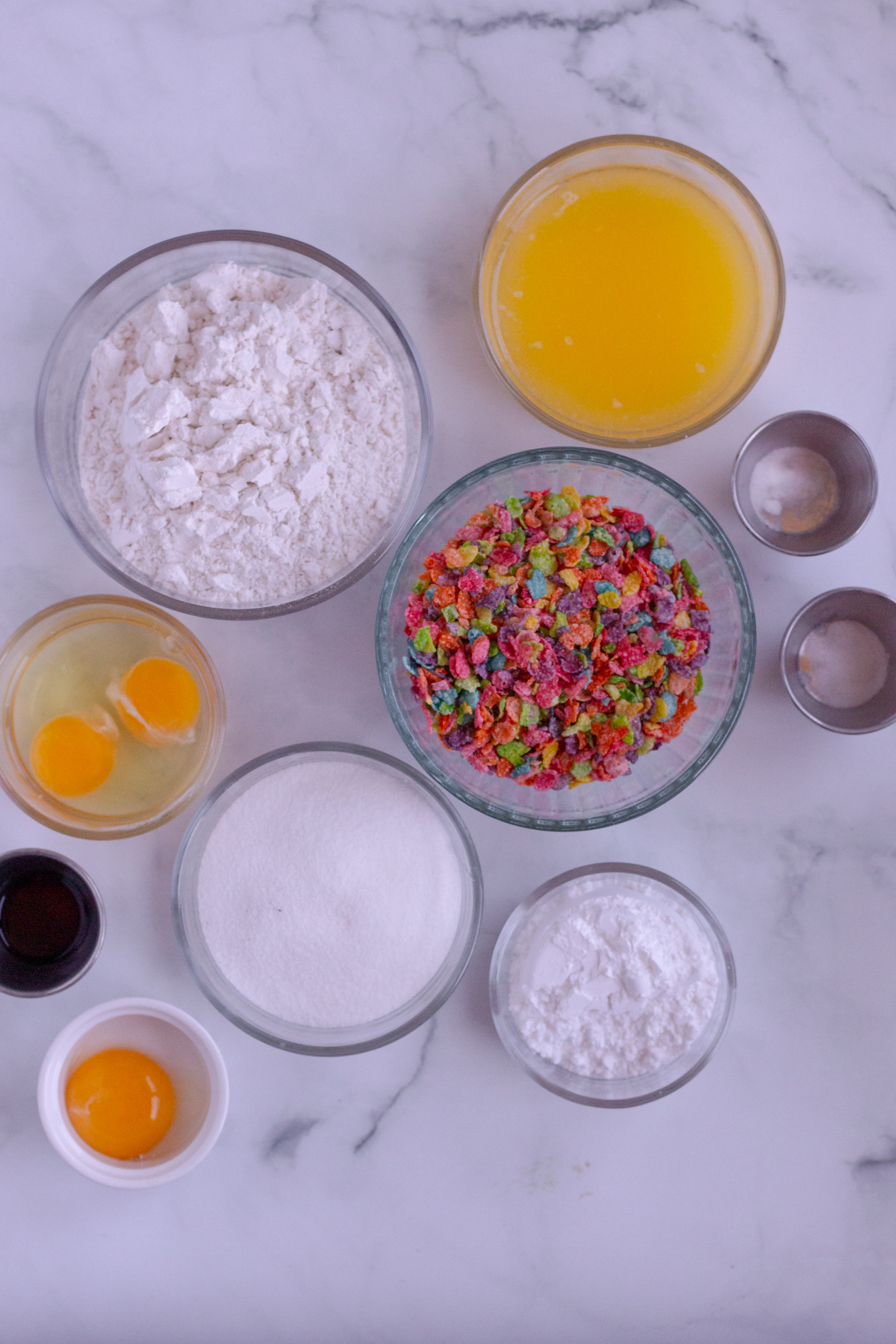 How to Make Fruity Pebble Cookies
Prepping Ingredients and Supplies
Melt your butter in a microwave-safe bowl, and set aside to cool.
Preheat your oven to 350 degrees. Line cookie sheets with parchment paper or silicone mats. I can't speak highly enough of these mats. They are super affordable, easy to clean, and we use them for anything from cookies to vegetables in my household!
In a small bowl, whisk together the flour, baking soda, and salt. Set aside.
Mixing Wet Ingredients
In a large bowl, add the melted butter, sugar, and powdered sugar. With an electric mixer (either a hand mixer or a stand mixer with the paddle attachment) beat on high for about 30 seconds to 45 seconds. At this point, it will be quite runny still and yellow in color.
Add in the eggs, egg yolk, and vanilla and mix with an electric mixer on medium speed for around 45 seconds, or until well combined. The mixture will look a bit runny at this point, almost like a thin pudding/custard-like texture, but that will work itself out soon.
Adding the Dry Ingredients
Take the medium bowl with the flour mixture and add about half of it to the wet ingredients. On low, mix in until almost combined (you will still see some slight white flour residue). Now, add the second half of the flour mixture and continue to beat on low until everything is fully combined. Use a rubber spatula scrape the sides of the bowl to make sure all of the flour has been incorporated.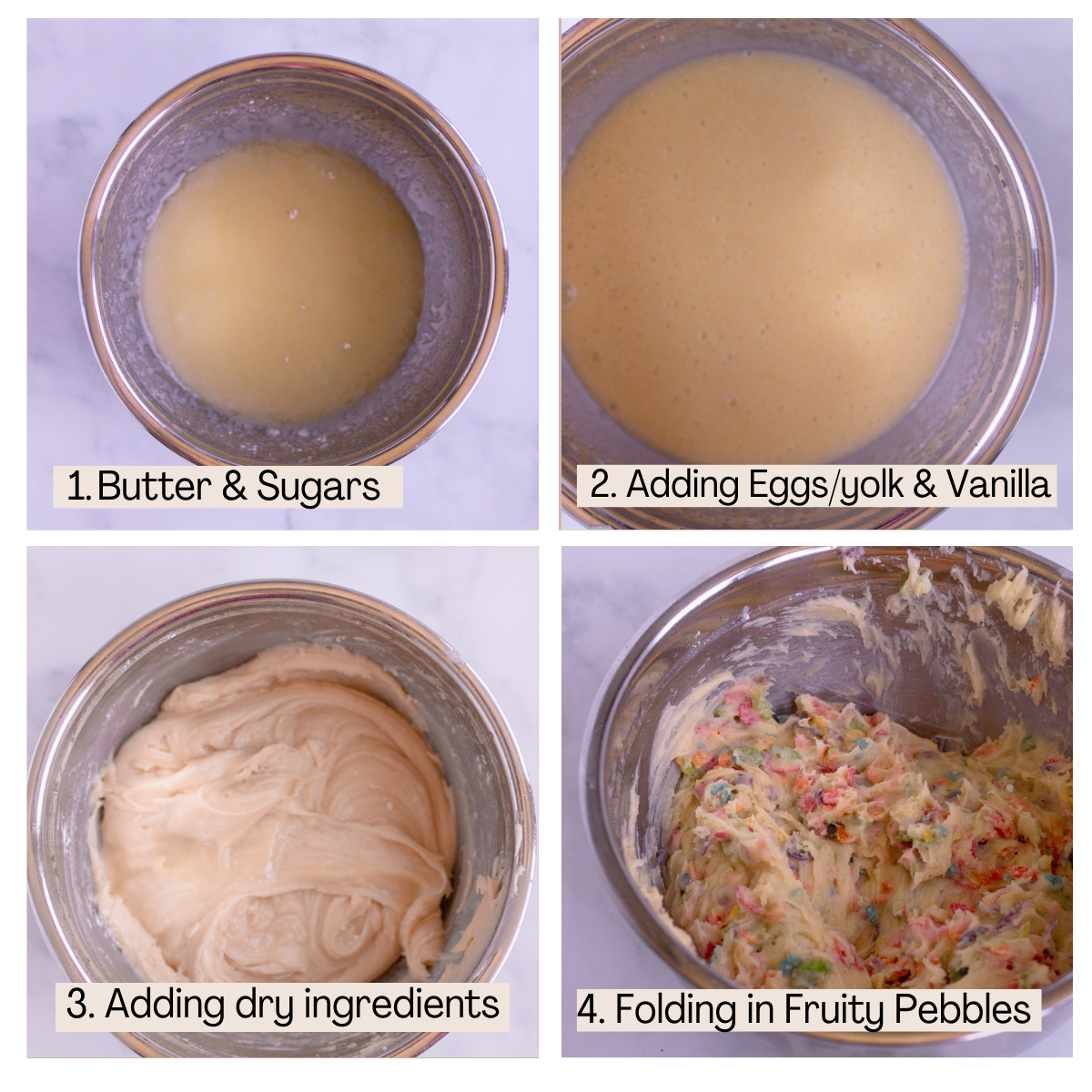 Fruity Pebble Time
Now add your fruity pebbles! Carefully fold them into the cookie dough using a spatula until they are nicely dispersed throughout the dough.
Refrigerate Dough
For best results, refrigerate the cookie dough. Cover the bowl with plastic wrap and leave it in the refrigerator for about 30-40 minutes. If you don't have time, you can skip this step, but the dough will be a bit harder to work with and the cookies spread more. Letting the dough cool will help to solidify the fats and keep the cookie from spreading too much.
Between batches, place the covered dough back into the refrigerator.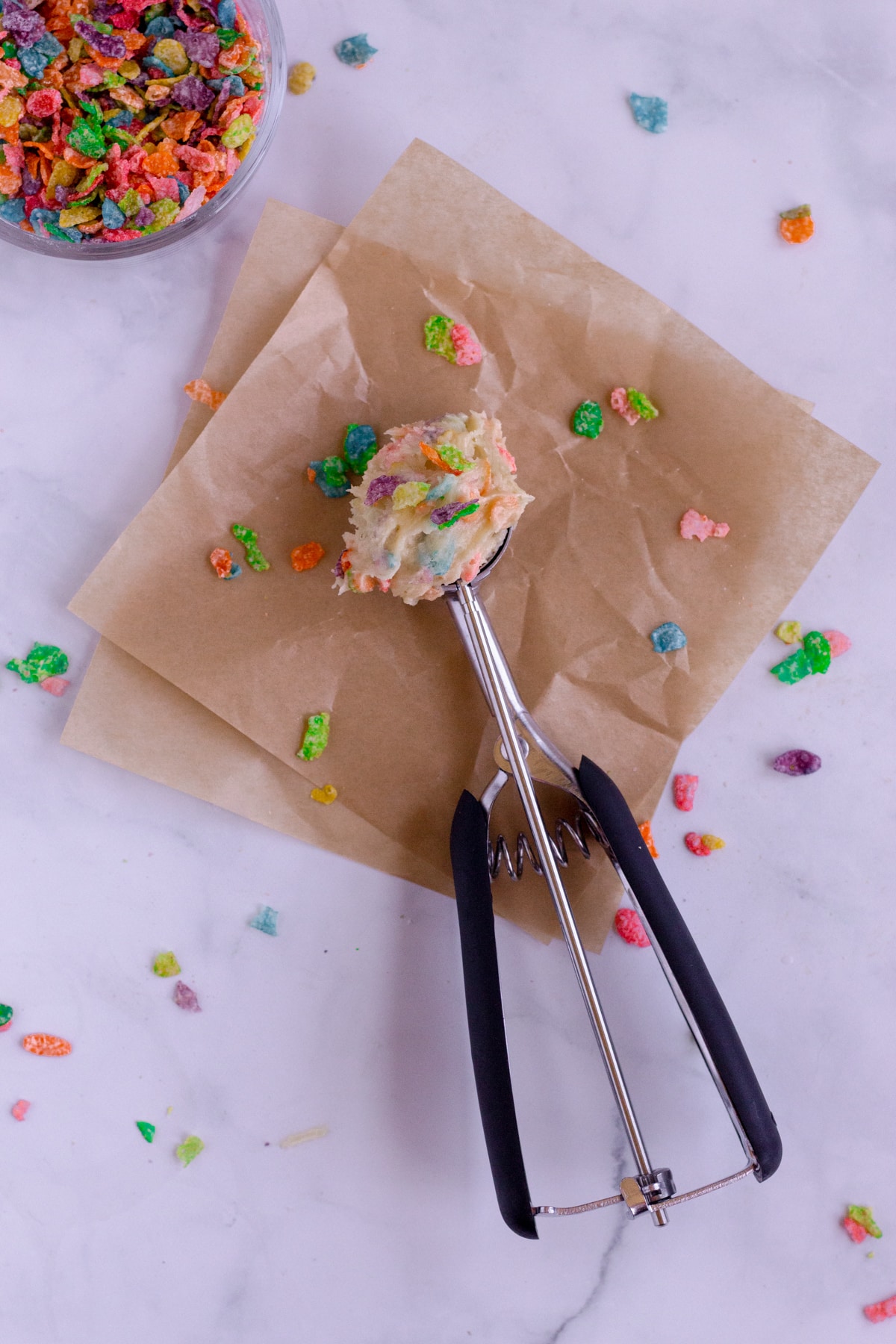 Baking the Cookies
Fill a small bowl with some extra fruity pebbles and set to the side. Using a medium to large cookie scoop, scoop into dough balls, dip them into the extra bowl of pebbles, and place them on the prepared baking sheet. My cookie dough balls are about 2 tablespoons or 25g.
If you plan on frosting these cookies, you can skip the step of dipping them in extra fruity pebbles. This step simply adds a pop of color to the top of your cookies, but isn't necessary if they will be covered in frosting!
Baking time will vary from 10-12 minutes at 350 degrees. Bake until the edges are slightly golden brown. At this point, remove from the oven and let the cookies settle on the cookie sheet for about 5 minutes before transferring them to a cooling rack.
Optional Decorating
Once the cookies have cooled completely you can frost them! I personally love canned vanilla frosting (fruity pebbles and canned frosting take me straight back to growing up in the 90's!) but you can use your favorite buttercream frosting recipe too.
Top cookies with a thin layer of frosting and then sprinkle the top with those extra fruity pebbles!
Substitutions
If you don't have Fruity Pebbles on hand, you could substitute for Fruit Loops, Cinnamon toast Crunch, CoCoa Pebbles, etc. You can really get creative!
Fruity Pebble Sugar Cookie Storage Tips
Store them in an airtight container (these are my favorite) at room temperature for up to 5 days.
Freeze cookies in a freezer bag or airtight container for up to 1 month. Bring to room temperature before serving.
You can make the dough ahead and freeze it safely for up to 6-12 months. Make sure the dough is well sealed, with as little air as possible. Heat sealers are a great method to get the most out of frozen cookie dough!
Other Cookie Recipes to Check out:
Fruity Pebble Sugar Cookies
These Fruity Pebbles Sugar Cookies are soft and chewy. Filled with crunchy cereal they have a sweet taste with a slightly fruity flavor. Perfect cereal cookie for cereal lovers!
Print
Pin
Ingredients
2

Cups

All-Purpose Flour

½

teaspoon

Baking Soda

¼

teaspoon

Salt

1

Cup

Unsalted Butter

(melted and cooled)

1

Cup

Granulated Sugar

½

Cup

Powdered Sugar

2

Eggs

1

Egg Yolk

1

Tsp

Vanilla Extract

2

Cups

Fruity Pebbles

(plus extra for topping/decorating)
Instructions
Preheat the oven to 350 degrees and line cookie sheets with parchment paper or a silicone mat. 

In a medium bowl whisk together flour, baking soda, and salt. Set aside.

In a large bowl, add the melted butter, sugar, and powdered sugar. Using an electric mixer, beat on high for 30-45 seconds. 

Add the eggs, egg yolk, and vanilla extract to the butter/sugar mixture. Beat on medium speed for about 45 seconds until well combined. 

Add half of the dry ingredients and beat on low until mostly combined. Add the second half of the flour mixture and continue beating until the flour has been incorporated.

With a spatula, gently fold in the fruity pebbles until evenly dispersed throughout the dough.

Cover the bowl and place it in the refrigerator for 30-40 minutes.*

Remove from the refrigerator and scoop out cookie dough balls of about 2 heaping tablespoons or approximately 25 grams. If you will not be frosting, dip the cookie dough ball into the extra bowl of Fruity Pebbles. Place on the baking sheet giving about 2-3" between cookies to allow for spreading. 

Bake for 10-12 minutes until edges turn a slightly golden brown. Let them sit on the cookie sheet for about 5 minutes and transfer to a wire cooling rack. 
Notes
*You can skip the refrigeration step if you are in a hurry, but the cookies will spread more and the dough will be more difficult to work with. 
**If you are making the cookies early, wait to frost them until before serving.
Optional: Can of Vanilla Frosting or Homemade Buttercream Frosting