This Crisco oatmeal raisin cookie recipe has a soft chewy centers and a rich buttery taste (even though they're made with Crisco). In just about 30 minutes, including baking, you can have a delicious batch of oatmeal cookies. Not a fan of raisins? No problem, you can easily swap out the raisins for chocolate chips or other tasty mix-ins.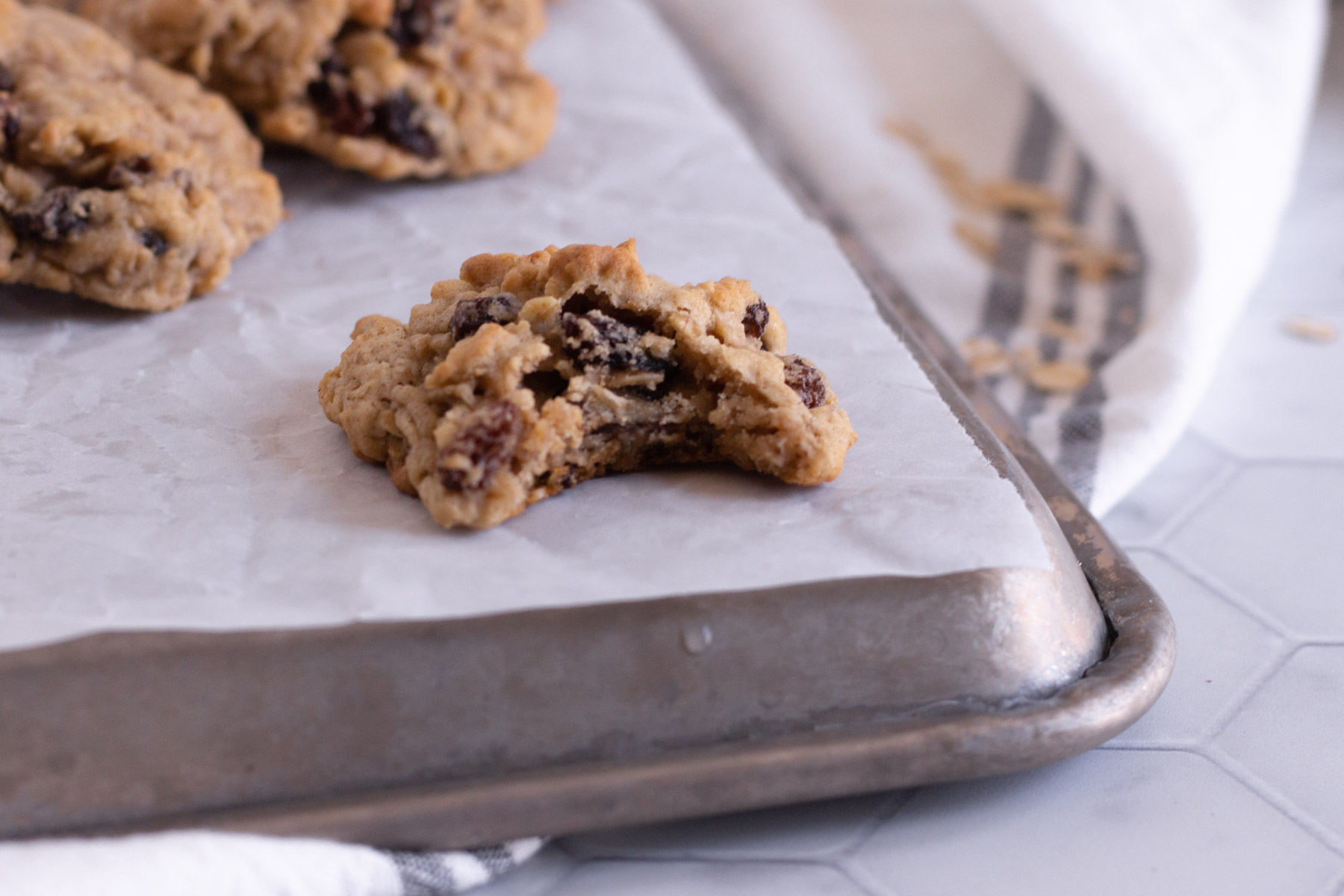 These chewy oatmeal cookies are great for any time of year as oatmeal cookies are a classic. This recipe has a hint of cinnamon in it which gives them a nice flavor that reminds me of fall.
This recipe was inspired by my Crisco chocolate chip cookies. I love using shortening in cookies as it gives a nice thick and flavorful texture, so I wanted to make another recipe that featured it!
Jump to:
Ingredients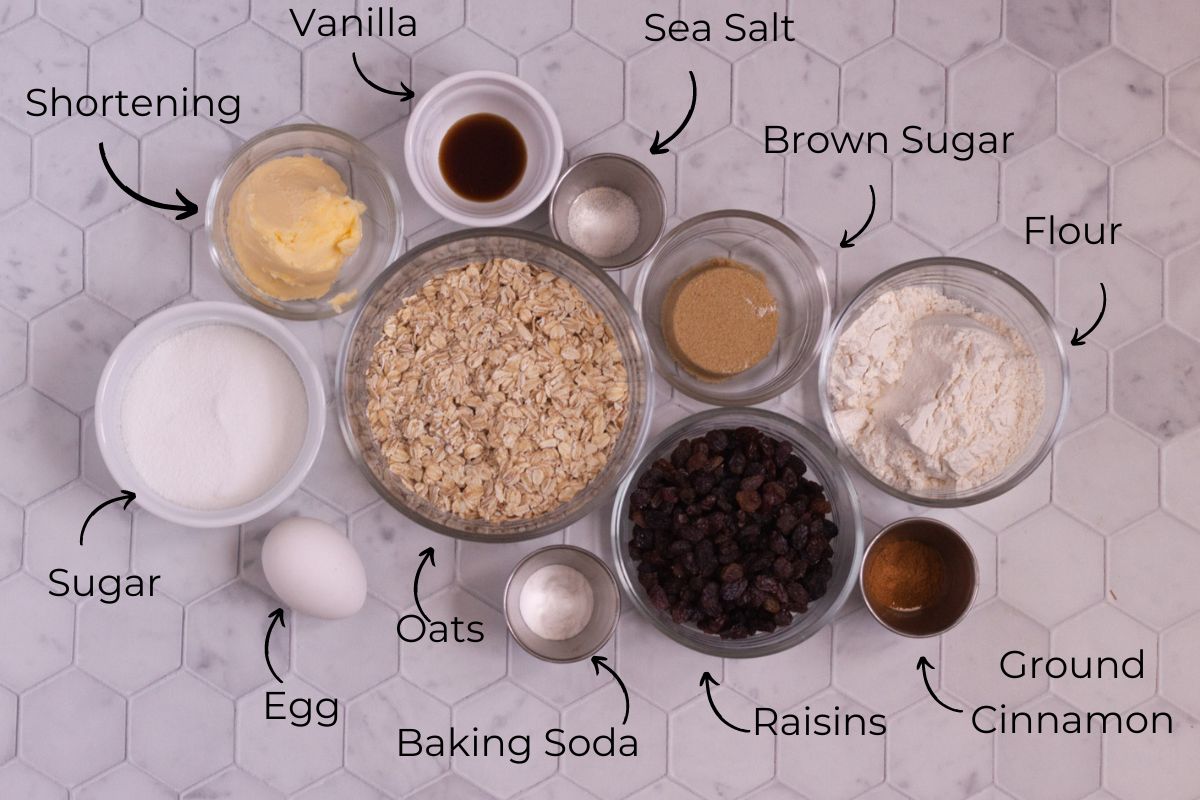 Old-Fashioned Oats
All-Purpose Flour
Baking Soda
Sea Salt
Ground Cinnamon
Shortening (Ideally Butter Flavored)
Granulated Sugar
Light Brown Sugar
Egg
Vanilla Extract
Raisins
See recipe card for quantities.
Instructions
Preheat the oven to 350 degrees and line your baking sheet with parchment paper or silicone mats. I love using silicone mats because they distribute the heat to the cookie evenly. 
This recipe makes approximately 20-24 cookies depending on how large or small you make them. However, it's easy to do a double batch of these if you need more!
In a medium bowl, combine flour, oats, baking soda, sea salt, and ground cinnamon. Using a whisk, mix the dry ingredients well until everything is well combined. Set aside for now.
Bake in the oven for 8-10 minutes. When complete, the cookies may appear SLIGHTLY doughy (but if the entire top of the cookie still looks uncooked, put them back in the oven for another minute and check again). Once removed from the oven, allow the cookies to come to solidify on the cookie sheet for at least 5-10 minutes until they are set. Allow them to come to room temperature on a cooling rack. 
Substitutions
Crisco: You can substitute butter for Crisco 1:1 for this recipe. When I tested out butter, the cookies turned out slightly thinner and with a denser texture. Though still delicious, I do highly recommend using shortening in this recipe. If you prefer a more crispy cookie, butter is the choice for you!
Old Fashioned Oats: This recipe was created using Old-Fashioned Oats, which cook much slower than instant oats. Additionally, quick oats may dry out your cookies more than old-fashioned. While the recipe will work if you only have quick oats, the recipe will not necessarily come out exactly the same. Substitute with caution!
Cinnamon: You can omit the cinnamon if you don't have any or if it is a flavor that you do not enjoy. Personally, I love the flavor combination of cinnamon and oats as it reminds me of a nice fresh bowl of oatmeal. However, it's not an integral part of this recipe.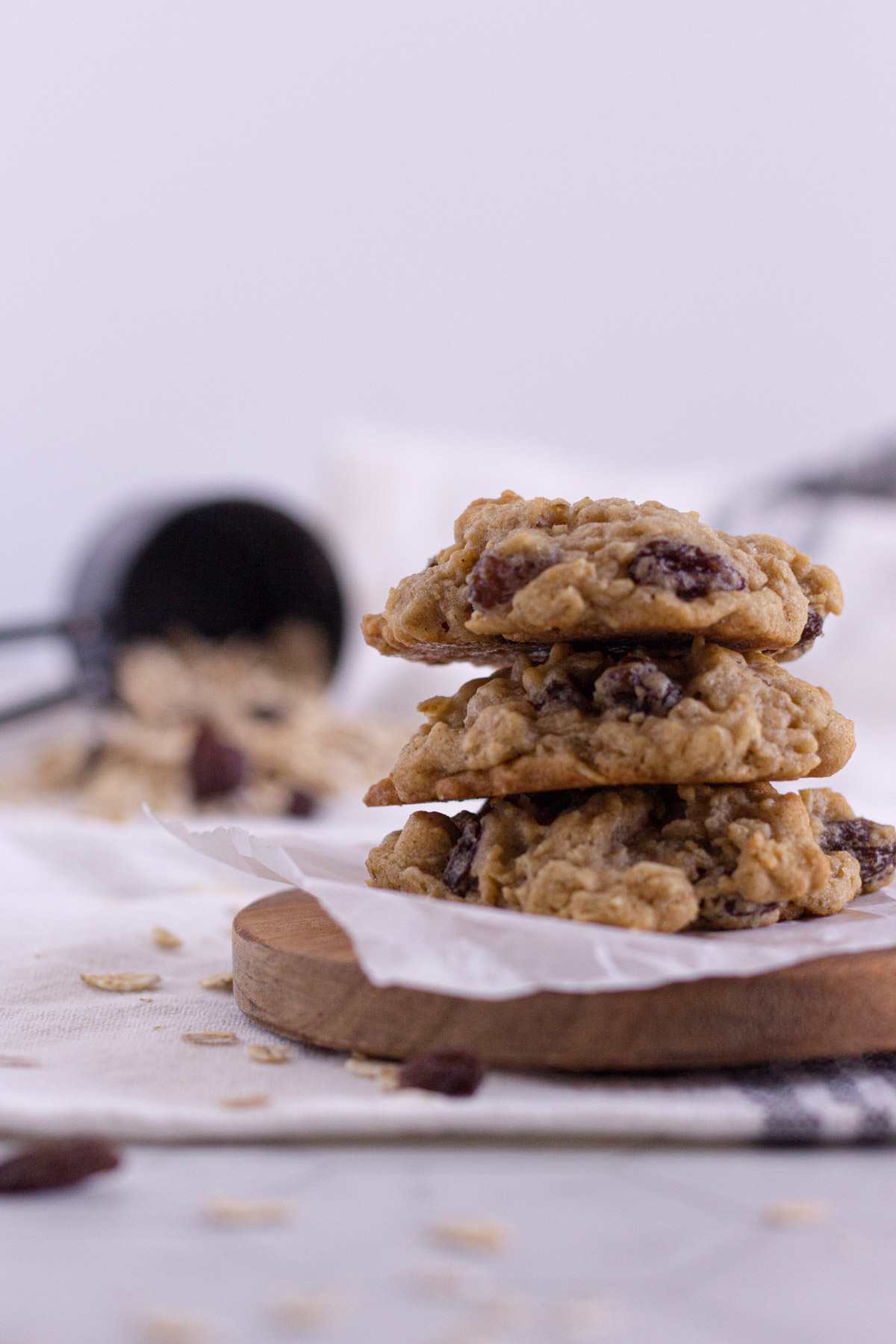 Variations
If you aren't a fan of raisins, there are so many great options to substitute. Some ideas would be chocolate chips, white chocolate chips, peanut butter chips, M&Ms, butterscotch chips, or even other dried fruit such as golden raisins or dried cranberries. I also really like oatmeal cookies without any additions, they have great flavor on their own too!
See this flourless chocolate chip cookie that is made with oats!
Storage
​Keep these cookies for up to a week in an airtight container. To store for longer, freeze them in plastic wrap in an airtight freezer bag for up to 3 months. 
FAQ
Related
Looking for other recipes like this? Try these:
Looking to Learn About Cookie Decorating?