Sugar cookies are one of my favorite kinds of cookies. But, do you know what is even better? Super easy sugar cookies with almost no cleanup! This air fryer method for baking Pillsbury sugar cookie dough takes these cookies to the next level. Instead of the plain soft cookies you get when you bake these in the oven, the air fryer gives the exterior a crispy texture with the classic chewy center.
Air fryer recipes are all the craze these days, and air fryer desserts are no exception. It is the perfect opportunity to put a new spin on classic recipes. There are many advantages to air fryer baking and though this specific recipe is for premade sugar cookie dough, you can try variations with peanut butter cookies, chocolate chip cookies, etc.
Disclaimer: This post may contain affiliate links, meaning I may get a small commission if you decide to make a purchase through my links at no cost to you.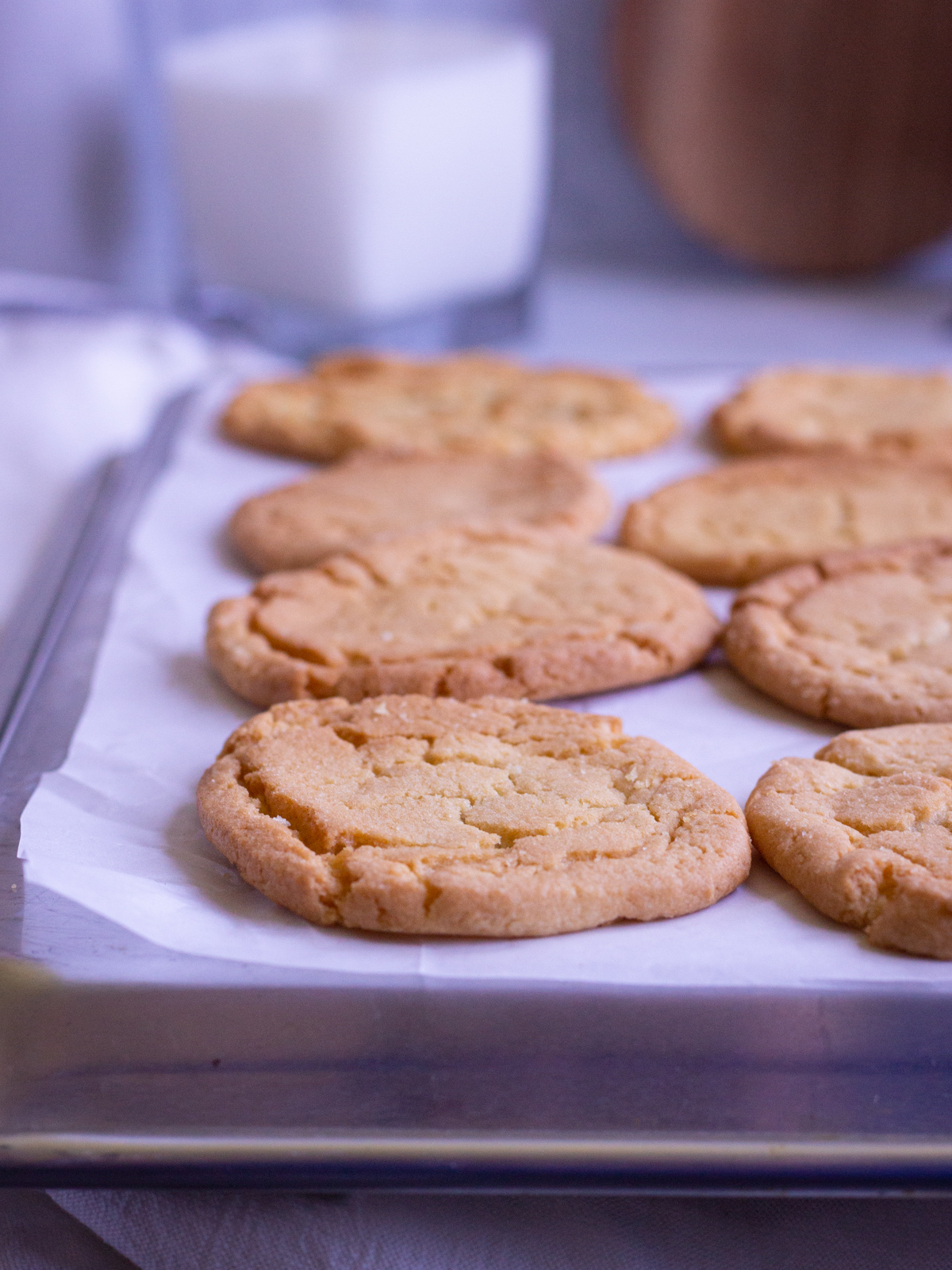 Reasons to Try this Air Fryer Sugar Cookie Recipe
You can bake in small batches! Sometimes I have a craving for a freshly baked cookie, but I don't want to make an entire batch. The air fryer allows me to whip up just a few cookies at a time.
Air fryers make it easy to make a quick dessert. Not only do you not have to preheat an oven, but the air fryer bakes everything super fast.
With premade dough and an air fryer, there is almost no cleanup (especially when you use this parchment paper)!
Since this uses premade dough, you can keep some extra cookie dough frozen for whenever you get a craving.
Disadvantages of Baking Cookies in the Air Fryer
These are not going to be the prettiest cookies. There is a lot of hot air circulating around in the fryer and sometimes the dough may get blown around a bit, making the cookies more of an oval shape.
If you want a super soft cookie, this probably isn't the method for you. The air fryer cookie method (especially with the Pillsbury dough) is much better for that super crispy cookie.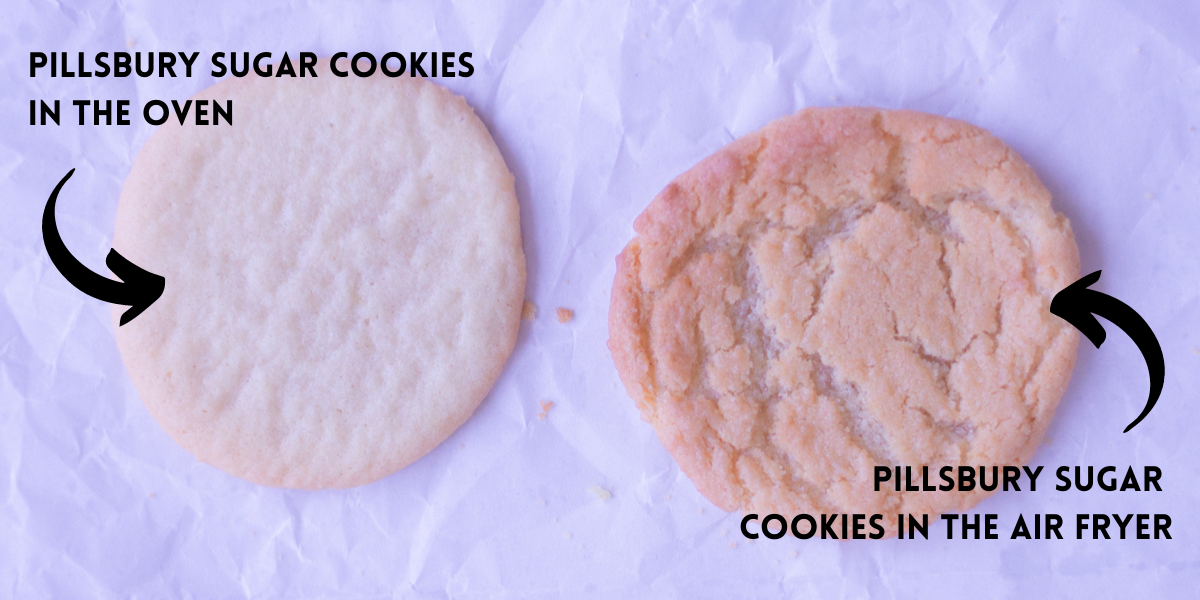 Supplies and Ingredients:
Pillsbury Sugar Cookie Dough: Either the roll of dough or the pre-cut dough will work.
Air Fryer: I have the Instant Vortex Air Fryer. There are so many great brands of air fryers out there. Though this recipe has been calculated for the Instant Vortex, any type of air fryer will work. However, each fryer may heat slightly differently so you may need to adjust your baking time.
Parchment paper or a tray that fits the air fryer: You'll need something to put the cookies on to bake. I did test out baking a cookie right on the bottom grate. Did it work? Yes. Would I recommend it? No. The cookie took on the shape of the grate, but did stick and came out a bit TOO crunchy. I bought these parchment paper pieces which work very well. I also have this tray for the air fryer which is non-stick bakes the cookies nicely.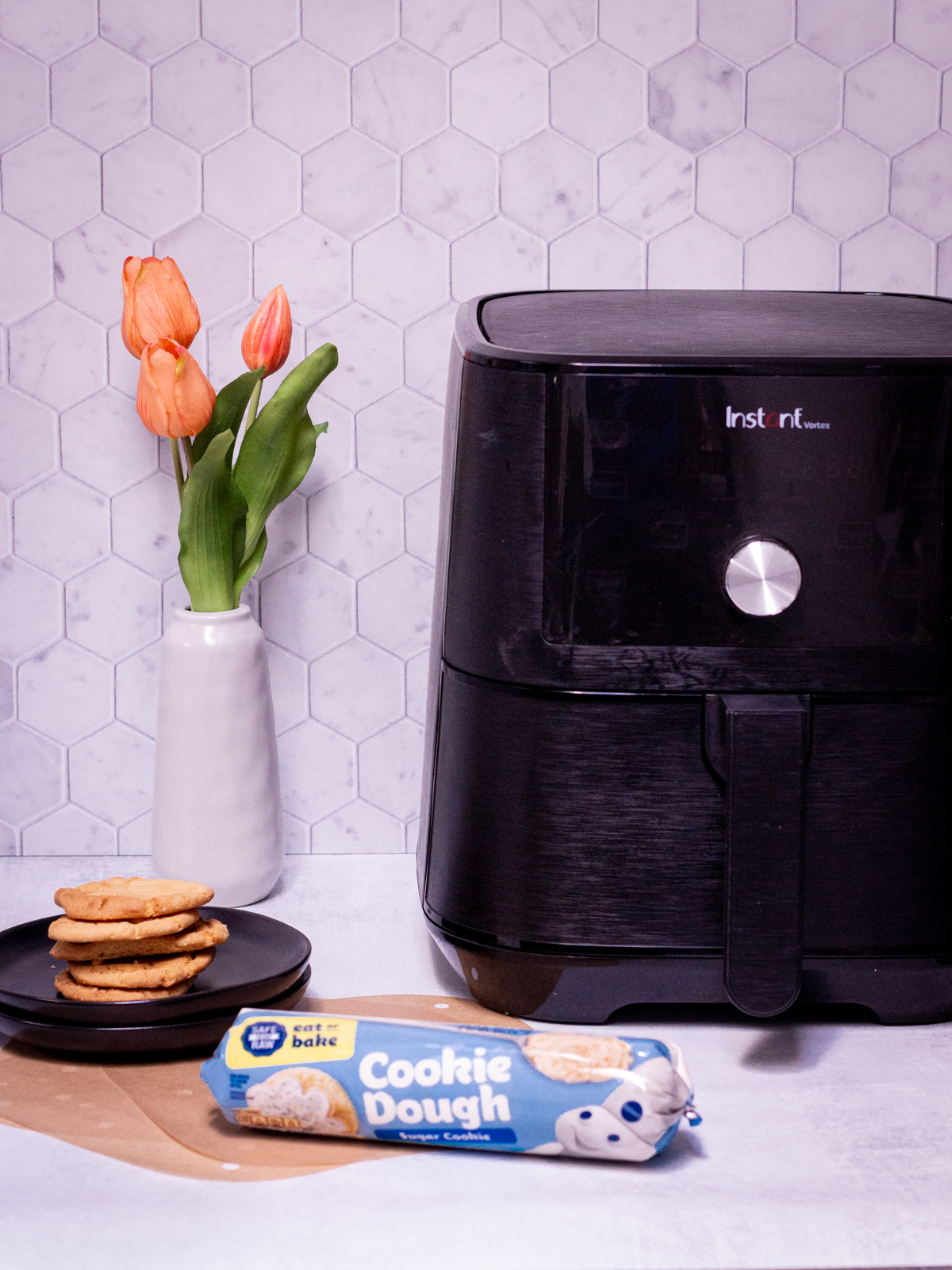 How to Air Fry Cookies:
Slice the roll of cookie dough into about ¼" thick pieces.
Line the basket of the air fryer with a piece of parchment paper or baking sheet.
Place 4 cookie slices (or however many it takes to fill the parchment paper with about 2" of space between each cookie). If you are using parchment paper, make sure the paper is filled to keep it from blowing up with the air circulation. If you are using the tray, you can bake only 1 or 2 cookies at a time with no issues.
Add the basket to the air fryer, set the time and the temperature, and bake cookies. You will leave the cookies in the air fryer during the preheating process too. Remember, cooking time may vary depending on the type and size of your air fryer.

Parchment paper: 350 degrees for 5-6 minutes
Cookie Sheet: 350 degrees for 4-5 minutes

Once the timer ends, open the basket and let the cookies cool for about 5 minutes before transferring them to a wire cooling rack. Be careful not to burn yourself when taking out the cookies as the fryer may still be hot!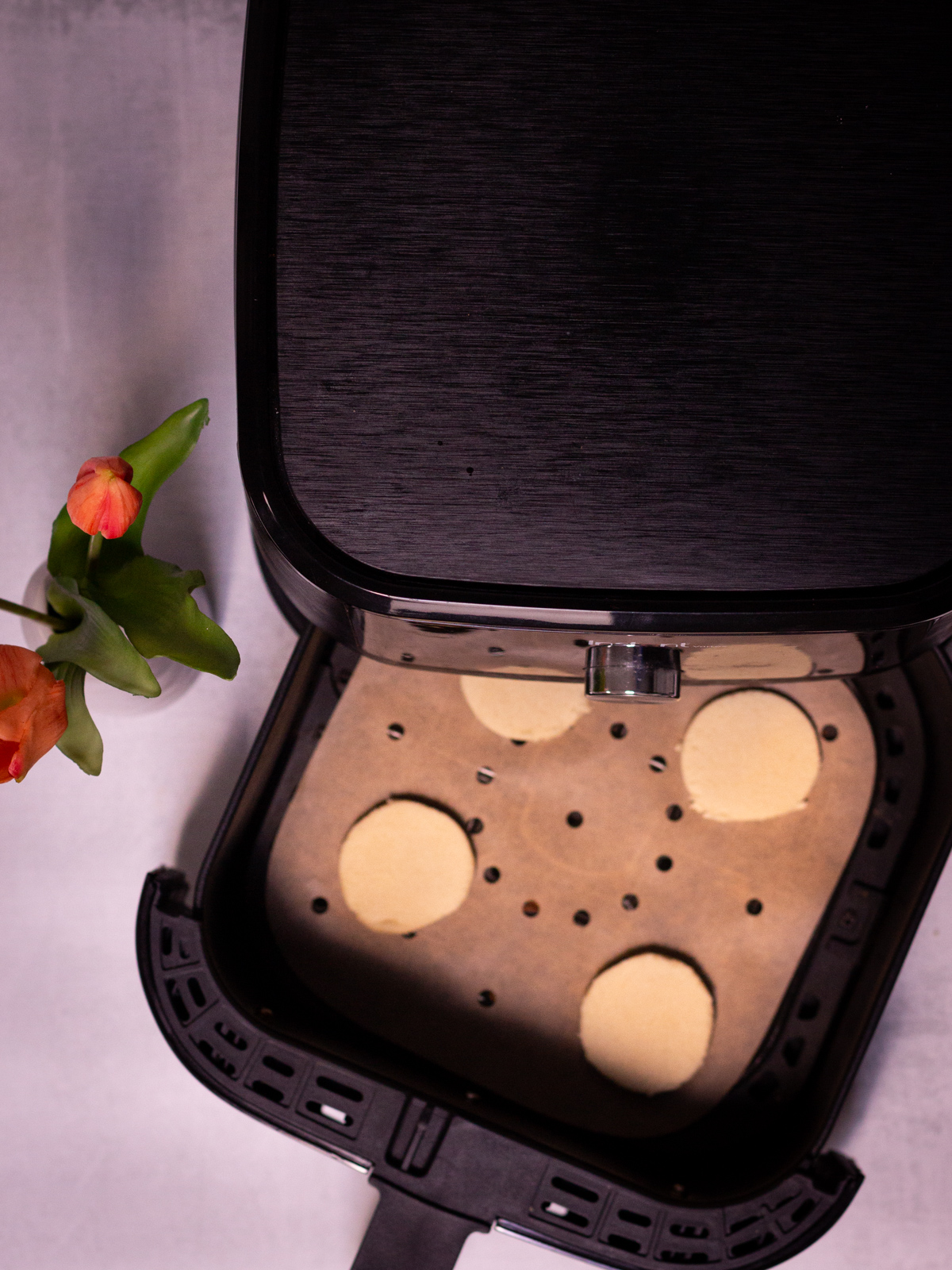 Decorating Sugar Cookies
There is no need to decorate these babies. But if you do want to kick up your cookies a notch, my favorite way is to dip the top of the cookie dough slices into some sprinkles before baking. Easy peasy! If you want to learn more about royal icing and the best cookies for this kind of decorating, check out my Ulitmate Guide to Royal Icing!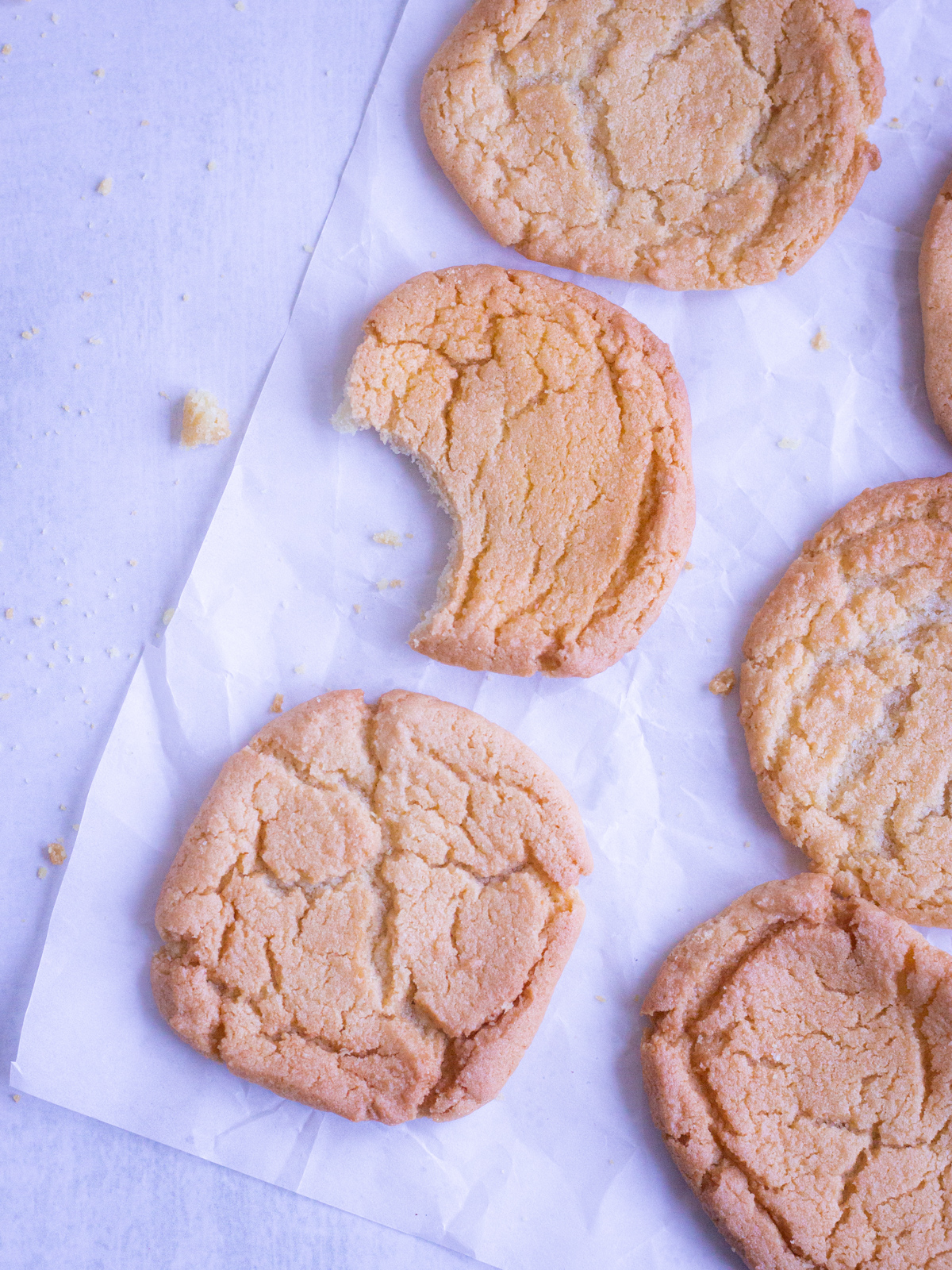 Storage
The best part about this method is you can make just a few cookies when you have a craving! To store extra cookie dough, wrap it in plastic wrap and seal it in a freezer bag in the refrigerator until the date on the package, or in the freezer for up to 2 months. Next time you want (somewhat) homemade cookies, remove the frozen cookie dough, defrost, and air fry sugar cookies!
After making the cookies, store them in an airtight container for up to 5 days (this is my favorite storage containers for cookies).
FAQ's
Can you use foil in an air fryer?
Yes, you can. It is safe to use foil in an air fryer, see more details here. However, I do not recommend doing so for this recipe. In order to safely use aluminum foil in an air fryer, it should be secured tightly to your food or to the cooking container. Using foil could be dangerous if isn't secured as the air could blow the foil up into heating coils. Because the cookies are light, foil is not going to be your best option.

Do you need special air fryer parchment paper?
No, you can you regular parchment paper. Simply cut it to the correct size and you will need to cut some holes in it to allow for air circulation.
Can you use Pillsbury pull apart cookies?
Yes! I make a few batches of these. Just lower the time to about 4 minutes as they are a bit smaller. 

Can you make cookies from brands other than Pillsbury?
Yes, of course! I tested a Mrs. Fields as well and they came out nicely. The temperature and time may vary, however. Use the temperature listed on the package of your cookies and you will need to reduce the time to approximately half what the package calls for. The only thing is you may need to experiment to get the cook time just right. You could also make pull apart chocolate chip air fryer cookies, especially if you like crunchy chocolate chip cookies!
Can you use homemade dough in the air fryer?
Yes, I don't see why not! I have not tested or created an original recipe for this. But I'm sure there are some delicious recipes out there.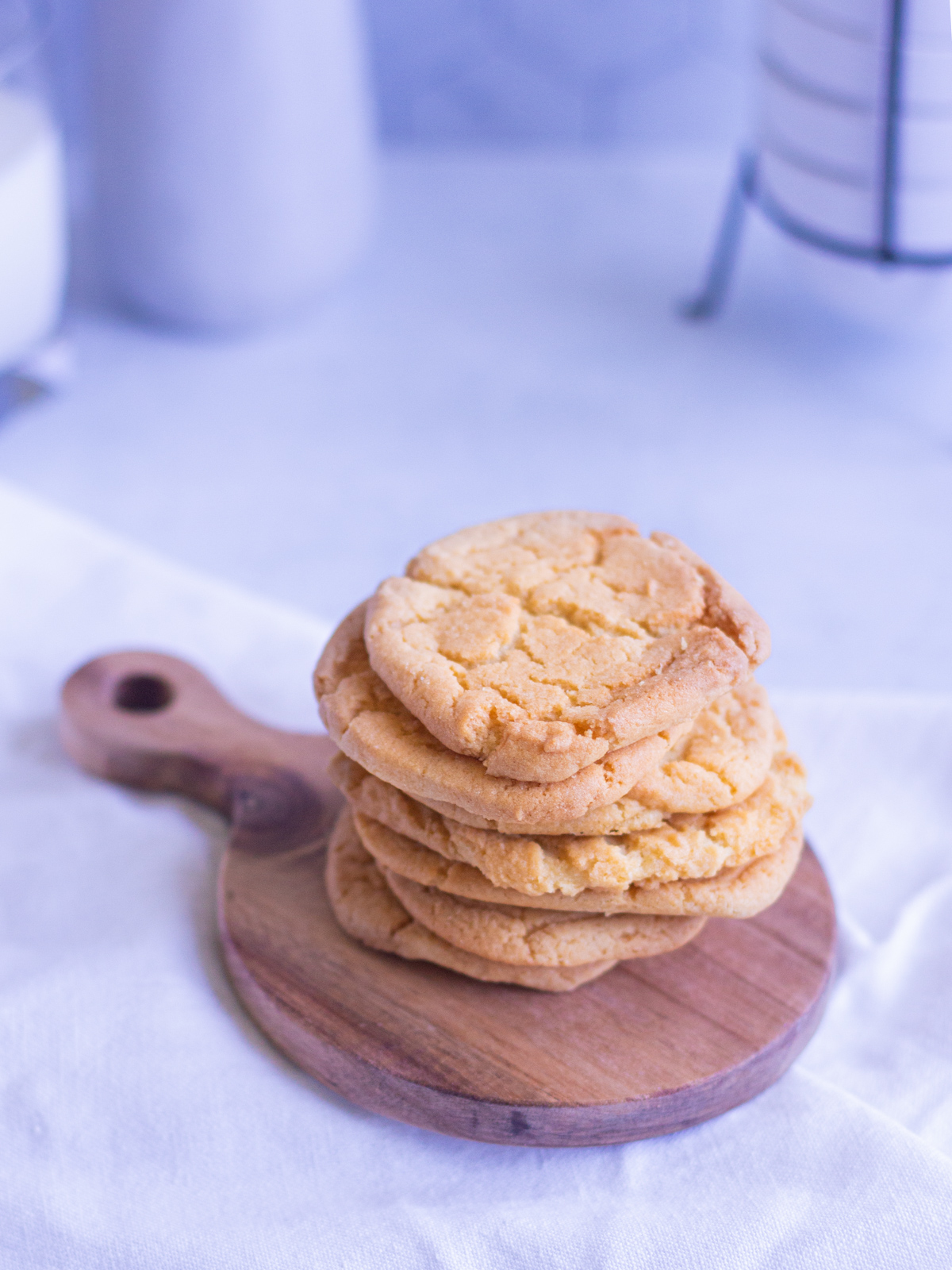 I hope you enjoy these easy air fryer sugar cookies! These are tasty cookies and an easy way to fill your sweet tooth cravings without having to clean up a mess or bake an entire batch of cookies.
If you like this recipe, here are a few others you may enjoy:
Air Fryer Sugar Cookies
Making sugar cookies in the air fryer not only is an easy and quick process, but you will get amazingly crispy cookies in just a few minutes!
Print
Pin
Ingredients
1

Roll

Pillsbury Ready To Bake Refrigerated Sugar Cookie Dough

Sprinkles (optional)
Instructions
Slice the roll of cookie dough into ¼" thick pieces.*

If you choose to add sprinkles, dip one side of cookie dough into a shallow bowl filled with sprinkles.

Line the basket of the air fryer with parchment paper or a cookie sheet appropriate for your specific air fryer.

Space out cookies on the tray or parchment paper, leaving about 2" of space between each cookie. If you are using parchment paper, make sure the paper is filled to keep it from blowing up as the air circulates.

Add the basket to the fryer and make sure the setting is on air fry, the temperature is at 350°, and the timer is 5-6 minutes** if baking on parchment paper (4-5 minutes** if baking on a cookie sheet). Start the air fryer.

The cookies will be in the fryer for the preheat. Leave in for the remainder of the time.

Once the timer ends, remove the basket and allow cookies to cool for at least 5 minutes before transferring them to a cooling rack.
Notes
*Pillsbury calls for cutting the slices ½" thick. I wanted these cookies to come out more crispy, so I reduced this to about ¼" thickness. You can try thicker, but you may need to adjust the baking time.
**Baking times may vary based on your specific air fryer.
Store unused dough in a tightly sealed freezer bag in the refrigerator up to the date on the package. Store in the freezer for up to 2 months.