Have you ever gone to make cookies and then realized your brown sugar is a hardened rock? Or you just don't have any at all? Have no fear, you can still make delicious, mouth-watering cookies without that pesky brown sugar. With 10 basic cookie ingredients and about 20 minutes, you'll have a batch of soft and chewy M&M cookies without brown sugar.
Disclaimer: This post may contain affiliate links, meaning I may get a small commission if you decide to make a purchase through my links at no cost to you.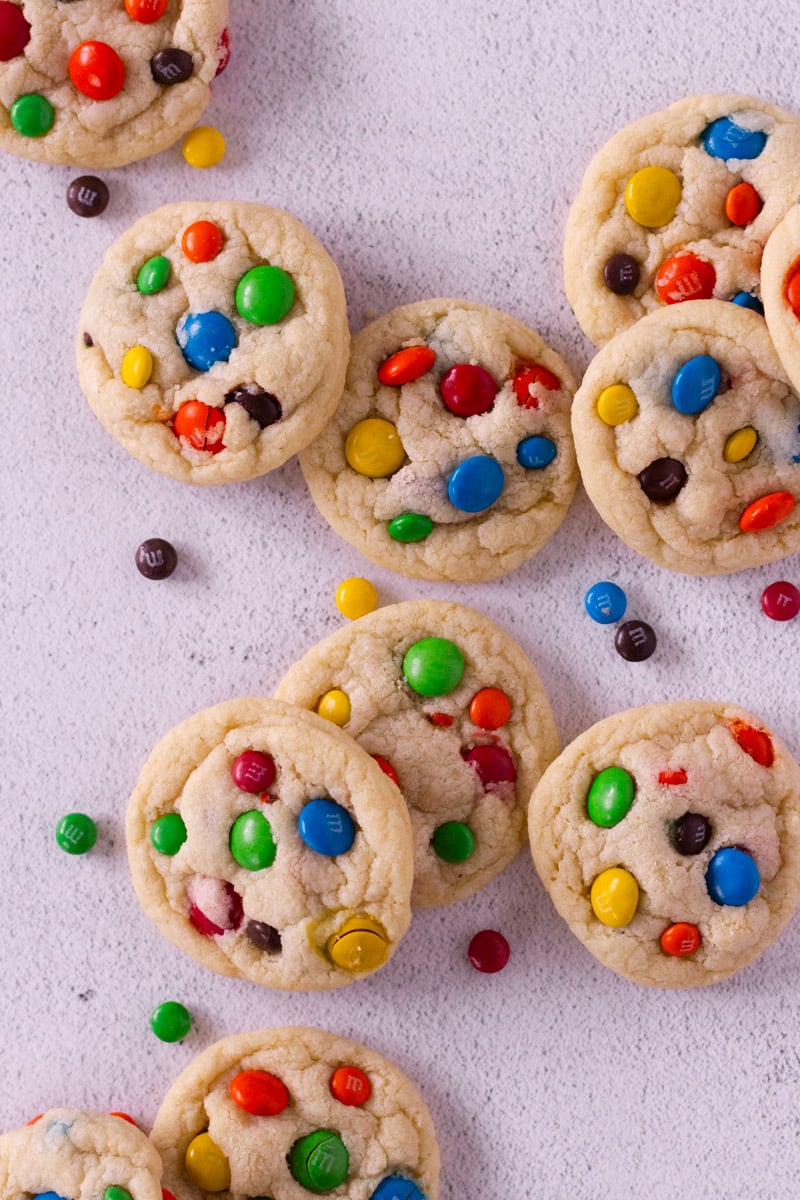 These M&M cookies are perfect for any time of the year. They can be customized for holidays too, just buy the M&M holiday colors that come out throughout the year for Christmas, Halloween, 4th of July, etc.
I also have a recipe for Peanut Butter Cookies without Brown Sugar if you are looking for more similar recipes! 
Can You Really Make Cookies without Brown Sugar?
Absolutely, YES! Brown sugar and granulated sugar (white sugar) are the same except that brown sugar has the addition of molasses. This change adds fructose, glucose, amino acids, and minerals and changes the chemical makeup of the sugar. Therefore, it's very unlikely that you can simply substitute brown for white sugar.
The unfortunate part of not using brown sugar is that you will not get that beautiful golden brown color after baking the cookies. However, this recipe was created to be made with only white sugar and makes a nice thick, soft, and chewy cookie that I'm sure you'll love! 
Jump to:
Ingredients You'll Need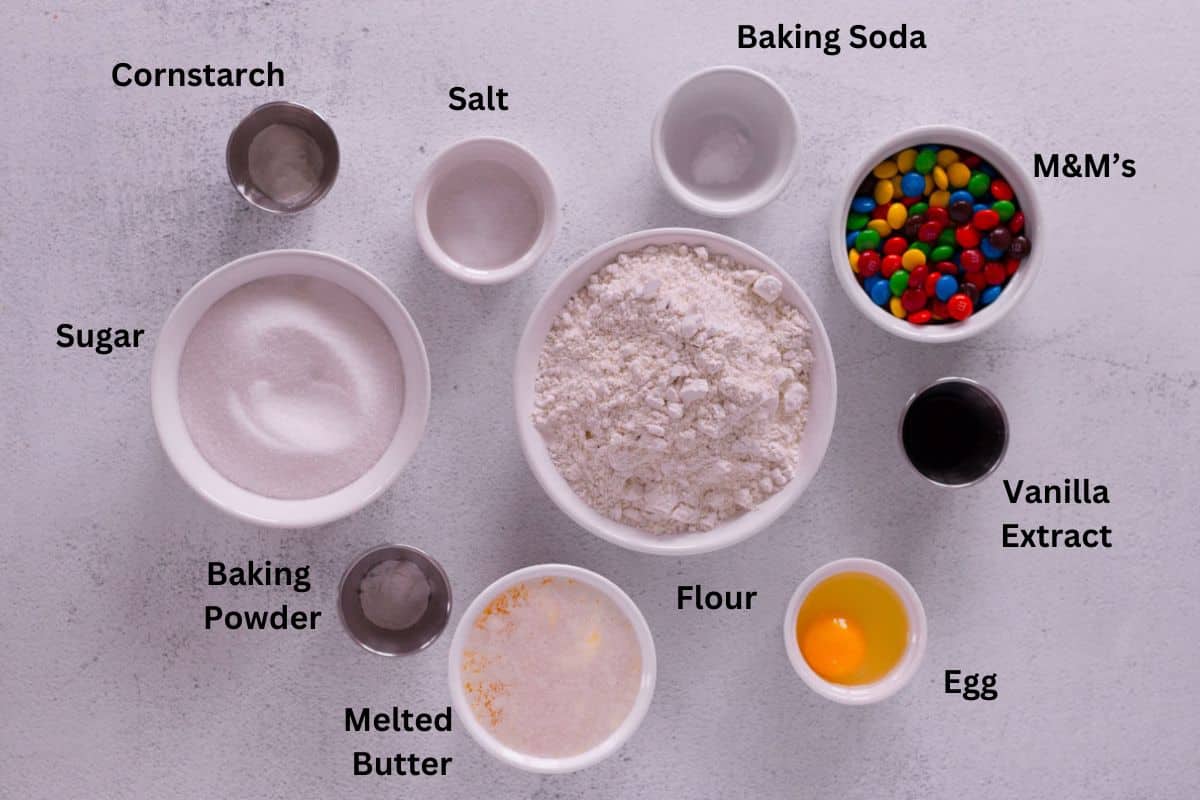 All-Purpose Flour: A staple for many cookie recipes! This recipe has only been tested with all-purpose flour and hasn't been tested using any other flour. 
Cornstarch: I've been starting to incorporate cornstarch into more and more of my cookie recipes. It can be a secret weapon to making soft and chewy cookies as it helps to create a soft and tender crumb and also stops the dough from spreading too much. 
Baking Powder: Acts as a leavening agent.
Baking Soda: Helps create a chewy cookie.
Salt: For flavor!
Unsalted Butter: I prefer to use unsalted butter because you can control how much salt is added to the recipe. Each brand of salted butter may use a different amount of salt, so to have more control in your baking, I recommend unsalted butter!
Granulated Sugar: The only kind of sugar in this recipe!
Egg: Just 1 egg for this recipe. 
Vanilla Extract: If you can splurge for pure vanilla extract it is worth it for a stronger vanilla flavor.  
M&M's: One of the greatest candies and the heart of this recipe. 
See recipe card for quantities.
Instructions
Prepare Ingredients and Supplies
Start by preheating the oven and lining cookie sheets with parchment paper or silicone mats. These are my favorite mats I use for all my cookie baking and really anything you bake on a tray. They are dishwasher safe so it's easy to pop them in the dishwasher when you're done! 
Melt your butter in a microwave-safe container. To avoid splatter, heat in smaller increments, about 15-20 seconds at a time. Allow the butter to slightly cool.
If the butter is too hot, it may cook the eggs once added. 
In a separate mixing bowl, whisk together the flour, cornstarch, baking powder, baking soda, and salt. Set aside. 
Mixing the Wet Ingredients
Add the melted (and slightly cooled) butter and granulated sugar to a large bowl. With your electric mixer (either hand mixer or stand mixer) beat on high speed for about 30 seconds to 1 minute. The mixture will still be very thin at this point.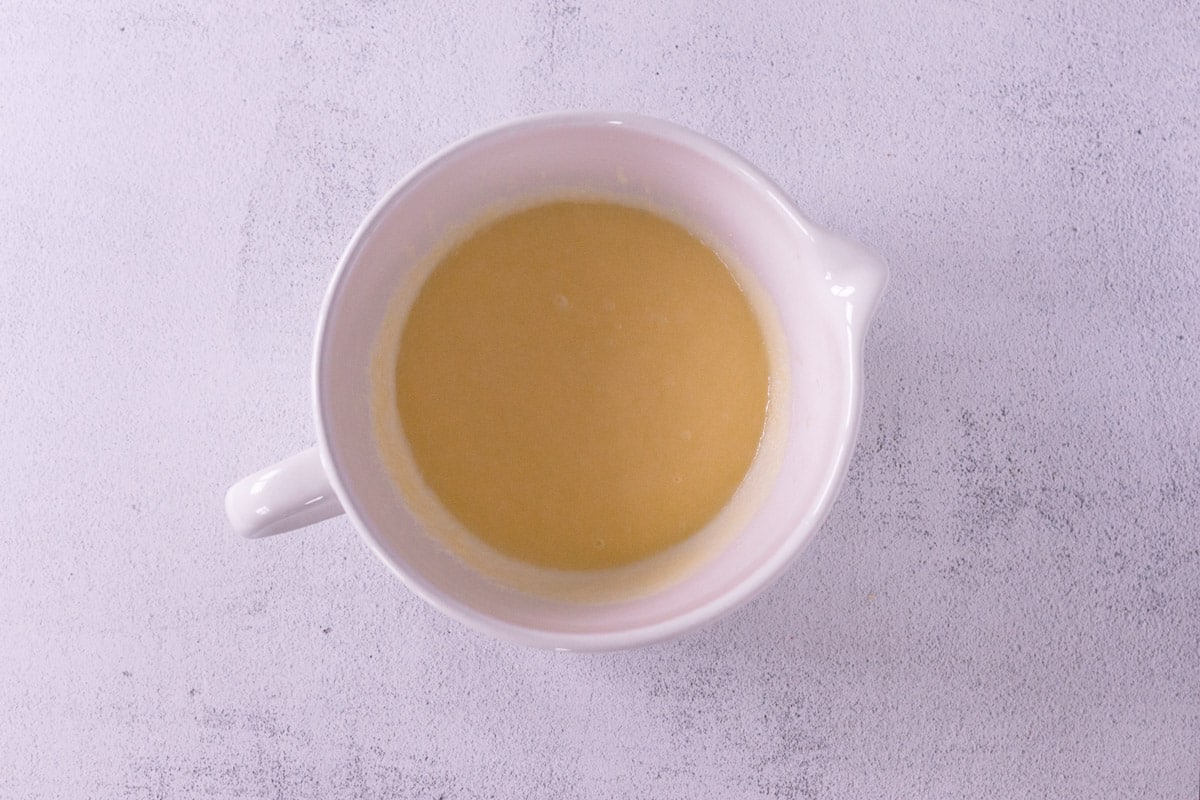 Mix in the egg and vanilla extract on medium-high speed. The mixture will start to thicken and lighten in color.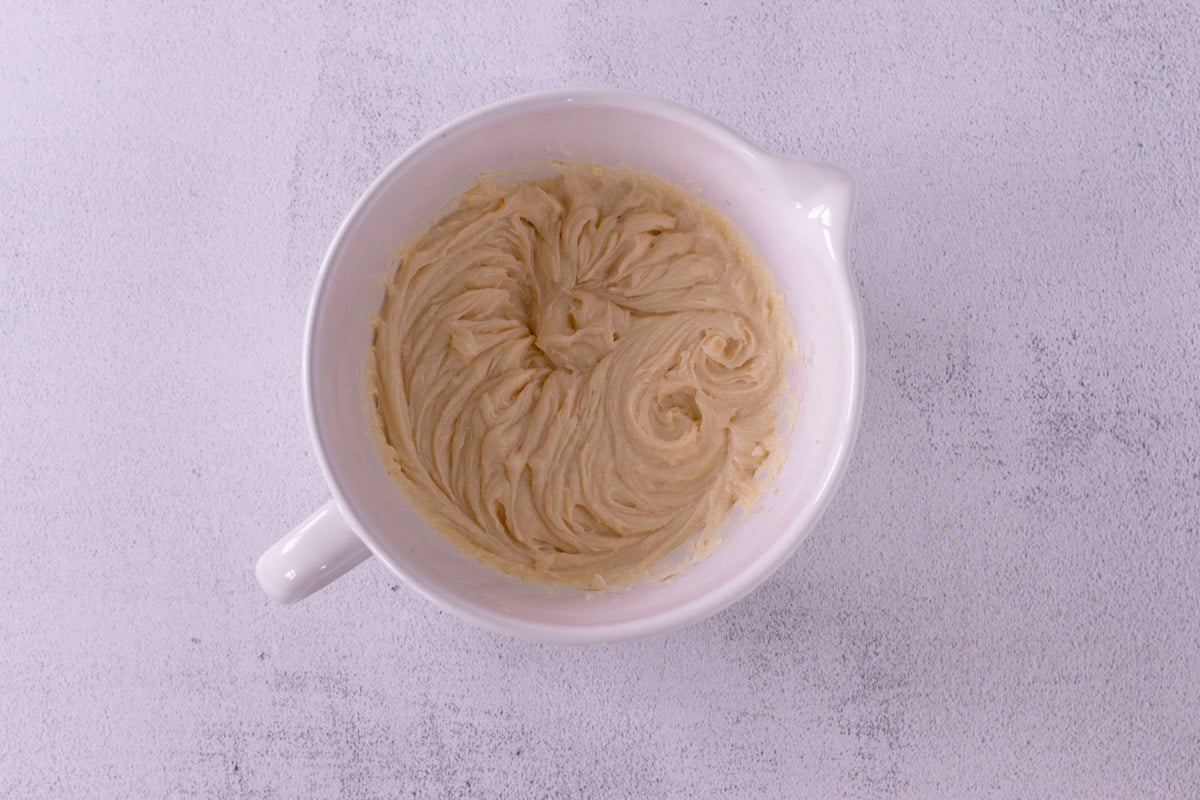 Add the Dry Ingredients
Add approximately one-third of the flour mixture into the wet ingredients and beat on low speed until mostly combined. Add the second third and then the final third, mixing on low until the cookie dough begins to form. 
Once all of the dry ingredients have been incorporated add your M&M's and stir them in by hand.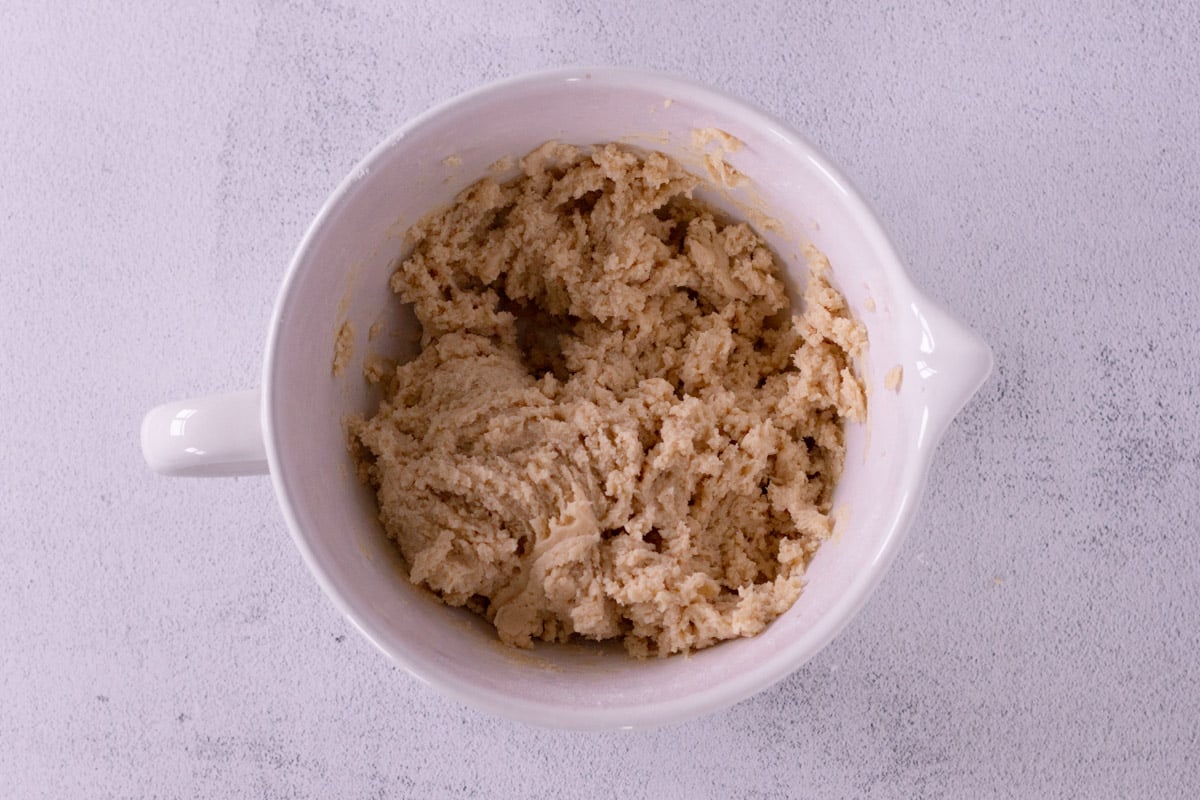 Baking the M&M Cookies
Grab your prepared baking sheet and with a cookie scoop, make 30g cookie dough balls (about 1 heaping tablespoon). Make sure to leave 2-3 inches between each dough ball to make sure they don't spread into one another. 
Bake the cookies in your preheated oven for 10-12 minutes. The cookies won't brown much due to the lack of brown sugar. But you will start to see the bottom edges start to barely darken in color. At this point, remove the cookies from the oven and allow them to sit on the cookie sheet for 5 minutes before transferring to a wire rack to cool. 
Tips for Making the Perfect Cookie
Add Extra M&Ms: Add a few extra M&Ms to the top of the cookies either before baking or right when they come out of the oven. This trick will make the cookies look prettier and also… more chocolate!
Measure your Flour Properly: If you have a kitchen scale, that is ideal. If not, use the scoop and level method. Essentially, scoop the flour into your measuring cup until it is overflowing. Then, take the straight edge of a knife or spatula and scrape off the excess flour back into the container. Too much flour in cookies will lead to a dryer final product. 
Don't Overmix: A common mistake in cookie baking is overmixing your cookie dough. The more you mix, the more the gluten develops, which then leads to a tougher, less soft cookie. Stop mixing as soon as you see the flour has been incorporated.
Make Sure Your Oven Temperature is Correct: Using an oven thermometer can be super helpful for both cooking and baking. Your oven may be running hot or cool and you would really never know without a thermometer. They are pretty reasonable and you can just let one hang on your oven rack and be assured your cookies are baking at the right temperature. 
Storage
Store the cookies in an airtight container for 3-5 days. Brown sugar adds more moisture to cookies, so the lack of that ingredient may make your cookies dry out a bit sooner than usual. You can always throw a piece of bread into the container to keep them soft longer!
Freeze cookies in an airtight container for up to about 3 months as well.
Flash-freeze balls of cookie dough for fresh cookies at a moment's notice! Simply freeze the balls of cookie dough on a tray spread out. Once they are completely frozen, add to a freezer bag or container and freeze. Simply remove from the freezer and bake (though you will need to add a few extra minutes of bake time from frozen). 
Did you make this recipe? If you could leave a review I would really appreciate it as it will help me continue to improve my recipes and help more people to find them! 
Related
Looking for other recipes like this? Try these:
M&M Cookies without Brown Sugar
If you need to whip up some cookies in a pinch but don't have any brown sugar, this recipe is what you need. It makes soft and chewy cookies packed with delicious, crunchy M&Ms.
Print
Pin
Rate
Ingredients
1

Cup

Unsalted Butter, melted

(226g)

3

Cups

All-Purpose Flour

(360g)

2

Teaspoons

Cornstarch

1

Teaspoon

Baking Powder

½

Teaspoon

Baking Soda

½

Teaspoon

Salt

1¼

Cup

Granulated Sugar

(248g)

1

Large

Egg

(52g)

1

Teaspoon

Vanilla Extract

1

Cup

M&M's

(185g)
Instructions
Preheat oven to 350 degrees and line baking sheets with parchment paper or silicone mats.

Melt the butter and allow to slightly cool (if it's too hot it may cook the eggs when added).

Prepare dry ingredients by whisking together flour, cornstarch, baking powder, baking soda, and salt. Set aside.

In a mixing bowl, with an electric mixer, beat the melted butter and sugar until fully combined. Add in the egg and vanilla extract and continue mixing on med-high until well combined. The mixture will start to smooth out and grow in volume.

Add the dry ingredients in three sections, beating on low speed between each addition. After the final addition, stop beating once most of the flour has been incorporated but there is still a small amount visible.

Add the M&M's and stir into the dough with a rubber spatula. Stop mixing as soon as they are evenly dispersed throughout to avoid overmixing the dough.

Scoop out cookie dough balls onto prepared cookie sheets. Each cookie dough ball should be 30g or 1 heaping tablespoon.

Bake cookies for 10-12 minutes and remove from oven when bottom corners are very, very slightly brown. Allow cookies to settle on the tray for about 5 minutes before transferring cookies from the sheet to a wire cooling rack.
Notes
- Add additional M&M candies on top of each cookie before or after baking to make them prettier! 
- Store in an airtight container at room temperature for 3-5 days or freeze for up to 3 months. 
- Flash-freeze cookie dough balls separated on a cookie sheet. Once frozen, throw them in a bag and you'll have cookies ready to bake at a moment's notice!
Nutrition
Serving:
1
Cookie
|
Calories:
152
kcal
|
Carbohydrates:
20.8
g
|
Protein:
1.6
g
|
Fat:
7.1
g
|
Saturated Fat:
4.4
g
|
Cholesterol:
20.5
mg
|
Sodium:
26.1
mg
|
Fiber:
0.1
g
|
Sugar:
11.5
g