I have two very important questions to ask you before you make this margarita buttercream frosting:
Do you like buttercream?
Do you like margaritas?
If your answer to both of these questions is 'YES' then this boozy cupcake frosting recipe is for you. You can top off any dessert with this frosting - cupcakes, cookies, cake, etc.
Do Alcohol Infused Cupcakes get you Drunk?
The short answer is yes it can. Even when you bake, sauté, simmer, etc. some of the alcohol may burn off, but there are many factors that will play into how much alcohol will remain. I found a great source from Idaho State News from a registered dietitian where she goes into more detail about the various factors that contribute.
Since this buttercream recipe is not baked or heated in any way, all of the alcohol content from the tequila will remain. There almost 2 shots of tequila in this recipe, though it is spread out across 24 decorated cupcakes. So will it get you drunk, probably not. But you should not consume this recipe if you cannot consume alcohol for any reason including pregnancy, religious beliefs, recovery, health reasons, etc.
What flavors pair well with Margarita Frosting?
You can use any type of recipe including cookies, cakes, and cupcakes to go with this Margarita Buttercream Frosting. I would highly recommend a white, yellow, vanilla, or butter-based cake/cookie. I do not think chocolate would blend as well, but if you try it - let me know!
I decided to use Funfetti cupcakes, because, well, who doesn't like Funfetti?!
Ingredients for Tequila Lime Buttercream
Unsalted Butter
Powdered Sugar
Lime Juice & Zest
Margarita Mix
Tequila
Salt
Food Coloring
Supplies to Decorate Margarita Cupcakes
Stand Mixer (hand mixer will work too)
Lime wedge for topping
Coarse sugar for topping
Cupcakes, cake, or cookies to decorate
How to Make Tequila Lime Buttercream Frosting
Measure out 4 ¼ cups of powdered sugar (465g) in a bowl, set aside.
Add your butter to a large bowl. Make sure the butter is room temperature to slightly cool (it should not be softened). Cream on high for about 2 minutes until the butter starts to lighten in color. If you are using a stand mixer with a paddle attachment, you will begin to hear the butter slap against the bowl.
At this point, turn the mixer down to low and slowly add the powdered sugar, about ½ cup at a time. Continue adding in ½ cup increments until all of the powdered sugar has been added and incorporated. The mixture will be very thick, clumpy, and will kind of look like a big glop of butter.
Add the lime juice, zest, tequila, margarita mix, and salt. Turn your mixer up to high and beat for about 4 minutes. You will start to see the margarita buttercream frosting come together. The mixture will begin to smooth out, thicken, and expand.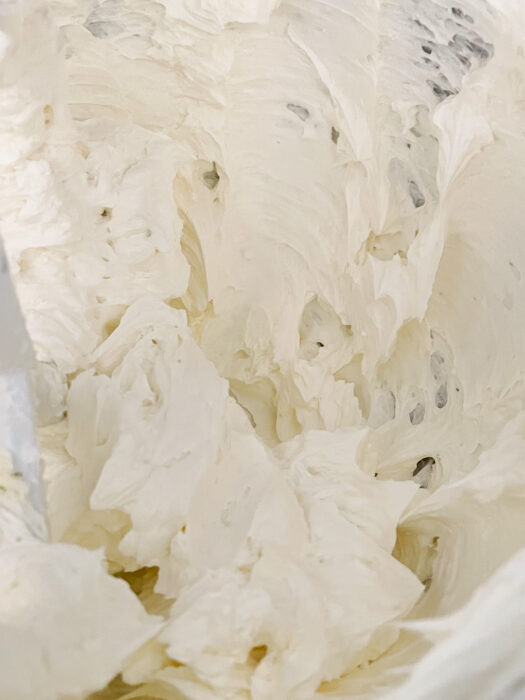 After the 4 minutes, add your green food coloring, and beat for another minute. Scrape the sides of the bowl with a spatula to make sure all of the icing has been mixed and the color is consistent.
Remove the bowl from the stand mixer and using a spatula, mix the frosting to remove the air bubbles and get a final smooth finish.
Decorate Margarita Cupcakes
Add your buttercream to a piping bag. Proceed to decorate your boozy cupcakes (or whatever dessert you picked).
For my decorations, I piped a swirl of margarita frosting on each cupcake using a 1M piping tip. Then I sprinkled coarse sanding sugar on the edges of each frosted cupcake.
I cut up paper straws to shorter lengths and popped one in each cupcake, and garnished with a lime wedge!
With this recipe, you will be able to decorate about 24 cupcakes with a heaping amount of frosting. Each of my cupcakes had approximately 33g of frosting on top.
Can You Make Buttercream Ahead of Time?
You can make margarita buttercream frosting ahead of time. To store, wrap tightly in plastic wrap and store in the refrigerator for up to 1 week or the freezer for up to 3 months. When you remove it from the refrigerator or freezer, let it come to room temperature. Unwrap and place in your mixing bowl, beat for 3-4 minutes on high.
I hope you enjoy this fun margarita buttercream! If you try this recipe, please tag me in your creations on Instagram.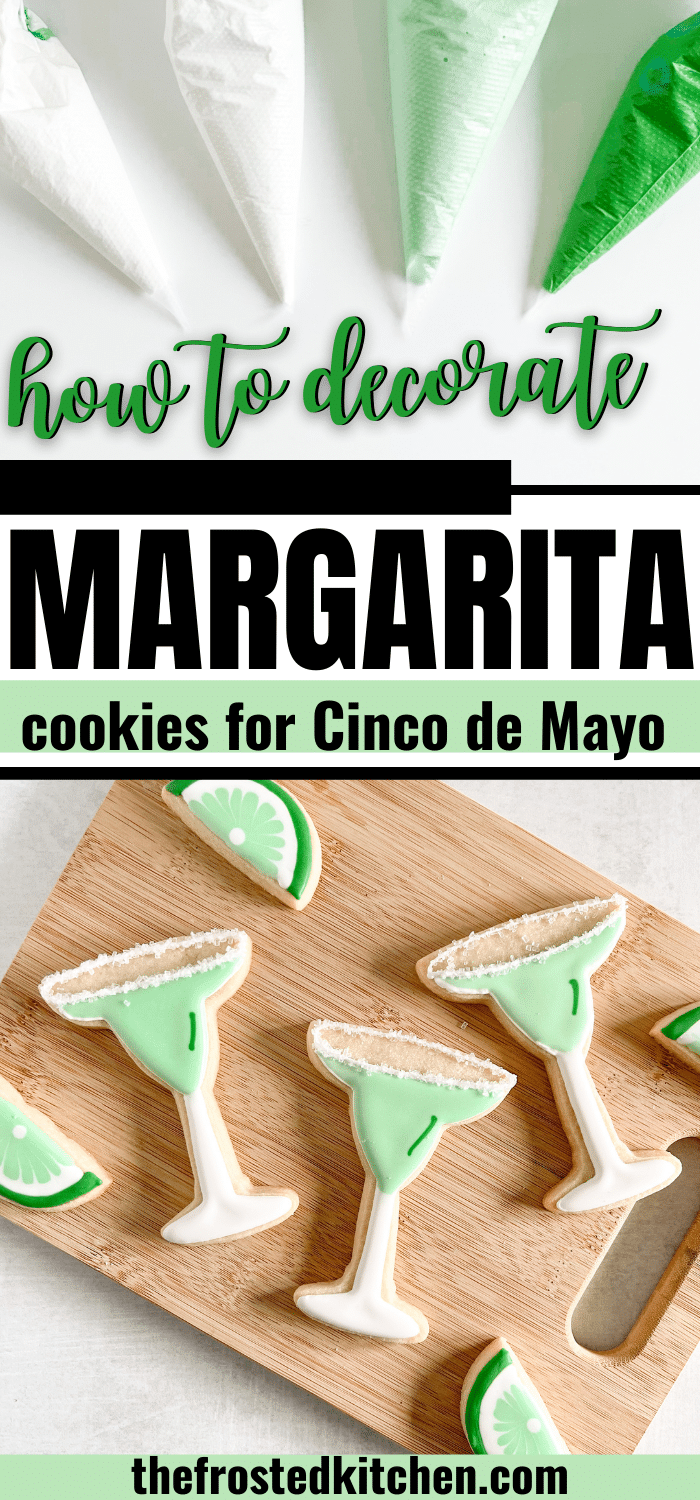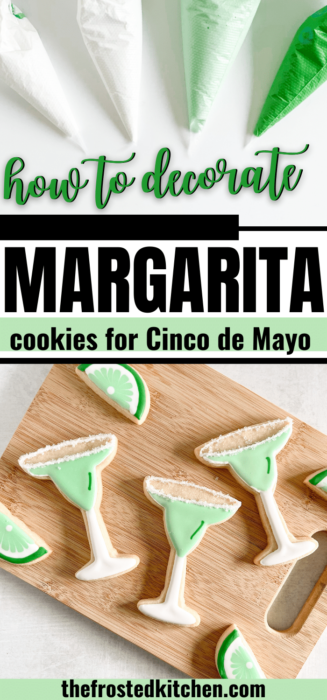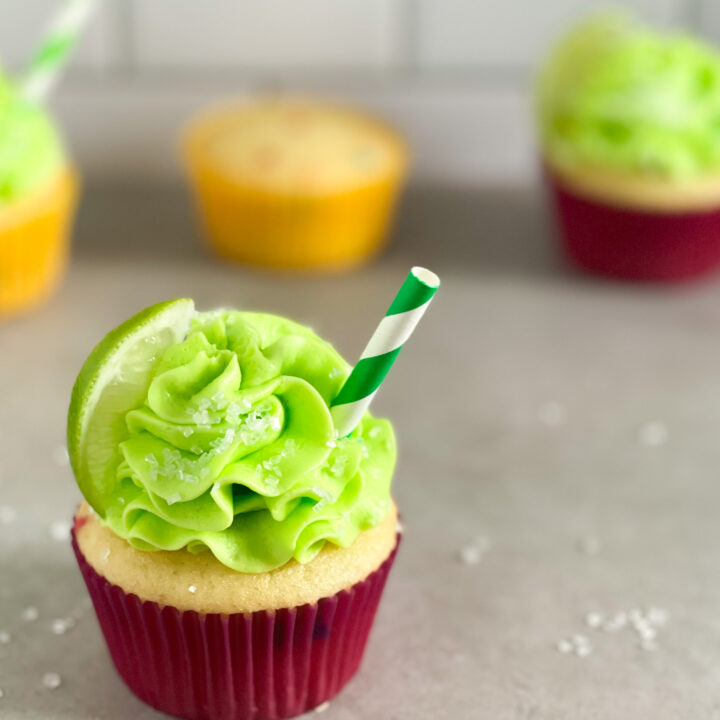 Margarita Buttercream Recipe
Easy tequila and lime flavored buttercream frosting for delicious boozy margarita cupcake or cake.
Print
Pin
Ingredients
4¼

cups

Powdered Sugar

(465g)

2

cups

Unsalted Butter

1

lime

Juice and Zest

6

tablespoon

Margarita Mix

5

tablespoon

Tequila

¼

teaspoon

salt

3-5

drops

Green Food Coloring
Instructions
Measure 4¼ cups of powdered sugar in bowl, set aside.

Add room temperature to slightly cool butter to stand mixer with the paddle (you can use a hand mixer but you will need to add beating time). Beat on high for about 2 minutes until butter turns lighter in color and starts to make a slapping sound against the bowl.

While beating on low, add ½ cup of powdered sugar to the butter. Continue until all of the powdered sugar is added. The mixture will be very clumpy.

Add the margarita mix, tequila, salt, lime juice from 1 lime, and a pinch of lime zest. Beat on high for about 4 minutes. The mixture will start to smooth and expand.

Add neon green food coloring and continue to beat on high for another 1 minute. Scrape sides of the bowl with a spatula to make sure all of the sugars are mixed and food coloring is consistent.

Decorate your cupcakes, cake, or cookies!
Notes
Once completed, if there are too many air bubbles, mix with a spatula to release. 
You can make the buttercream ahead of time (or store if there is extra). Wrap tightly in plastic wrap and refrigerate for up to 1 week or freeze for up to 3 months. When you want to use it again, remove and let it come to room temperature. Whip with a stand mixer for 3-4 minutes until smooth again. 
This recipe will decorate approximately 24 cupcakes.