It's finally the season filled with sweaters, leaves, leggings, and, of course, everything pumpkin. After making so many classic sugar cookies, it is fun to switch it up and try something new this time of year. These pumpkin cutout cookies have just the right amount of canned pumpkin and pumpkin spice to add flavor, but not so much that it completely overwhelms the taste. For royal icing cookie decorators, these pumpkin spice cookies will hold their shape and do not rise. Enjoy these perfect fall cookies!
If you are looking for other fall-themed recipes try these cute little ghost and pumpkin meringues or pumpkin chocolate chip cookie bars!
Disclaimer: This post may contain affiliate links, meaning I may get a small commission if you decide to make a purchase through my links at no cost to you.
Decorating Pumpkin Cut-Out Cookies
This pumpkin cookie recipe was designed with royal icing in mind. They will not spread and will hold the cutter's shape very well. However, royal icing is not the only option for these cookies. A cream cheese icing would pair very well too. A classic buttercream is an option, but the sweetness can overwhelm the pumpkin flavor.
Related: The Ultimate Guide to Royal Icing Cookie Decorating (For Beginners)
Sometimes decorating isn't even necessary. Plain sugar cookies with coffee can be a really great combination.
Ingredients You Will Need for Pumpkin Spice Sugar Cookies
Unsalted Butter
Granulated Sugar
Canned Pumpkin Puree
Egg
Vanilla Extract
Baking Powder
Salt
All Purpose Flour
Pumpkin Pie Spice
Cinnamon
Supplies Needed for Roll Out Cookies
Hand mixer or Stand Mixer
You can use a Kitchen Aid or a Hand mixer. If you are making a double batch, I highly recommend a stand mixer.
Silicone Mat or Parchment Paper
I prefer to bake my roll-out cookies on a silicone mat. In my opinion, the mat helps them to bake evenly. I also roll out the cookie dough on a silicone mat (with wax paper) because it keeps the dough from slipping around when pushing it with the rolling pin. While mats are not necessary for this recipe, they are definitely helpful. In my house, we now use them for almost everything we bake on cookie sheets from chicken nuggets to stuffed peppers. If you don't have silicone mats, parchment paper will work just fine.
Wax Paper
I prefer to roll out the dough between two sheets of wax paper. This helps the dough from sticking to the counter and to the rolling pin. It also helps to make cleaning a breeze! Additionally, this dough needs to be frozen before cutting it with cookie cutters. Wax paper makes it easy to transport from the counter into the freezer and back.
Rolling Pin
Any rolling pin will work fine, but this one is my favorite! The wheels on the side are all different sizes allowing the dough to be rolled even in various thicknesses.
Cookie Cutters
Here is where you can get creative. As these are pumpkin-flavored cookies, they are more often than not made in the fall, pumpkins or Halloween shapes will work nicely. When I can, I love buying cookie cutters on Etsy to support small businesses (and they also have the most adorable and creative cutters)!
Instructions for Making Pumpkin Cookie Dough
First things first, preheat the oven to 350 degrees and line your baking sheets with silicone mats or parchment paper, set aside.
Your ingredients do not have to be brought to room temperature for this recipe, with the exception of the butter. However, I am simply horrible at remembering to take the butter out of the refrigerator an hour or two before baking, so I use the microwave. If you use this trick, less is ALWAYS more. You can add more time, but if your butter begins to melt, it's not going to work for this recipe. I put the butter sticks in the microwave for 10 seconds at 50% power until room temperature, usually no more than 25 seconds total. Keep in mind, that every microwave is different so yours may be more or less powerful – so use this trick with caution!
Prepping Dry Ingredients
In a separate bowl, add the flour, pumpkin spice, and cinnamon. Whisk well until combined.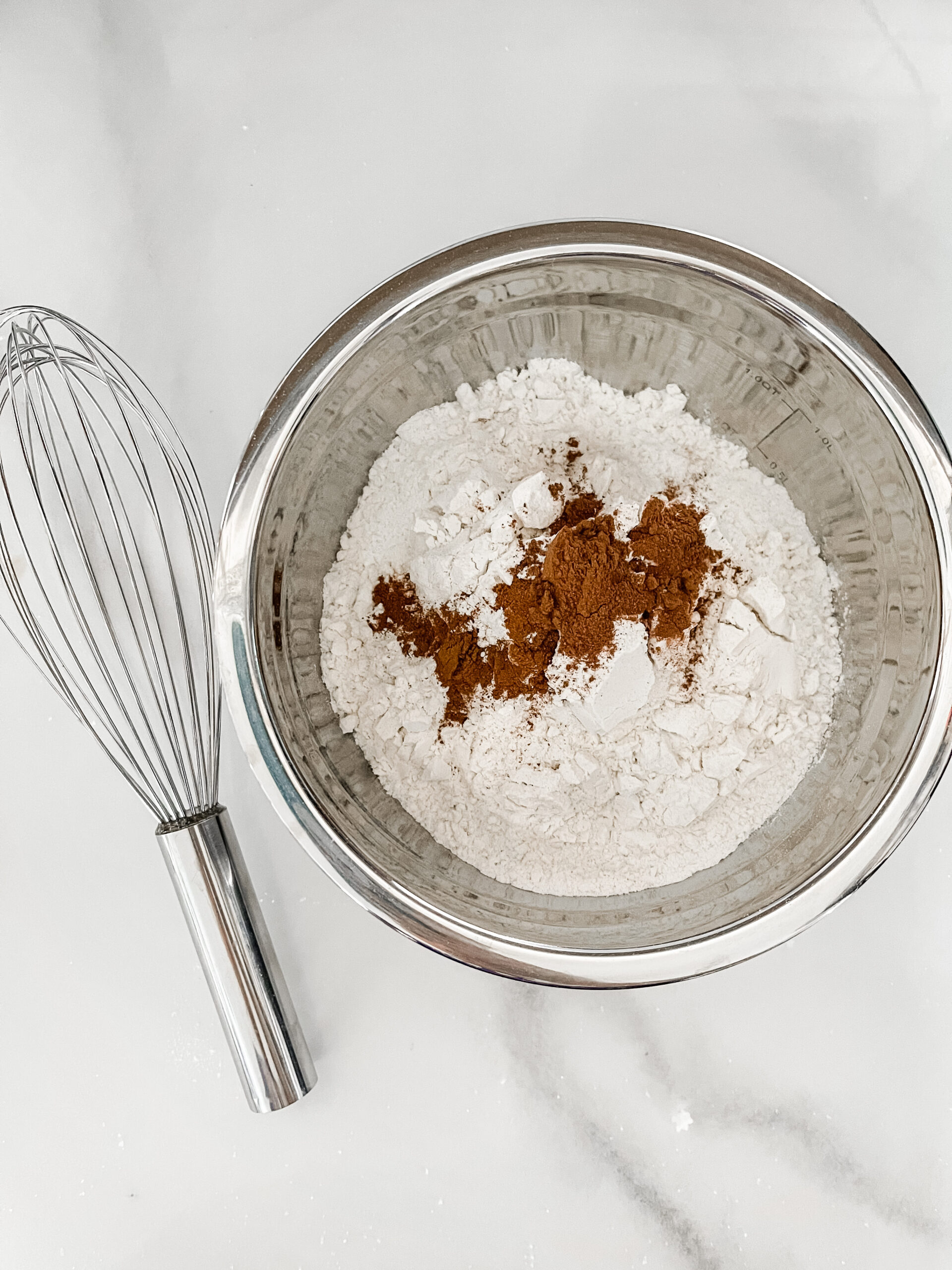 Mixing Wet Ingredients
To the bowl of a stand mixer (with paddle attachment) or large mixing bowl, add your room temperature butter and granulated sugar. Beat on high for approximately 2-3 minutes until fully combined. The mixture will be slightly clumpy and light yellow.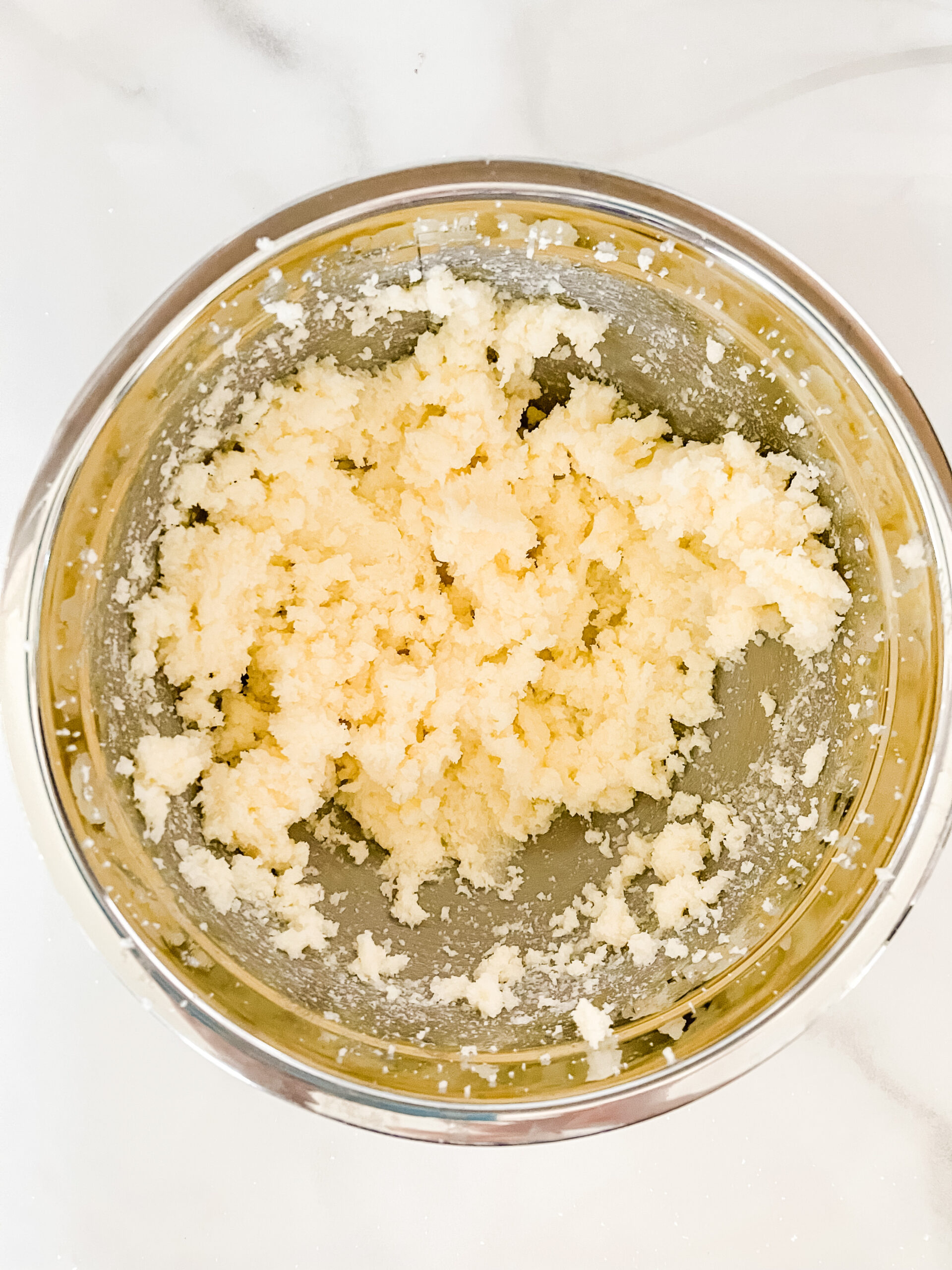 Add the pumpkin and beat into the butter mixture on medium speed with an electric mixer for about 1 minute. Scrape down the sides of the bowl to make sure all of the sugar and pumpkin are mixed in well. After scraping the bowl, beat for just a few more seconds. At this point, it will be less clumpy (but still just a bit clumpy), looking more "fluffy" and light orange in color.
In a small bowl, add egg, vanilla, baking powder, and salt. Add to the butter mixture and beat on medium speed for about 30 seconds to 1 minute. It will start to look moister and the dough will start to appear more cohesive.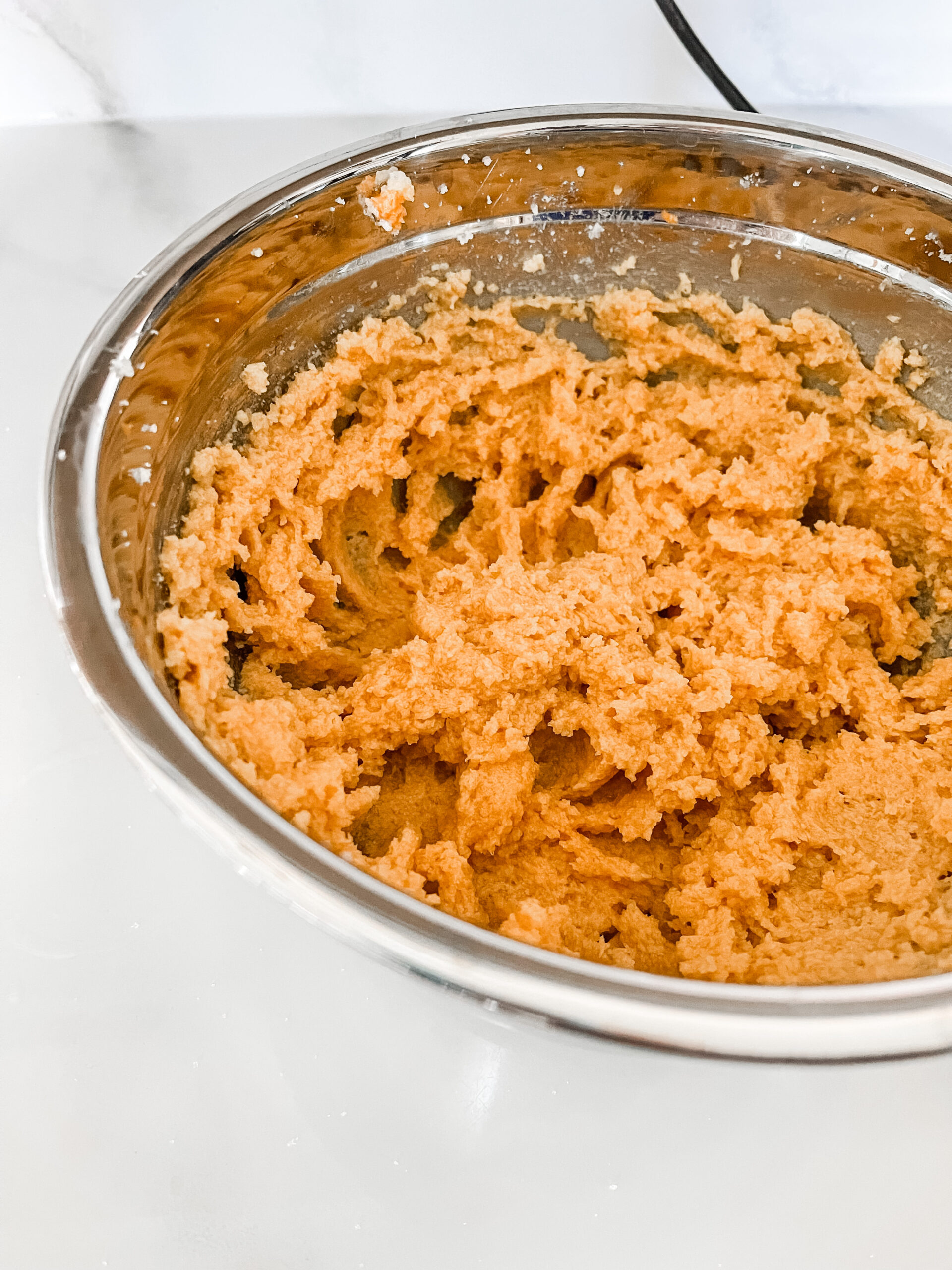 Adding the Dry Ingredients
Now add the flour mixture to the butter and pumpkin mixture. Add ½ cup and mix on low speed until most of the flour is incorporated. As you are adding the flour, scrape down the sides occasionally. Add another ½ cup and repeat until the mixture is just combined. When the dough is complete it will be light brown/orange in color and be sticky to the touch.
Rolling the Pumpkin Sugar Cookie Dough
If you have a silicone mat, this is the time to place it on your work surface. If not, work on a surface that is not slippery. Lay down one piece of wax paper and about ⅓ to ½ of the dough on top. Shape the dough into a long log and cover with another piece of wax paper. With your rolling pin, roll out the dough. Place the sheet of dough on a tray and place it in the freezer. Continue rolling out your dough in the same manner and stacking the sheets of dough in the freezer.
Roll out cookie dough to ¼" or ⅜" thick. If you like thicker, softer cookies go with the ⅜".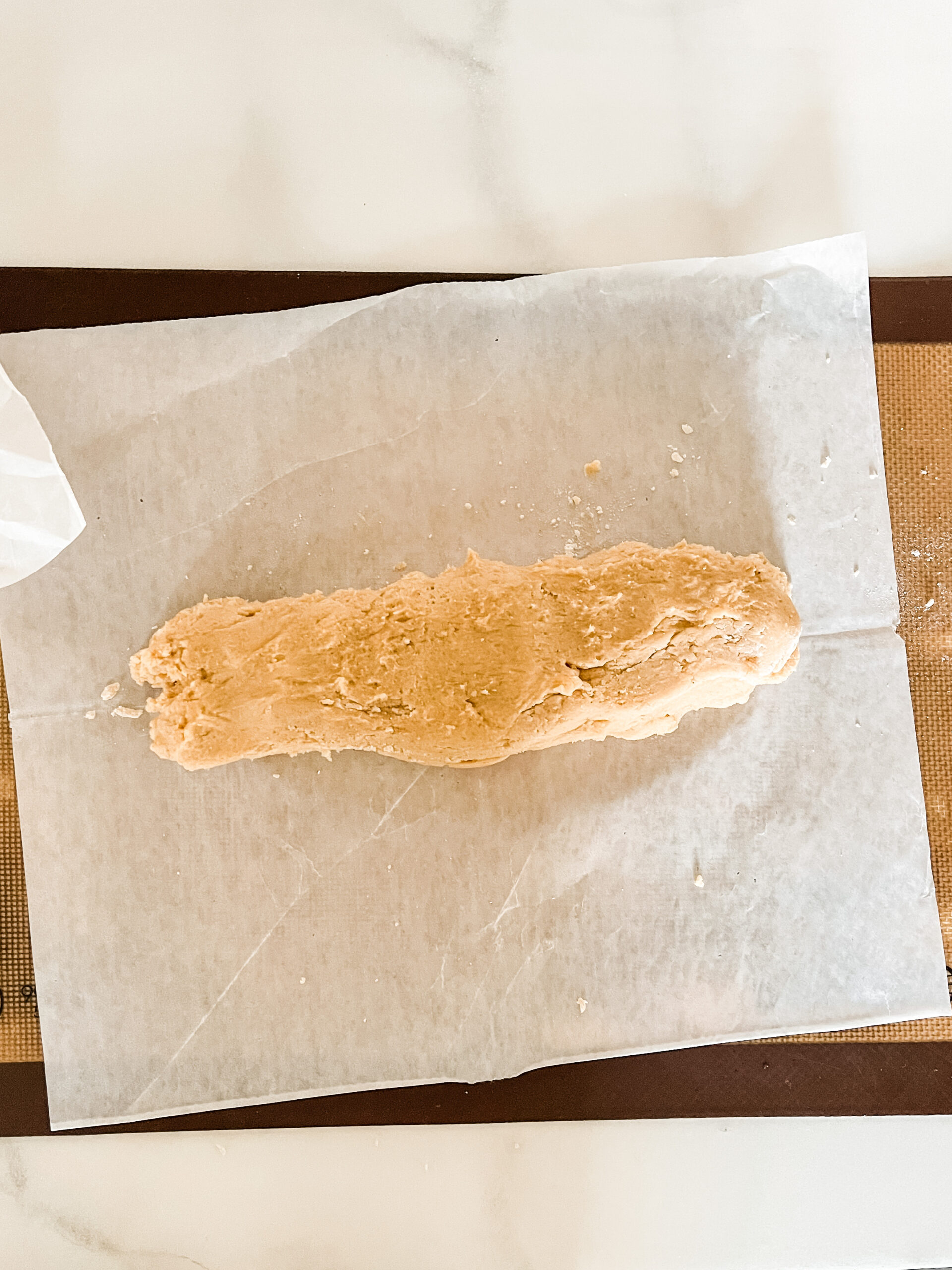 The dough will remain in the freezer until you are ready to roll. It will need to freeze for about 15-20 minutes, though this could vary depending on the climate and temperature. It will be done when it is no longer sticky or tacky, but also not frozen solid. Your cutter should be able to go through the dough with some effort, but shouldn't be impossible to press down.
Using your cutters, cut out your shapes of dough and place them on your large baking sheet lined with either parchment or silicone. Make sure cookies are spread out at least 1 ½ -2 inches. For the fall, I like to use fun festive shapes like pumpkins, leaves, ghosts, etc. You could even make these thanksgiving cookies and use those shapes!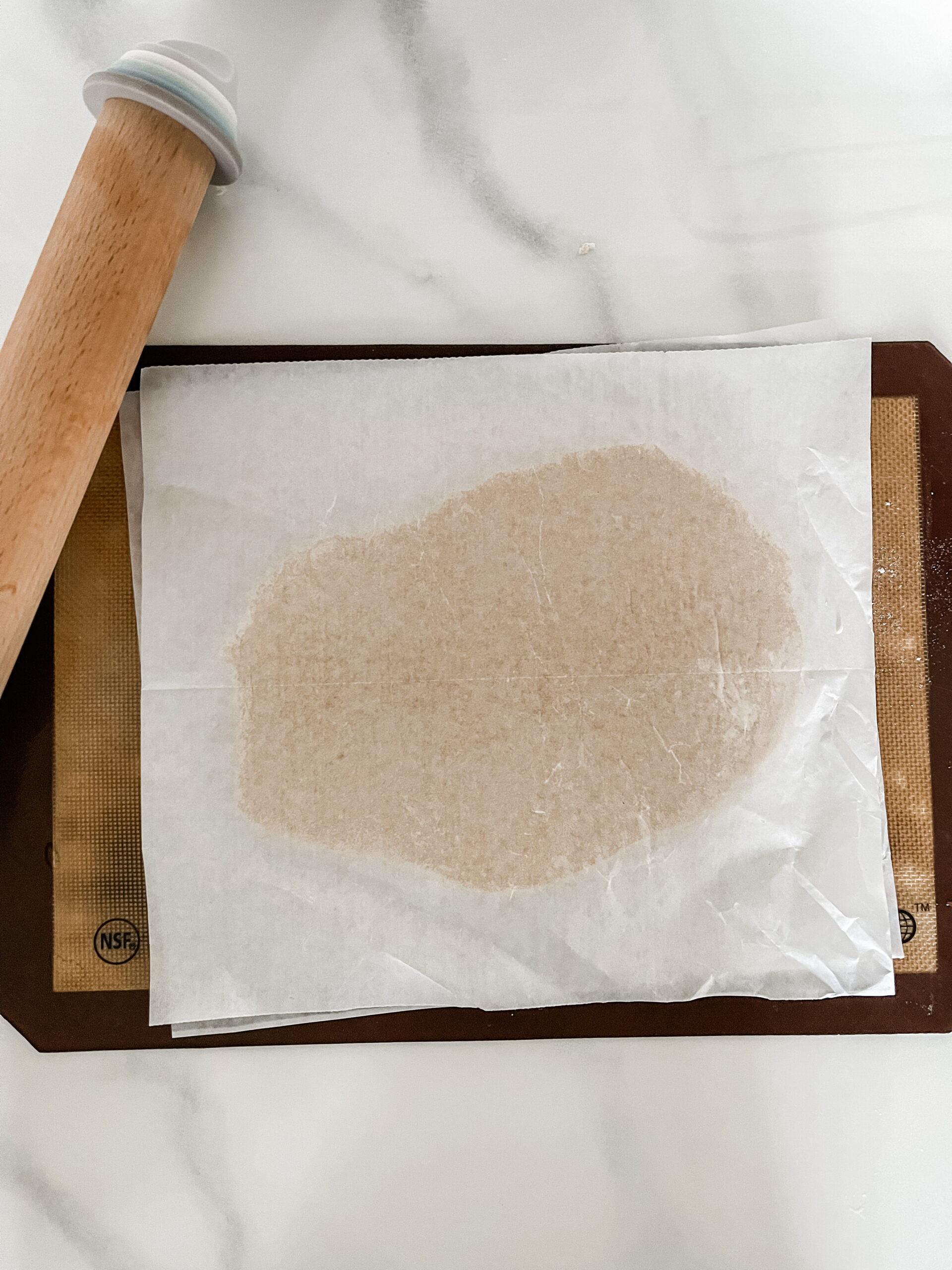 Baking the Pumpkin Cookies
Bake cookies at 350 degrees for 12-15 minutes for ⅜" thick cookies. If you roll them out to ¼" lower the baking time to 11-14 minutes. Rotate the cookies about halfway through, especially if your oven bakes unevenly.
Your cookies will be done when the tops no longer look shiny but have more of a matte appearance. The bottom edges will be slightly darker. Let sit on the cookie sheet for about 5 minutes and then transfer to a wire rack to cool completely.
Once they are cool, it's time to decorate. When decorating with royal icing, I like to let the cookies set for a night (in an airtight container) before decorating. This is my personal preference to make sure nothing negatively affects the royal icing when it is drying.
If you plan to decorate these with Royal Icing, here are some tips on how to dry it quickly and how to make it shiny!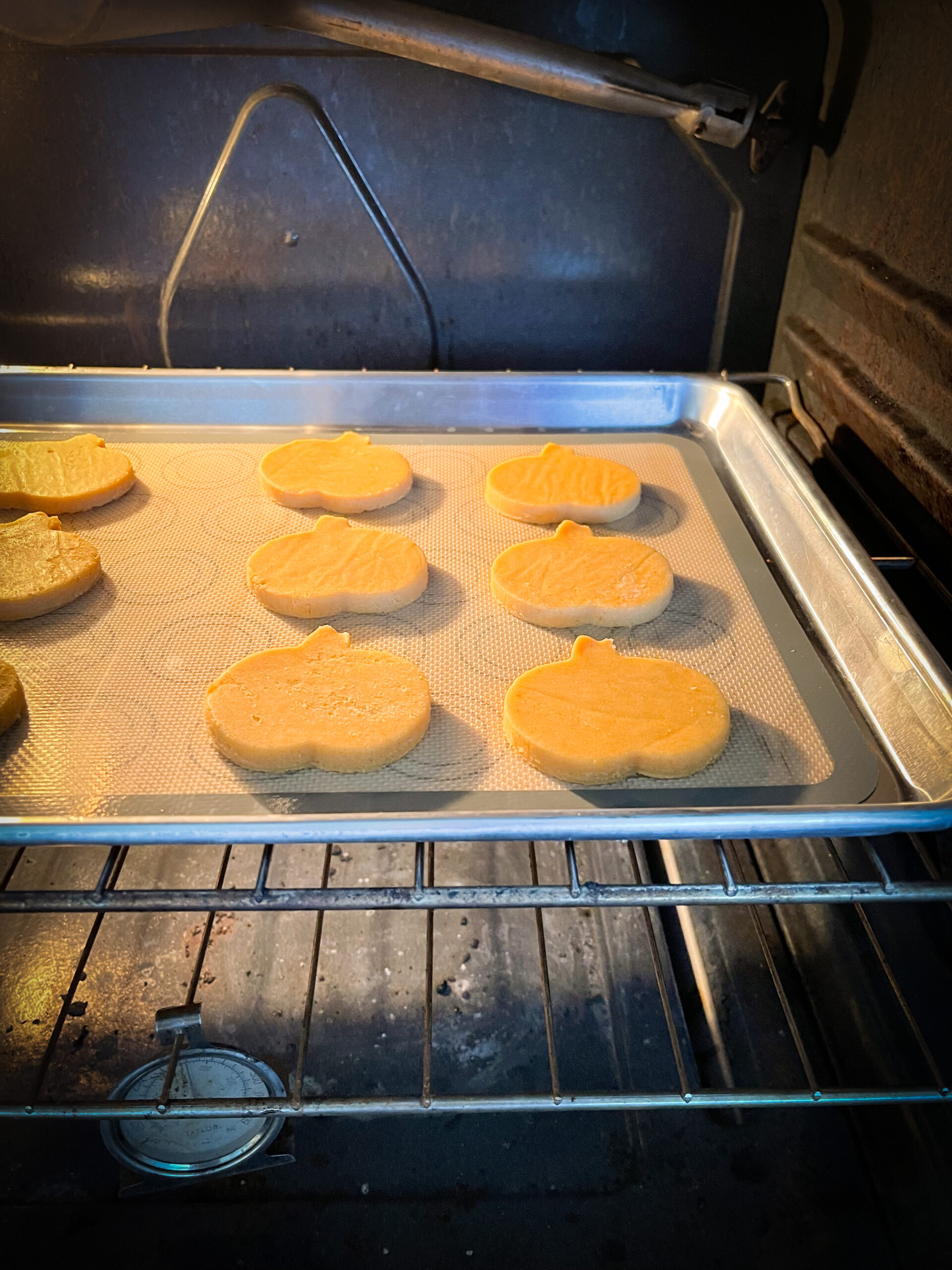 Storing Pumpkin Cut-Out Cookies
Store in an airtight container (these Rubbermaid ones are my favorite) for up to 5 days. You can freeze in an airtight container for up to 3 months.
If you like this one, here are a few other cookie recipes to try:
I really hope you enjoy these delicious and easy pumpkin cut out cookies! Please share your creations with me on social!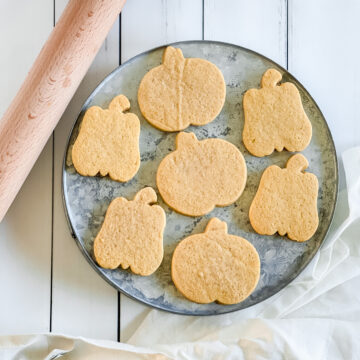 Pumpkin Cut-Out Sugar Cookies
These cut out sugar cookies give a hint of pumpkin spice to a soft and chewy sugar cookie. They are no spread cookies and perfect for royal icing decorating.
Print
Pin
Servings:
20
cookies (depends on size of cookie cutter)
Ingredients
3

Cups

Flour

½

teaspoon

Pumpkin Spice

¼

teaspoon

Cinnamon

1

Cup

Butter

(room temperature)

1 ½

Cup

Granulated Sugar

½

Cup

Pumpkin

1

Egg

1

teaspoon

Vanilla Extract

¼

teaspoon

Baking Powder

¼

teaspoon

Salt
Instructions
Preheat oven to 350 degrees and line baking sheets with parchment paper or silicone mats.

In a separate bowl, whisk flour, cinnamon, and pumpkin spice. Set aside.

In a stand mixer (or using a hand mixer) beat the butter and granulated sugar on high for 2-3 minutes.

Add pumpkin and beat on medium for about 1 minute. Scrape down the sides of the bowl to incorporate everything.

In a small bowl, combine egg, vanilla extract, baking powder, and salt. Add to butter and pumpkin mixture and beat on medium for 30 seconds to 1 minute.

Beat in flour ½ cup at a time, mixing each addition until just combined. Scrape down the bowl as you go. Don't over mix.

Place a sheet of wax paper down and add a portion of the dough. Roll dough into a long log and add another piece of wax paper on top. Roll the dough ⅜" thick. Place in freezer on a tray. Continue rolling out the remainder of the dough.

Let the dough sit in the freezer for 15-20 minutes until it is almost solid and no longer sticky, but not frozen solid.

Use cookie cutters to cut the dough into shapes. Place on lined cookie sheet. Re-roll and re-freeze dough when necessary. Continue to roll and cut dough until the dough is gone.

Bake cookies at 350° for 12-15 minutes for ⅜" thick cookies (11-14 for ¼" thick cookies). Cookies are done when the top of the cookie is no long shiny, but appears more matted and the bottom edges are brown.
Notes
*After the dough is rolled twice it will create a slightly tougher cookie. 
*Store cookies in an airtight container for 5 days or in the freezer for up to 3 months.