Even though it's still early spring, I've had the biggest craving for all things lemon so I decided to make a classic roll-out sugar cookie, but for lemon lovers! This classic lemon sugar cookie has a sweet buttery taste with a strong, but not overwhelming lemon flavor. These soft cookies have very minimal to no spread and do not rise, so they are great for decorating with royal icing! However, they really don't even need anything other than a drizzle of glaze to be delicious.
I have always been a huge fan of sugar cookies, admittedly because I do LOVE decorating cookies, so it's imperative to have a classic sugar cookie recipe on hand. However, after making the same rollout recipe over and over (even though I do love it), it does get tiresome. I've decided to work on some fun variations of cut-out cookies, enter these lemon cookies! They are the perfect cookies for all of your cookie decorating needs (or even for Christmas Sugar cookies)!
Disclaimer: This post may contain affiliate links, meaning I may get a small commission if you decide to make a purchase through my links at no cost to you.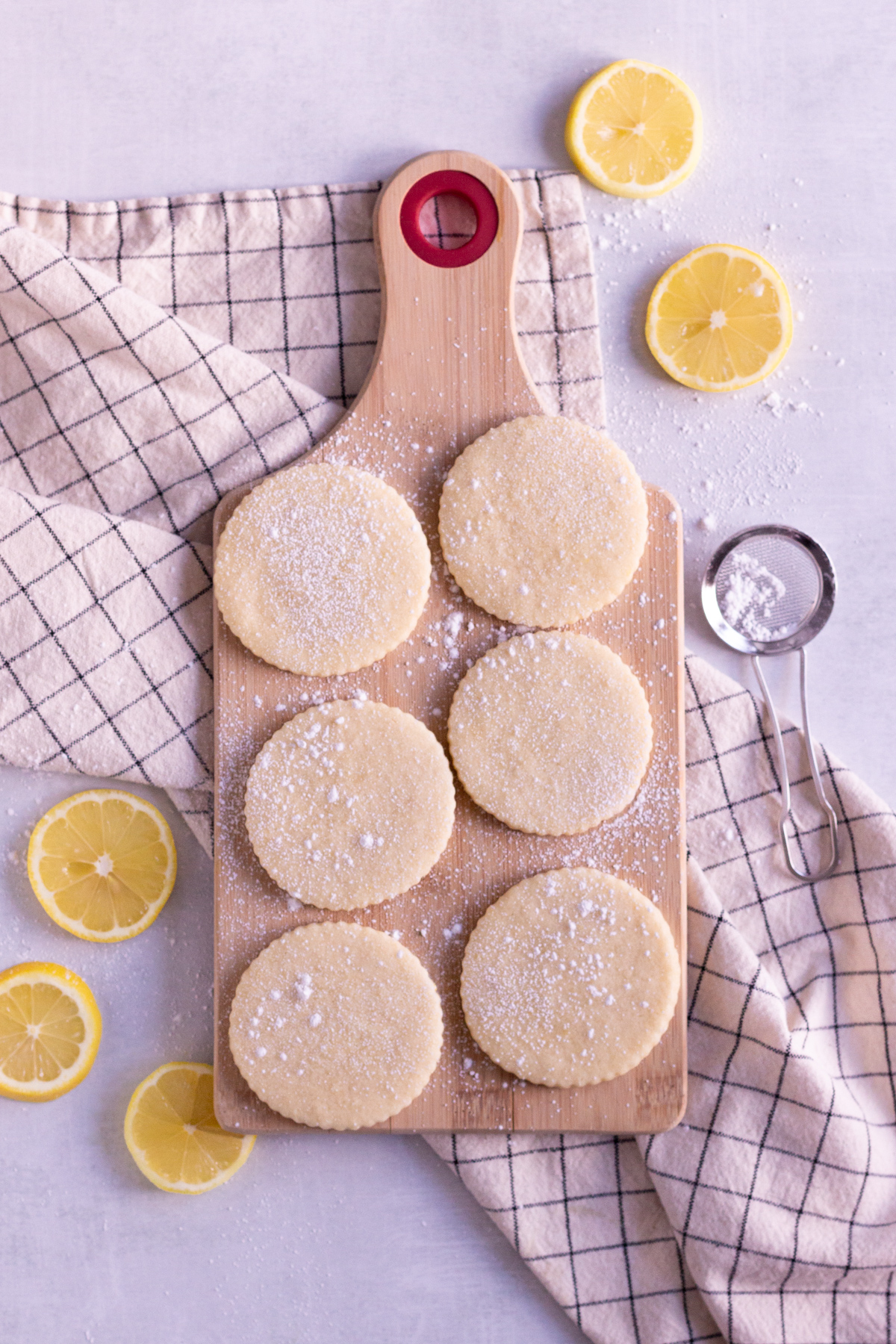 Making Your Roll-Out Lemon Sugar Cookies
Prepping the Oven and Ingredients
First thing, preheat the oven to 350 degrees. Line your cookie sheets with parchment paper or silicone mats. If you bake a lot, I highly recommend getting a set of silicone baking mats (I use these). They help cookies to bake evenly in the oven - and just toss them in the dishwasher to clean, easy peasy!
In a medium bowl, combine dry ingredients - flour, baking soda, and salt. With a whisk, combine the mixture very thoroughly. Set aside.
I find it easier to zest my lemon before I start making the dough. Wash your lemon very well to start. Using a lemon zester or a small cheese grater (if you don't have either of these here are a few more clever ways to zest!) Shave off about ½ teaspoon of zest (or even more if you want an even bigger kick of freshness in your cookies). You can set the zest aside and save the inside of the lemons for another use (maybe this glaze).
Combining Wet Ingredients
Make sure your unsalted butter is softened, but not melted. It should be just slightly warmer than room temperature, but it should still have its shape. I habitually forget to take my butter out ahead of time, so my trick to speeding up the softening process is to place the stick of butter in the microwave for 15 seconds on 50% power. Then I continue microwaving in 5 second increments on 50% power until I get the right softness.
In a large bowl, add the softened butter and white sugar. Using an electric mixer (either a hand mixer or a stand mixer with the paddle attachment), beat the ingredients on high speed for about 1 minute. The sugar will have combined into the butter, so you shouldn't see many granules anymore. The mixture will look light in color and appear somewhat 'fluffy'.
Add the egg and lemon extract to the butter and sugar. Beat on medium speed for about 30 seconds to 1 minute. The mixture will start to come together more cohesively and look a bit smoother. It will almost look like whipped butter at this point.
Adding Dry Ingredients
Now bring back out your bowl of mixed dry ingredients. Add a heaping ¼ cup of the dry mixture into your large mixing bowl and beat on low to medium/low. Once that first ¼ cup is fully combined, add another ¼ cup and continue beating with your electric mixer. Continue the process until you have added the entirety of your dry ingredients. Scrape down the sides of the bowl with a spatula to make sure everything is combined. Your cookie dough may look a bit dry at this point, but that is okay!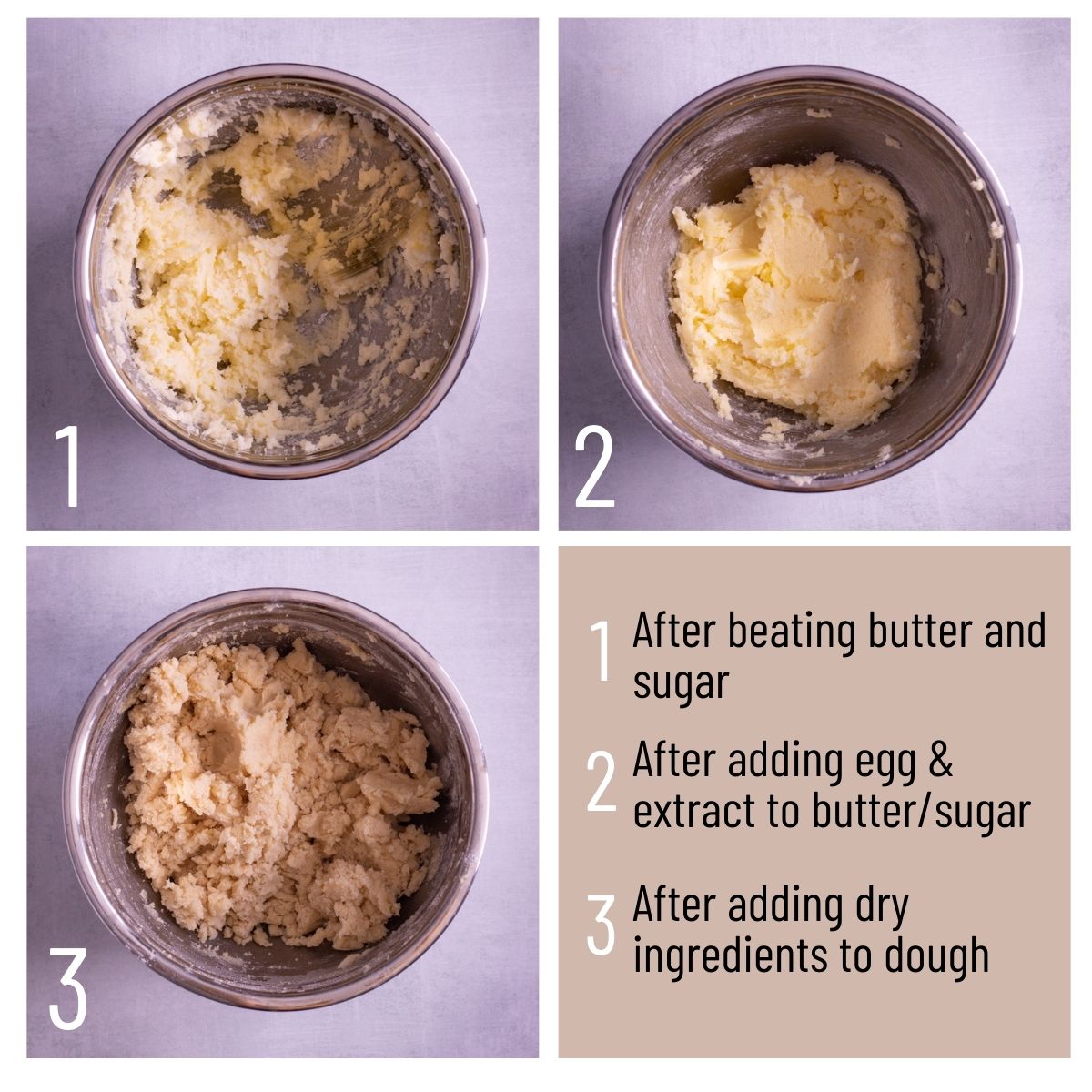 Fresh Lemon Zest Time
Now add your lemon zest and milk to the cookie dough. Beat them on high for 20-30 seconds. If your dough is still a bit on the drier side and the flour crumbles haven't quite combined, add another 1 teaspoon and mix for another few seconds. Continue to add milk 1 teaspoon at a time until you get a nice firm dough. Add the milk very gradually, you do not want to add too much or the dough will become too sticky and hard to roll out. The texture of the cookie dough will be slightly tacky, but again, should NOT be sticky.
I used 2% milk but you can use 1%, whole milk, or heavy cream also! Skim will probably be fine, but it is much thinner with less fat content than the others, so it would be my last preference - but use what you have!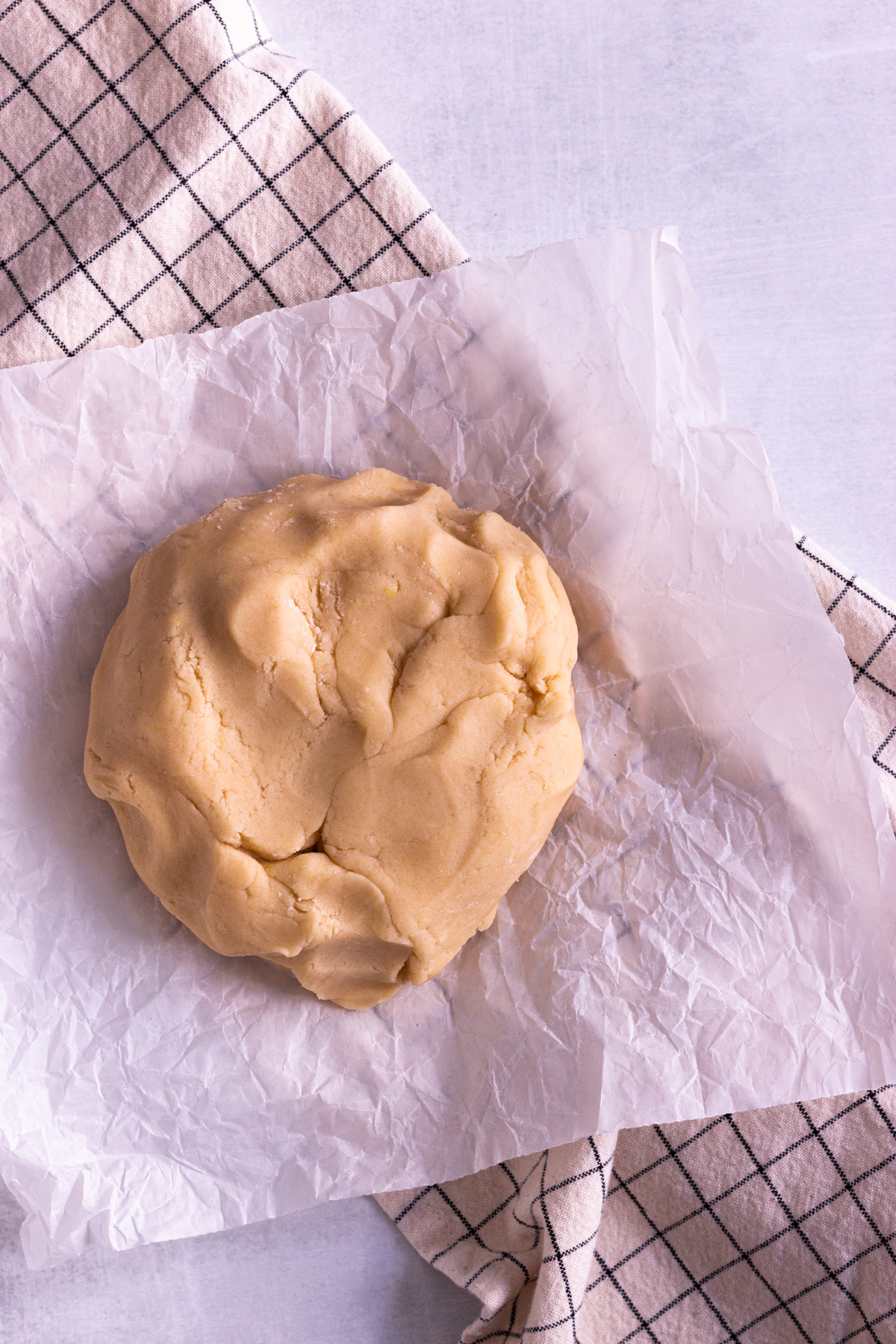 Rolling Out the Perfect Cookies
Now for the fun part - cookie cutter time! Start by placing a piece of wax paper on a flat surface (I add a silicone baking mat underneath the wax paper to prevent it from sliding around the counter). Take half of your cookie dough and shape it into a long, but thick log - place horizontally on the piece of wax paper. Place one more piece of wax paper on top of the dough.
Using your rolling pin, roll the cookies to ¼" inch thickness. I use this rolling pin which has measuring guides on the side so you can obtain an even thickness across all of your cookies. If you bake sugar cookies on the regular, I HIGHLY recommend it.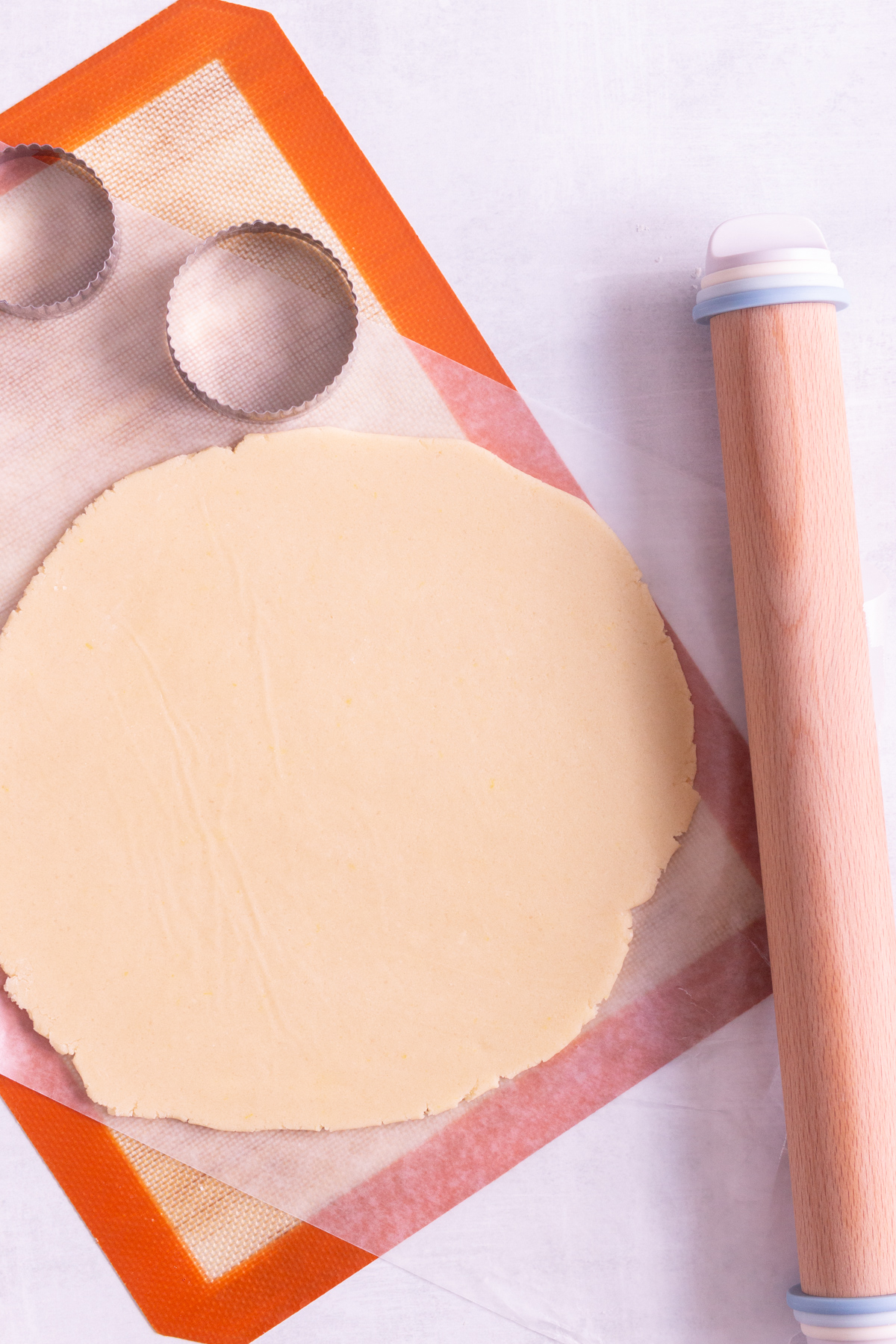 Cut out your shapes with your favorite cookie cutters and place them on your prepared baking sheets. Make sure the cookies are at least ¾" away from each other to be safe, though the cookies shouldn't spread much at all.
Once you use the first half of the dough, gather the scraps and set them aside. Continue the process with the second half of cookie dough. With the excess dough, repeat the process. I try not to roll my dough out more than 2x or it will start to get tough when baked. But I also hate wasting dough, so I will just bake the last "tough" dough for my own tasting or to practice cookie decorating with!
If your dough gets too soft and begins to get hard to work with, place the rolled dough between wax paper sheets on a tray and place it in the freezer for 5-10 minutes to firm.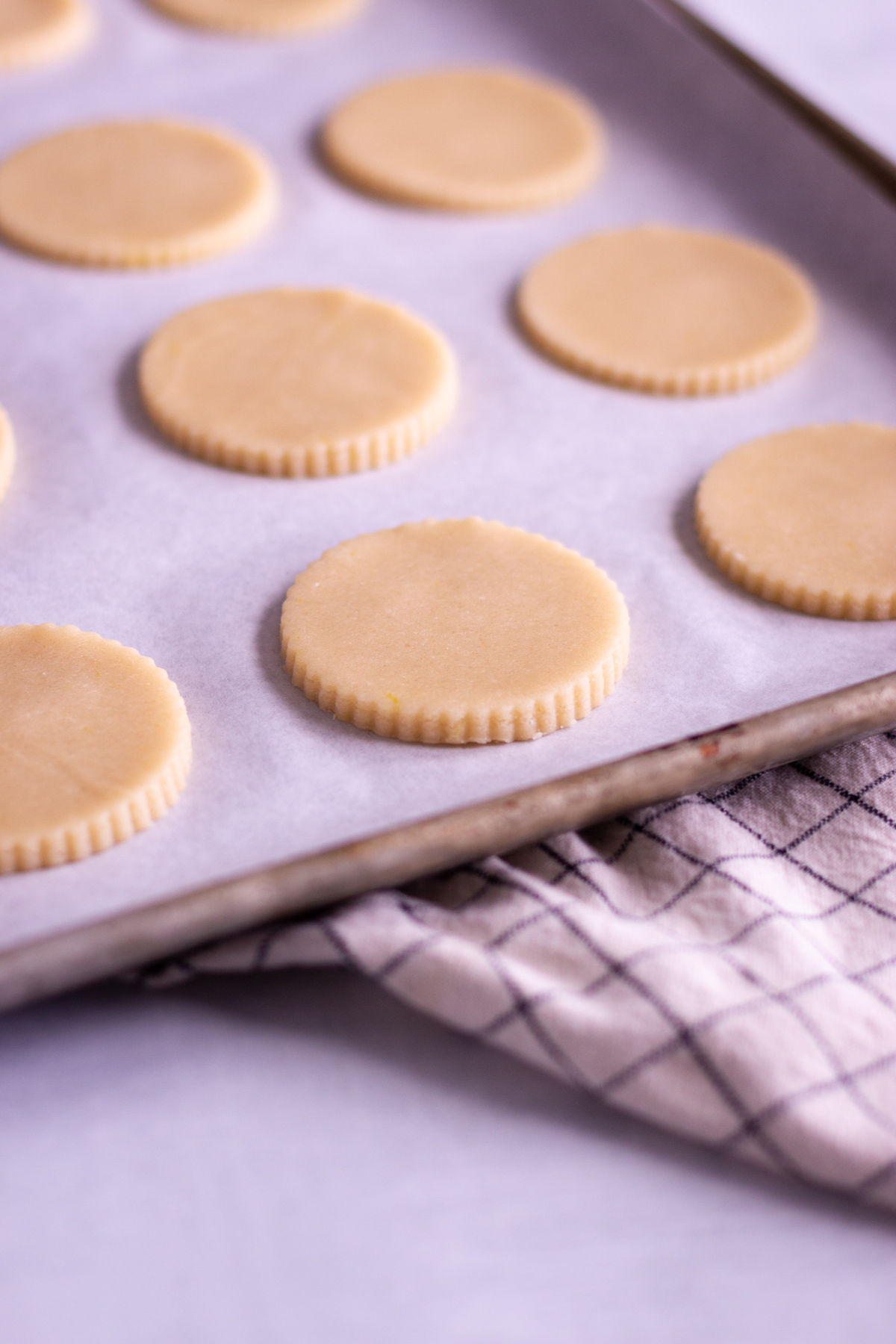 Baking Lemon Sugar Cookies
Place the baking sheets in the oven and bake the cookies for 8-10 minutes. The cookies will be done when the tops no longer have a shiny look and more of a matte texture to them. Remove from the oven and let them sit on the cookie sheet for at least 5 minutes before transferring them to a wire rack to completely cool.
Decorating Cookies
Once your buttery sugar cookies have completely cooled, it's time to decorate. Though personally, I think these cookies taste great on their own, I always love adding a touch of flair to the top of each cookie.
Lemon Glaze: Check out this lemon glaze recipe that is a breeze to make and the perfect topping for these lemon sugar cookies. Simply whisk it up, add the icing to a piping bag, and drizzle on the cookies.
Royal Icing: As a huge fan of royal icing decoring, I created this original recipe with cookie decorating in mind. You can find my royal icing recipe here!
Buttercream or Other Frosting: You can also use your favorite vanilla buttercream or even some canned frosting to top off these babies. Add some sprinkles for an extra touch of fun!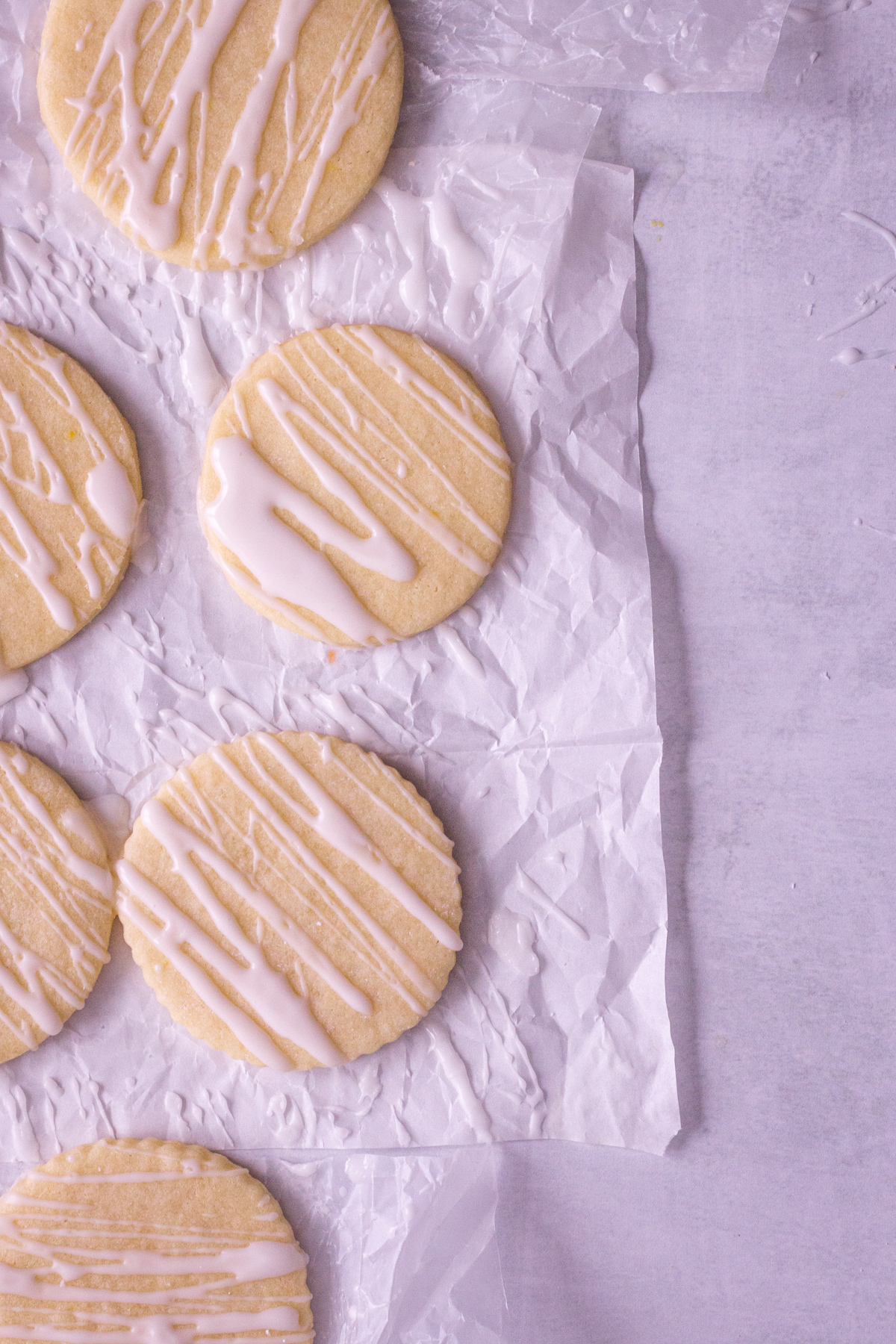 Cookie Storage
These cookies will stay fresh in an airtight container for 4-5 days. Freeze them in an airtight container for up to 3 months (these are my favorite).
I hope you enjoy these citrus cookies! I'd love to see your creations if you give these a try, tag me on Instagram @the_frosted_kitchen
If you enjoyed this recipe, you may like these too!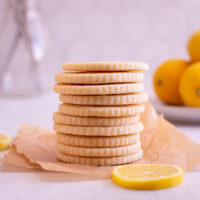 Cut-Out Lemon Sugar Cookies
This classic lemon sugar cookie has a sweet buttery taste with a strong, but not overwhelming lemon flavor. These cut-out lemon cookies are perfect for royal icing decorating, but still tasty on their own!
Print
Pin
Ingredients
2½

cups

All-Purpose Flour

¼

teaspoon

Baking Soda

¼

teaspoon

Salt

1

cup

Unsalted Butter

(softened)

2 cup

cup

Granulated Sugar

1

Egg

1

tsp

Lemon Extract

½

tsp

Lemon Zest

1

teaspoon

Milk

(2-3 tsps if needed)
Instructions
Preheat the oven to 350° and line cookie sheets with parchment paper or silicone mats.

In a medium bowl whisk together flour, baking soda, and salt. Set aside.

In a large bowl, add softened butter and granulated sugar. With an electric mixer beat on high for approximately 1 minute until the mixture is cohesive (see post for details/pictures).

Add the egg and lemon extract. Beat with an electric mixer for about 30 seconds, until it looks smooth and kind of like whipped butter (see post for details/pictures). Make sure to scrape down the sides of the bowl to make sure everything is mixed in well.

Slowly incorporate the dry mixture a heaping ¼ cup at a time. Beat on low with an electric mixer. Once the first ¼ cup is combined, add the next, and continue the process until you have used all of the flour mixture. The dough may look slightly dry at this point.

Add in the lemon zest and 1 teaspoon of milk. Beat with an electric mixer on high for about 20-30 seconds to combine. If the dough is still dry, add another 1 teaspoon of milk and beat again. Continue to add milk until the dough is smooth. However, do not add too much milk or it will be hard to roll out the dough. You shouldn't need more than 2-3 teaspoon of milk. The dough will be tacky but not too sticky.

Roll out the dough to ¼" thickness. See the post for details on my favorite (and easy clean-up method) for rolling out cookie dough.

Using a cookie cutter, cut out your shapes and place on the lined baking sheet.

Bake cookies for 8-10 minutes. Let cool on the baking sheet for 5 minutes and transfer to a wire rack to completely cool.
Notes
Store cookies in an airtight container for 4-5 days.

Freeze cookies for up to 3 months in an airtight container

Cookies can be enjoyed plain, drizzled with lemon glaze, or decorated with buttercream or royal icing.