So you have made it to the end, you have finished your beautifully decorated cookies, and now it's time to transport your frosted cookies. Now the TRUE stress really begins. I cannot tell you how many anxiety-ridden car rides I've had when transporting desserts, gingerly hitting speed bumps, and holding my breath every time I drive over a crack in the road. Nowadays, when my road rage kicks in and I want to yell at a car in front of me for making a turn too slow, I think to myself "maybe they are transporting a cake" (this always makes me feel just a bit better). Cakes are by far the most difficult, but frosted cookies can also be a pain in the butt to transport too. I've compiled my favorite methods and hacks for transporting frosted cookies so you can transport your desserts in peace.
Disclaimer: This post may contain affiliate links, meaning I may get a small commission if you decide to make a purchase through my links at no cost to you.
What Kind of Frosted Cookies are You Transporting?
Depending on what kind of cookie (or more importantly type of frosting) you are transporting, that will determine the best method to choose. The main two types of frosting used on cookies are Royal Icing and Buttercream, so I will focus on those two styles.
What is Royal Icing?
Royal icing is a style of icing that dries hard to the touch. It consists mainly of powdered sugar, egg whites (or meringue powder), and water. The meringue is what allows the icing to dry hard, making it an excellent style of icing to transport! In order to achieve different designs, the consistency of the royal icing is adjusted by using more or less water. You can read all about it in my ultimate guide to royal icing!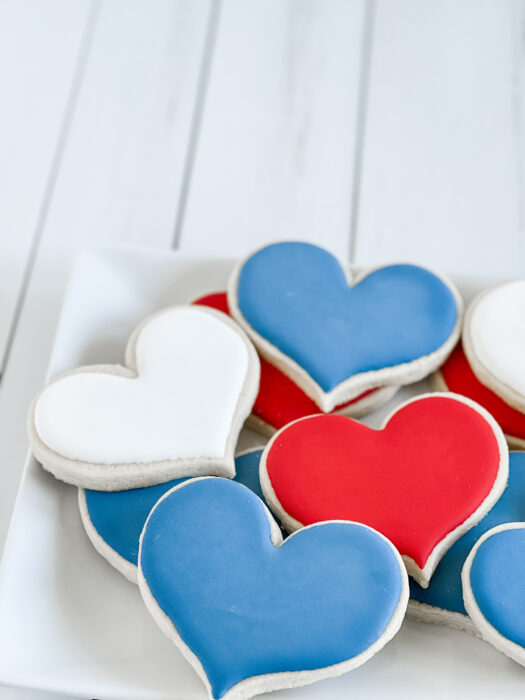 What is Buttercream?
Buttercream is a type of frosting that is used on a variety of desserts including cookies, cakes, and cupcakes. As in the name, the main ingredient of buttercream is, in fact, butter. Combining butter with a type of sugar (most often powdered sugar) is the basis for a good buttercream frosting. You can add milk, cream, extracts, and other flavorings to your buttercream. I have a recipe for Almond Buttercream Frosting and Margarita Buttercream Frosting if you want to give those a try!
Buttercream is often more challenging to transport, as it doesn't dry as hard as royal icing does. Depending on the recipe, the buttercream can crust over on the exterior. This is something you may want to achieve if you plan on transporting.
Where are you Transporting your Frosted Cookies?
The next major question when deciding the best method for transferring frosted cookies, is where you will be taking them? Is this an order that will be delivered? Will you be taking them to a party or event? For a vacation or a family party? Will this be a gift? Once this question is answered - read on for some tips, tricks, and ideas for cookie transport.
Transporting cookies in Bakery Boxes
If you bake and sell cookies, keeping your cookies fresh and sanitary are two very important factors. The best way to keep them fresh and germ-free is heat sealing them. Not only will it keep them fresh, but it will give your packaging a nice professional look.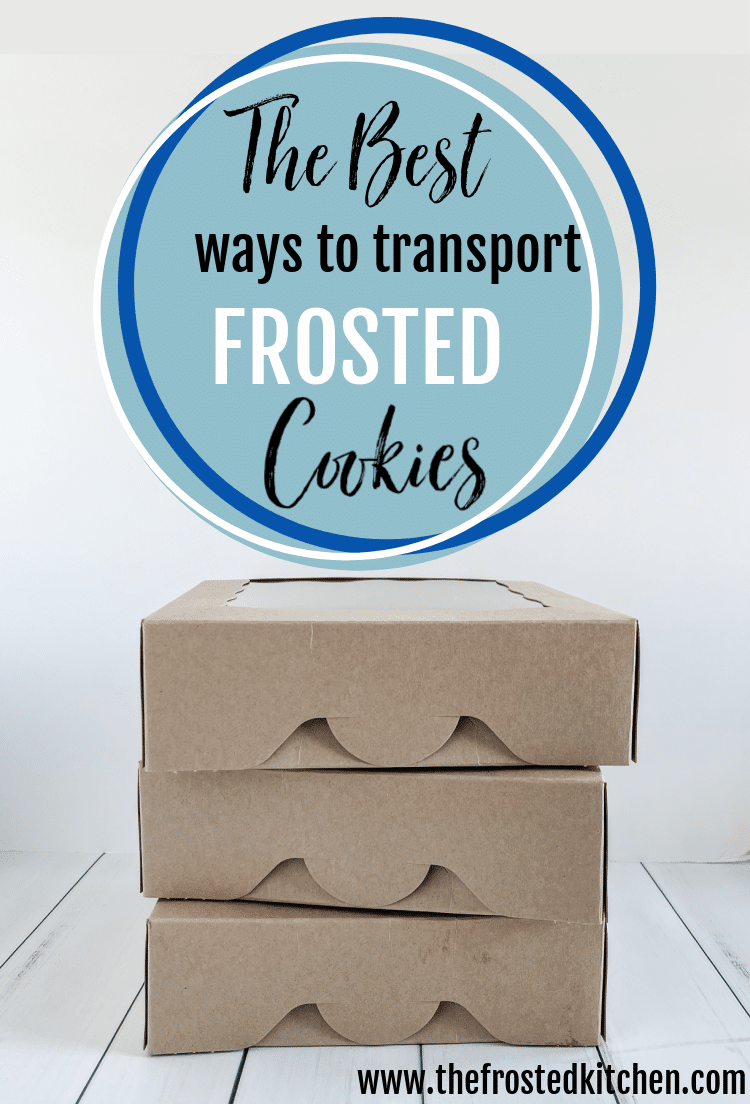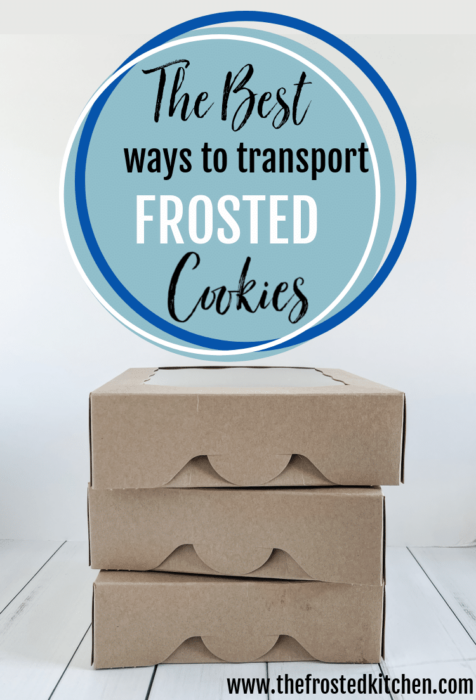 Heat Sealing
If you are heat sealing royal icing cookies, it's very simple. Since the icing hardens, simply place it in the bag and seal! Here is my favorite heat sealer and my favorite cellophane bags. Heat sealers are not a big investment either! If you don't want to buy a heat sealer, these bags are self-sealing as well. Most craft stores also have treat bags available too!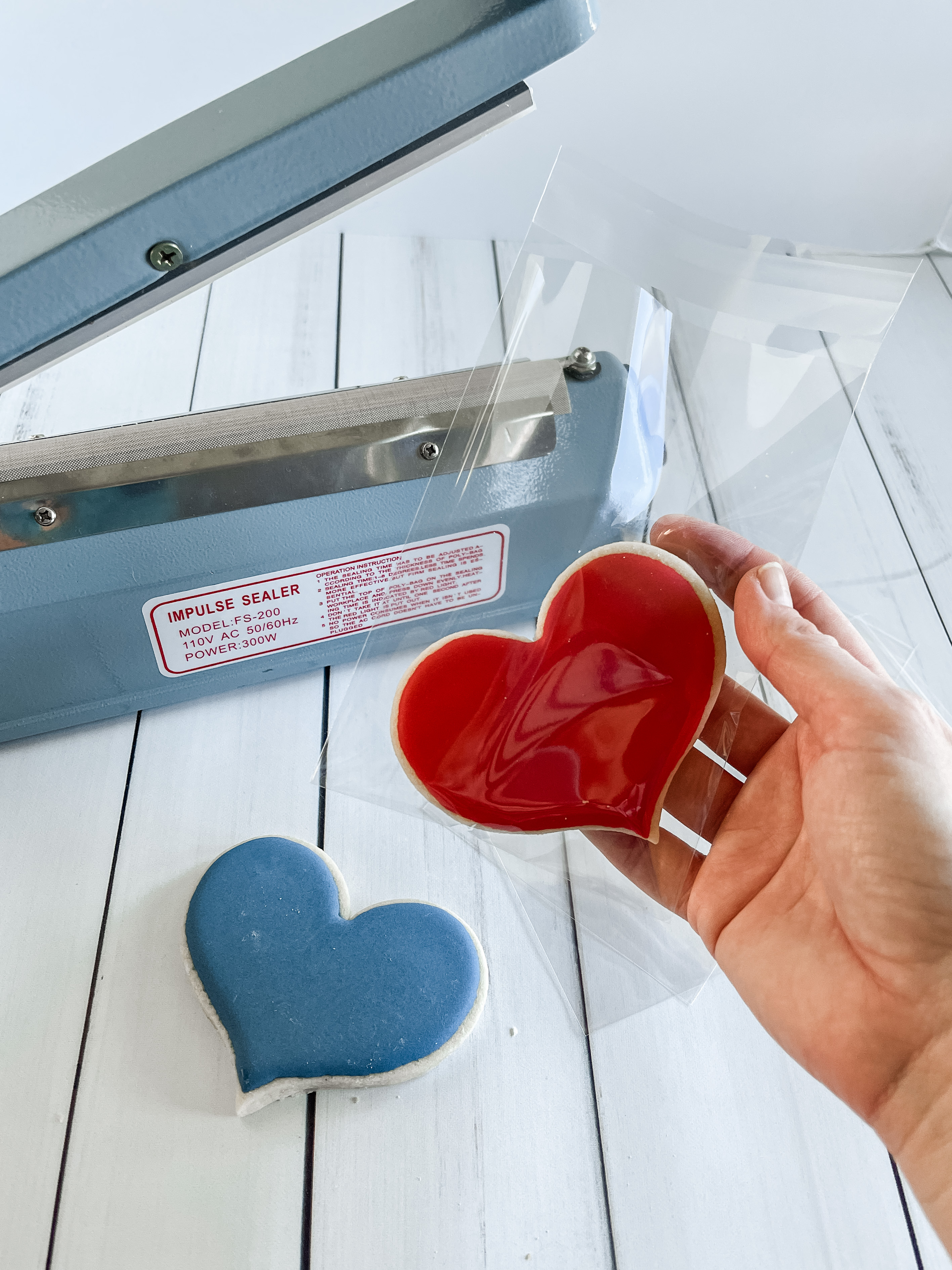 When heat sealing a buttercream frosted cookie, you will need to be much more careful. First, it's a good idea to make sure the frosting is crusted over. This will allow you to touch the frosting gently, without making a dent. Make sure to lift the bag up and seal with extra room on top - seal so the bag will stay elevated and not crush the buttercream.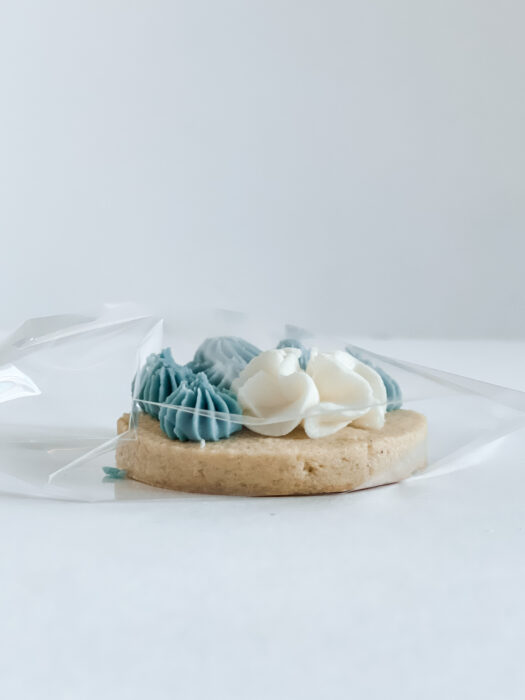 Best Boxes for Cookies
To top off the professional look, I love placing cookies in a box with a window and topping it off with a ribbon. For Royal icing cookies, you can stack them on top of each other without fear of the icing being ruined. However, I don't like to stack them up more than 3 or 4 rows. Especially if you have fine royal icing details or delicate cookie shapes, the weight could ruin some of those details (or crack a cookie) on the bottom.
For buttercream cookies, I recommend finding a large, thin box. You want to avoid needing to stack the buttercream cookies as much as possible.
My absolute favorite boxes are from the BRP Box Shop. No affiliate links here, but this company is simply the best. When you buy in bulk they are very reasonably priced, and they have so many size options to choose from. BRP Box Shop also has free shipping (to the lower 48 in the US) and in my experience, they always arrive very speedily!
Here are some of my favorite sizes:
It's a bit cheaper to get the boxes without a window, but if you can spring for it, the window is a very nice touch. Once the cookies are packaged, I tie a cute ribbon around the box. You can get a simple brown twine from the dollar store or some fun colors from Amazon. Adding crinkle paper to the bottom of the box will help secure the cookies and make them pop in the box!
Transporting Cookies on Trays
If you are decorating cookies and taking them straight to a party or event, you can save yourself the time and effort of individually wrapping and packaging. The dollar store has adorable plates and trays that are perfect to display decorated cookies! Not only are they cute, but perfect to take and not have to worry about them getting returned. They have plates for special occasions, the holiday season, or a simple clear and classy tray!
For royal icing cookies, it's simple to arrange the cookies on the tray. I like to stack them one row high, staggering them to see the designs. This gives the cookies a bit of depth and looks nice. Since the icing is hard, all you need to do is take some plastic wrap and seal it over the tray. My personal favorite is the Glad Press N' Seal because the bottom is tacky allowing it to stick nicely, but it doesn't stick to itself like many brands of plastic wrap.
When it comes to buttercream frosted cookies, it's a bit more of a delicate process. You will want to make sure the buttercream crusts over to give it more stability. Arrange them on your tray, stacking as little as possible. To cover for transportation, I like to use foil. Cut a piece of foil that is longer than the tray. As foil can more easily be manipulated, shape it so the foil covers the cookies but is elevated above them so it doesn't smash the buttercream frosting.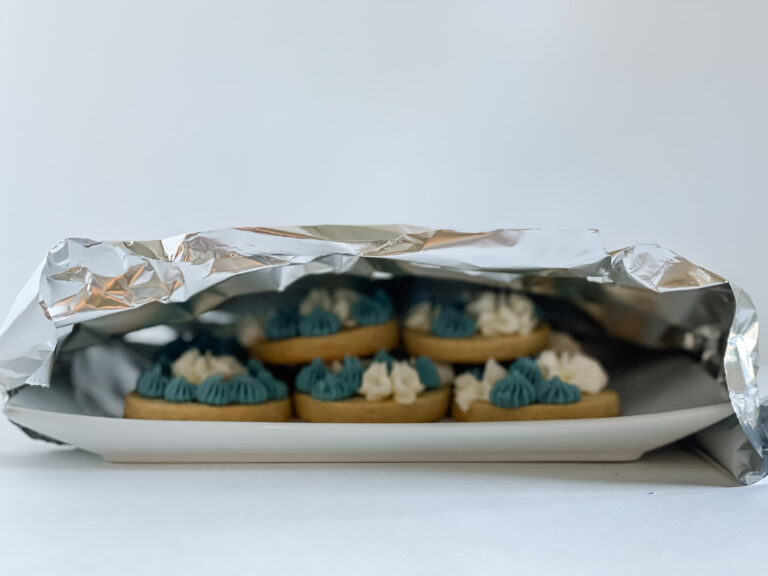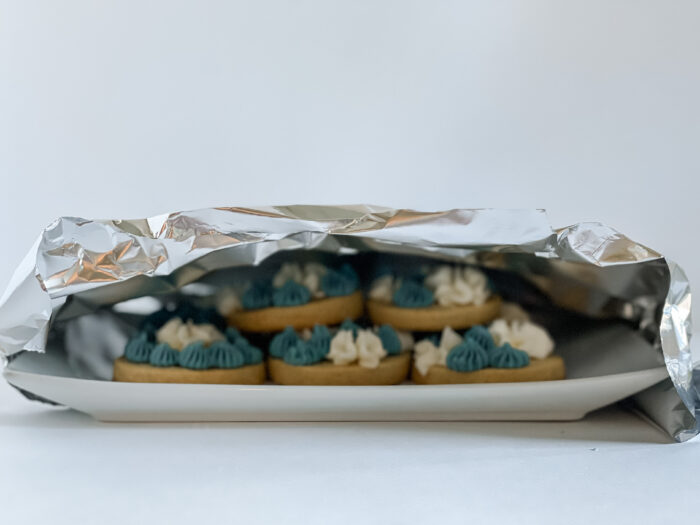 If you don't want to go through the trouble of the foil trick, the dollar store also sells large foil trays that are great for transporting cookies. You can use those trays for transport in a single layer and then plate your cookies when you arrive.
Tupperware for Transporting Frosted Cookies
Sometimes there is no need for frills or fancy boxes, and your frosted cookies just need to get from point A to B intact! Whether you are taking them on a road trip or bringing them to a family member, there are many great options.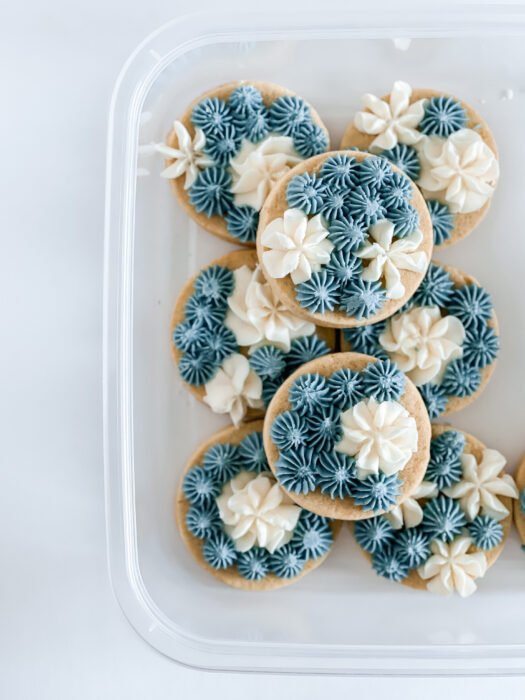 There are many airtight containers that are suitable for cookies and will keep them fresh! Hands down my favorite are the large 1.5-gallon Rubbermaid plastic containers. They are 16" x 11.5" which is great for transporting a lot of cookies without stacking them very high. To keep the cookies from shifting around in the Tupperware too much, you can add a bit of tissue paper to help secure them. When stacking royal icing cookies, place a piece of parchment paper or wax paper between each level.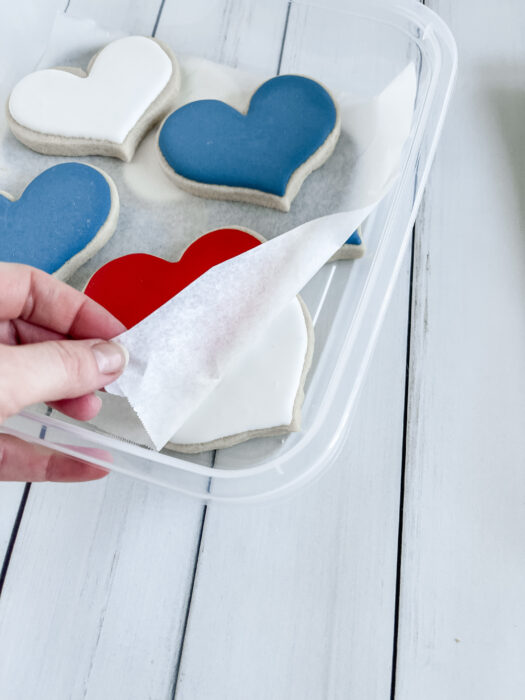 Since you cannot stack buttercream cookies more than a single layer (or maybe two) without damaging the decor, I recommend a 2 layer cake carrier. You can keep your cookies airtight and transport without having to stack!
Driving with Frosted Cookies
Once you have your favorite cookies all packaged securely, driving them around can be stressful. There are a few tips to make this process go smooth. The first step, place a yoga mat flat across your trunk to prevent cookies from sliding around. If you only have one box or tray of cookies, an easy way to secure the cookies is to place them on the passenger floor and slide up the passenger seat to lock the cake box into place. I have also seat-buckled a cookie box into place when needed!
I hope these helpful tips will be useful when transporting your favorite cookies. Good luck and happy baking!