This almond frosting for sugar cookies is perfect to decorate your cut-out cookies for the holiday season, Valentine's Day, or anytime you're in the mood for a soft sugar cookie. This recipe is sweet, but with a butter base and almond extract, has a nice rich flavor. This recipe is great for sugar cookie frosting but can be used for cake or cupcakes too. However, be cautious to not overuse it, as it is a rich flavor with a distinct, yet tasty, almond flavor.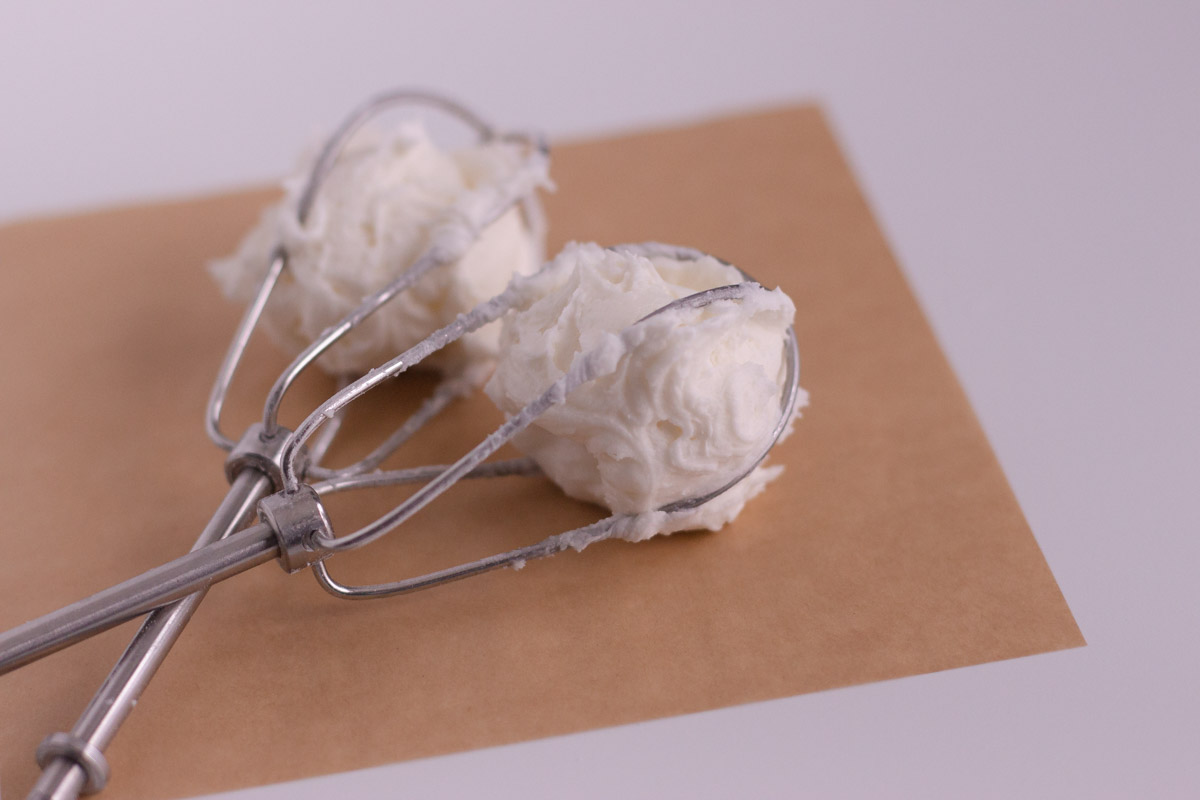 This recipe pairs really well with these Almond Sugar Cookies or these Classic Sugar Cookie Cut-outs. This frosting is not good for detailed decorating. If you want to decorate cookies with lots of details, try my classic Royal Icing Recipe.
Disclaimer: This post may contain affiliate links, meaning I may get a small commission if you decide to make a purchase through my links at no cost to you.
Jump to:
Ingredients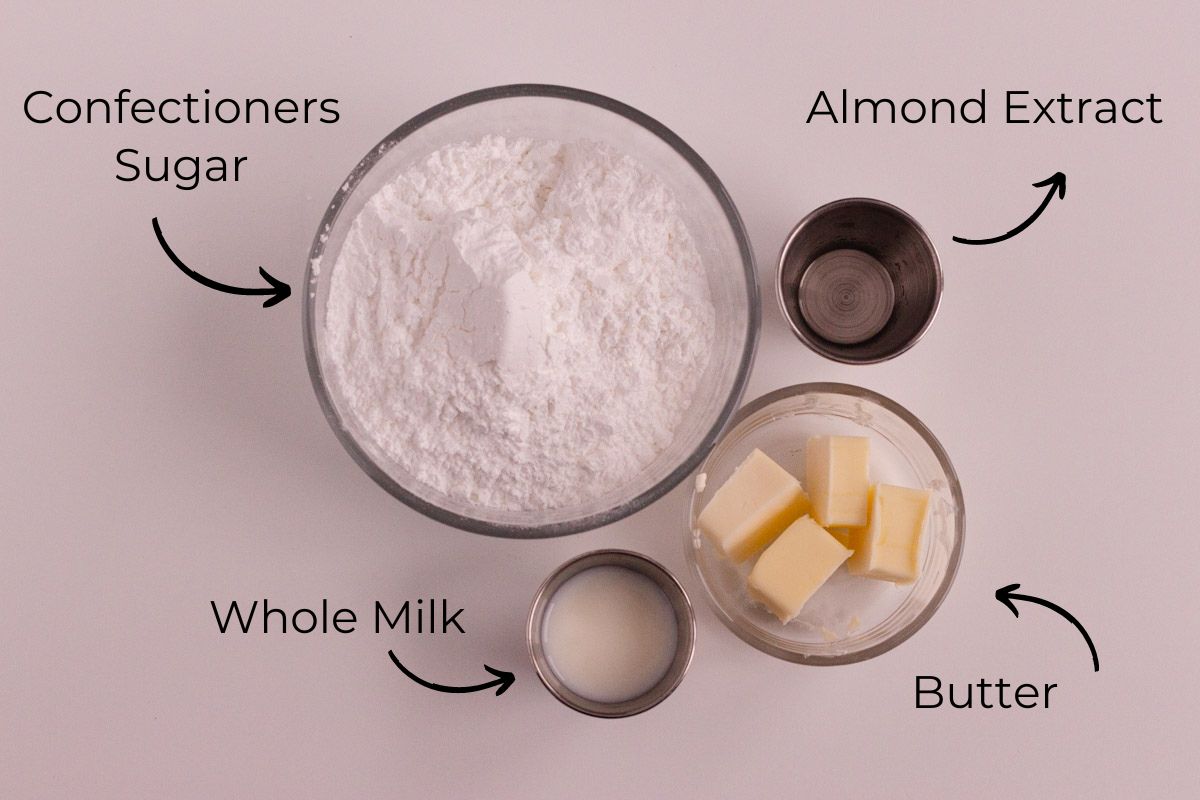 Unsalted Butter
Confectioners Sugar
Whole Milk
See recipe card for quantities.
Instructions
Allow the butter to get to room temperature. Either let it sit out for a few hours (preferable method) or if you forget and are in a time crunch, you can use the microwave. Do this VERY slowly as you do not want the butter to be too soft or it will not be good for buttercream. I microwave the full stick in 10-second increments at a time at 50-60% power. You should need more than 30 seconds total, but this will also be dependent on the power of our microwave. When the butter is ready you will be able to press into the stick with your finger and it will slightly give way, but not too much.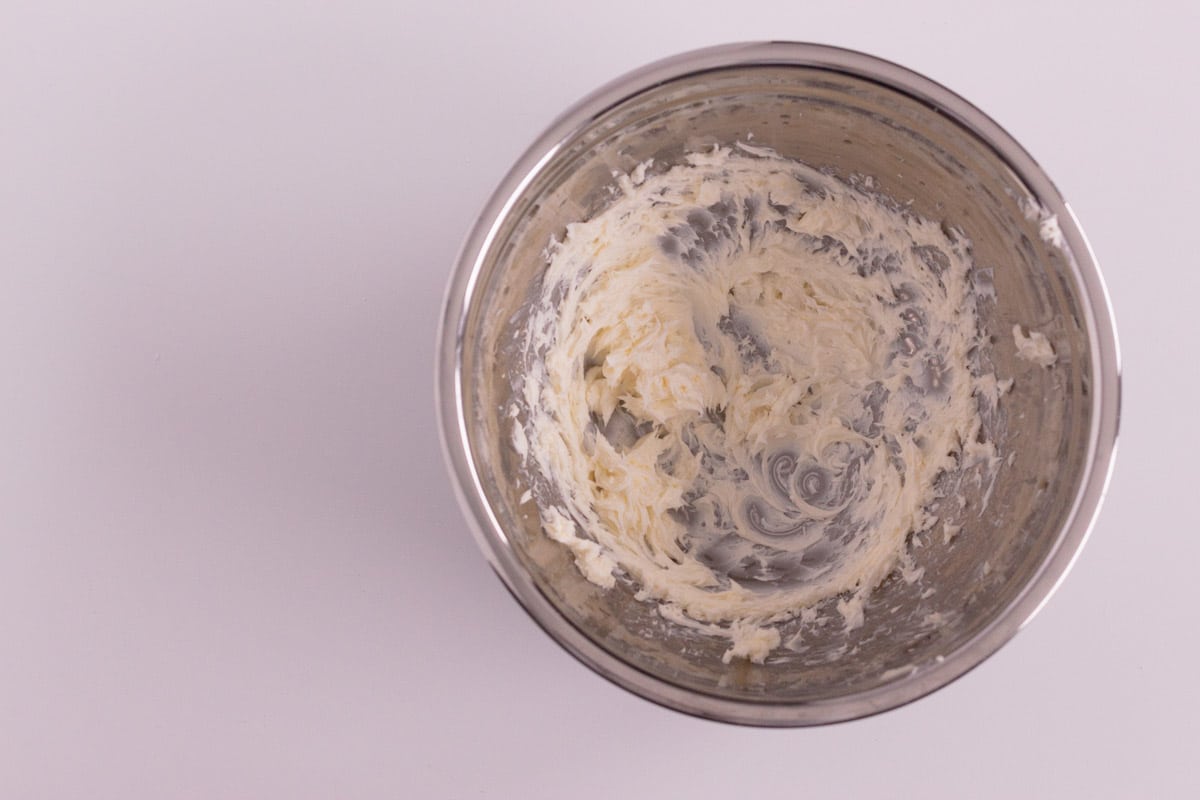 In the bowl of a stand mixer, add the room temperature butter and the almond flavoring. If you don't have a stand mixer, you can use a hand mixer as well. But it is much easier to make and whip up frosting with a stand mixer and the paddle attachment if you have one available to you. Beat the butter and extract on high speed for about 2-3 minutes until light, airy, and smooth. Scrape the sides of the bowl with a spatula to make sure everything is incorporated.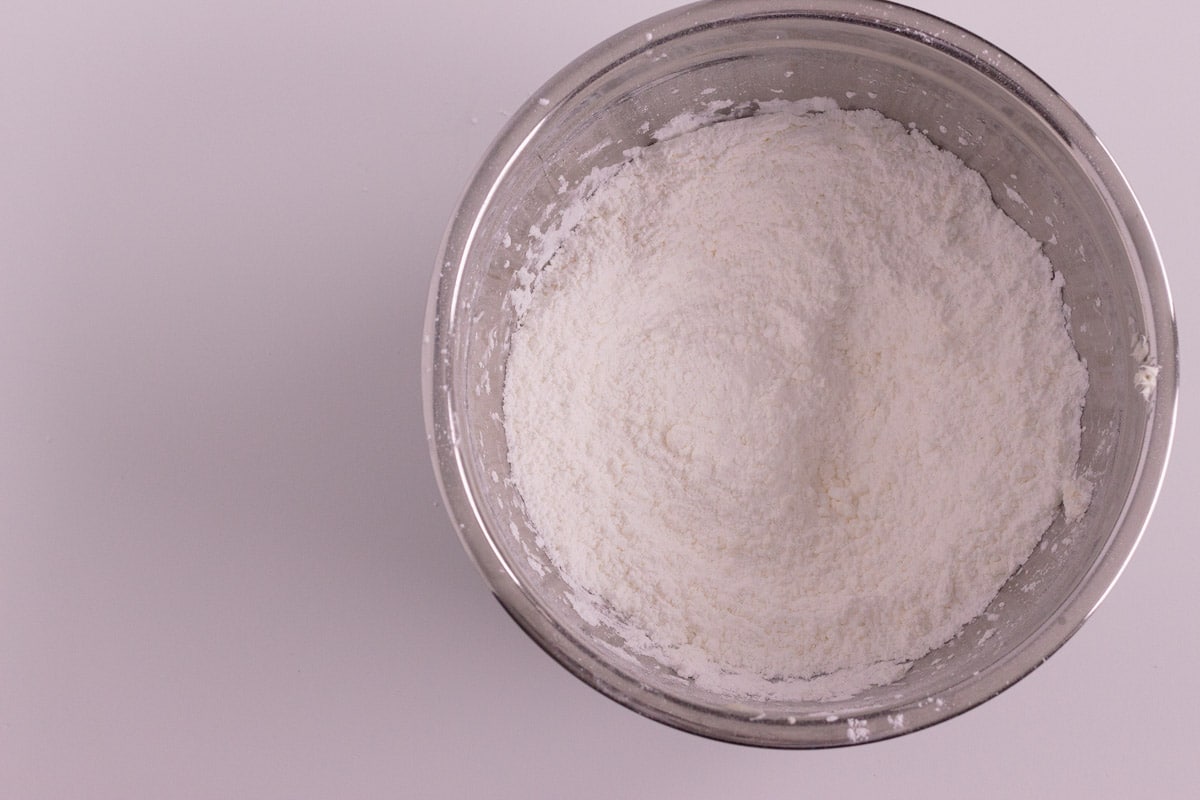 Slowly add the powdered sugar to the butter mixture in thirds, beating on medium speed in between. Once the confectioners' sugar has all been added, the mixture will be very dry and crumbly, this is okay, we'll fix that next.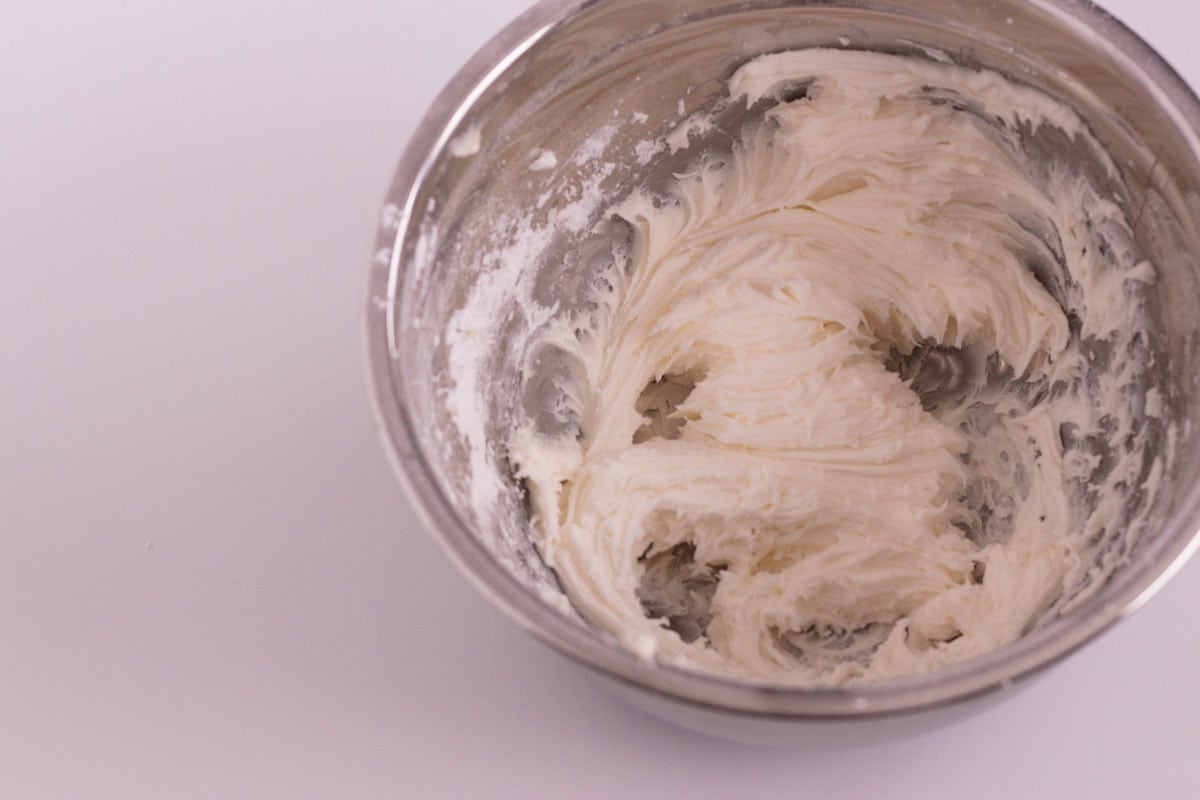 Add the milk 1-2 tablespoons at a time. With the electric mixer beat on high. If the mixture is still dry and crumbly, add another tablespoon of milk. Once the icing starts to come together, continue to mix on high for another 2-3 minutes to whip up the icing. It will have the right consistency when it's almost white, smooth, and can be easily spread.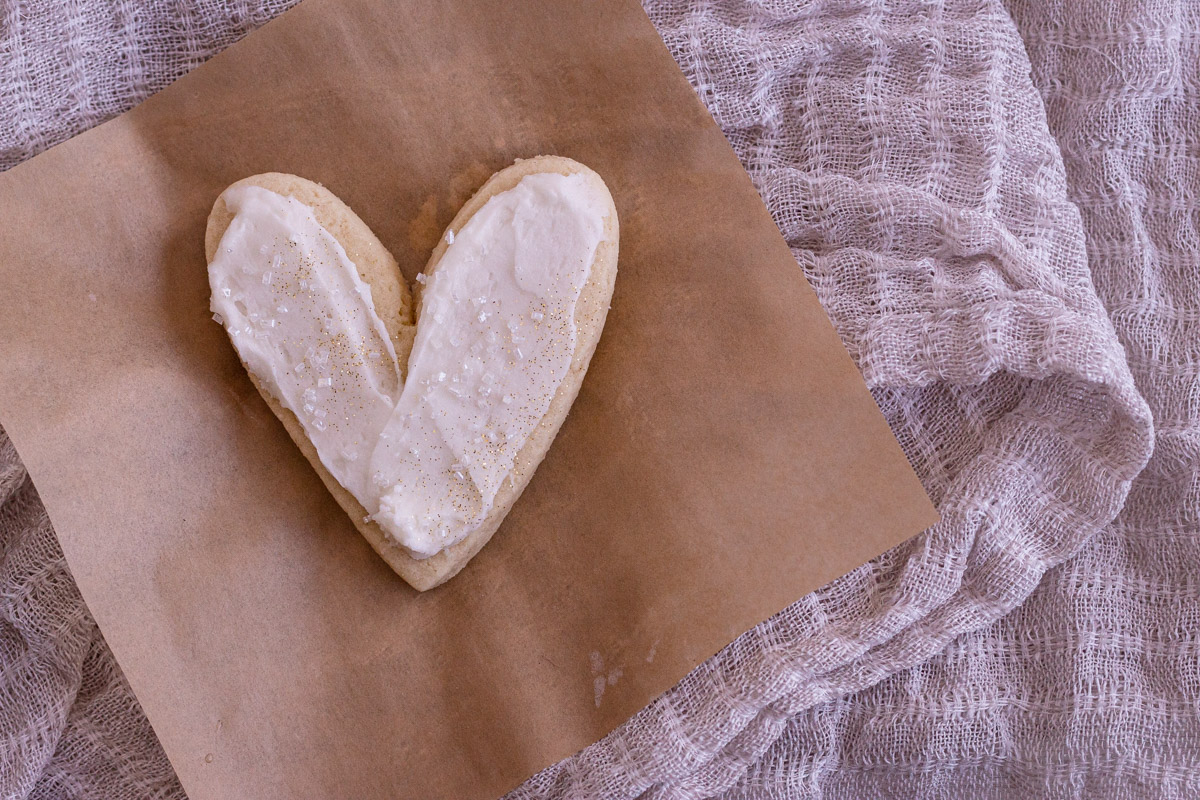 Decorate and Enjoy!
Substitutions
Almond Extract: You can use almond emulsions for this recipe as well. Follow the instructions on your emulsion for the ratio of emulsion to extract. You can use vanilla extract, but you'll lose the almond flavor which makes this frosting distinct.
Whole Milk: You can use 2% milk or heavy cream instead. Skim or 1% will work if needed, but the lower fat content will make the icing thinner.
Decorating
Bake your favorite sugar cookie recipe (these pair really well with these almond cookies). After you bake cookies and they are completely cooled, place cookies on a baking sheet or wire rack to decorate. There are two main methods for decorating with buttercream frosting.
The first option is using a knife or preferably an offset spatula. Spread a thin layer of icing on the cookies and allow them to dry.
The second method would be using a piping bag. Fill a piping bag with the frosting and using a large piping tip (such as a Wilton 10-12), pipe the icing across the top of the cookie. You can flatten out the icing with an offset spatula or leave it as is.
If you want to dye the icing, I prefer using gel food coloring. I really like the Americolor brand. But you can also get gel coloring at most craft stores, they have so many fun color options, and they give very rich, bright colors.
Adding sprinkles or sanding sugar should be done right after you frost them before the icing starts to dry. Here are some great tips and ideas for decorating cookies with sanding sugar and sprinkles.
Storage
If there is extra icing you can store it in an airtight container in the refrigerator for up to a week. If you want to store and keep longer, wrap it in plastic wrap and store it in a freezer bag or airtight container in the freezer for up to 3 months. When you want to use it, let it come to room temperature and re-whip it in an electric mixer.
Once you decorate the cookies, follow the instructions for how long the cookie recipe you used will last. Here are some great tips for transporting decorated cookies.
I hope you love this almond sugar cookie icing recipe and it is the perfect addition to your next batch of sugar cookies!
FAQ
What is almond frosting made out of?
While there are many variations, typical almond frosting is made up of a combination of butter, confectioners sugar, almond extract, and milk.
Related
Looking for other recipes like this? Try these:
Almond Frosting Recipe for Sugar Cookies
This almond frosting recipe is delicious buttery and has a great distince almond flavor that is perfect for sugar cookies.
Print
Pin
Ingredients
½

Cup

Unsalted Butter

1

teaspoon

Almond Extract

3

Cups

Powdered Sugar

5

tablespoon

Whole Milk
Instructions
In a large bowl, add the room temperature butter and almond extract. With an electric mixer, beat on high for 2-3 minutes until light, airy, and smooth.

Slowly add the powdered sugar in thirds and beat on medium speed with your mixer in between each addition. Once all of the sugar has been mixed, it will be a dry and crumbly mixture.

Add the milk 1-2 tablespoons at a time, beating on high each time. Once the mixture starts to smooth out like frosting, turn up the mixer to high and beat for 2-3 minutes to whip up the icing. It will be done when it's almost white, smooth, and easily spreadable.

Frost your cooled cookies with an icing knife or a piping bag. The frosting will slightly crust over as it dries.
Notes
*Decorating Tip: Place the cookies on parchment paper on a cookie sheet to decorate. This gives them a nice flat surface to dry and can be easily moved out of the way!