If you are in need of a soft and delicious almond sugar cookie recipe, then look no further! These cookies are pretty easy to make and have an amazing nutty, almond flavor that I am sure you will love. If you don't like almond extract, this recipe isn't for you. It is a very distinctive flavor that is pretty strong, but when used correctly it adds an extra depth of flavor to your dessert. This recipe creates a pretty flat cookie with sharp edges, making it a good option for royal icing decorating.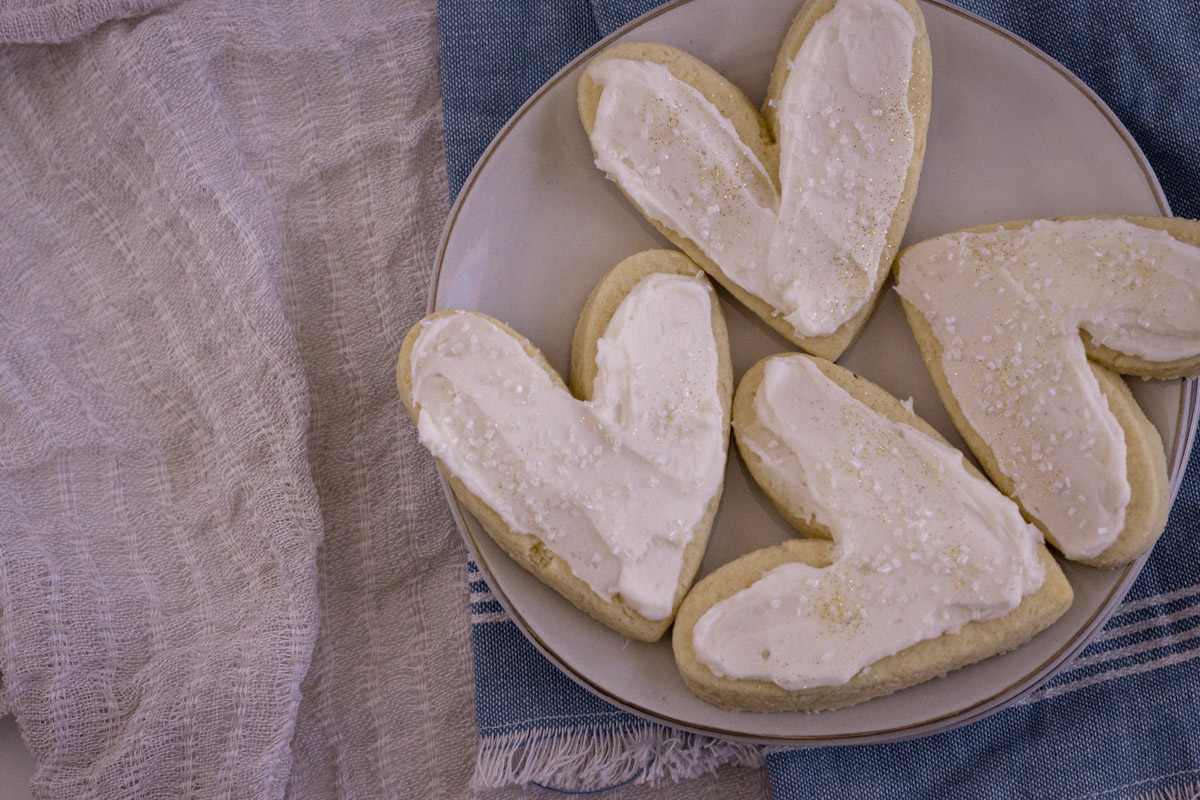 As this recipe makes cut-out cookies, it is great for the holiday season. For that matter, you can spruce up any holiday with these cookies such as Valentine's Day, Mother's Day, St. Patrick's Day, etc. If you aren't in the mood (or too lazy like I am sometimes to do crazy shapes) a simple circle always makes for a classy and traditional sugar cookie.
This recipe was inspired by my classic cut-out sugar cookies. Though I love that recipe, I wanted to create something with a nutty, almond flavor. It pairs great with royal icing or this almond buttercream recipe.
Check out my other cookie recipes that are great for royal icing decorating including these cookies and cream cookies, lemon sugar cookies, and pumpkin cookies.
Jump to:
Ingredients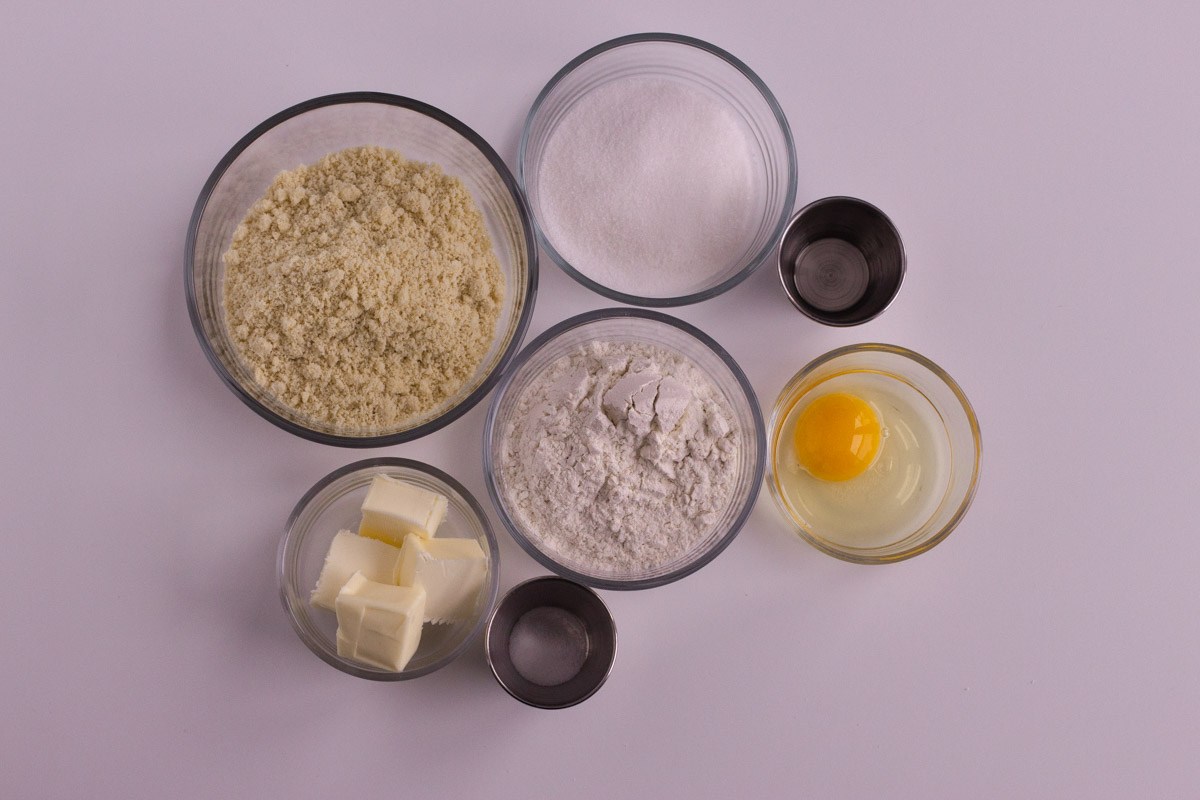 All-Purpose Flour: Almond flour lacks the gluten that helps to bind cookie dough together. Because this recipe wasn't made to be gluten-free, I decided to add some all-purpose flour to help bring the dough together and add some softness.
Almond Flour: The almond flour adds a nutty flavor to these cookies. You can find almond flour in most local grocery stores.
Baking Powder: A leavening agent that uses carbon dioxide to help the cookies expand up and out.
Salt: For flavor!
Unsalted Butter: Use unsalted, real butter to help create buttery almond sugar cookies.
Granulated Sugar: Also known as white sugar adds structure, color, flavor, and texture to cookies.
Egg
Almond Extract
See recipe card for quantities.
Instructions
This cookie dough does require chilling, so you will have time to preheat the oven and prep your baking sheets during that time, so let's just focus on making the sugar cookie dough! This recipe does not make a lot of cookies, just about one dozen depending on the size of your cutout. However, it is an easy recipe to double (or triple) if you need more.
In a large bowl, using a hand or stand mixer, combine the softened butter and white sugar. Mix on high for around 30 seconds to 1 minute until the mixture turns light and fluffy. Add the egg and almond flavoring and continue to mix with the electric mixer until combined. At this point, it will be a very thin consistency, almost looking like runny scrambled eggs.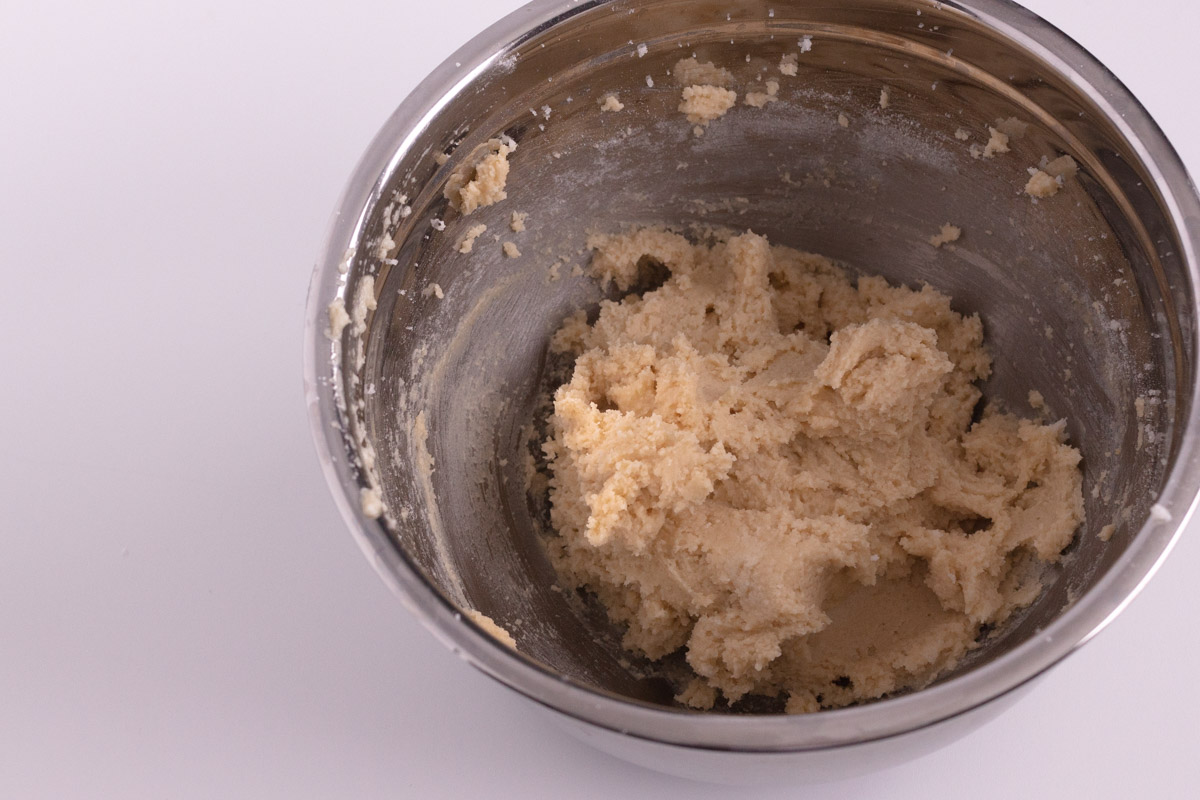 Slowly mix flour mixture into the wet ingredients. Add about a third of the mixture and beat with a mixer on low speed. Once the first third of the flour is mixed, add the second, mix, and then add the rest.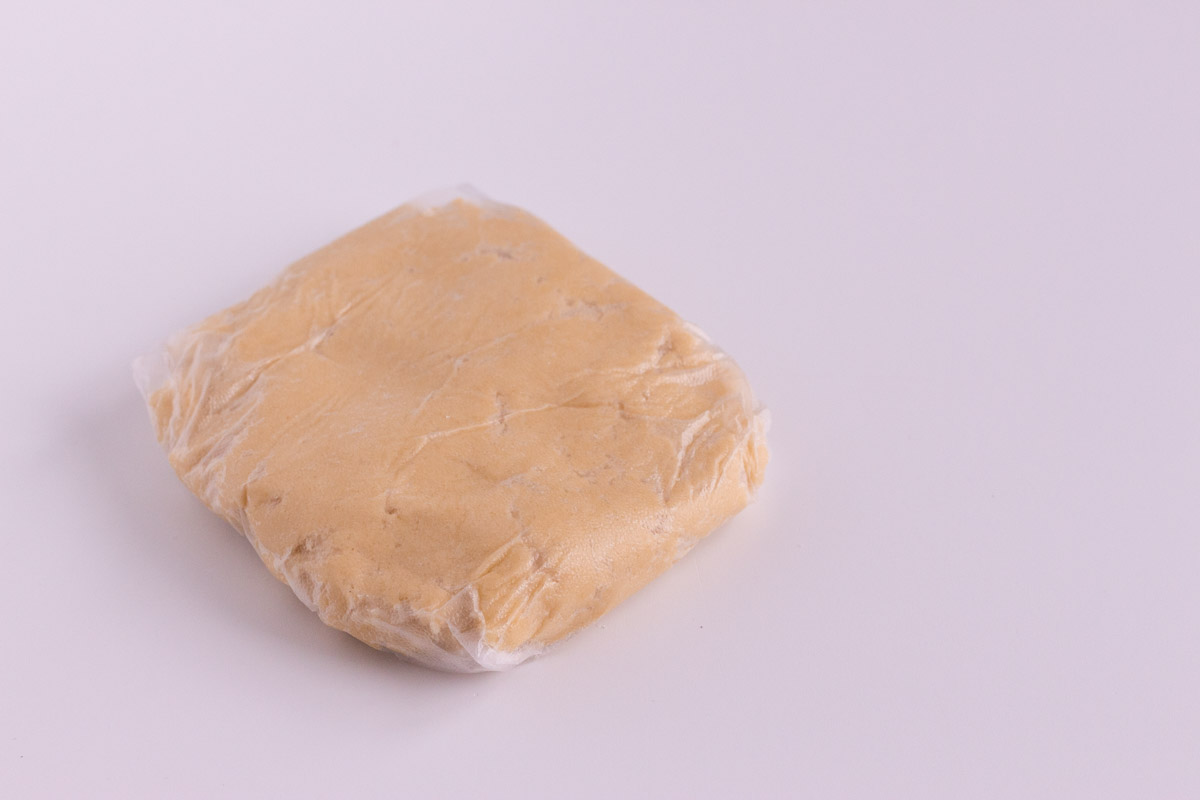 As soon as a soft dough forms, stop mixing. Form a disc about 1 inch thick and tightly cover in plastic wrap. Refrigerate for at least 2 hours or overnight.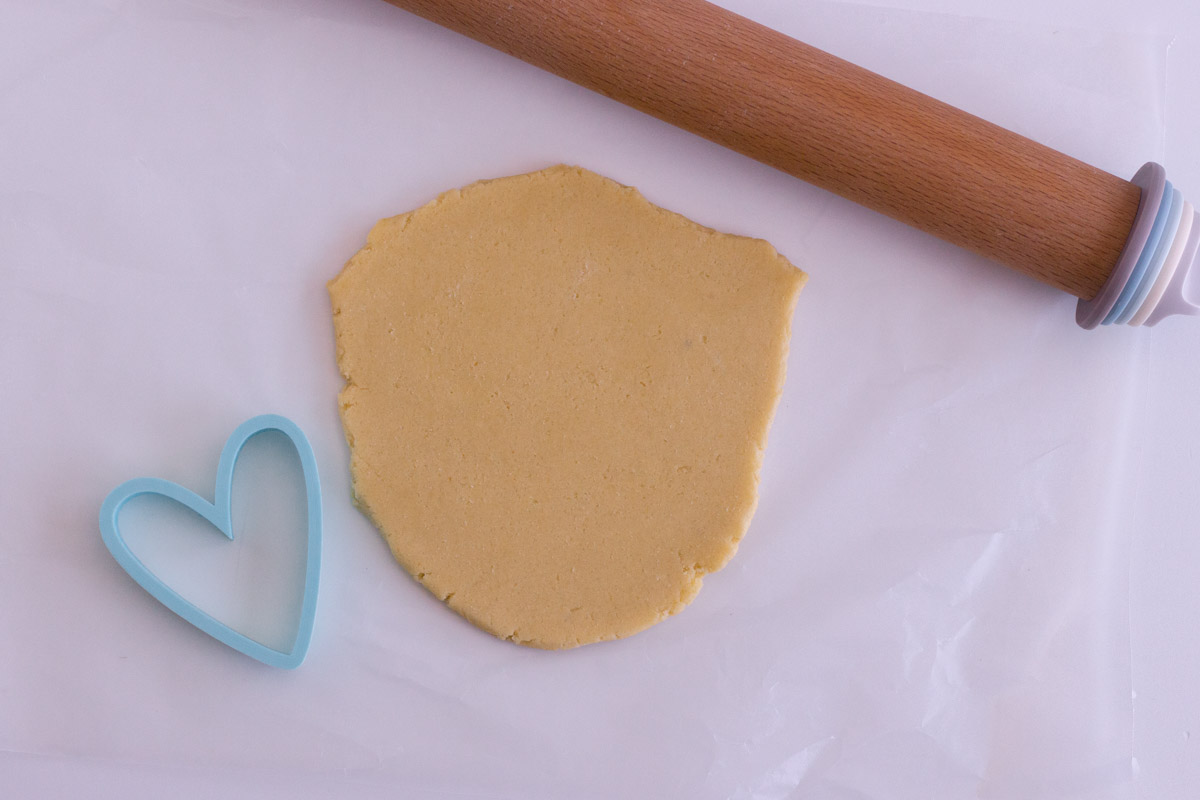 For rolling out the dough for these almond cookies, I like to do them between ¼" to ⅜" inch thickness.
Bake at 375 for 10-12 minutes.
About 30 minutes before you plan to bake these soft almond sugar cookies, preheat your oven to 375 degrees. Also, prepare your baking sheets using parchment paper or silicone mats (these are my favorite and I use them all the time).
For rolling out the dough for these almond cookies, I like to do them between ¼" to ⅜" inch thickness. The easiest way to get your sugar cookies to be even with the same thickness is to use a rolling pin that has measuring discs or dough sticks. When using dough sticks, simply place a stick on each side of the dough and roll out with a standard rolling pin.
Pro Tip: Roll dough between two sheets of wax paper to make it easier to roll and easily clean up!
If the dough is still too tacky, place the rolled-out cookie dough (between wax paper sheets) back into the freezer to become more solid. Once relatively set, use cookie cutters to make your desired cookie shapes and place them on prepared baking sheets. Make sure cookies are about 1 inch apart on the cookie sheet. Reroll the remaining dough and cut out more shapes.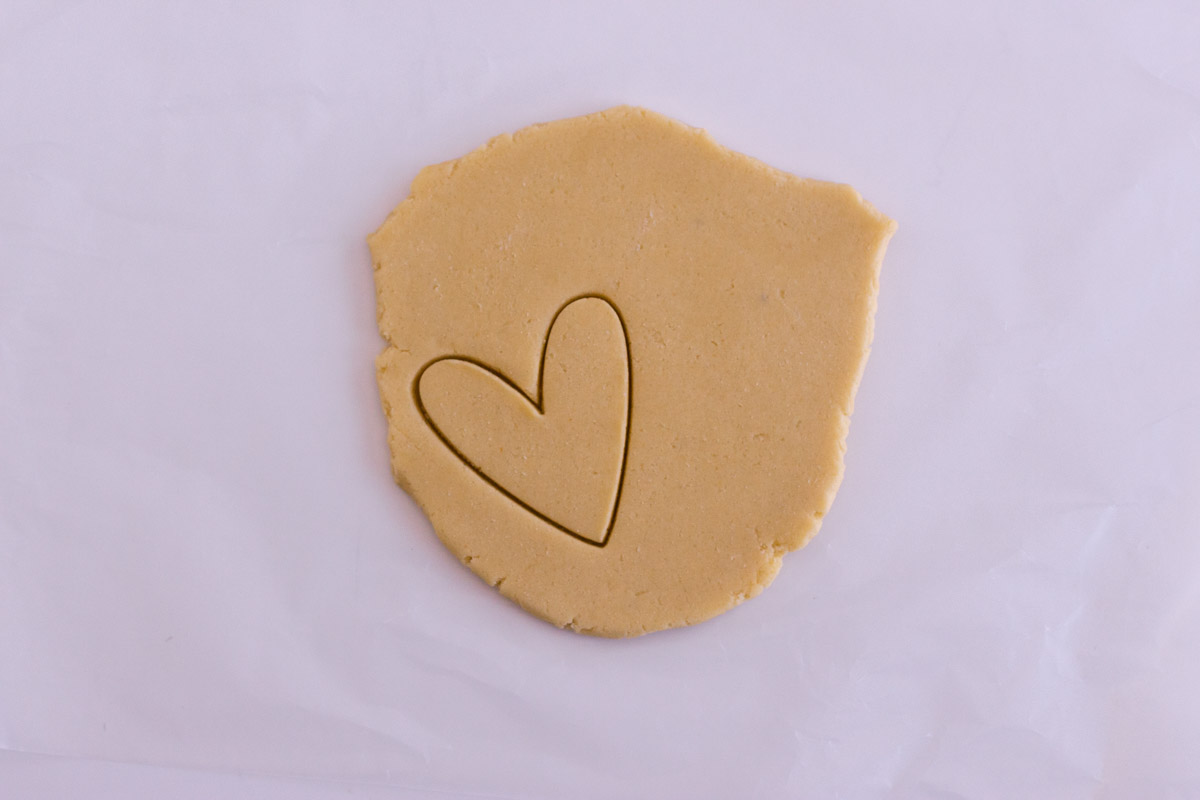 Place the entire baking sheet in the oven and bake for 10-12 minutes. The cookies are done when the edges of the cookies are sharp and very slightly golden. Remove the tray from the oven and allow the cookies to set for at least 5 minutes before transferring them to a wire rack to completely cool.
Decorating the Cookies
Once the cookies are completely cool you can decorate them with royal icing, buttercream, or almond frosting. Top with sprinkles for an extra pop!
Storage
Store cookies in an airtight container at room temperature for up to 1 week. To lengthen their life, freeze them for up to 3 months. You can also freeze the dough for up to 3 months. Make sure the extra dough is wrapped tightly in plastic wrap and then sealed airtight in a large zip lock or a container.
Substitutions
Almond Extract: If you do not have almond extract, you can substitute for vanilla extract. However, the cookies will lose a lot of that classic almond taste.
Almond Flour: My favorite almond flour brands are Bob's Red Mill Almond Flour and Blue Diamond. However, many other brands will work just fine! Feel free to use almond flour or almond meal.
Almond Flour vs. Almond Meal
Almond meal and almond flour are almost the exact same thing. The largest difference is the coarseness. Almond flour is a very fine grain and typically comes from skinned almonds. The almond meal is slightly more coarse.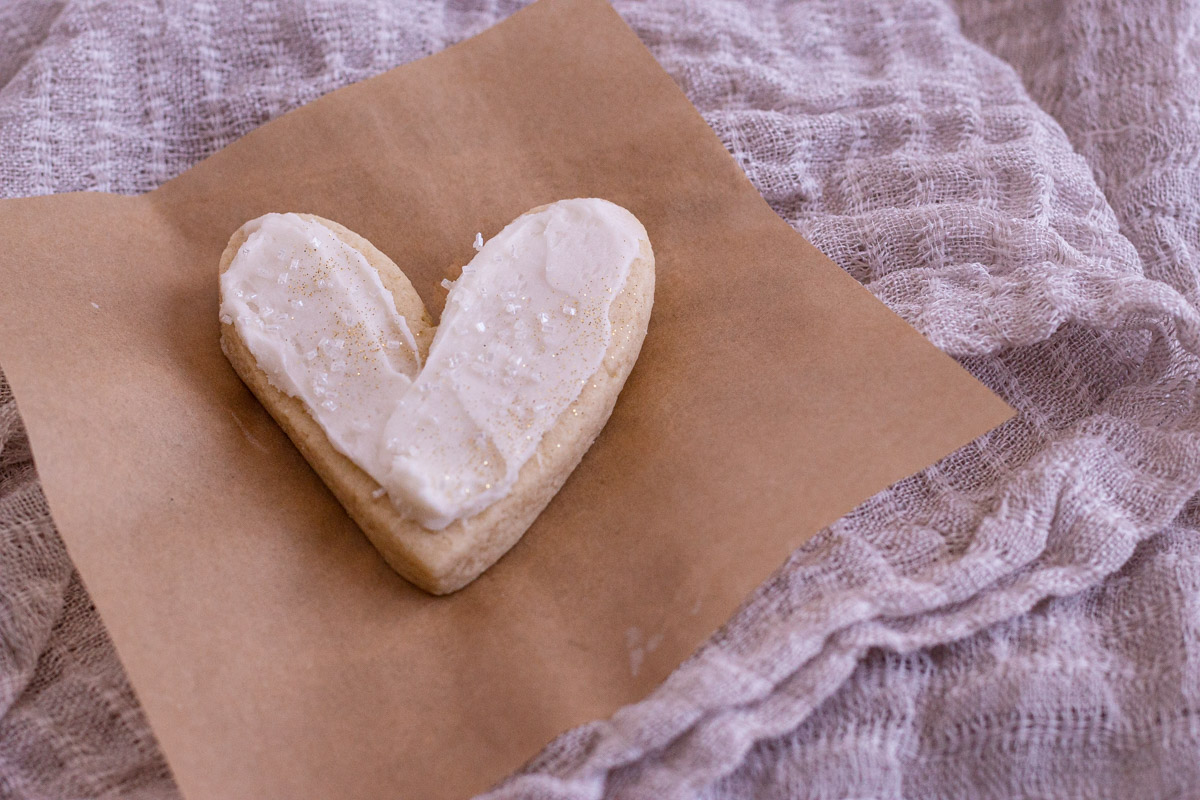 FAQ
Can you use almond and vanilla extract together?
Yes! Use the same amount of extract in total, but you can split it between vanilla and almond extract. The vanilla will cut down the almond flavor and become slightly sweeter but will add a great depth of flavor as well.
Why are my almond cookies dry?
Most likely you used too much flour. If you pack down the flour when measuring, you'll have too much. The best way to avoid this is to spoon the flour into the measuring cup. When the measuring cup is full, use a knife and scrape across the top of the cup to even it out. Overmixing or refrigerating can also be culprits. Check out my post on the most common reasons for dry cookie dough.
Should almond cookies be refrigerated?
Cookies should be stored in an airtight container at room temperature or frozen. Refrigerating cookies after baking can cause them to become dry.
Related
Looking for more royal icing tips and tricks? Try these:
Pairing
These are my favorite frosting recipes to go with these Almond Sugar Cookies: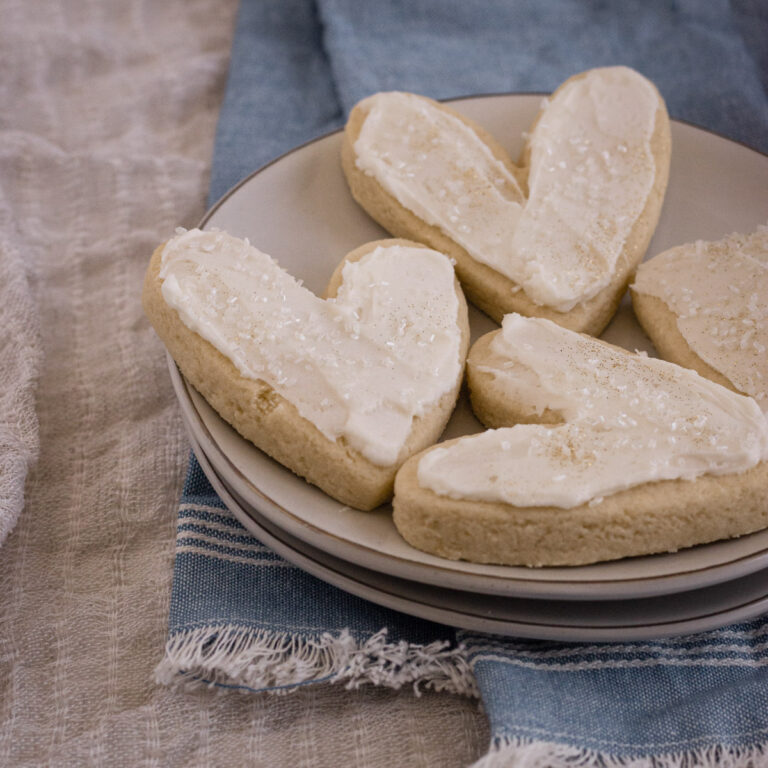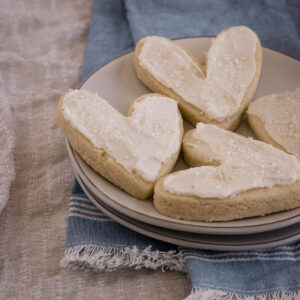 The Perfect Easy Almond Sugar Cookie Recipe
These almond sugar cookies are made with both almond flour and all purpose flour giving them a thick texture with a nutty flavor.
Print
Pin
Ingredients
¾

Cup

All-Purpose Flour

1

Cup

Almond Flour

1

teaspoon

Baking Powder

¼

teaspoon

Salt

⅓

Cup

Unsalted Butter

softened

⅓

Cup

Granulated Sugar

1

Egg

1

teaspoon

Almond Extract
Instructions
In a medium bowl, combine flour, almond flour, baking powder, and salt, Whisk well and set aside.

In a large bowl use an electric mixer (either a hand mixer or stand mixer will work), and add the softened butter and granulated sugar. Beat on high for 30 seconds to 1 minute until well combined, lightened in color and slightly fluffly.

Add the egg and a teaspoon almond extract to the butter mixture. Continue beating at a medium speed until the egg is full incorporated, it will be pretty thin and liquidy.

Add the dry ingredients into the wet ingredients gradually, about ½ cup to 1 cup at a time. Using your mixer, beat on low between each addition.

Wrap the almond cookie dough in plastic wrap and chill in the refrigerator for at least 2 hours or up to overnight.

While dough is chilling, preheat the oven to 375 degrees. Line the cookie sheets with parchment paper or silicone mats.

Using dough sticks or a rolling pin with measuring sides, roll out the dough to ¼" to 5/16t" inches. It is easiest to roll out the dough between two sheets of wax paper.

Cut out your shapes and place at least one inch apart on lined baking sheet. Bake for 10-12 minutes.

Allow cookies to cool on the tray for at least 5 minutes and then transfer them to a cooling rack.

Decorate with royal icing, frosting, or almond frosting.
Notes
Storage: Store cookies in an airtight container for up to 1 week. Store them in the freezer in an airtight container for up to 3 months.