This Lemon drizzle icing for cookies is the perfect way to top off your desserts with a subtle and fresh lemon flavor. This recipe can be whipped up in under 5 minutes with just a few simple ingredients. Made with fresh lemons, it has a bright lemon flavor with just a hint of a tart flavor.
During the early spring, lemon is one of my favorite flavors for cookies and cakes. For all of you other lemon lovers out there, these soft cut-out lemon cookies pair perfectly with this lemon icing. Though I created this recipe for regular sugar cookies, it can definitely be used for lemon bars, bundt cakes, pound cakes, sweet bread, etc.
Disclaimer: This post may contain affiliate links, meaning I may get a small commission if you decide to make a purchase through my links at no cost to you.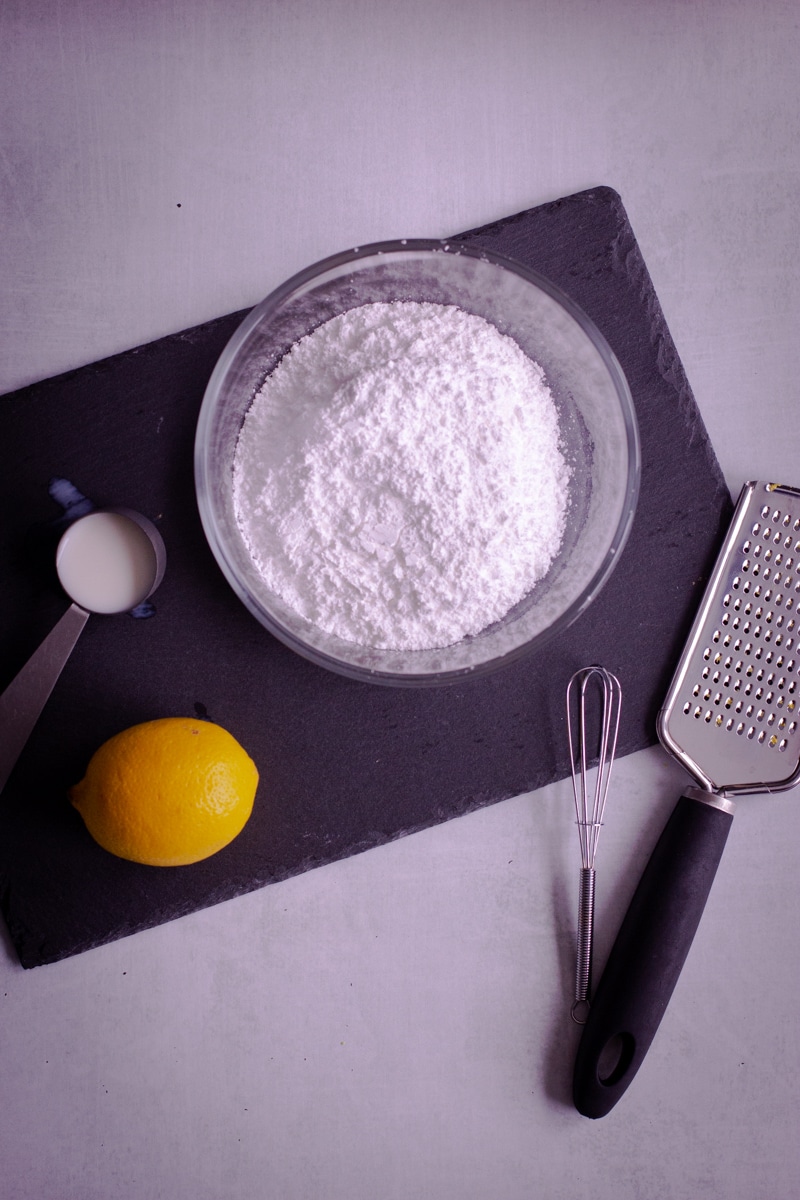 Ingredients
Powdered Sugar:
Milk
Fresh Lemon Juice
Lemon Zest
Substitutions
Milk: I used whole milk, but you can use skim, 1%, or 2% milk as well. I would be cautious to use heavy cream as it will whip up a bit thicker. Almond milk would work fine as well.
Fresh Lemon Juice: I prefer to use juice from real lemons for this recipe to give it that natural lemon flavor. However, if you only have lemon extract, it will work. Simply halve the amount (ex. Substitute ½ teaspoon of lemon extract for 1 teaspoon of lemon juice). You may need to add an extra ½ teaspoon of milk to compensate for less liquid.
Lemon Zest: This can be omitted if you do not have fresh lemons. Though I love the flavor zest adds to this lemon glaze!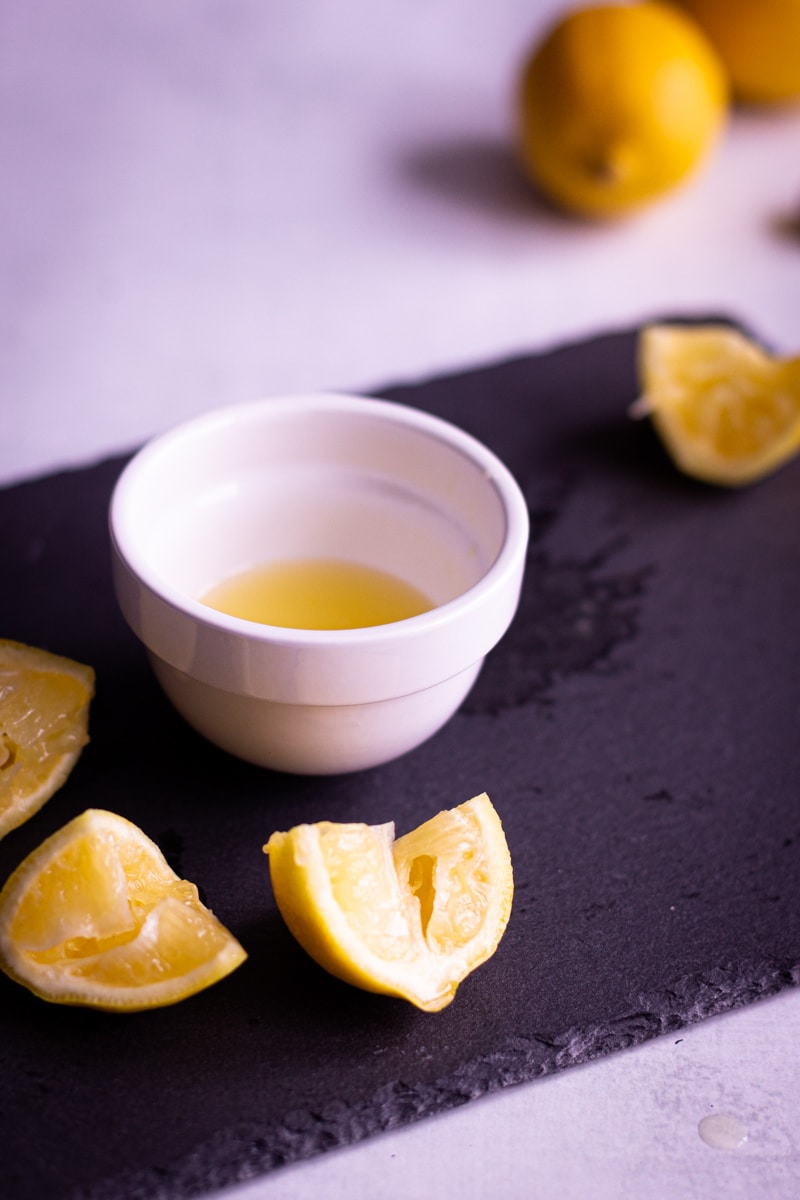 Instructions for Making Lemon Icing
Start by zesting your lemon. To do this, clean your lemon well, and then use a lemon zester or cheese grater (or check out this list of alternatives) and shave the rind of a lemon until you have enough zest. Set aside.
Cut the lemon in half and squeeze to release the juice.
In a medium bowl, add the powdered sugar (aka icing sugar), lemon juice, and 1 teaspoon of milk. Mix with a whisk or a fork until combined (that's right, no electric mixer needed). Add the remaining milk and stir again. You will have achieved the proper consistency when you have a thin icing that will quickly dissolve back into itself if you lift some up with a spoon and drizzle it back into the bowl. It could be compared to maple syrup consistency as well.
Tip: Add milk slowly to gradually thin out the lemon glaze. It is much easier to make it thinner than it is to make it thicker.
Once you get the proper consistency, add in the lemon zest and give it one more good stir and you're done!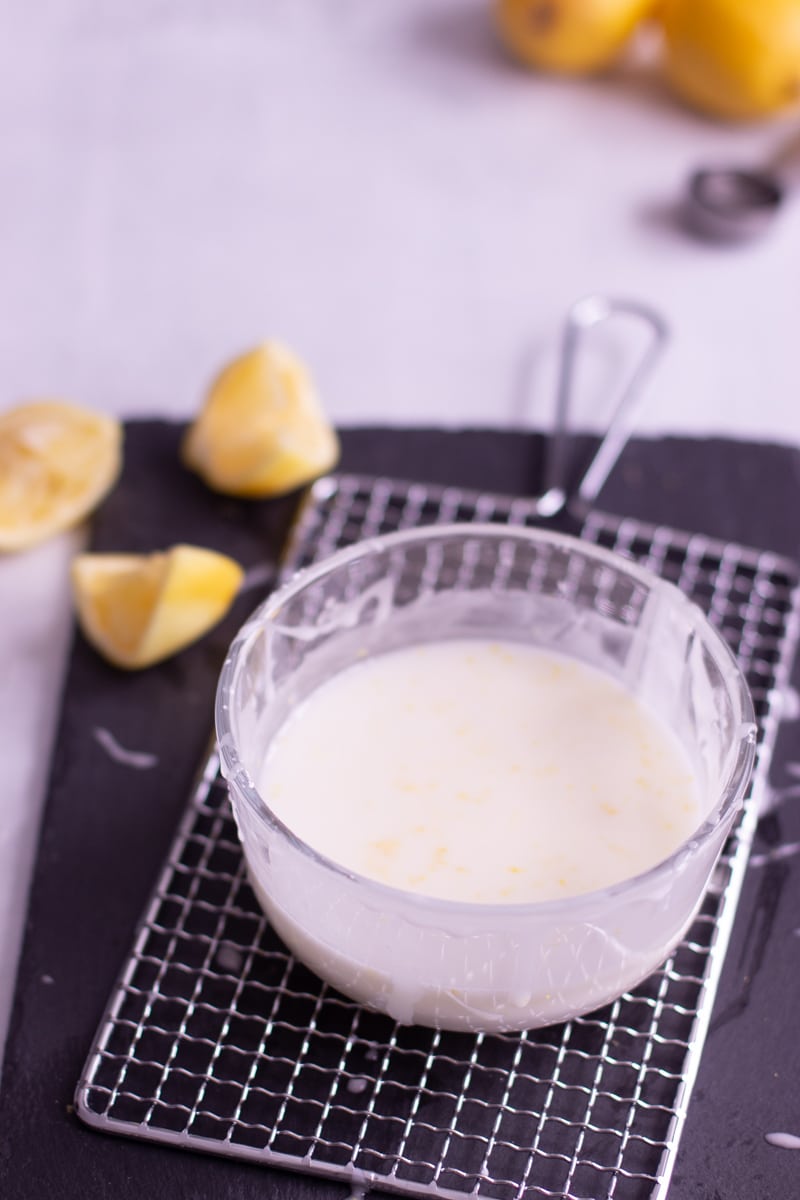 How to Thicken the Glaze:
Gradually add more powdered sugar.
How to Thin the Glaze:
Gradually add more milk.
Decorating with your Lemon Glaze
I have two favorite methods for drizzling this lemon glaze recipe. But first, you will need to arrange whatever you are drizzling (cookies, bread, cake, etc.) onto a cooling rack.
Tip: To make cleanup easier, place a piece of wax paper or parchment paper under the wire rack.
For the first method, you can gather some glaze with a spoon and simply drizzle the cookies in a diagonal pattern back and forth until the cookie is coated.
The alternative method for drizzling is to use a piping bag (these are my favorite). Simply, fill the piping bag, tie the end, and cut a slight tip-off of the end of the bag. Drizzle over the cookies!
Let the cookies (or whatever you drizzled with the lemon glaze) sit out at room temperature for at least 30 minutes to let the glaze harden.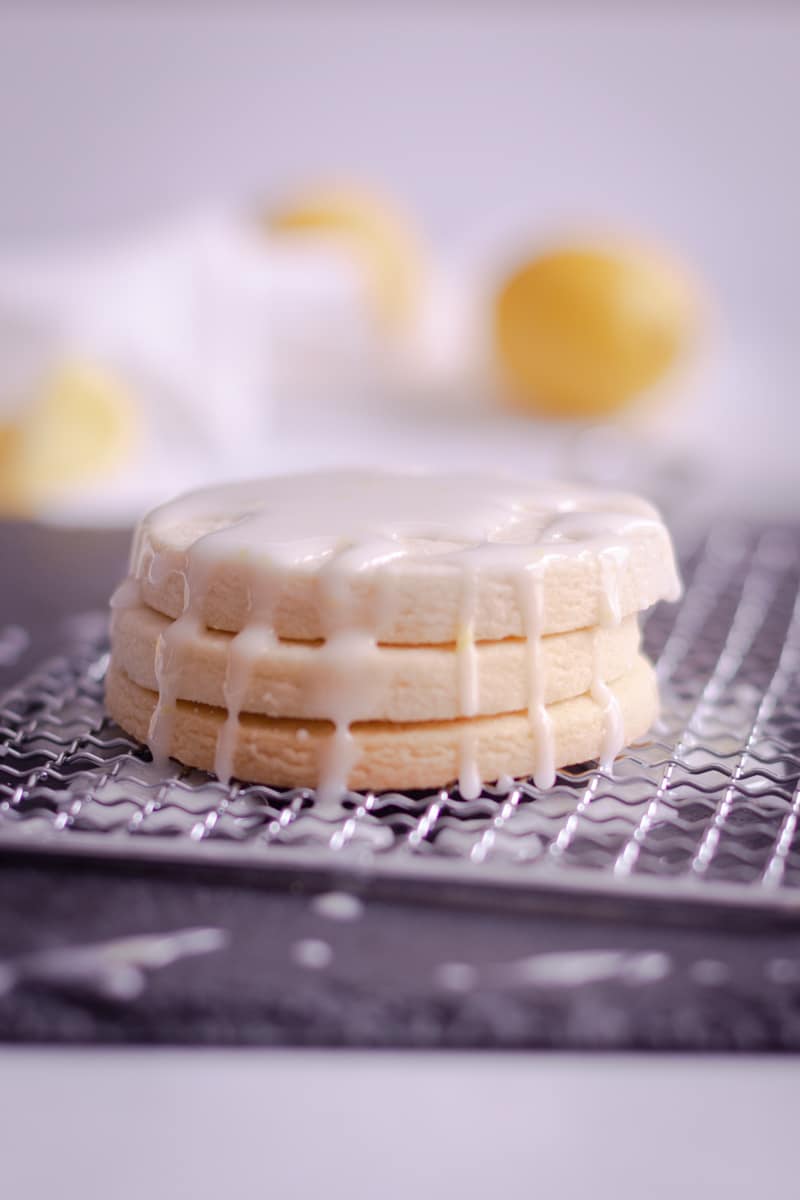 Storing Lemon Glaze
Store the extra glaze in an airtight container (or a bowl sealed tightly with plastic wrap) in the refrigerator for up to a week. To use it again, remove it from the fridge and let it come to room temperature. Stir the glaze to get it back to a thin consistency and add a few more drops of milk if needed.
For tips on how to transfer frosted/drizzled cookies - check out this article!
Looking for a Cookie Recipe to pair with this glaze - try my Cut-Out Lemon Sugar Cookie Recipe!
If you like this recipe, you may like these too:
If you try any recipes, I would love to see your creations. Tag me on Instagram at @the_frosted_kitchen.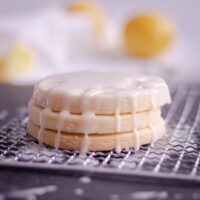 Easy Lemon Glaze
This easy lemon glaze is perfect for cookies. It is made with fresh lemons and has a great lemon flavor with just a hint of tart.
Print
Pin
Ingredients
2

Cups

Powdered Sugar

3

tablespoon

Whole Milk

4

teaspoon

Lemon Juice

½

teaspoon

Lemon Zest
Instructions
With a lemon zester, shave the rind of the lemon until you have enough zest. Set aside.

Cut the lemon in half and squeeze out the juice into a small bowl (or use a juicer to make it easier!)

In a medium bowl, add powdered sugar, lemon juice, and 1 tablespoon of milk. Mix with a whisk or a fork. Continue adding milk ½ tablespoon at a time and mix between each addition. You will probably use about 3 tablespoons of milk total, but the consistency should be thin, similar to maple syrup.

Add the zest and give the glaze one last stir.

Drizzle over cakes or cookies using a spoon or a piping bag.

Let the glaze harden over baked goods at room temperature for 30 minutes.
Notes
Storage:
Lemon glaze can be stored in an airtight container in the refrigerator for up to 5 days.