With my love for baking and all things sweet, it is no surprise that one of my favorite gifts to give around the holiday season is Christmas Cookies! Giving cookies as a gift is not only thoughtful but can be great for your budget during this expensive season. Using these free printable Christmas gift tags can up your cookie-giving game this season.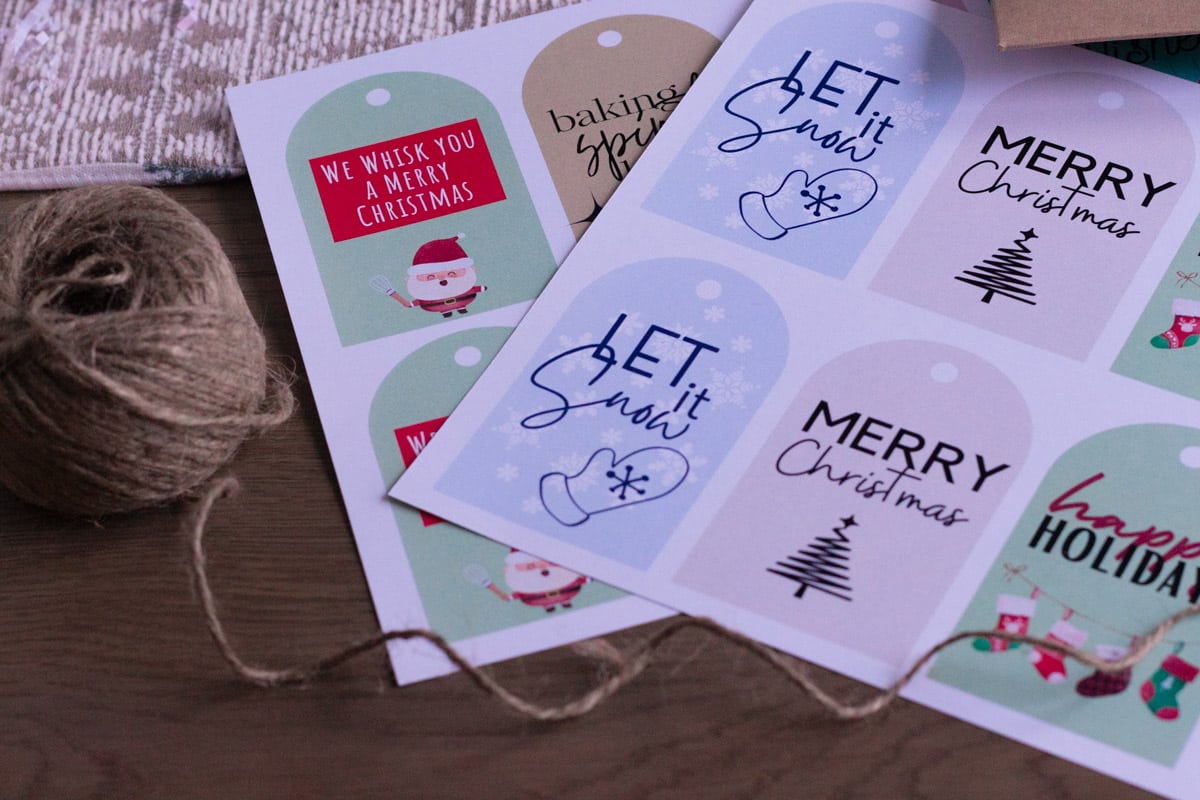 Why cookies are the perfect gift this Christmas:
They are such a personal gift. If gifting sweet treats was a love language, it would be mine. I bake for holidays, birthdays, events, and really almost any get-together where there is food present. Gifting treats is such a fun way to get creative and spread holiday spirit.
They won't break the bank. Let's face it, the Christmas season is one of the most expensive time of year. Sharing the love through baking can help cut down some of those extra costs, while not leaving anyone off of that Christmas list.
Make it a family activity. While it's not always fun to drag the kiddos out shopping, you can easily get them involved in baking! Whether they help measure out ingredients or decorate cookies, they can be part of the process of creating and giving.
Jump to:
What to Include:
Now the fun part, deciding what to include in your cookie box! My go-to cookie is decorated sugar cookies. I have many resources on this site about how to decorate cookies with royal icing, my favorite sugar cookie recipe, and an easy royal icing recipe too. You could even try my monogram stocking cookies to personalize these gifts as well.
Royal Icing: A type of icing that dries hard. It is primarily used for decorating cookies and because it dries hard, it allows for the creation of very details and intricated designs. Most recipes include 3 main ingredients: powdered sugar, meringue powder (or some other stabilizing ingredient), and water.
One of my all-time favorite cookies are these soft and chewy sugar cookies. No art skills are required, simply roll the cookie dough in Christmas-colored sprinkles. Some of my other favorite cookies to make are these chocolate chip cookies (add colored sprinkles or M&M's to spruce them up) or these awesome cookies and cream cookies.
If you have a classic family recipe, I would absolutely include that in these cookie boxes. I love traditions, especially when it comes to Christmas, and sharing those traditions is such a fun way to spread Christmas cheer. I like to add a few different kinds of cookies to the gift.
Cookie Packaging Ideas
Boxes. Disposable boxes are a great way to give cookie gifts. Many options are recyclable or reusable, and they don't quite clutter up your basement like cookie tins do. I also personally like the clean and natural look of them. You can also purchase them in bulk, saving some money if you know you'll use them down the line. If you want to purchase in large bulk (100+) I would recommend BRP box shop. They ship free and quick (for those in the US) and their products are phenomenal. However, for most people finding a set of 10-20 boxes will be plenty and you can find a lot of good options on Amazon (such as these).
Cookie Tins. During the holidays, craft stores are lined with the cutest cookie tins that are great for cookie gifting. You can find all sort so fun designs and sizes. I particularly like cookie tins if you are shipping cookies, as they are very solid and will protect cookies during transport. The downside of tins is that they can be a bit pricey if you need to buy too many.
Mason Jars. If you are making small cookies that are durable, or round cookies that can be stacked, mason jars are a really fun option. Cookies look very elegant in jars and they can also be reused for so many other purposes.
Cellophane Bags. You can find bags of all different sizes and during the holidays there are sometimes bags with Christmas themed prints.
Get Creative. Check out the Target "dollar section" or browse the dollar store to find cute objects that can be used as cookie containers.
Christmas Cookie Tags
Now that you have selected what to put the cookies in, you can use one of these free printable tags to top off your cookie gift. You can print these from your home computer/printer or you can professionally print them from a print shop.
How to Make Holiday Gift Tags
Download the PDF files attached here.
Print the files, ideally on card stock or other thick paper (white cardstock is best).
Cut around the edges of the tag, and using a hole punch, cut out a hole.
Using twine, ribbon, gift wrapping ribbon, or any string of your choosing tie the gift tag to the cookie package.
I've included two sets of gift tags with different designs. This first set has standard sayings such as Merry Christmas or Happy Holidays. The second set is full of some cute Christmas cookie puns. I mean, sometimes you just need a little bit of cheesy-ness.
Once you have the printable gift tag ready to go, it's time to attach the tag. You can use twine, wrapping ribbon, raffia, regular ribbon, etc.
If you are using a jar or cellophane bag, simply start to tie a bow. After the first knot, attach the tag through the punched hole and then continue tying a bow. To tie a ribbon around a box, follow these steps:
Measure out the ribbon (2x the length of the box + 2x the width of the box + an extra foot for the bow).
Bring the two ends of the ribbon to the underside of the box and wrap each side around each other, bringing them back to the top.
Tie the first knot and attach the punched gift tag through the hole.
Tie a bow.
Extra Additions
If you are looking for an extra special touch, you can add on another physical item such as cookie cutters, candy canes, or Christmas picks.
Christmas Pick: A stem that can be purchased at a craft store. For Christmas, they tend to be pine needles, berries, or other Christmas florals.
I hope these Printable cookie tags and cookie gift packaging ideas give you some great guidance for cute holiday gifts. I'm sure your loved ones will appreciate the time and effort that went into creating these gifts and they are the perfect way to pass along the holiday spirit this season.