This chocolate chip cut out cookie recipe is out of this world! These cookies are soft and chewy and make great cutouts with sharp and clean edges. For the cherry on top, you don't even need to refrigerate this cookie dough, making it a simple and speedy recipe to make! I created this recipe to be great for royal icing cookie decorating, but these chocolate chip cookies stand on their own too.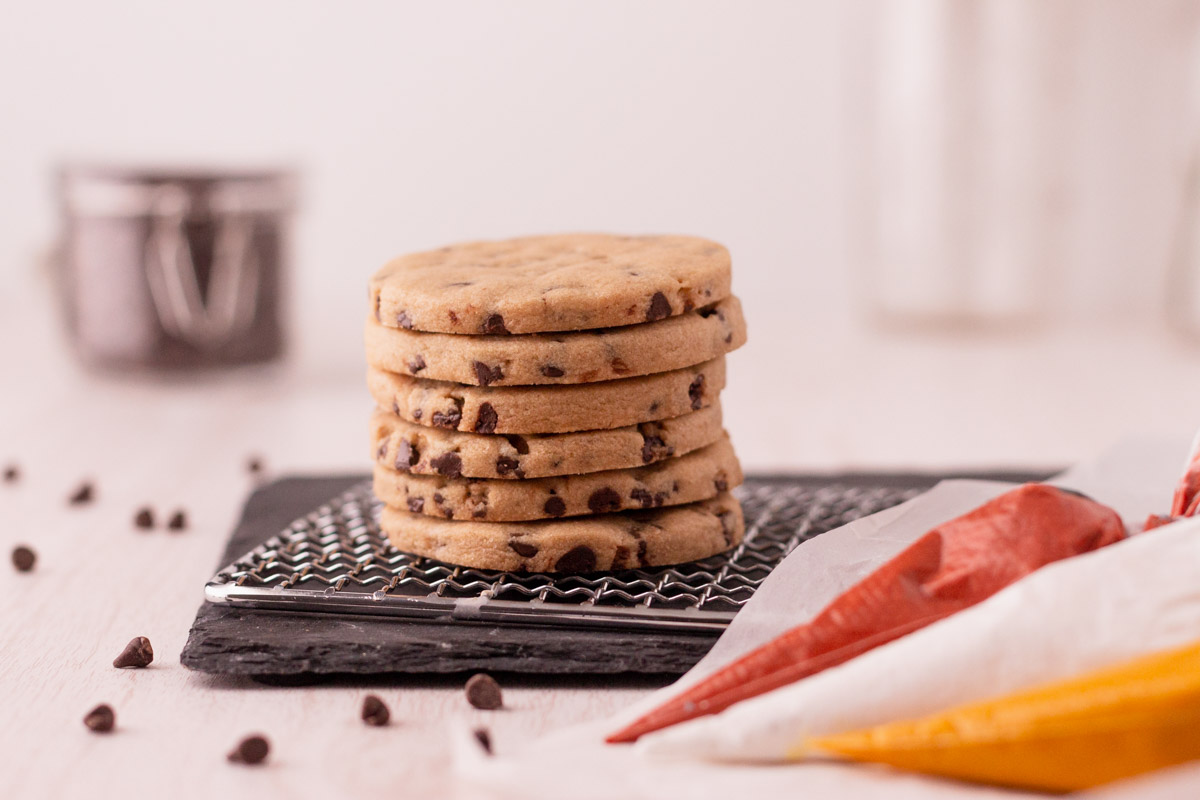 While cut-out cookies are traditionally made for Christmas cookies, in my opinion, there is no wrong time of year to make them. They are great for all occasions and holidays even Valentine's Day, Easter, Halloween, etc.
If you are more in the mood for a traditional cut-out cookie, try my easy no spread sugar cookies. I also have other cut-out cookie flavors including cookies and cream and lemon! Looking for a classic chocolate chip cookie? Try these crisco chocolate chip cookies or these chocolate chip cookies made without vanilla.
Jump to:
Ingredients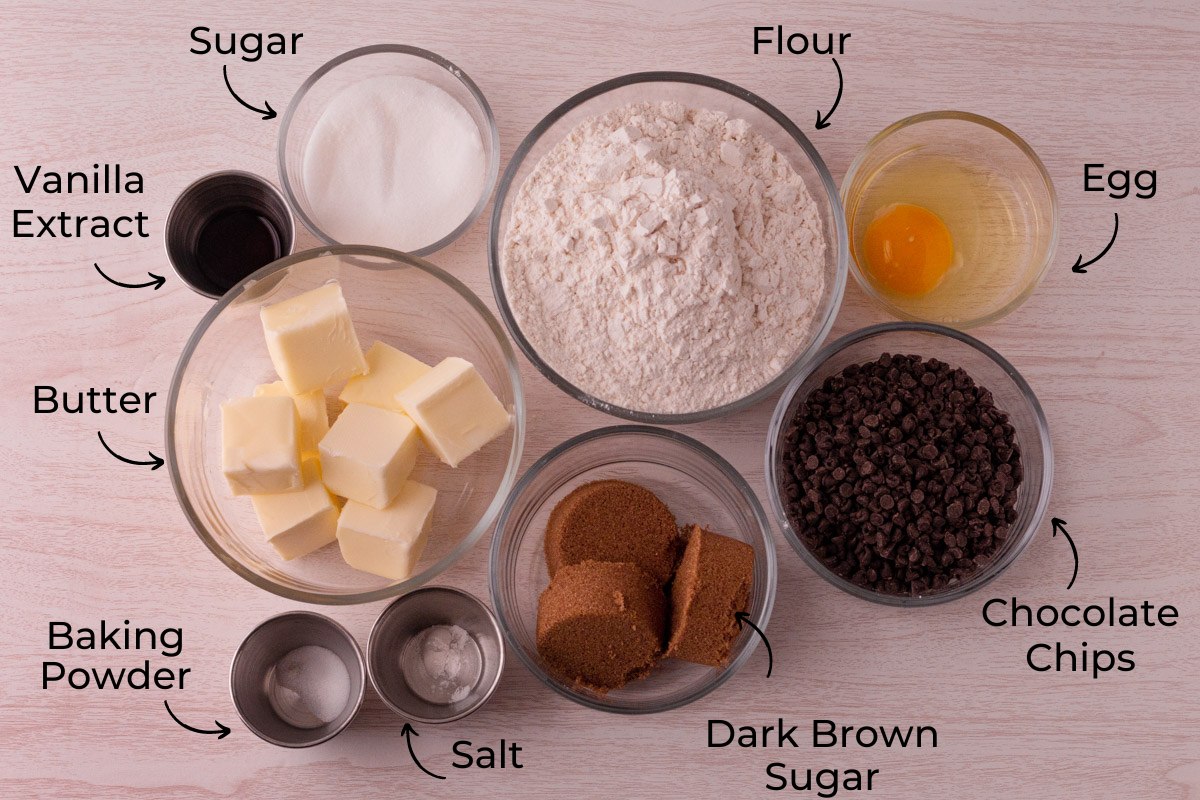 Unsalted Butter: I prefer unsalted butter because you can control the amount of salt that goes into your cookie recipe.
Dark Brown Sugar: As dark brown sugar has twice the amount of molasses as light brown sugar, it creates a deeper, richer flavor which is why I love dark for this recipe. If you don't have it, light brown sugar is interchangeable and will still taste great.
White Sugar: Also known as granulated sugar is usually used in most chocolate chip cookie recipes.
Egg: Eggs are a binder for the liquids and fats and help to bring the dough together.
Vanilla Extract: Don't sleep on the vanilla! Use pure vanilla extract for the best possible flavor in your cookies. Casa Bella Vida Vanilla is my favorite!
Salt: Brings out the flavor of your cookies.
Baking Powder: Helps to create a light and airy cookie. I only use a very small amount to get the benefits of it without creating a cookie that rises or spreads.
All-Purpose Flour: Flour acts as a stabilizer in cookie dough and allows cookies to keep their shape.
Mini Chocolate Chips: Well, because these are chocolate chip cookies! Using mini chips is preferred when making your cutouts as it can be tough to press a cookie cutter through a regular-sized chocolate chip if it happens to fall on a cut line. Minis are also good to ensure a flatter top after baking and create the perfect cut-out cookie
See recipe card for quantities.
Instructions
To begin, heat oven to 350 degrees. Line cookie sheets with parchment paper or silicone mats. I prefer these silicone mats because they allow the cookies to bake nice and even, and can be easily washed in the dishwasher. 
Allow butter to soften to room temperature. Combine butter with dark brown sugar and granulated sugar in a mixing bowl and cream on high speed until fluffy and light. You can use a hand mixer or a stand mixer with the paddle attachment for this recipe. 
In a small separate bowl, combine the egg, vanilla extract, salt, and baking powder. Immediately add this mixture to the butter mixture and beat on medium speed to combine. It will look somewhat runny after this step, which is normal.
Measure out the flour by lightly spooning flour into a measuring cup until it is overflowing. Use a knife to scrape off the top and even out the flour to the top of the measuring cup.
Slowly add the flour to the wet ingredients, approximately ½ cup at a time. Mix with your electric beater on low speed, making sure the flour is almost fully combined before adding the next scoop. Scrape the sides of the bowl between additions to make sure it's all getting mixed in.
Once you have added all of the flour, add the mini chocolate chips and continue to beat on low speed until the chips are evenly dispersed throughout the dough. If the dough looks a bit dry and crumbly at this point, knead it with your hands briefly to get it to come together. It should come together very easily after a few kneads.
Since this dough does not need to be refrigerated, you can move straight ahead to the cookie cutter portion!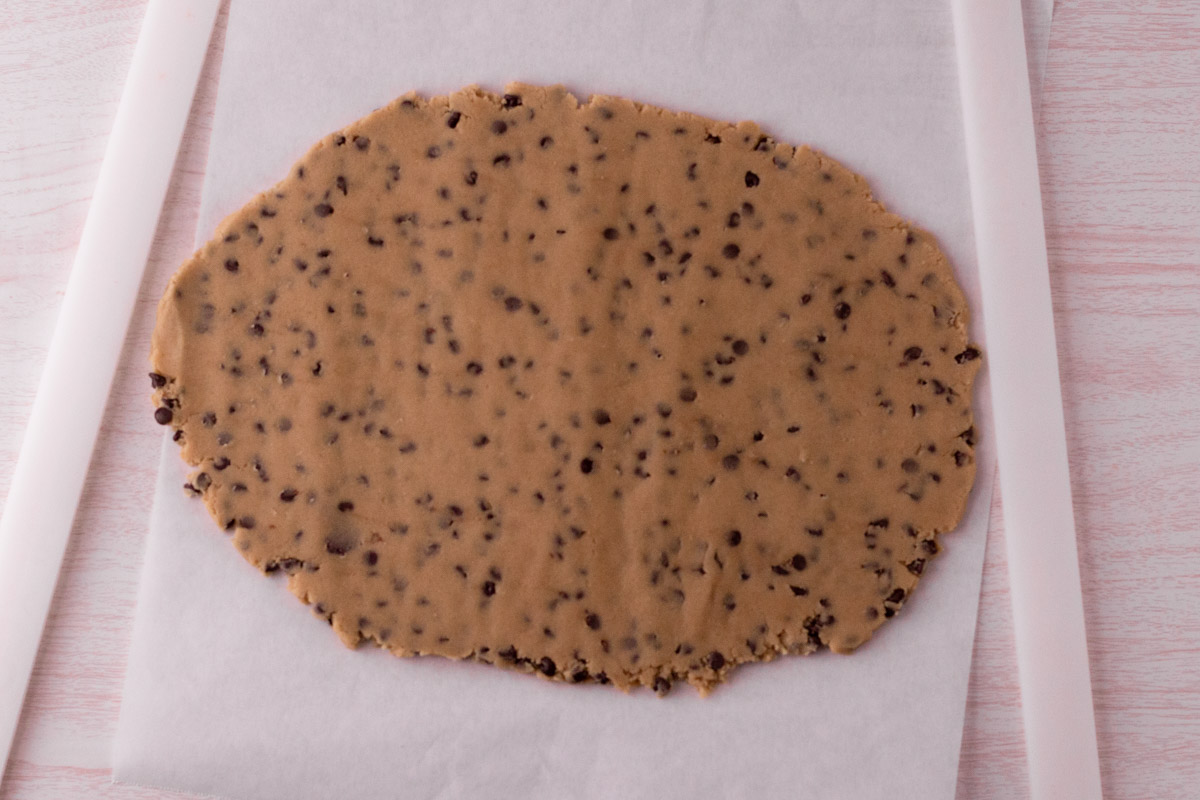 Divide dough into two sections Use a rolling pin to roll the dough to ¼" in thickness.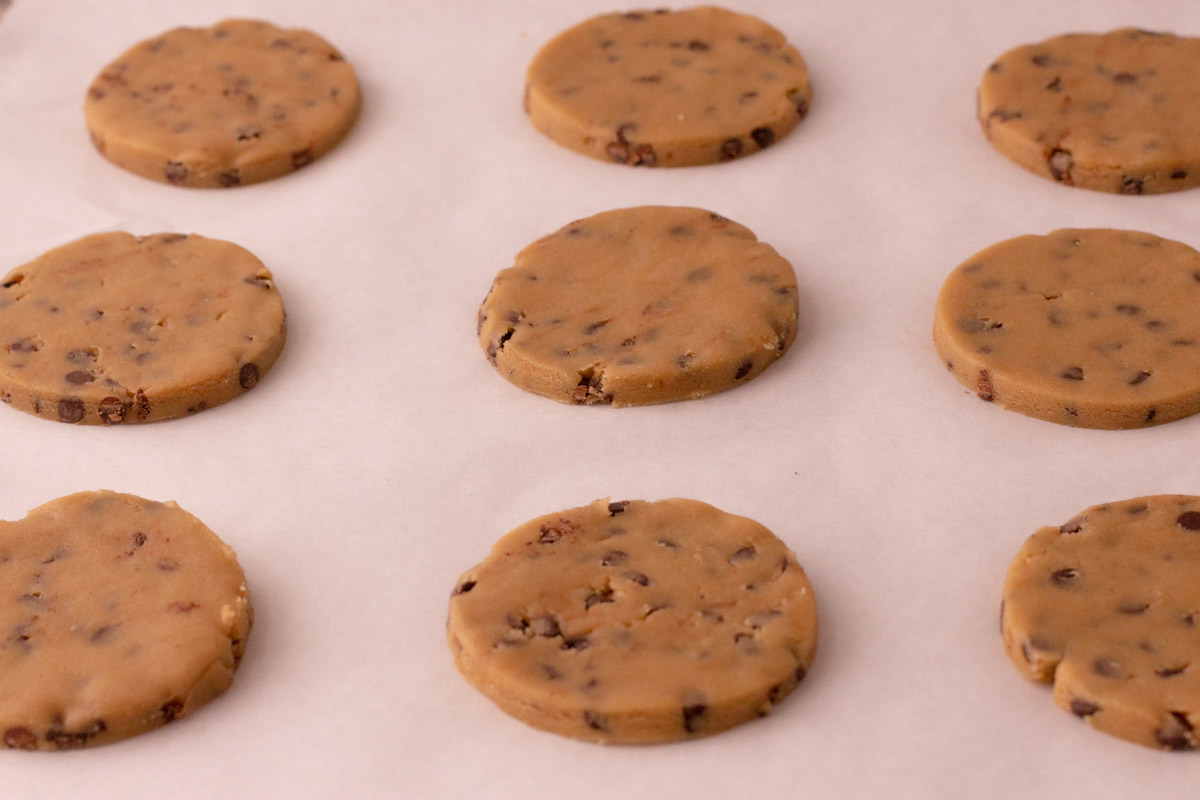 Cut out cookies into desired shape and place on lined cookie sheet.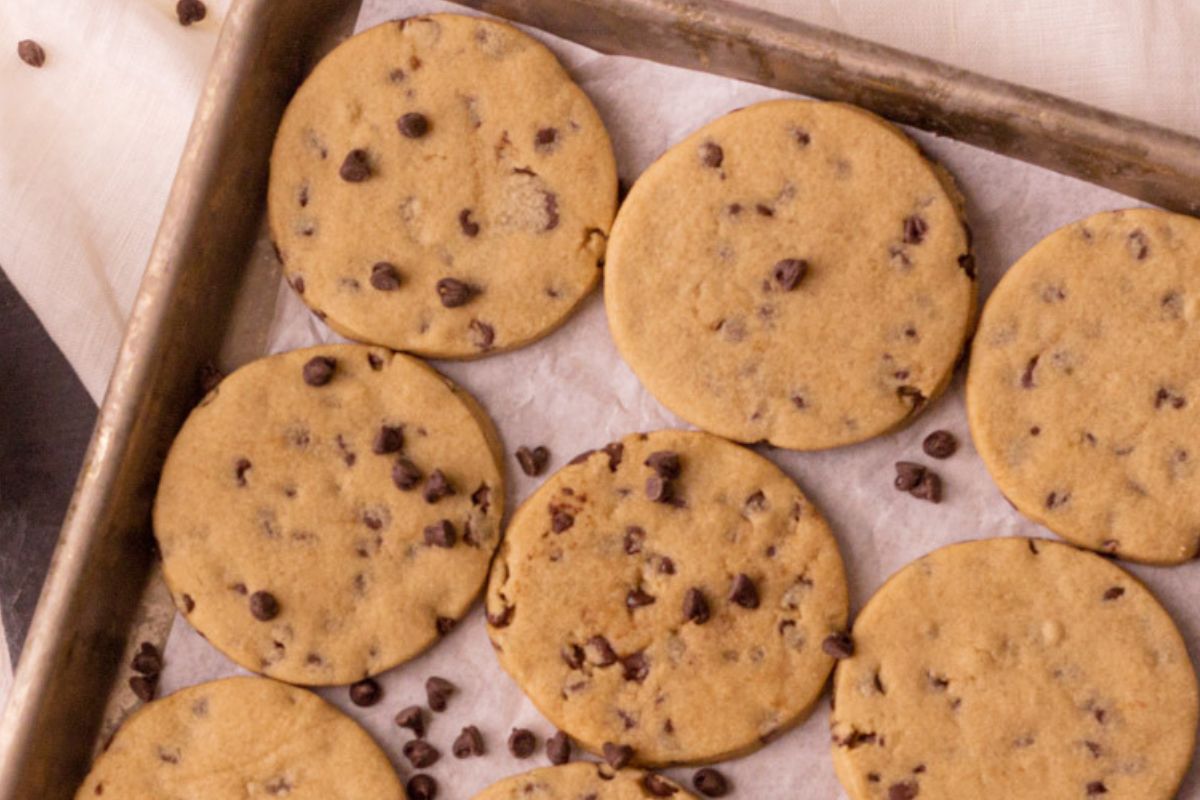 Bake until edges are slightly golden.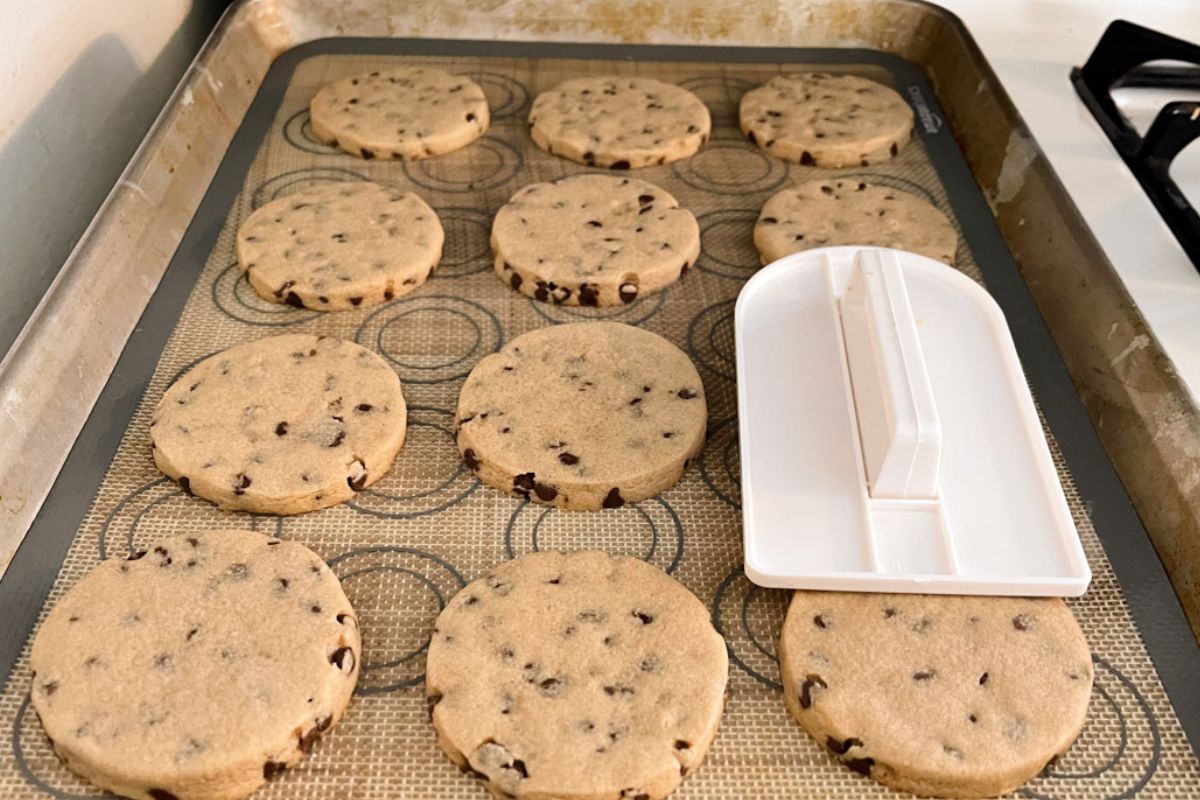 Use a cake smoother immediately when the cookies come out of the oven to flatten any bumps and any chocolate chips that may poke above the flat top of the cookie. Don't drag the smoother across as you may smear hot chocolate chip pieces. Simply press down flat with the smoother.
Allow the cookies to cool for at least 5 minutes on the baking sheet before transferring them to a wire rack to cool completely.
Pro Tip: Roll the dough in between two sheets of wax paper for easy clean up and it also keeps the dough from sticking too much! If you live in a humid climate and the dough is extra tacky, you can place the dough lined in wax paper in the freezer for just a few minutes to firm it up.
Substitutions
Dark Brown Sugar: You can use light brown sugar for these cookies. The cookie will be slightly less rich in flavor and will end up lighter in color. But overall the difference is minimal so it's an easy substitution.
Mini Chocolate Chips: You can use regular chips, but as mentioned above they may cause a headache when using your cookie cutters. But from a flavor perspective, there is no difference, if anything larger chocolate chunks are never really a bad thing!
Decorating
I prefer to allow the cookies to set overnight before decorating them with royal icing. If you don't have time to wait, put them in an airtight container and place them in the freezer for at least 30 minutes.
You can use a royal icing recipe to decorate these chocolate chip cut out cookies. A thin layer of buttercream would also be a nice complement to these cookies too.
However, you don't need to decorate them, these cookies are still great on their own.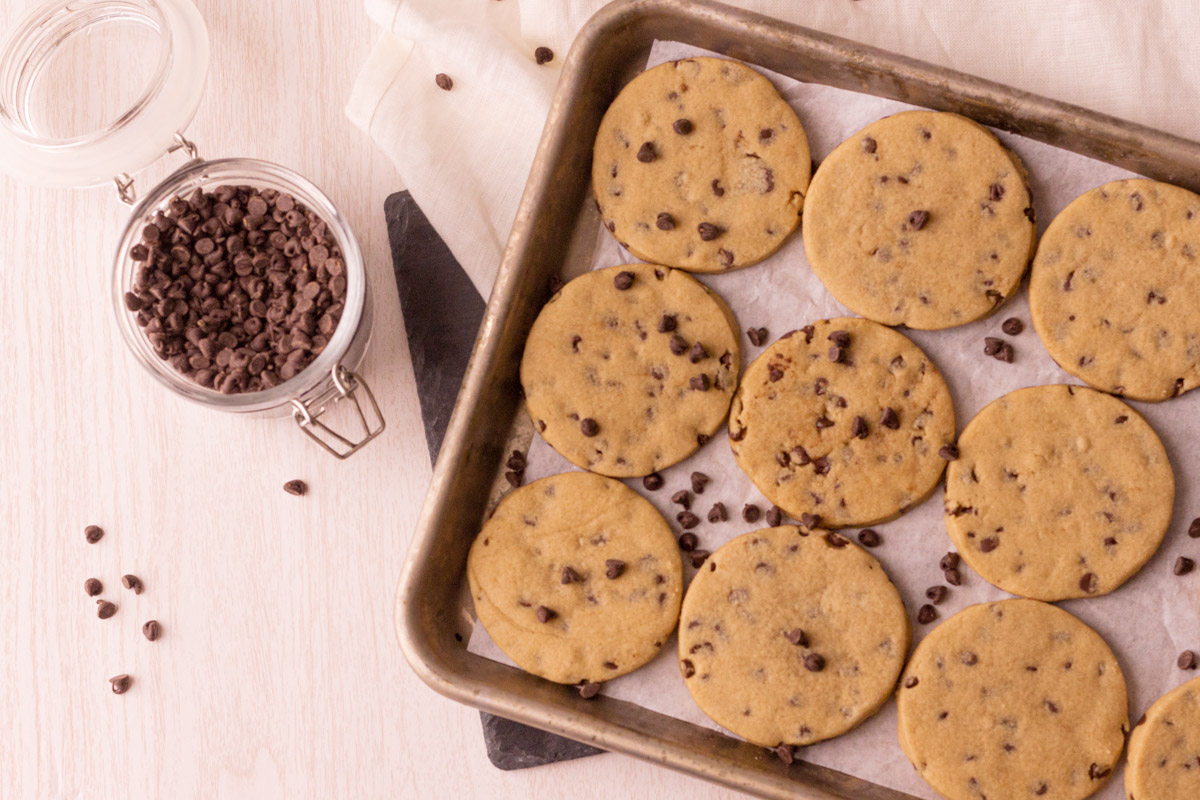 Equipment
You don't need any special equipment for this recipe, but here are a few of my favorite supplies for everyday baking.
Rolling Pin (or dough sticks used with a traditional rolling pin)
Cookie Cutters: Easily found at most craft stores, Etsy, or even grocery stores!
Storage
Keep undecorated cookies in an airtight container for up to 5 days. Freeze in an airtight container for up to 3 months. You can also freeze the chocolate chip cookie dough for up to 3 months. Be sure to wrap tightly in plastic wrap and seal in a freezer bag or airtight container. 
I hope you enjoy this chocolate chip cut out cookie recipe as much as I do. If you are looking for more information on decorating, check out my ultimate guide to royal icing decorating. Good luck and happy baking!
FAQ
Should you chill cut out cookies before baking?
It depends on what the recipe calls for, some cutout cookies require chilling and some do not. If you are in a humid climate, it can be helpful to place the rolled dough in the refrigerator to help firm it up.
Why don't my cut out cookies hold their shape?
There may not be enough flour in your cookie dough. Make sure to measure flour by spooning flour into the measuring cup and then use a knife to even it out. If the dough is still too tacky, add a tablespoon of flour at a time but do not overmix. Try to use a recipe made for royal icing decorating as these recipes tend ot hold thei
Related Recipes
Looking for other cut out recipes like this? Try these:
More Royal Icing Tutorials
Here are some more royal icing tutorials to learn how to decorate your cookies: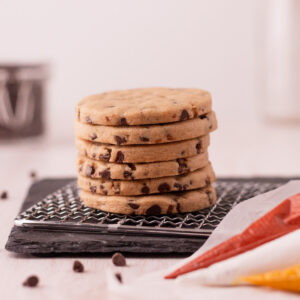 Chocolate Chip Cookie Cut-Out Recipe
These chocolate chip cookie cut outs are soft and chewy. They maintain a nice flat top and crisp edges making them an ideal recipe for royal icing decorating.
Print
Pin
Ingredients
1

Cup

Unsalted Butter

¾

Cup

Dark Brown Sugar

(packed)

¼

Cup

Granulated Sugar

1

Egg

1

tablespoon

Vanilla Extract

¼

teaspoon

Salt

⅛

teaspoon

Baking Powder

3

Cups

All Purpose Flour

1

Cup

Mini Chocolate Chips
Instructions
Preheat the oven to 350 and line a baking sheet with parchment paper or silicone mats. 

In a large bowl add softened unsalted butter, dark brown sugar, and granulated sugar. With an electric mixer, cream butter and sugars on high speed until well combined, light, and fluffy. 

In a small bowl combine the egg, vanilla extract, salt, and baking powder. Add the egg mixture to the butter mixture and beat on medium speed until the mixture is combined. 

Slowly add the flower about ½ cup at a time and beat on low speed between each addition. The flour should be almost fully mixed in before adding the next addition. 

Once the flour is almost completely combined, add the mini chocolate chips and beat on low until they are evenly dispersed. If the mixture looks a bit crumbly, breifly knead it with your hands and it should come together very easily. 

Roll dough to ¼" thickness. I prefer to do this between two sheets of wax pape

Cut your shapes with your cookie cutter and line the cookie sheet leaving at least 1" between cookies. 

Bake cookies in the preheated oven for 10-12 minutes or until the edges are slightly golden brown.

Allow the cookies to cool on the baking sheet for at least 5 minutes before using a spatula to transfer to a wire rack to cool. 

Serve plain or decorate with royal icing and enjoy!