If you are a cookie decorator or even just a cookie enthusiast, you may have an absurd amount of cookie cutters. As one of these crazy cookie people, I have a lot of cookie cutters, I mean a lot. When you have excessive amounts of shapes, it can be hard to find the one you are looking for. After years of digging through a huge box of cookie cutters, I have devised a simple and cheap, yet effective system to organize my cookie cutters and easily find what I am looking for. I hope my method can give you some inspiration for developing your own cookie-cutter organizational system.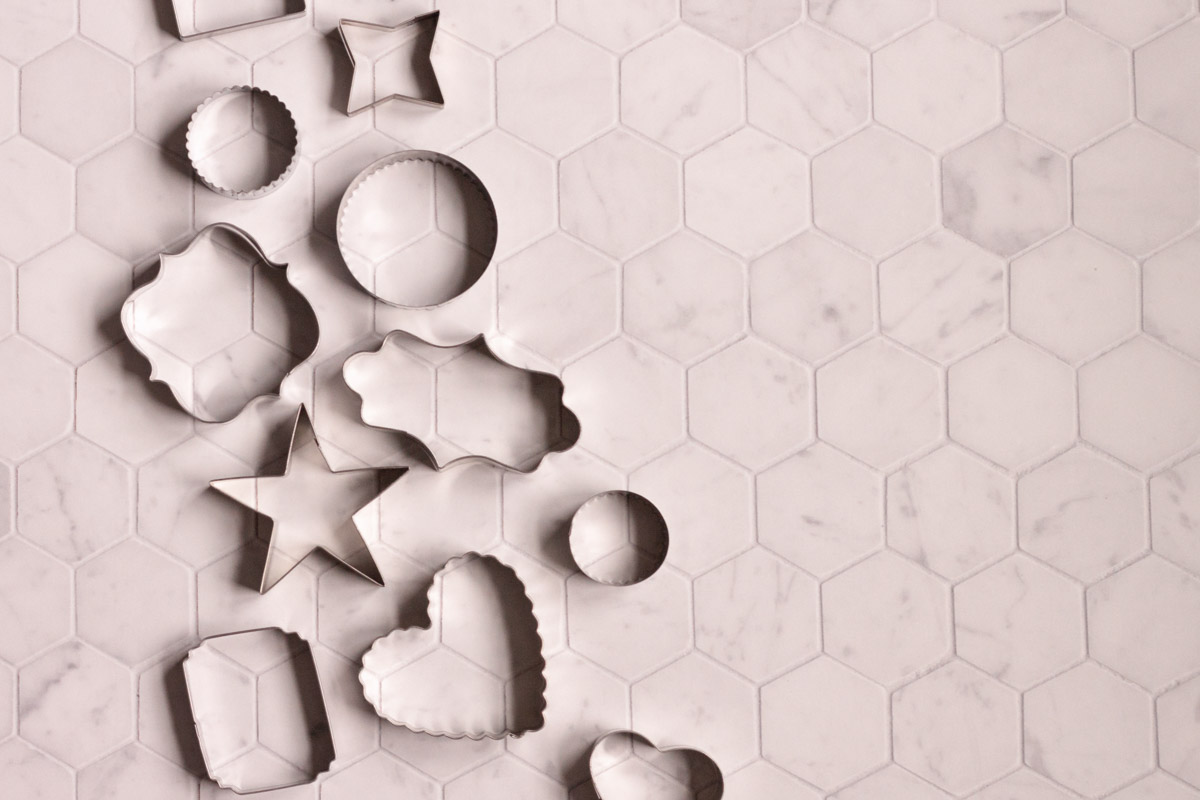 Disclaimer: This post may contain affiliate links, meaning I may get a small commission if you decide to make a purchase through my links at no cost to you.
Jump to:
Sort Your Cookie Cutters
First things first, it's time to do some sorting. Go through your cookie cutters and break them down into the most specific categories possible. Sort them by holiday cutters, baby showers, animals, etc. However, if you are like me and have over 100 (if not more) cookie cutters, you may need to break them down even further, For example, for your animal cookie cutters, separate them by farm animals, wild animals, insects, dinosaurs, etc. You can break holiday cutters down into winter cutters (like snowflake cutters) and Christmas cookie cutters (such as stockings or candy canes).
Categories
Here are the categories I have broken my cookie cutters into:
​Easter
Fall/Halloween
Adventure
Hearts
Spring/Summer
Baby
Shapes
Letters/Numbers
Frames
Birds
Christmas
Winter
House/Farm Animals
Wildlife
Birthday/Food
Dinos/Reptiles/Insects
Beauty
Sports
Cars/Houses
Ocean/Beach
Random
Where to Keep Your Cookie Cutters
Now that you have your cookie cutters sorted, you need to decide where you are going to keep them. Do you have an extra shelf or extra room in your kitchen cabinets? For me, I have a few of these metal shelves in my basement where I keep all of my cookie cutters and general baking supplies. I have 2 full shelves that are dedicated to my cookie cutters.
The best way I have found to keep my cookie cutters are simple storage containers. I got mine from Target (they don't sell the ones I have anymore, but these containers are similar), but you can find them at most home stores, The Container Store, or these containers on Amazon would work well too. Figure out how many of these containers fit in whatever space you have allocated for your cookie cutters.
You can now decide how to split up your sorted cookie cutters based on how many storage containers you have. I try to combine relatively alike categories such as Fall with Halloween or farm animals with house animal.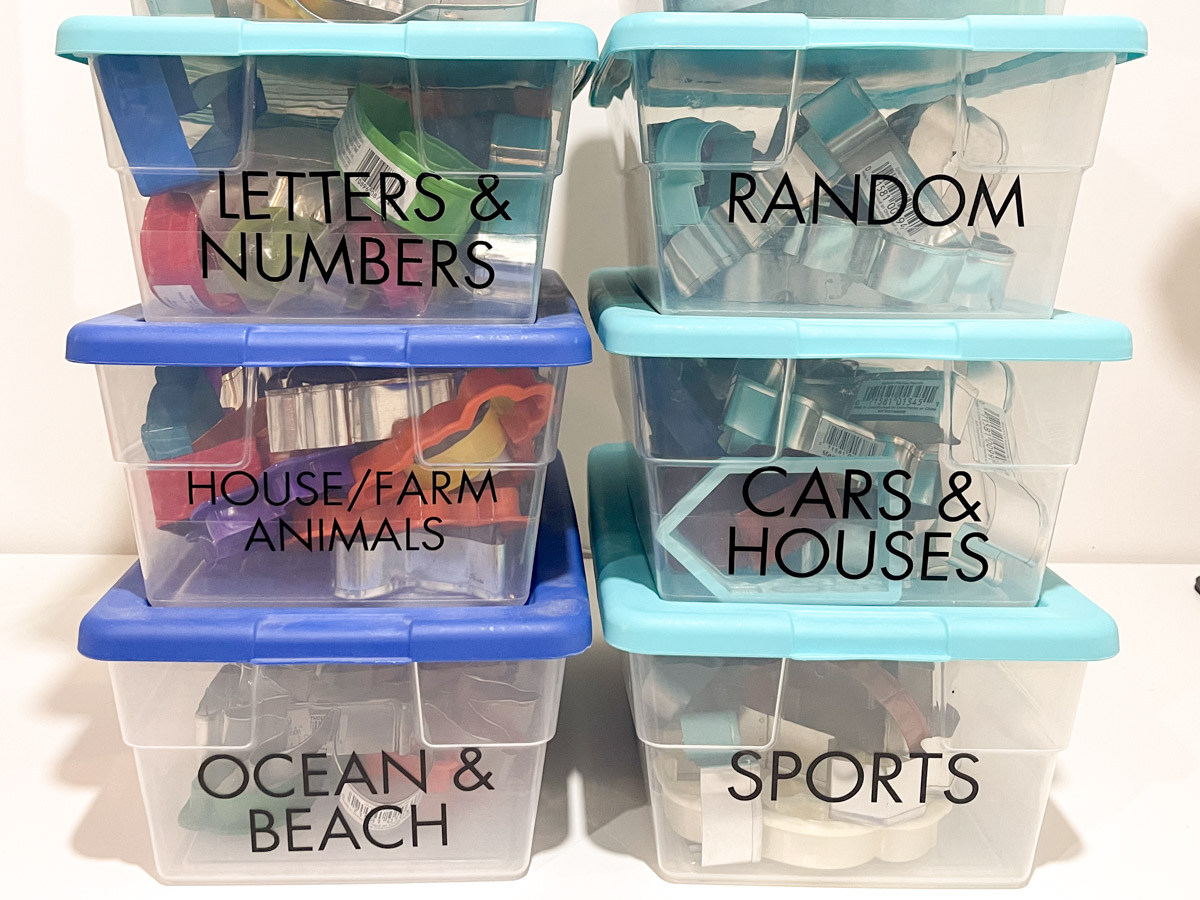 Label Your Cookie Cutters
Using a label maker, a Cricut, or even simple label/sticker paper, label the outside of each container. This way you aren't digging around for cookie cutters anymore!
I used my Cricut to make my labels, with the Futura LT Book Font. If you are a crafty person that likes making your own shirts, signs, greeting cards, and labels, it may be worth investing in a Cricut. I personally LOVE mine!
Before I had a Cricut, I used simple label paper and wrote my categories with a Sharpie.
Other Ways to Organize Cookie Cutters
Ziploc Bags
If you don't have the room to keep a bunch of storage containers, you can separate them and store in gallon Ziploc bags. The only downside to this is it can be difficult to grab or find a cookie cutter that is buried at the bottom of the bag. Otherwise, a great storage strategy, especially for those short on space!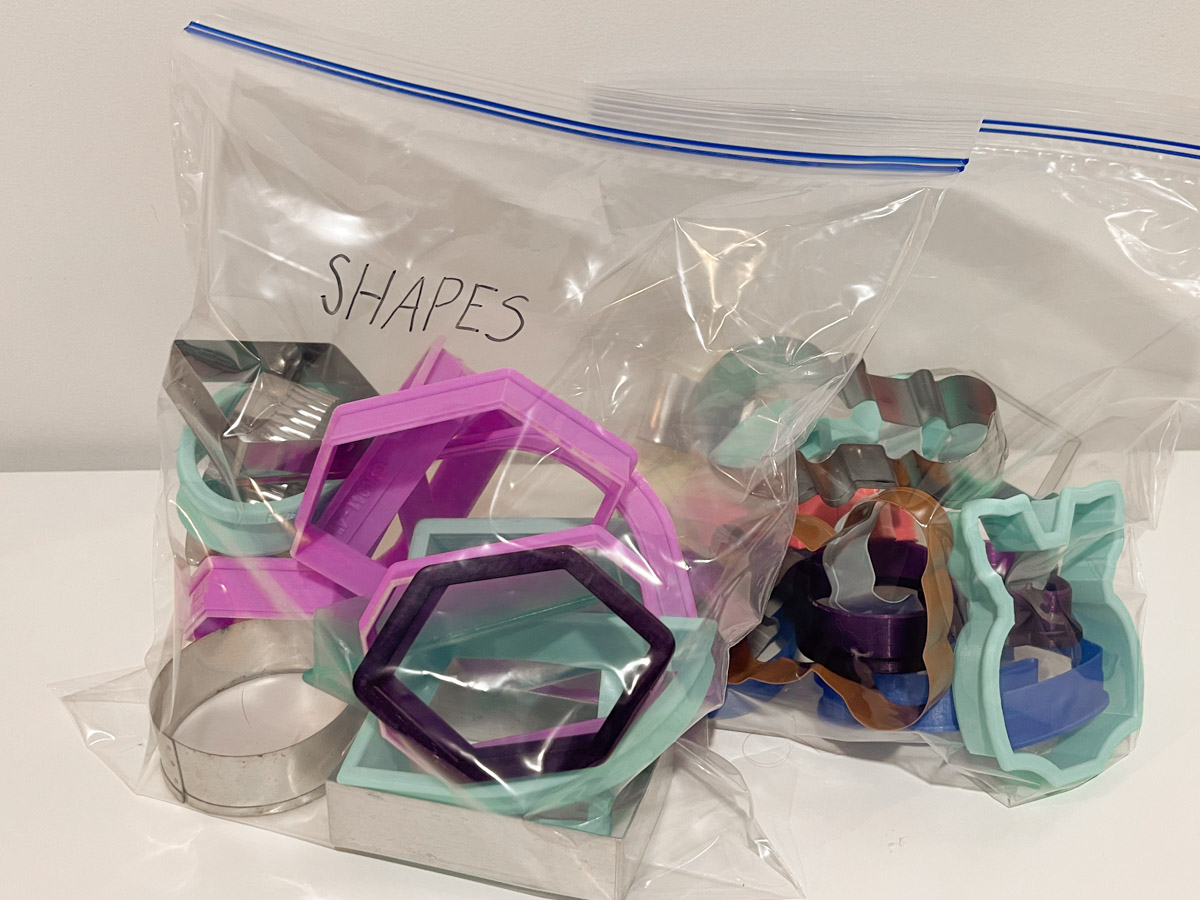 Pegboard
This is one of the most creative and fun ways I have seen for cookie cutter storage. Simply hang up a pegboard, attach hooks, and hang your cookie cutters. This is probably the best way to see all of the cookie cutters you have at once. However, it may be tough if you have too many cutters.
You could always put your most used on the pegboard and store the remaining using one of these other storage methods!
Kitchen Drawers
If you have enough extra kitchen storage space to keep your cookie cutters, God Bless you (and I'm a bit jealous over here). But if you do, a great organizing method would be to use drawer organizers (the Brightroom collection from Target is very reasonably priced and I love them for organizing drawers of all kinds).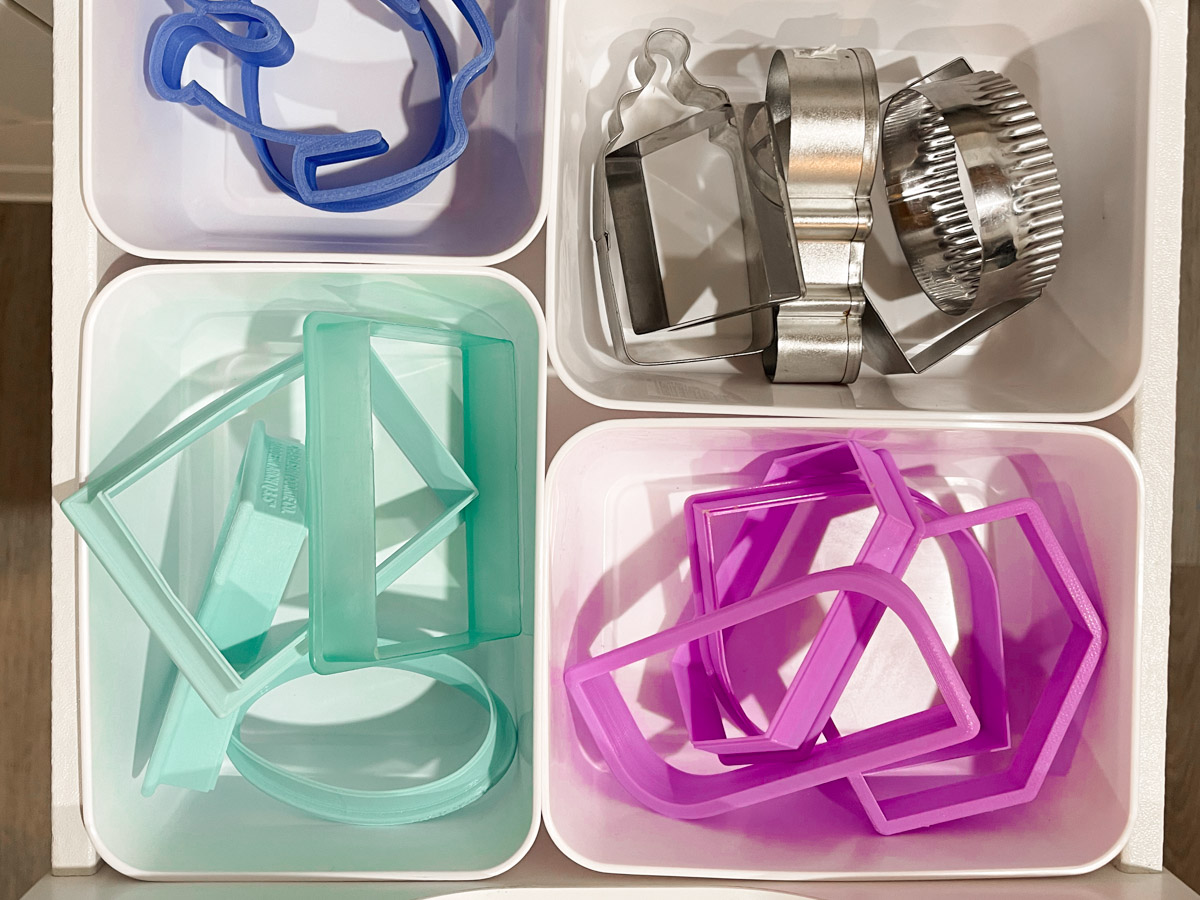 Over the Door Shoe Organizers
Using a pantry door or even on an extra (probably hidden) wall, you can hang up one of these shoe organizers and fit a few cookie cutters in each section. I would suggest purchasing one with clear pouches so you can see all of your cookie cutter options better.
Cookie Jars
If you don't have a TON of cookie cutters, a decorative way to store your cookie cutters would be in cookie jars. They can be kept on a counter or a shelf and be a nice decorative accent to your kitchen, along with easy access to your cookie cutters!
I hope these cookie cutter organizational methods have given you some ideas on how to best organize your own collection!
If you are looking to learn more about cookie decorating, check out my Ultimate Guide to Royal Icing. I also have many other tutorials such as the best cookie decorating tools, how to make royal icing shiny, and how to dry your cookies fast.
Looking to get into the cookie business? Here is an article on what to take into consideration when pricing your cookies.
Happy Organizing!
FAQ
Is there an app to inventory cookie cutters?
The SweetBiteAPP is an inventory tool that allows you to keep track of all your cookie decorating supplies including cookie cutters, stencils, brushes, and food coloring.
How do I display cookie cutter collection?
The best ways to display a cookie cutter collection would be using a pegboard, cork board, cookie jars, apothecary jars, or even an open picture frame with hooks.
Related
Looking for a cut-out cookie recipe to use with all of your cookie cutters? Here are my favorites:
Cookie Decorating Tutorials
Here are some tutorials to give you ideas on how to use your cookie cutters!