Even though Halloween has been crowned the official holiday of candy, I really think Easter has been grossly underrated on this front. There are so many delicious Easter treats, including one of my all-time favorites, Peeps! These Peeps bunny sugar cookies are really easy to make and will be the perfect touch for your Easter dessert table!
Recipes to Make these Peeps Bunny Sugar Cookies
These Peep Easter bunny sugar cookies are decorated with royal icing so you will need a sugar cookie that does not rise or spread. You can check out my Sugar Cookie Recipe for Cut Outs or if you want to try a different flavor I also have a recipe for Cookies and Cream Sugar Cookie Cut Outs and Lemon Roll Out Cookies too.
Along with your Peeps cut out cookies, you will need royal icing to decorate them. Here is my easy 3 Ingredient Royal Icing Recipe that will work perfectly for these cookies!
Supplies for Decorating Peeps Sugar Cookies
Peep or Simple Bunny Shaped Cookie Cutter. You can find this shape of cookie-cutter through many Etsy shops.
Tipless Piping Bags are perfect for decorating these Peeps Sugar Cookies. My favorite brands are Grunderfully Delicious and Borderlands Bakery.
Gel Food Coloring for the Royal Icing. I used Wilton Color Right Food Coloring Set in pink, blue, and yellow. These are very concentrated colors, which allowed me to achieve very bright and vibrant shades. You will also need a small amount of brown or black royal icing for the eyes.
Sanding Sugar is perfect for getting the sugary coating on the Peeps cookie. I used Sunny Side Up White Sanding Sugar from Hobby Lobby. If you don't have access to this type of sugar, you can use granulated sugar. However, granulated is a bit finer than sanding, so the sugar may not look quite as distinct - but it will work! I would not use coarse sugar for these cookies.
How to Decorate Peeps Bunny Sugar Cookies
First, have your Peep cookies baked!
Prep your royal icing using this recipe and make it to a 10-15 second consistency (learn more about royal icing consistencies and other tips and tricks in this Royal Icing Guide).
Take about 1-2 tablespoons of royal icing and color it a dark brown or black. Add to a small piping bag and set aside. Using the remainder of the royal icing, divide it into three parts and color each portion using blue, yellow, and pink. I tried to match them as closely to peeps as possible, but feel free to get creative!
Prep your sanding sugar by pouring a few tablespoons into a small bowl. Continue to add more to the bowl as needed.
Now it's time to start decorating! Choose which color you want to begin with and cut a small tip off of the piping bag. Outline the Peep bunny cookie using the 10-15 second consistency royal icing. Make sure not to outline the cookie too close to the edges so the icing does not run off. Using the same icing as the outline, fill in the body. Spread icing using a cookie scribe or toothpick.
Once the Peep cookie has been fully flooded, carefully pick it up and hold it over the sanding sugar bowl. Sprinkle the sanding sugar over the cookie using a small spoon. Generously coat the cookie and make sure you get the edges of the royal icing covered. Shake off excess sugar back into bowl.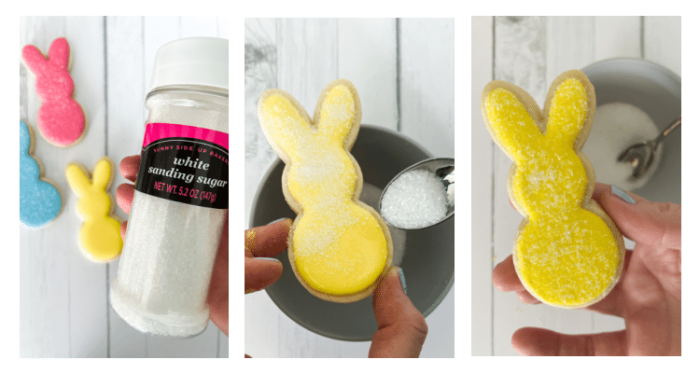 Continue decorating the remainder of the cookies with the royal icing and sanding sugar.
Allow the cookies to set for about 10-15 minutes. At this point you can add your eyes and mouth in a triangle shape in the middle of the face. As you are piping your eyes/mouth, gently press the tip of the piping bag onto the base of the cookie. You want to make sure the eyes/mouth are connected to the base icing, not only sitting on top of the sanding sugar. If you only pipe the details on top of the sanding sugar, they will most likely pop off once the icing is dry.
Allow the cookies to set for about 8 hours (I typically let the cookie sit out overnight to make sure the royal icing fully hardens).
Serve & Enjoy!
Storage Tips for Peep Cookies
Once the royal icing is completely dry, you can store the cookies in an airtight container. I would suggest that you don't stack them too high (no more than 2-3 rows high) to help prevent the eyes and mouth of the Peeps from popping off.
You can keep them in an airtight container for 5-7 days. Freeze for up to 2-3 months. To defrost, remove the cookies from the freezer and allow them to come to room temperature in the container. Do not open the container until the cookies are fully thawed.
I hope you enjoyed this Peep Bunny Sugar Cookie tutorial. If you try these cookies, please share your creations with me on Instagram!